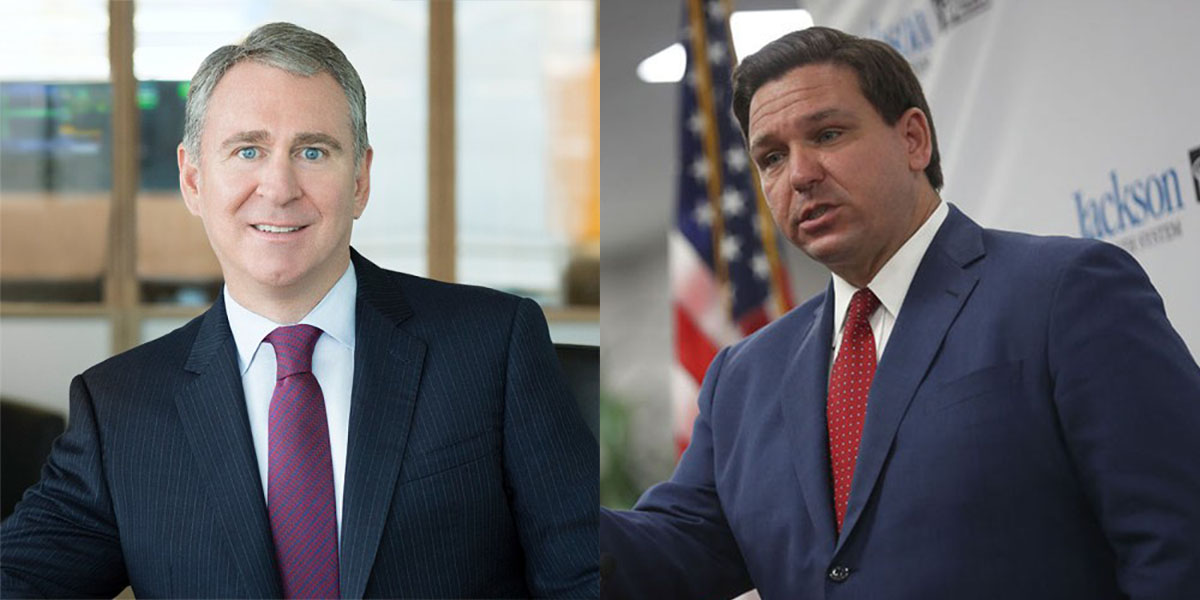 'It's not clear to me what voter base he is intending to appeal to.'
Ahead of Ron DeSantis' re-election campaign in 2022, Ken Griffin was arguably his most enthusiastic backer.
The founder of Citadel made a splashy $5 million contribution to the Governor's Friends of Ron DeSantis committee, money he didn't particularly need against Charlie Crist, as evidenced by the state-level committee transferring more than $82 million into the Never Back Down super PAC this year.
Griffin was talked up as a potential Treasury Secretary ahead of DeSantis' White House run. Yet the financier has cooled on the Governor since, as evidenced by new comments CNBC is featuring.
Griffin is taking issue with DeSantis' campaign strategy, or lack thereof, which he sees as a contrast to the "phenomenal job" performance of the Governor's first term.
"I don't know his strategy," Griffin said. "It's not clear to me what voter base he is intending to appeal to."
Griffin continues to denounce the "pointless" battle between the administration and The Walt Disney Co., telling CNBC it "doesn't reflect well on the ethos of Florida."
In other comments to the network, Griffin seems to be pining for a candidate that matches DeSantis' demographics, one he has not seen in the 2024 field.
"So we're now through the first debate. And I'll tell you what, I'm still on the sidelines as to who to support in this election cycle. I'm still on the sidelines," Griffin said.
"Look, if I had my dream, we'd have a great Republican candidate in the Primary who was younger, of a different generation, with a different tone for America. And we'd have a younger person on the Democratic side in the Primary who would have his message for our country. And we'd have a debate around ideas and principles and policies to make this a great nation. We're not having that dialogue right now."
The disquiet isn't necessarily new, and actually preceded the Governor's formal campaign launch earlier this year.
A New York Times article from the spring framed Griffin as "evaluating" the Primary landscape. The claim is that Griffin was alienated by DeSantis' framing of the Ukraine war as a "territorial dispute," in a statement DeSantis provided to the now-canceled Tucker Carlson show on Fox News. Additionally, the state's new six-week abortion ban reportedly rankled the financier.
The Governor is fundraising this week. He's in Northeast Florida Monday, then heads to Texas. But whatever money he will raise in the coming days won't match what a full Griffin commitment would have looked like.