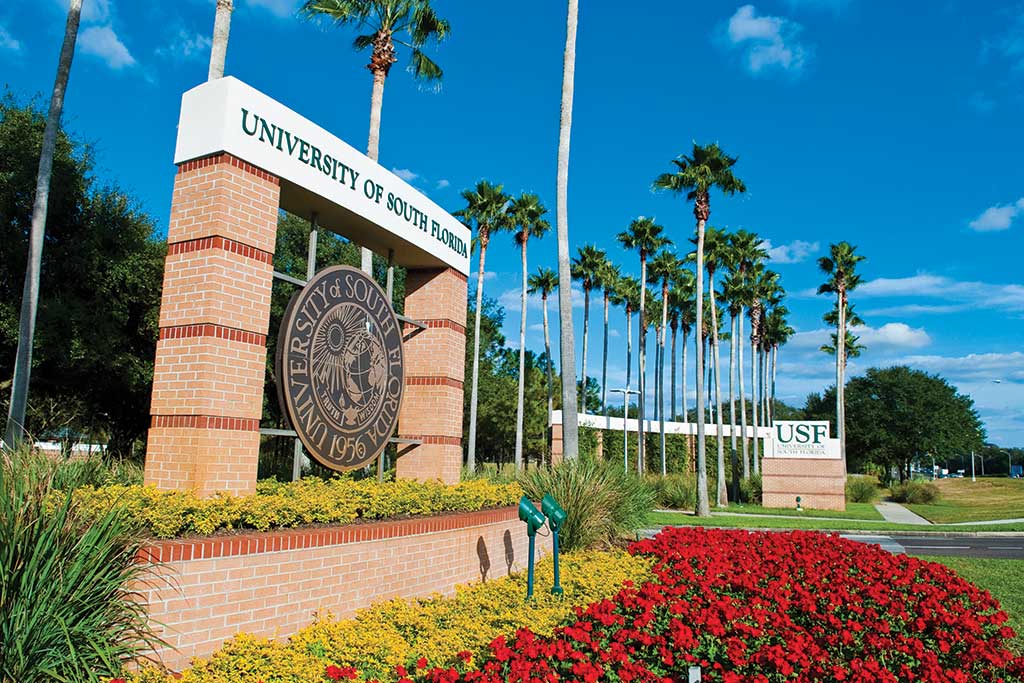 The school dropped slightly from last year among only public universities, but improved overall.
The University of South Florida (USF) ranks among the top 50 public universities for the fifth year in a row and has reached its highest ever ranking among all colleges and universities, public or private, from U.S. News & World Report.
The latest rankings show USF continuing its climb in national stature. Over the past 10 years, the Tampa-based school has risen 43 spots among public universities, from No. 88 to No. 45, and 72 spots among all universities, from No. 161 to No. 89.
"The University of South Florida is proud to celebrate our fifth consecutive year as a top 50 public university and our highest overall position in U.S. News & World Report's annual rankings," USF President Rhea Law said.
"Our ranking as a top-tier university and our recent invitation to join the Association of American Universities show that the value of a USF degree is on the rise. We are focused on sustaining this positive momentum as we continue our pursuit of excellence."
Additionally, U.S. News & World Report ranked USF the best value among all public universities in Florida. And the school gets the top spot in Florida and No. 16 in the nation for social mobility, which measures an institution's success with graduating Pell Grant recipients.
The rankings come after USF celebrated a major milestone this year, with an invitation to join the prestigious Association of American Universities — a group of leading public and private research universities in North America for which USF has been seeking acceptance for years.
But the rankings also show some mixed trends.
Like many state schools, USF actually dropped three spots from last year among public colleges and universities. But it climbed from No. 97 to No. 89 overall among all higher education institutions.
A similar trend was present at the University of Florida where the Gainesville school dropped from the coveted top five among public universities, falling to No. 6. But it rose among all universities nationally, notching one spot to No. 28.
Florida State University lost four spots among public universities, landing at No. 23 from No. 19, but likewise inched upward overall, from No. 55 last year to No. 53 this year.
The dips in rankings may raise some eyebrows in Florida after Gov. Ron DeSantis has made and implemented several priorities in higher education, including removing diversity, equity and inclusion programs.
His most headline-grabbing move — a controversial takeover of the small liberal arts college in Sarasota, New College of Florida — offers the most fodder for critics. There, the school dropped 24 spots among all national liberal arts colleges, from No. 76 to No. 100.
But supporters of the Governor may be quick to point to another possible explanation for the backslides in public school rankings — several metrics were changed, added or deleted.
The rankings now consider the proportion of employed graduates from a school who earn more than high school graduates. U.S. News & World Report also now considers data on first-generation college enrollment and faculty research. Removed from the rankings were things like student loan debt, alumni giving and faculty degrees.
The rankings also now weigh more heavily students' social mobility.
Whether these rankings will prove to be a trend or a blip remains to be seen, but no doubt those closely following Florida's recent education trends will be watching.