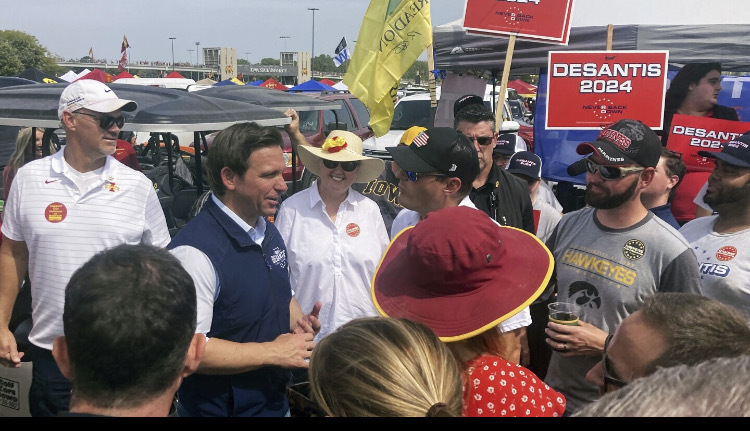 'You've got to shake people's hands, you've got to answer their questions.'
Ron DeSantis is cutting a swath through Iowa's 99 counties in his pursuit of the Republican presidential nomination, following the path of the man who won that state's Republican caucuses in 2016.
During an interview with Radio Iowa, the Florida Governor was asked what he learned from the example of another conservative firebrand, U.S. Sen. Ted Cruz of Texas.
"Well, part of it is, I think you've just got to show up everywhere," DeSantis said.
He noted that U.S. Sen. Chuck Grassley and Iowa Gov. Kim Reynolds visit the whole state, contending that he was "the first Governor to do public events in all 67 counties" of Florida.
"Florida has got a lot of places that are very populous, but we've got a lot of rural counties and a lot of times elected officials just drive right by them or fly over them," DeSantis said, not offering examples of who he meant.
"I go into all those communities and those folks really appreciate when you show up because they don't always get people coming by there. So I've had a lot of people just come up to me and just genuinely thankful that we took the time to show up in their community."
More events are coming, he said, including "in the Des Moines area in southeastern Iowa and some of those areas that may be more populous and they're going to see me a lot over the next few months," as the Governor continues "doing all 99 counties."
"We've enjoyed meeting the folks there and I can tell you, I think this is something you've got to earn," DeSantis said, issuing a thinly-veiled dig at former President Donald Trump.
"I think you've got to show up. You've got to shake people's hands, you've got to answer their questions. You've got to tell them why you should be the next President of the United States and the candidates that are willing to do that, I think are going to do better than the candidates that think that they're entitled to be nominated."