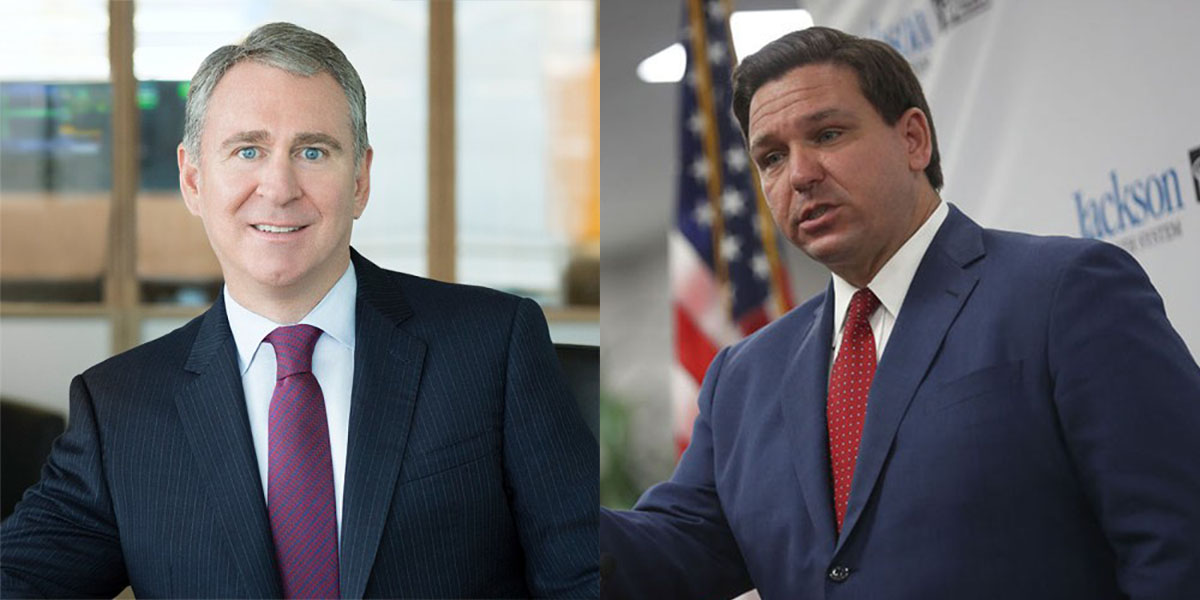 'I think there was a report that said he didn't like that we had stood up against Disney.'
Asked about a former key supporter, Ken Griffin, sitting on the sidelines of the Republican race for President, Gov. Ron DeSantis reduced Griffin's position to an objection to the state's continuing conflict with The Walt Disney Co.
"I think there was a report that said he didn't like that we had stood up against Disney," DeSantis said, before moving on to a defense of the Parental Rights in Education law.
"The idea that we are going to allow a company to come in and try to wreak havoc on our education system, injecting transgender ideology in elementary school negating parents' rights, that is nonnegotiable for me. We will stand up for our kids, we will stand up for our parents."
The Governor then pivoted to Disney, calling them "the granddaddy of them all when it comes to Florida politics."
"I'm happy to stand in the way of that and push back if we can't get the education right," he said Tuesday on the Fox Business Network's "Varney & Co."
The comments come after a Griffin appearance on CNBC where he denounced the "pointless" battle between the administration and The Walt Disney Co., telling CNBC it "doesn't reflect well on the ethos of Florida."
Beyond the Disney dispute, Griffin also questioned the DeSantis campaign's overall plan to win the nomination.
"I don't know his strategy," Griffin said. "It's not clear to me what voter base he is intending to appeal to."
In other comments to the network, Griffin seems to be pining for a candidate that matches DeSantis' demographics, one he has not seen in the 2024 field.
"So we're now through the first debate. And I'll tell you what, I'm still on the sidelines as to who to support in this election cycle. I'm still on the sidelines," Griffin said.
"Look, if I had my dream, we'd have a great Republican candidate in the Primary who was younger, of a different generation, with a different tone for America. And we'd have a younger person on the Democratic side in the Primary who would have his message for our country. And we'd have a debate around ideas and principles and policies to make this a great nation. We're not having that dialogue right now."
The disquiet isn't necessarily new, and actually preceded the Governor's formal campaign launch earlier this year.
A New York Times article from the spring framed Griffin as "evaluating" the Primary landscape. The claim is that Griffin was alienated by DeSantis' framing of the Ukraine war as a "territorial dispute," in a statement DeSantis provided to the now-canceled Tucker Carlson show on Fox News. Additionally, the state's new six-week abortion ban reportedly rankled the financier.
The founder of Citadel made a splashy $5 million contribution to the Governor's Friends of Ron DeSantis committee, money he didn't particularly need against Charlie Crist, as evidenced by the state-level committee transferring more than $82 million into the Never Back Down super PAC this year.
DeSantis' latest comments suggest that another $5 million check isn't expected anytime soon.