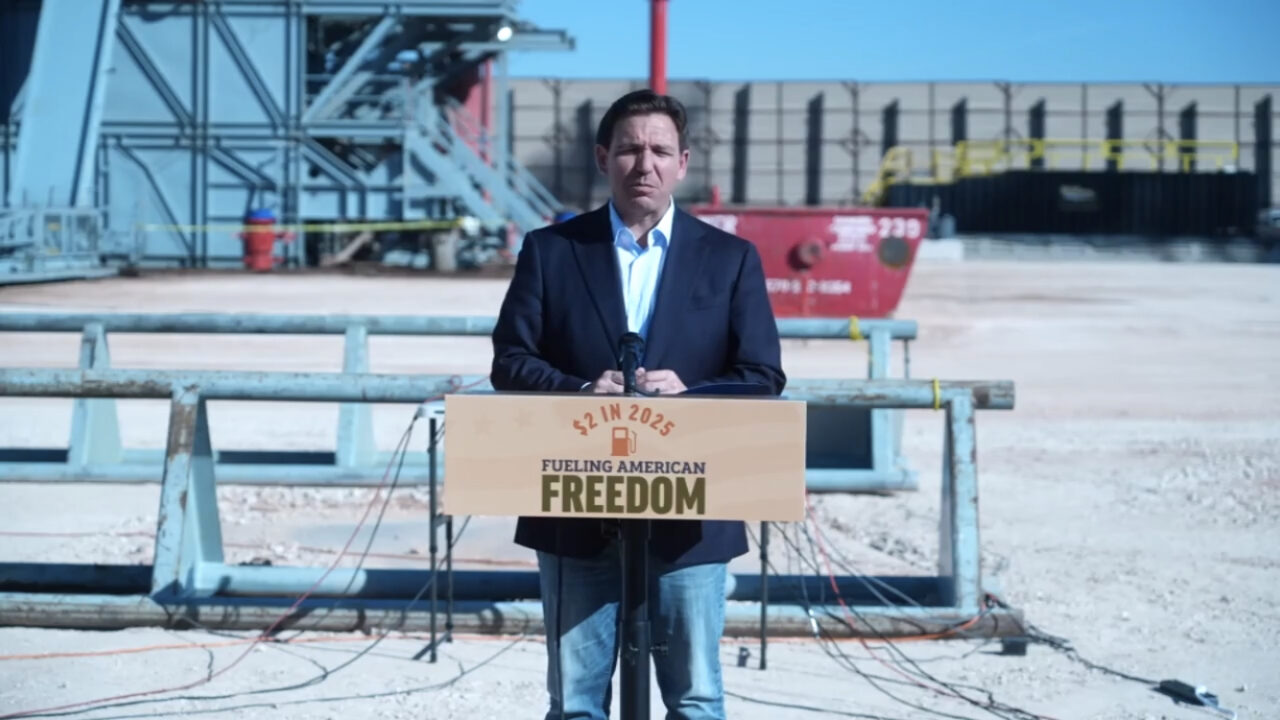 The Florida Governor talked oil and gas in a Texas speech.
Gov. Ron DeSantis visited Texas' Permian Basin to roll out energy policy proposals for his 2024 presidential campaign after having promised recently to cut gas prices back to "$2 a gallon."
DeSantis was in the heart of oil country in Midland, where he told supporters that he wanted more domestic oil and gas production and less focus on electric vehicle mandates, promising a dramatic break from the policies of the Joe Biden administration.
Wearing a suit jacket and jeans, the Governor reprised his "$2 in 2025" promise behind a sign that promoted "fueling America's freedom," saying the way to do it is "achieving American energy dominance."
Saying Biden policies have "exacerbated inflation" due to increasing energy costs, the Governor said the simple act of canceling the Keystone Pipeline cost $10 billion, lost 59,000 jobs and was a benefit to America's rivals.
"We have the cleanest and most advanced energy technology in the world," DeSantis said.
Describing "waning" American influence, with Russia "exporting record amounts of energy" and China building reserves, the Governor promised "to use our energy dominance to deny our enemies revenue."
"Instead of liberating the American oil industry to increase production, the Biden administration has throttled the industry," DeSantis lamented, saying America has the power to "lower gas prices" and "lower costs" for Americans while working to "restore" the country's Strategic Reserve.
The Governor also promised to "save the traditional American automobile," vowing to reverse Biden-era mandates and subsidies for electric vehicles.
DeSantis also couldn't resist bragging on Florida's power restoration after Hurricane Ida, saying only extracted resources were suitable.
"I can't rely on windmills. I need oil and gas to get it done," DeSantis said.
DeSantis offered a big-picture take down of environmentalism soon thereafter, and its "fear tactics" designed to convince people "that the world is going to end" unless the "agenda" prevails.
"This is part of an agenda to control you and control your behavior. They are trying to limit your choices as Americans. They're trying to circumscribe your ambitions," DeSantis said.
The Governor's policy speech is the public-facing highlight of a week heavy with fundraisers.
Dallas businessman G. Brint Ryan will host an event Sept. 21 in Dallas, one the Dallas Morning News says will charge couples up to $13,200, with individual contributions topping out at $6,600.
On Sept. 22, DeSantis will be in Alamo Heights near San Antonio at a luncheon hosted by former U.S. Rep. Lamar Smith and current U.S. Rep. Chip Roy, per San Antonio Reports. Roy is one of the few members of Congress endorsing DeSantis, who served three terms in the House representing constituencies south of Jacksonville.
The Governor's week in Texas comes as his worst numbers in the state ever were just released.
The Defend Texas Liberty PAC Texas Statewide 2024 Likely Republican Labor Day Issue Poll shows Donald Trump ahead of the Florida Governor, 61% to 10%, among the 406 likely voters surveyed by CWS Research.
This is by far Trump's biggest lead over DeSantis in the state. DeSantis was at 13% in July, 19% in June and 23% in May, meaning the Governor has lost more than half his support in the last few months.
DeSantis' 10% matches the share of undecided voters, and puts the Governor ahead of the non-Trump field, including Nikki Haley and Mike Pence, tied for third place with 5% each.