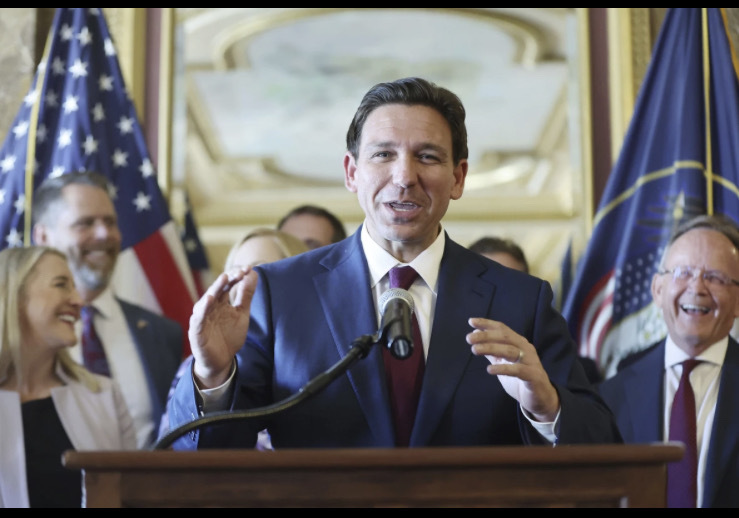 'If someone comes across the river illegally into Texas, Texas should be able to send them back.'
Ron DeSantis is ready to "unleash the states" as "equal partners" in enforcing federal immigration law.
During an interview posted Saturday with on Glenn Beck's podcast, the Florida Governor and 2024 presidential candidate said the idea that the states should wait for the federal government to enforce national law is "absurd."
"If someone comes across the river illegally into Texas, Texas should be able to send them back. Why do we need to end up in this big process where people are going to court and all this other stuff? It's absurd. So they should be able to do it," DeSantis said.
The Governor, who has a degree from Harvard Law School, acknowledged potential legal conflicts may emerge from that state-level attempt to counter absurdity.
"I think that the reality is that if they did more, they would absolutely face the Department of Justice, and all this other stuff."
"Now, I still still think they should do it. Don't get me wrong," DeSantis added. "But we will be an administration that's going to work hand in hand with the states to be able to secure our country. They're a force multiplier for the federal government."
DeSantis doesn't believe a state can violate federal policy legally, but he does assert a right to augment it if the state believes the feds aren't doing enough.
"People say it's the sole federal responsibility," DeSantis added. "Yeah. A state can't do something. Like if, if we have a strong border policy, a state can't let people in illegally. Of course. But if we have a policy, and it's not being enforced fully, why should the states not do it? They should absolutely be able to enforce the law and we'll make that happen."
DeSantis has vowed to render "cartel" members crossing the border "stone cold dead" and has suggested border crossers be treated like Al Qaeda. It's unclear if state forces would have the right to execute illegal entrants under his policy scheme.