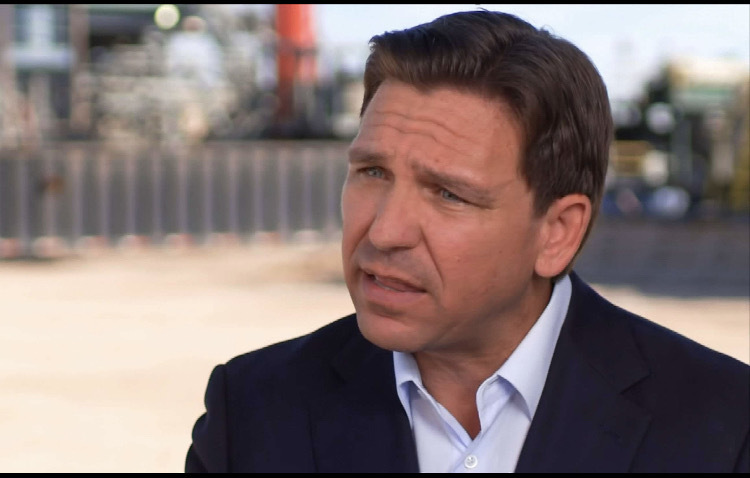 'Can you positively identify somebody as hostile through either hostile action or hostile intent?'
Ron DeSantis is confident that the U.S. military will be able to tell which Mexican border crossers are hostile and which are not.
During a Wednesday interview with ABC News, the Florida Governor and Republican presidential candidate drew on his experience in the Global War on Terror to explain how he would direct American fighting forces to crack down on people illegally crossing the Mexican border.
"I served in Iraq back in the day. The al-Qaida didn't wear uniforms. You know, the typical Arab male had the man dress on," DeSantis said. "You didn't know if they had a bomb strapped to them or not; they carry around AK47s, normal civilians would."
"So, you had to make a determination. Can you positively identify somebody as hostile through either hostile action or hostile intent? And then you do it the same way anyone would do that, even in the United States," DeSantis added. "So, you will do that. We'll be collecting intelligence."
These comments are the Governor's latest attempt to explain the legality beyond his proposed escalation of border control tactics.
During an interview earlier this month on the Fox News Channel's "America Reports," DeSantis suggested certain border crossers could be deemed members of a "transnational criminal organization" or a terror group if he becomes President.
"I think we have Article 2 authority to be able to hold the cartels accountable, and we will designate them as a foreign terrorist organization, transnational criminal organization," DeSantis said.
"There's different designations. We'll do the one that gives us the best authority and makes the most sense in terms of holding them accountable."
The Governor's justification for these moves would be that his team views the immigrants crossing the border "more as a military and as an invasion," thus justifying the enhanced designations.
DeSantis hasn't been shy about believing that people crossing the border can be seen as enemy combatants. Earlier this week, he made the case that a few killings of border crossers ascertained to have "hostile intent" would send a message to others crossing into American territory.
"When somebody's got a backpack on, and they're breaking through the wall, you know, that's hostile intent, and you have every right to take action under those circumstances. And guess what? You do that a few times; the times are a-changin', they will have to respond to that," DeSantis said during a Tuesday night appearance on the CBS Evening News.
DeSantis noted during the CBS interview that not all border crossers will be presumed to be members of drug cartels.
"I mean, if they're trying to break through the wall, we will have deadly force authorized to be able to stop that," DeSantis said. "Cartel members, I mean, you have to identify them as being hostile. I mean, if there's, if there's a woman with a baby, they're not a cartel member, there's not going to be authorization to just shoot somebody like that."
During a recent "tele-town hall" with supporters, he said the American government is "entitled" to render at least some illegal crossers "stone cold dead." That's a threat he has made before, of course.
"Some of the things that we've already highlighted as part of our agenda, our border policy, I'm the only one that's willing to send the military to the border and to use deadly force against the Mexican drug cartels," DeSantis said. "We're entitled to do it. They're killing tens of thousands of our fellow Americans."
"And so, our message for the Mexican cartels is if you break into our country and you try to run drugs when I'm President, it would be the last thing you do because you're going to end up stone-cold dead at the border," DeSantis added.