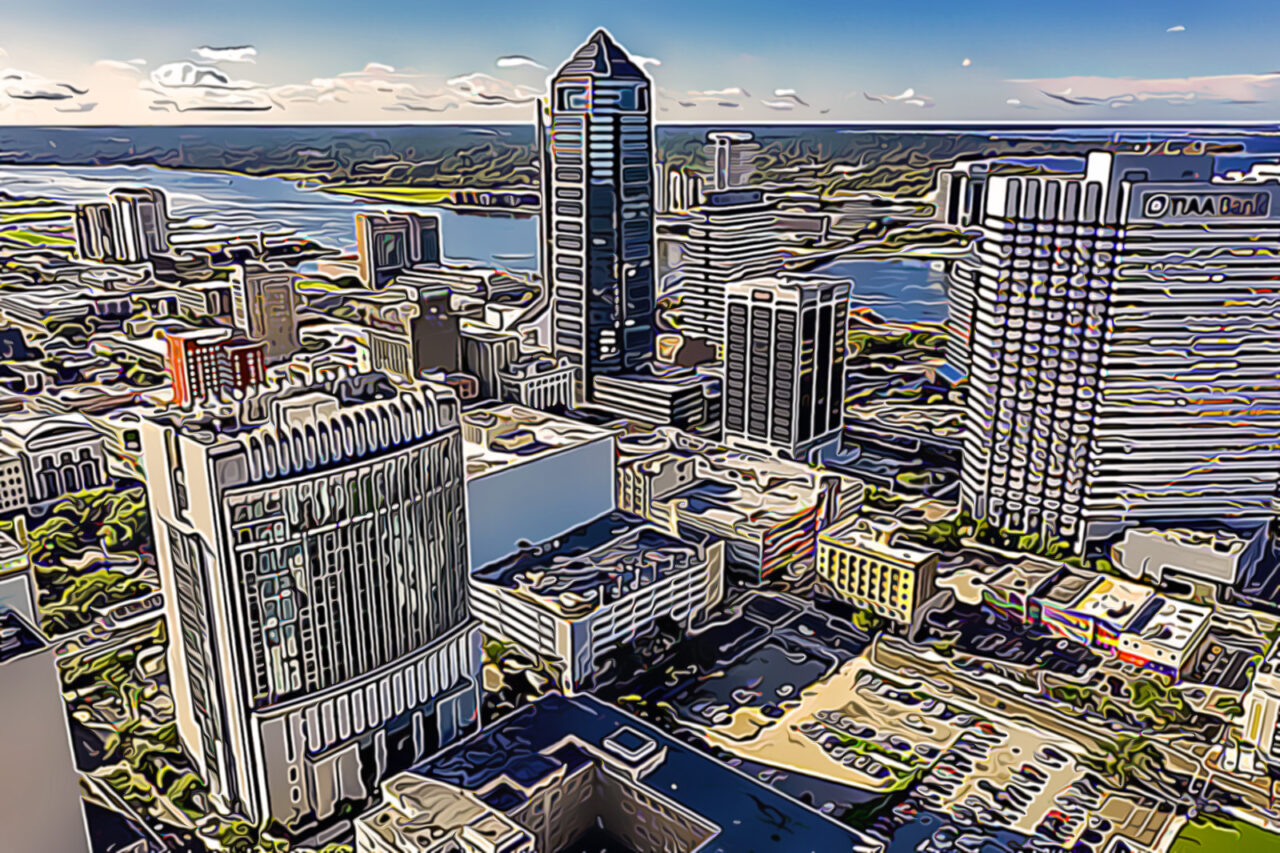 Donna Deegan got her first budget through the supermajority Republican City Council largely intact
On Tuesday, Mayor Donna Deegan got her first budget through the supermajority Republican City Council largely intact, which she acknowledged with a statement from across the Atlantic.
"This final budget makes generational investments to ensure Jacksonville's citizens are healthy, safe, housed and thriving. I'm grateful for President (Ron) Salem and Vice President (Randy) White's leadership, and I thank the full City Council for their collaboration. I look forward to our continued proactive partnership as we work together to implement these dollars for the community."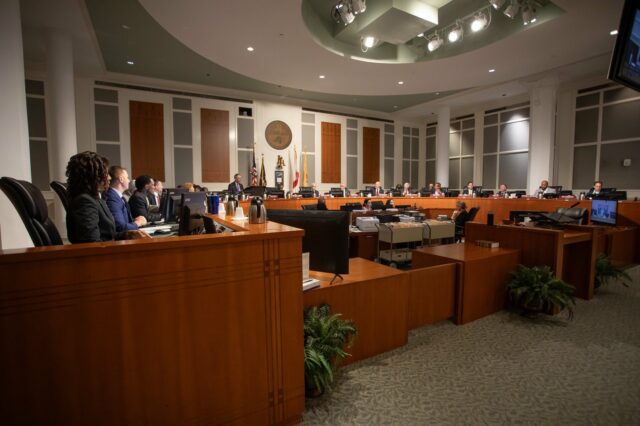 At $1.75B, it's the most significant budget in the city's history, 14% beefier than the current years. Despite the splashy spending, it wasn't as smooth as the statement suggested.
One interesting exchange came when Rules Chair Terrance Freeman, who some have said may be looking at a run for Mayor, sought to earmark $3.1 million out of contingency funds carved out for Deegan to eventually allocate to handling homelessness. The Mayor's Office rebuffed that play and Deegan will get $25 million to program — with Council approval.
The Council got its way on some issues, as Nate Monroe noticed.
"The mayor has line-item veto power and could nix the late-hour additions into the budget that 1. benefited nonprofits run by council members and 2. would help a charter school founded by a GOP donor (and connected to a larger GOP effort to remake public education) build a gym."
That gym is a $1.4 million spend for an $11 million facility at the Jacksonville Classical Academy, a questionable spend given previous General Counsel opinions argue that city government money should not be programmed for public schools. Charter schools are treated as public in state funding formulae, as locals learned when it took two years to approve the ½ cent sales tax extension.
The workaround was reliance on a joint use agreement allowing the city to use the facility. We guess we will see more of these arrangements down the road, and if Deegan signs off on this one, she obviously can't veto the others.
Then, of course, there are the appropriations for the Clara White Foundation (connected to Democrat Ju'Coby Pittman) and the Fire Watch Council of Northeast Florida (which has a business relationship with Republican Nick Howland, the Finance Chair) — those passed with just two no votes.
Acting CFO Mike Weinstein did his usual yeoman's work in bringing the budget in for a landing. The real excitement, of course, will be next year's budget. Full-time CFO Anna Brosche takes over next month, and unlike the quick turnaround on this year's document, the Mayor will have a full year to fine-tune that proposal.
The Jacksonville City Council has approved a $1.75 billion budget and other appropriations legislation. Will the Mayor veto any of the spending? Please join us as @AGGancarski and @NateMonroeTU discuss on the next #Jaxpol @XSpaces: Monday, 10/2 at 8:00 PM. https://t.co/LcfnRbiiYM

— Chris Hand (@chrishandjax) September 27, 2023
— Helping hand —
First Lady Casey DeSantis' "Hope Florida" is helping three Jacksonville nonprofits in the wake of last month's racist killing in New Town.
Morning Glory Fellowship Church, Mercy Support Services, and the Patric Young Foundation all got $10,000 checks last week, money distributed by Department of Children and Families Secretary Shevaun Harris and the Governor's Liaison for Faith and Community Erik Dellenback.
"Through the Hope Florida initiative, today we awarded $30,000 to Jacksonville nonprofits and faith leaders who are helping to make a difference in their communities," said DeSantis. "The Hope Florida Fund is comprised solely of private sector donations — they support nonprofits who are helping people in their communities. We appreciate what these organizations are doing to make a difference."
"It was an incredible honor to present financial awards to these organizations, which served as beacons of comfort during a time of immense grief for this community and our state as a whole," said Secretary Harris.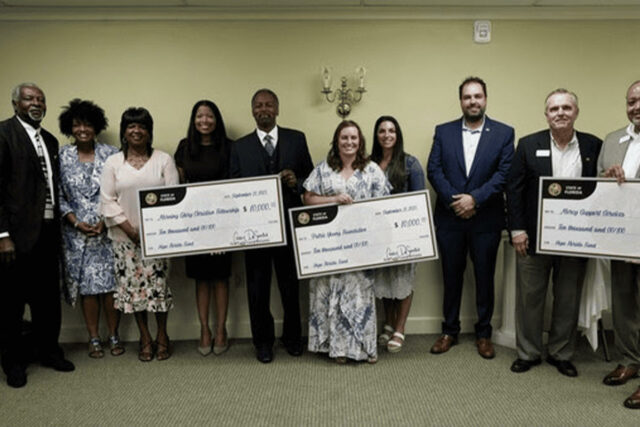 "Today's announcement accentuates the role of the Hope Florida Fund in strengthening our local partners' ability to offer a personal approach to Floridians' most pressing needs. I am grateful for all they have done and will continue to do as this community heals, and I commend First Lady Casey DeSantis for helping to ensure they have the necessary resources," Harris added.
"One of my favorite parts of the First Lady's Hope Florida Initiative is the way it recognizes that the groups best equipped to serve a community are the incredible churches, faith institutions and nonprofits in those communities, and this was true once again after the recent tragedy in Jacksonville," Dellenback said. "Today, through the Hope Florida Fund, we were honored to recognize a few of those great faith and community organizations in Northeast Florida that stand on the front line serving Florida families each and every day."
"The Jacksonville community is so grateful for the support we have received from Governor and First Lady DeSantis following the horrific shooting that took place near Edward Waters University just a few weeks ago," said Rep. Kiyan Michael. "This funding will help our faith institutions as they continue to help students at the college and the families of the victims who are grieving and in need of our support. Thank you, First Lady, for caring for Jacksonville."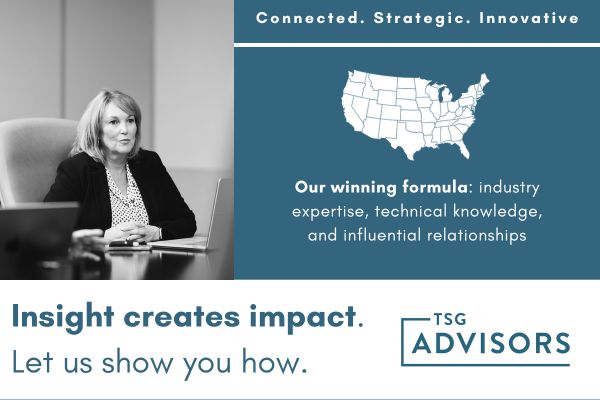 — Lead lawyer —
It appears Deegan will get her second choice through as Jacksonville General Counsel.
Former Jacksonville Bar Association President Michael Fackler of Avondale is poised to succeed where former City Council member Randy DeFoor failed and get confirmed by the supermajority GOP Council, at least if the words of Council President Ron Salem mean anything.
"We contacted the Mayor's Office after separately spending time with him and told the Mayor that she could move forward with the nomination," Salem said. "It's going to be a fairly consensus-type pick. He's got tremendous experience. He understands the fact that he has not been in government before and needs to get a deputy that is in the office who can assist him early on to get through the various issues."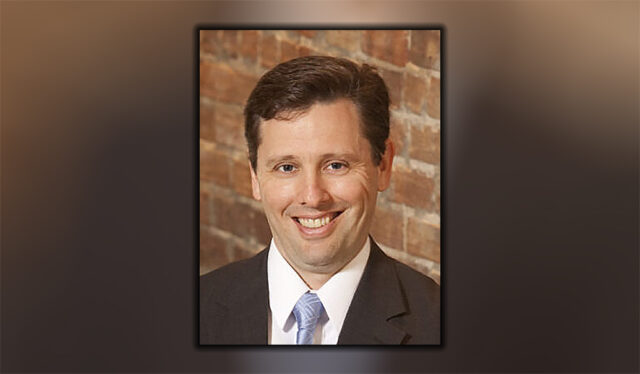 Fackler is currently with Milam Howard Nicandri & Gillam P.A. The firm offered "specialized legal counsel" to JEA during its sale attempt, the Florida Times-Union reported.
— Not an endorsement, right? —
Jacksonville's Democratic Mayor isn't endorsing in the GOP presidential race, but she believes Floridians would prefer their Republican Governor over former President Donald Trump.
"I would prefer Joe Biden in that role, obviously. But I think that, I don't know, that's a tough question between the two," Deegan told the London Times Sunday.
"I think that Gov. Ron DeSantis is certainly extraordinarily popular, has been in the state of Florida. And so, I think most Floridians or many Floridians would probably prefer him," Deegan said.
Deegan, elected in May against a candidate DeSantis endorsed, described a "good" relationship with the Republican incumbent, one forged in part because the Mayor worked with First Lady Casey DeSantis during their respective tenures in television news.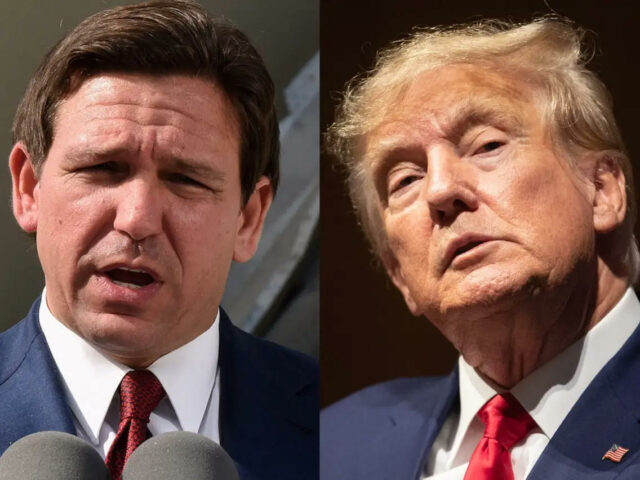 "You know, I used to work with his wife. I was in news for about 30 years, and his wife, I worked with his wife briefly and, and look, you know, whenever there is politics involved, there always has to be a little give and take."
Deegan spent her broadcast news career with First Coast News, an operation the First Lady joined when she became host of the infotainment program "First Coast Living."
Deegan framed her remarks on the necessity of bipartisan cooperation for common interests.
"I ran on a platform of collaboration that we are a state that is, that is truly and especially Jacksonville, we're extraordinarily diverse, but we're almost evenly divided between Democrats to Republicans. So, we have to be able to work together," Deegan said. "And I think that I've been pretty effective at that so far, and hopefully, we'll be able to continue to build that relationship."
Deegan added that all parties "want the state of Florida and Jacksonville specifically to be successful."
— Special relationship —
Deegan is in London as the Jaguars travel to the United Kingdom for two games this season, and to that end, she also offered some lines familiar to those who listened to Lenny Curry in the last eight years.
"And I think the partnerships that we've been able to build here really does make it a special relationship. You know, we have World Pay, that is the largest fintech company out there. We have Pay Safe. That is, that is now in Jacksonville. I think we've just developed a really strong relationship, and we see the U.K. as a very strong trading partner," Deegan told the London Times Sunday.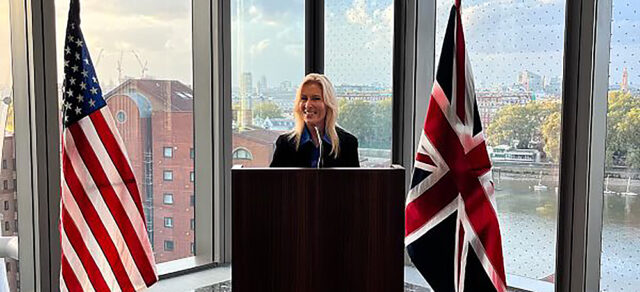 Deegan also believes the British decision to exit the European Union has been a net benefit locally.
"I think we present a nice alternative, I think, for London to come over and do business with us. And we are a very, very attractive business environment, both tax-wise and quality of life-wise," Deegan said.
"I don't know how you are viewing Brexit at this point after seven years. But I think for us, it probably has created some additional opportunities."
— Air DeSantis —
The Jacksonville Airport Authority has selected its officers for the next year; DeSantis initially appointed all.
The Governor appoints four members to the board, while the Mayor of Jacksonville appoints all three.
Michelle Barnett will serve as Chair. An attorney by trade, she is a founding member of Alexander, DeGance, Barnett, P.A.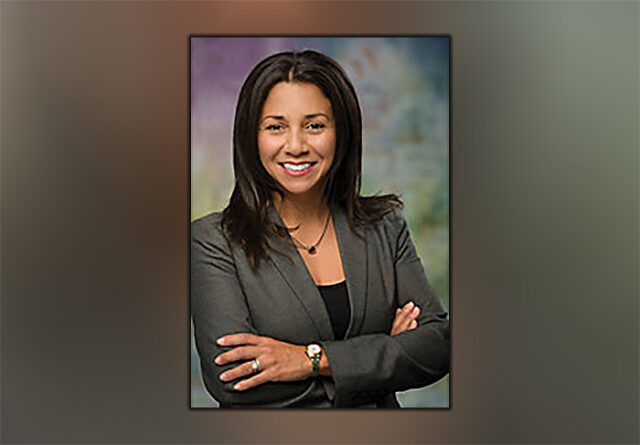 Matt Connell will manage Vice-Chair duties. The CEO of Total Military Management was part of the Governor's economic transition team in 2018. Along with the now-deceased Kent Stermon, he rented DeSantis a condo in St. Johns County so the then-Congressman could live in his district after 2016's redistricting.
Fernando Acosta-Rua, the CEO of Pet Paradise, will serve as Secretary. David Hodges will be Treasurer.
— Debate and dine —
Interested in watching tonight's Republican presidential debate but not watching it alone?
If so, the Republican Party of Duval County has a solution to your problem.
Kicking off at the Jacksonville Beach Sneakers Sports Grille location at 7:30 p.m.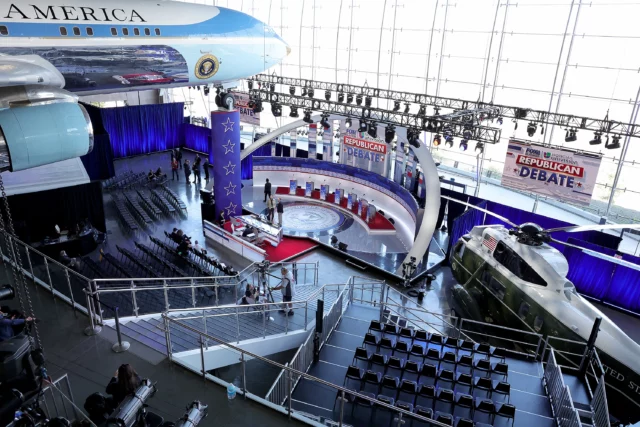 , this cycle's second debate party is open to every "fellow Republican."
"If you attended our first debate watch party last month, you'll know that this is the BEST way to enjoy a presidential debate," asserts Chair Dean Black. "Come spend time with your fellow Duval Republicans and celebrate the official start of our GOP mission to DEFEAT BIDEN in 2024!"
— Moore Moore Moore —
Attendees of Flagler Tiger Bay will have a learning opportunity next month.
Independent Colleges and Universities of Florida President Emeritus Dr. Edwin H. Moore will address the club Oct. 18 at the Hammock Dunes Club from 11:30 a.m. to 1 p.m.
Members are urged to register early, and future members may attend as a President's Guest for $40 by registering at www.FlaglerTigerBayClub.com.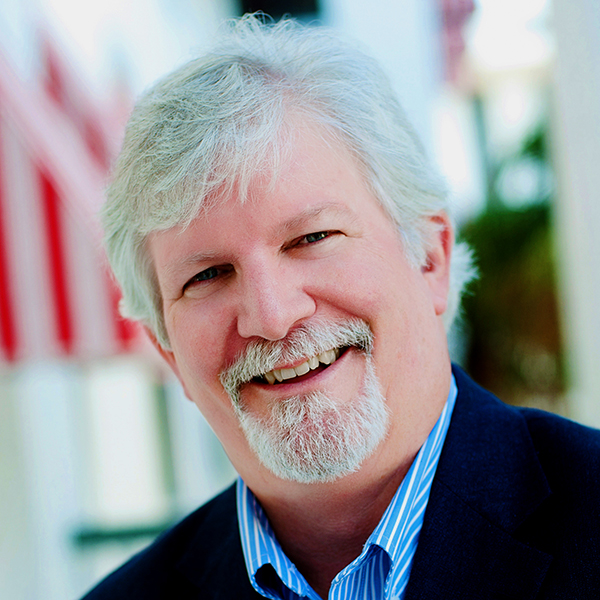 "We are honored to welcome Dr. Moore to discuss the challenges and opportunities for higher education in Florida in the 21st century. Dr. Moore's breadth of experience and knowledge in education and public policy make him uniquely qualified to speak to this important topic," said Flagler Tiger Bay Club President Jay Scherr.
"Dr. Ed Moore is one of Florida's foremost experts and most successful leaders in higher education. He brings several decades of experience and expertise to discussing public policy," said leadership expert and professor Dr. Joe Saviak. "This will be an excellent opportunity to gain a solid understanding of how Florida can lead the country and the world when it comes to higher education."
— Clean energy Jax —
A new survey, commissioned by Renew Jax with Sachs Media at the anniversary of the Inflation Reduction Act, shows Jacksonville residents want lower electric costs, clean energy and for the state's utility, Jacksonville Electric Authority (JEA), to prioritize securing available funding for clean energy projects.
The survey, taken among 613 residents within the JEA service area, showed ratepayers have a growing lack of faith in the agency's willingness to lower bills. Eight in 10 residents polled said they are concerned their bills will continue to go up, while only 45% were satisfied with JEA's efforts to lower bills.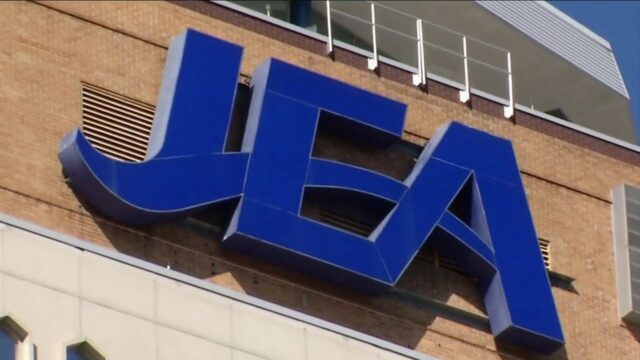 "This polling highlights the serious concerns our neighbors have with JEA's choices and their rising electric bills," said Renew Jax representative Josh Melko, a University of North Florida chemistry professor and former Congressional Science Policy Fellow. "The community is clearly in favor of applying the available federal funds to build out more renewable energy and achieve more stable energy prices while also making the city cleaner and more resilient for us all."
The survey additionally found that nearly six in 10 residents, 58%, believe the utility should increase its investment in renewable energy. In contrast, 81% think the agency should seek federal funding for clean energy projects.
Further, 53% don't believe JEA should increase natural gas investments, a strategy many increasingly believe isn't the environmental win it once touted.
The survey comes after JEA, earlier this year, announced its Integrated Resource Plan that relies on a new gas-fueled plant and extends the life of a coal plant. The plan comes with a more than $1 billion price tag, even as Jacksonville residents already see significant rate increases in their electric bills.
The federal Inflation Reduction Act provides $40 billion in federally guaranteed loans for new clean energy projects for utilities like JEA.
Renew Jacksonville is a campaign to convince JEA to end its dependence on fossil fuels by converting to clean, renewable energy sources.
— Housing hope —
During a meeting last week, the St. Johns County Chamber of Commerce outlined the importance of affordable housing solutions. The takeaway: For solutions to be sustainable, they must become the cornerstone of the St. Johns County Comprehensive Plan and Land Use Plan.
The Chamber's report emphasizes the role of teachers, nurses and hospitality staff in the regional economy. However, they are forced to buy or rent homes outside St. Johns County because of the lack of affordable housing.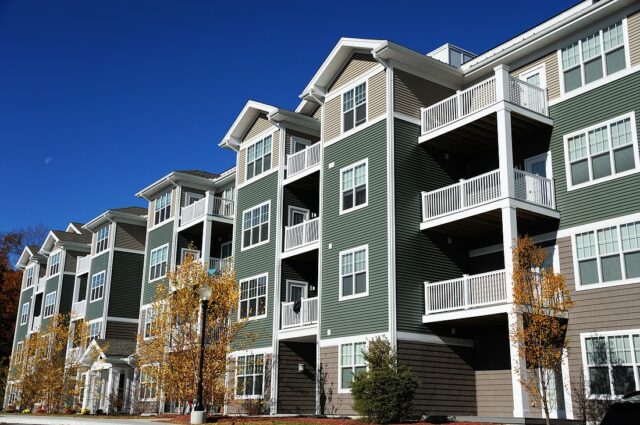 Population growth, changing demographics, remote employment, short-term rentals and investor purchases all impact the supply and demand for attainable housing. Zoning, ordinances and regulations have also impacted affordable housing supply, and they must catch up with demand.
The Chamber highlighted several potential solutions to the crisis, including mixed-use and transit-oriented developments, density and parking bonuses, low-income and multi-unit property tax exemptions, purchase assistance programs, and expedited permit reviews, among other things.
"No single solution will fix this issue, but the county does have options to alleviate these housing challenges for essential workers. A comprehensive approach will involve a combination of options tailored to the specific context and requirements of our community," reads a report prepared by the Chamber.
— Sing Out Loud —
The Sing Out Loud Festival's Francis Field Showcase defied the odds last weekend with a high turnout despite historically low tourism.
The two-day event, held Sept. 22-23 in St. Augustine, attracted 32,000 attendees from South Florida, North and South Carolina, Virginia, New Jersey and many other regions.
The inaugural event is a highlight of the monthlong Sing Out Loud Festival, which throughout September hosted 154 performances by both local and regional acts across 14 district venues in the nation's oldest city.
The Francis Field Showcase featured artists including The Black Keys, Mumford & Sons, Maggie Rogers, Lord Huron, Elle King, Amos Lee, S.G. Goodman, and War Hippies.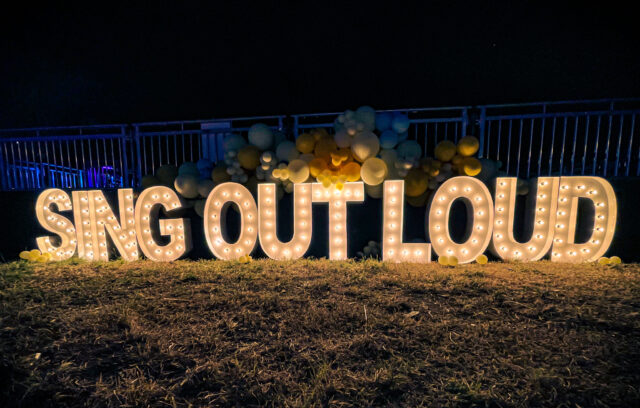 Admission included a charity fee, which led to $140,000 raised for the First Responder Project and the St. Johns County School District.
Historically, St. Johns County experienced a drop in tourism in September, sometimes 60% fewer lodgings than in peak months. The turnout at the festival helped stimulate St. Augustine's economy at a time when some businesses may experience a lull.
"Watching downtown come alive during the festival is a powerful testament to our shared vision," SJC Cultural Events Chair Dylan Rumrell said. "It offers our community a unique chance to bond while also providing a substantial boost to our local businesses during a typically slow period."
The Sing Out Loud Festival is curated and produced by SJC Cultural Events, Inc., formerly the St. Johns County Cultural Events Division. It oversees the operation and management of award-winning live entertainment venues.
"This unparalleled success not only underscores the cultural significance of the Sing Out Loud Festival but also serves as a testament to the unity, commitment, and vision of the St. Johns County community," SJC Cultural Events Board member Kevin Sweeny said.
He added that this year's success "sets a promising precedent for forthcoming events, collaborations, and partnerships."
— Hot hot hot —
The Jacksonville Jaguars have taken two losses in a row, but the city's Chief Health Officer is more concerned about the heat at the stadium than the cold performance by the defending AFC South champions.
"The heat has become a public health issue for people who simply want to support the home team. By putting 1 p.m. games in Jacksonville in September year after year after year, the NFL is showing a complete disregard for fan safety or even player safety for that matter," tweeted Dr. Sunil Joshi Sunday.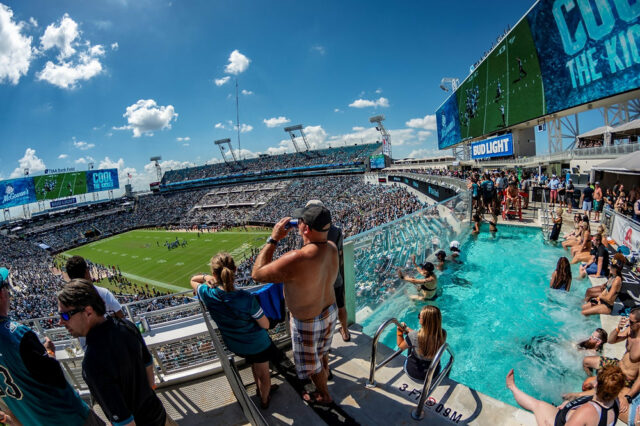 Joshi notes that with "no shade in the building, to be sitting in the baking sun in September is a recipe for disaster."
"As we await a new stadium with shade, there are a few easy fixes. 1) Play the yearly London game in September or 2) A September prime time home game, or 3) An even simpler solution would be for each of the Jaguar Sept/Oct home games to start at 4:30 or later."
"The hottest times of the day in September are between noon and 4 p.m. So, starting after 4:30 would seem like an easy solution. Previously, the NFL was contracted to show AFC games on CBS & NFC games on Fox, and if one of those networks did not have the late game doubleheader."
— Jags in need, indeed —
Did it really need to come to this?
Are the Jaguars in panic mode after just three games?
No, but it's not far off. After dropping their second straight contest, an embarrassing 37-17 loss to the previously winless Houston Texans, it's time for the Jaguars to, at the very least, regroup.
The annual trip to London may serve as an excellent place to regroup.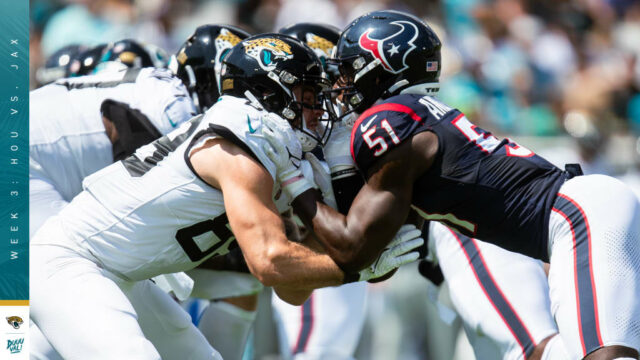 The Jaguars will play back-to-back games in London for the first time in team history. Sunday morning, they'll face the surprising Atlanta Falcons at Wembley Stadium, and then the following Sunday, it's a matchup with another AFC contender, the Buffalo Bills.
Doug Pederson admitted this week that his team may have been caught reading the press clippings. That it has happened so soon may be a blessing in disguise. It is the Jaguars' time to sort things out. But the mental approach is just one of the problems facing the Jags.
There are injuries and poor play along the offensive line, an area of concern coming into the season. The other big concern was the pass rush, which has proved to be an issue for the team. In three games, the team has totaled just six sacks. That's a shade shy of their underwhelming pace of last year when the team finished with 35 sacks in 17 games.
And all of this while team president Mark Lamping made a poorly veiled threat of moving the team if the stadium deal doesn't get done.
Talk about timing.
The Jaguars need a turnaround in London in the worst way.
So, what can they do?
For starters, eliminating mistakes on special teams would go a long way. Against the Texans, the Jaguars missed a field goal and had another one blocked. There's six points. Then the unbelievable gaff on a kickoff that allowed a fullback to score a touchdown on the return. 13 points. Eliminate the turnovers and the Jaguars are right back in the game against the Texans.
Atlanta is a better team than Houston and the Bills are better than Atlanta. So, it will take more than reducing unforced errors to win.
Several players talked about the team pressing this week — trying too hard at times.
Maybe.
The refrain of "that's not us" is a common one from NFL teams that don't have their acts together. If the Jaguars don't get it together before returning from overseas, we could be in for a dark, windy road the rest of the way.