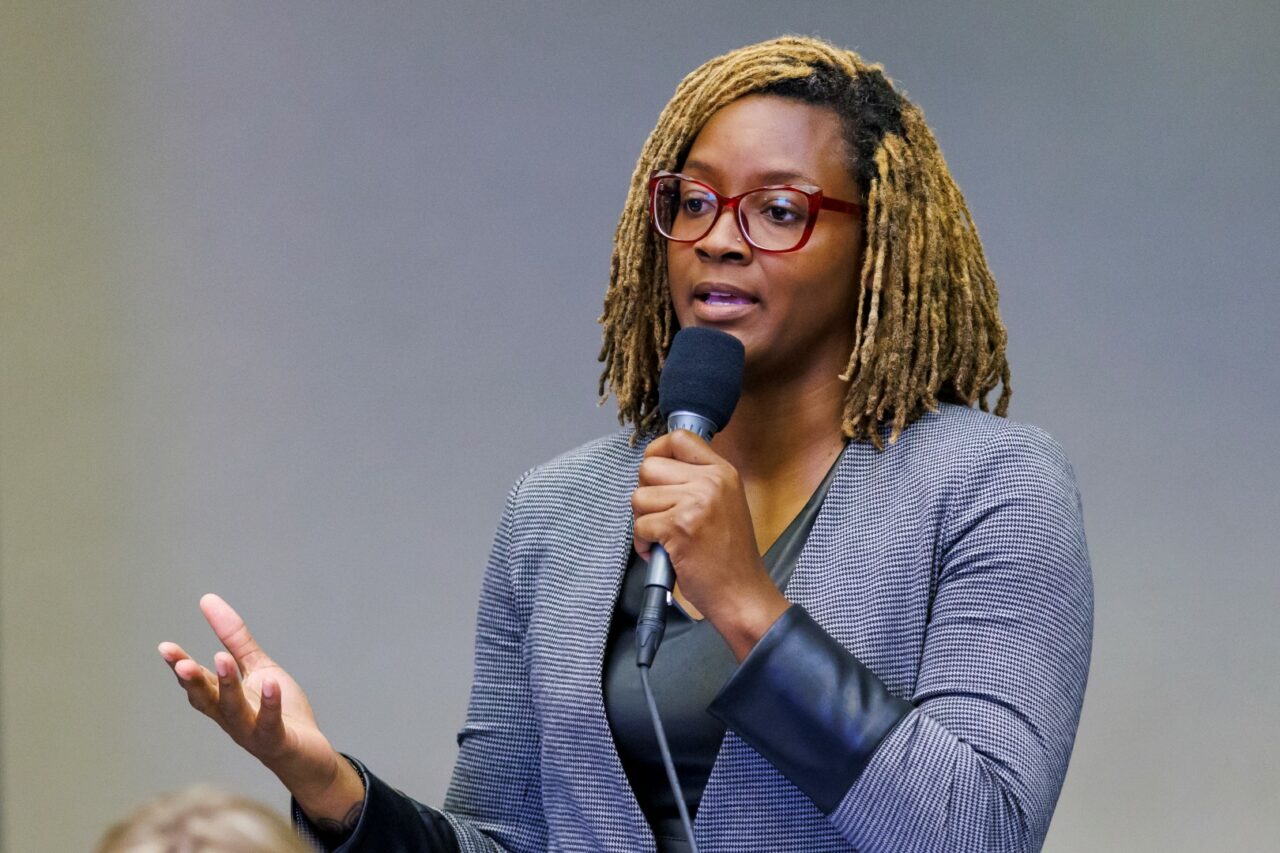 The Jacksonville Democrat claims her 'dangerous' colleague 'doesn't like Black People' in the wake of his monument protection bill.
New legislation that would stop cities from removing confederate monuments and would allow Gov. Ron DeSantis to remove local officials who approve those removals is exposing fissures in the Duval County legislative delegation.
Democratic Rep. Angie Nixon blasted bill sponsor Rep. Dean Black as partaking in attacks on "marginalized communities" in the wake of Black filing HB 395 and the Republican's position on the Israel-Hamas conflict (Black hosted a rally supporting Israel recently at Jacksonville's City Hall).
"It's politically popular to attack marginalized communities in his community. Amongst his base," Nixon told Florida Politics Friday morning.
This was a follow-up to a Nixon post on X. "It's evident that Dean Black doesn't like Black People. He's used racist dog whistles and sayings throughout his history as Republican Party chair. Remember his 'darken the door' of City Hall statement about Tracye Polson's race (for the Jacksonville City Council)? Now he wants to do what Republicans in this state do."
Black is Chair of the Republican Party of Duval County, which was active in the election in the wake of City Council member Tommy Hazouri's death a couple of years back. Republican Nick Howland defeated Polson in that contest.
The Jacksonville Republican rejected Nixon's criticism out of hand, noting her lonely stance on legislation that pushed for a cease-fire in Israel. She sponsored the bill that only got two "yes" votes against 104 "no's."
"I'm not going to be lectured about marginalized people by a Representative that just proffered a racist, antisemitic resolution in the Florida House. When we stand with Israel we stand with the most marginalized people in history. When we support preserving our history, we support the history of all people," Black said.
Nixon responded in kind.
"He also said nothing about the Palestinian people currently under bombardment. Or his colleague calling for the annihilation of them all (Rep. Michelle Salzman). He is a race baiter. Period. If he really cared about marginalized communities, he'd join our work in NW Jax to get more access to food in food insecure and redlined areas," Nixon said.
Alluding to a racist murder of three at a Jacksonville Dollar General near a local historically Black university (Edward Waters University) earlier this year, Nixon said Black's stance "emboldened" the White supremacist gunman "to kill" which "forced a shut down of one of the only food options in the area."
"He should put his actions where his hollow response is," Nixon said.
"And supporting the history of all people isn't what he does. He pushes book bans, the mischaracterization of slavery and teaching it was of benefit to Black People. Dean Black is dangerous. And the fact he leads a party locally in power is even more dangerous."
While bills blocking removal of monuments to the Confederacy have been filed before without success, this iteration for the 2024 Legislative Session actually offers new enforcement powers. In addition to giving the Governor the power to remove these officials, it would force officials to pay back the costs of replacing or repairing the memorial out of their personal wealth if they authorized actions to flout this law.
Nixon is only the latest Jacksonville Democrat to denounce the legislative proposal, which is also being carried in the Senate by Republican Jonathan Martin.
"This bill would be just another slap in the face to our Black community, which has already endured so much. It's also an unconstitutional overreach that is the latest example of home rule being stripped away from Florida cities," said Mayor Donna Deegan.
Deegan promised on the campaign trail that the last remaining monument in Jacksonville, a tribute to White Southern Women in what was once called Confederate Park, would come down during her administration.