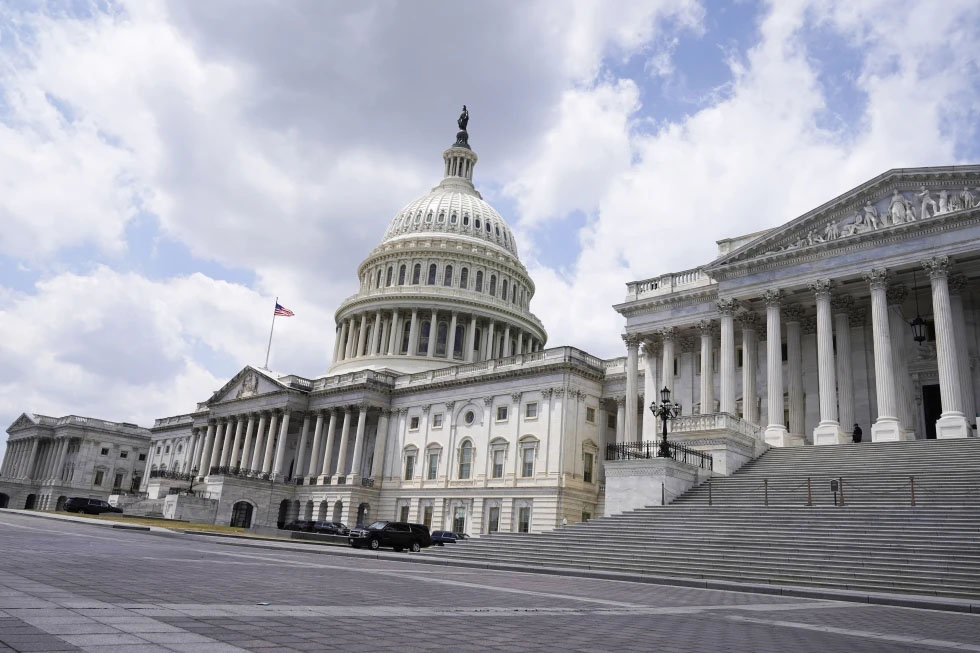 Home for the holidays — without that feeling of accomplishment.
Passing the gravy
With Thanksgiving less than a week away, Congress has finally gone home to families.
But after 11 weeks of bitter infighting, they show up at the dinner table with a broad sense of dissatisfaction about what, if anything, was accomplished.
On Wednesday evening, the Senate signed off on a deal to avert a government shutdown this calendar year. However, a split between Florida's Republican Senators seemed symbolic of the last six weeks of intraparty disagreement.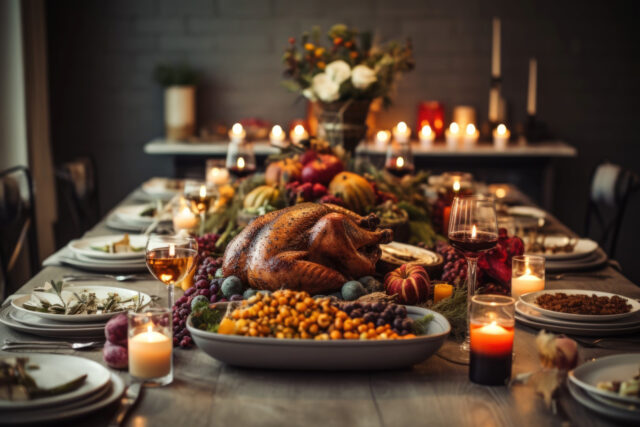 Sen. Marco Rubio supported the budget deal, but Sen. Rick Scott was among 11 'nay' votes.
The Senate vote came a day after the House approved the laddered continuing resolution, which will fund portions of the government through Jan. 19 and parts through Feb. 2. All of Florida's Democratic representatives supported the deal, though not without reservation. While fully funding the government, the House broke Wednesday without addressing a supplemental funding request.
"We still have more work to do to secure long-term funding for Israel, Ukraine, child care and other essential programs American families rely on, and House Democrats are ready to work in a bipartisan way to make that happen," said Rep. Lois Frankel, a West Palm Beach Democrat.
More Democrats in the House voted for the deal than Republicans, but it passed overwhelmingly on a 336-95 vote. While most House Republicans supported the agreement, a sizable number of Florida Republicans, 12 of 20, voted against the budget.
"Congress cannot govern by passing CRs and Omnibus bills," said Rep. Bill Posey, a Rockledge Republican. "I didn't come to Congress to keep the status quo; I came to make our country better for our children. Washington's spending levels are unsustainable. Congress must pass single-subject appropriations bills."
Rep. Matt Gaetz, a Fort Walton Beach Republican, said he supported the segmented budget approval in concept but wants to see spending cuts now.
"Speaker (Mike) Johnson is proposing a 'Laddered CR' to keep funding the government. If done right, we would be able to cleave the important programs from those that need itemized review," Gaetz said on his official podcast. "But a laddered CR without spending cuts, border security, and defanging weaponization is not sufficient."
But other Republicans in the delegation said it was critical to fund the government.
"The fact of the matter is that shutting down the government is far more costly than passing this continuing resolution," said Rep. Neal Dunn, a Panama City Republican. "I care about the families in my district who need certainty around the holidays. I care about a strong military during times of international instability. I remain committed to lowering spending levels once this funding deadline is up in early 2024, securing our southern border and continuing the fight for lower appropriations under Speaker Johnson's leadership."
With friends like these
Since his election last year, several Florida congressional delegation members have voiced mistrust of Colombian President Gustavo Petro. Scott wants the U.S. to re-evaluate its relationship with the nation.
The Naples Republican sent a letter to Biden condemning recent remarks by Petro criticizing Israel in the wake of the Oct. 7 Hamas attacks.
"President Petro has a gross track record of opposing U.S. interests and has now crossed a new line by blaming Israel for the atrocities committed by these Iran-backed Hamas terrorists and comparing Israel to Nazi Germany," Scott wrote." It is clear that the positions taken by President Petro's administration require a full examination of the U.S./Colombia relationship."
Petro drew international criticism for remarks, though he has insisted his professed sympathy for Palestinian civilians killed in response to the Hamas attacks is driven by a desire for peace.
But Scott noted the remarks came after Petro opened relations with governments hostile to the U.S., including with Venezuelan President Nicolás Maduro and, especially upsetting to Florida, with leaders in community Cuba. But he also voiced concern whether Colombia could be trusted to fight the influence of other powers like Iran, noting reports that members of Hezbollah operate freely in Venezuela and suggesting a foothold in the Western Hemisphere could grow.
"The United States is Colombia's largest trading and security partner and I do not raise these concerns lightly," Scott wrote. "If America is dedicated to freedom, democracy and stability in Latin America, we cannot allow these threats to go unchecked or concerns of this magnitude to be ignored."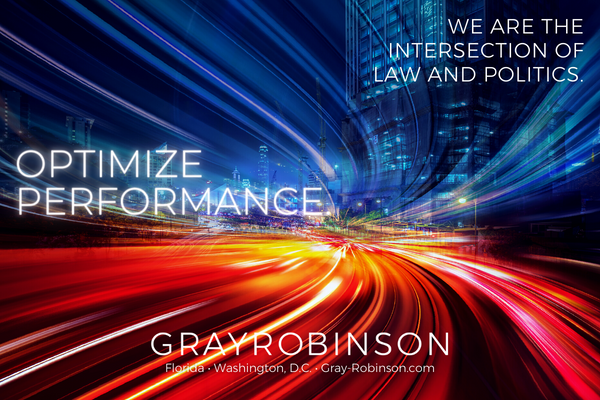 Failure to launch
According to Rubio and Scott, delays in launch licenses at Kennedy Space Center have hindered too many space missions. Florida's Senate delegation sent a letter to Transportation Secretary Pete Buttigieg seeking a faster countdown for applicants to secure approval.
"We recognize the critical importance of public safety when it comes to space launches, but the current delays are stifling industry when the U.S. most needs continued success in space to compete with Russia and China," Buttigieg said.
"In particular, both the U.S. and China seek to land astronauts on the moon in coming years. As part of these efforts, several development and test flights will be required by NASA at Cape Canaveral and across the country. Regulatory delays will only leave the U.S. trailing behind in its endeavors to reach the moon and leave industry lagging on executing its commitments to the program."

The letter notes that at this point, most launches from the Space Coast are by private companies, but those work in close partnership with NASA, the Defense Department and the Intelligence Community. But it's the Federal Aviation Administration slowing down launch licenses.
"Our national security and economic future depend on an increased cadence of launches, and the FAA must have the tools and processes in place to support this growth," the Senators wrote.
The letter came days after the Transportation Department scoffed at calls to increase the budget for the Commerce Space Transportation Office, according to Space News.
Industry leaders at the meeting called for more than the $37.6 million currently budgeted. But Deputy Transportation Secretary Polly Trottenberg said private partners need to contribute more funding directly for that to occur.
"We're an agency that has the ability to generate revenue, and I think that's going to be a question for this industry," she said.
Protecting the shore
Members of Florida's congressional delegation from both sides want to ensure no oil drilling off the state's coast.
Republican Reps. John Rutherford and Mike Waltz banded together with Democratic Reps. Lois Frankel and Darren Soto introduced the Preserving Recreation, Oceans, Tourism, Environment and Coastal Towns in (PROTECT) Florida Act.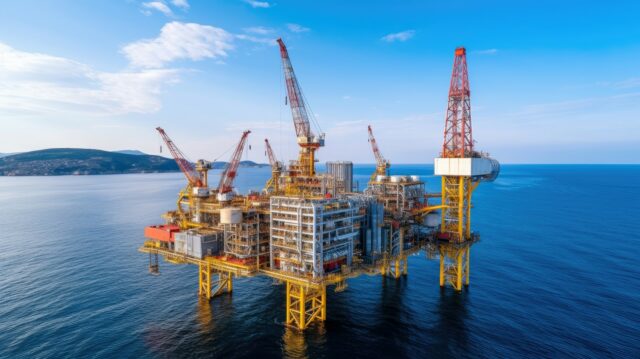 "Florida's coastal environment is a central part of our state's economy and way of life," said Jacksonville Republican Rutherford. "I have worked to protect our environment through prudent regulations that prevent unnecessary harm. As a member of the House Appropriations Committee."
Drilling off the state's coast has long been a unifying measure for Florida lawmakers regardless of party, as demonstrated by 14 Florida House members from both sides of the aisle serving as introducing co-sponsors.
"Stopping offshore drilling and seismic testing in Florida is common sense — we've had a bipartisan united front on this issue for years," said Soto, a Kissimmee Democrat.
The bill would extend a moratorium on oil and gas leasing, seismic testing, and exploration off Florida's coast until 2032. Lawmakers note Florida voters in 2018 banned offshore drilling in the state constitution, though that only applies in state waters.
Waltz, a St. Augustine Beach Republican, noted it's a question of protecting the environment and military training zones off the state's coast.
"Our state cannot afford offshore drilling operations that could invite devastation to our coastal environment, marine life and tourism industry, as well as negatively impacting military training that takes place off Florida's coast," he said.
Frankel said Florida's beaches and ecology are critical to Florida's lifestyle and economy.
"Florida's coastlines are essential to our economy and our way of life," the West Palm Beach Democrat said. "As we work to confront the urgent threat of the climate crisis, I'm proud to support this bipartisan legislation to protect our natural resources and ensure we leave a sustainable planet for our children and grandchildren."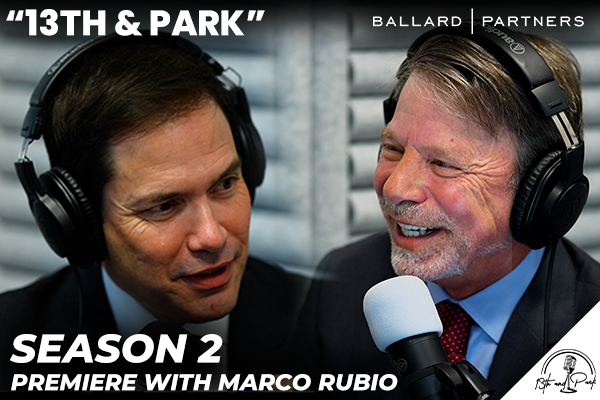 Another round
This week, Gaetz filed an ethics complaint against Rep. Kevin McCarthy, a California Republican, after an incident when McCarthy reportedly shoved Rep. Tim Burchett, a Tennessee Republican, sparking a media firestorm.
Burchett was among a few Republicans who joined Gaetz and all Democrats in ousting McCarthy as House Speaker. The tension between Gaetz and McCarthy has only continued in the six weeks since.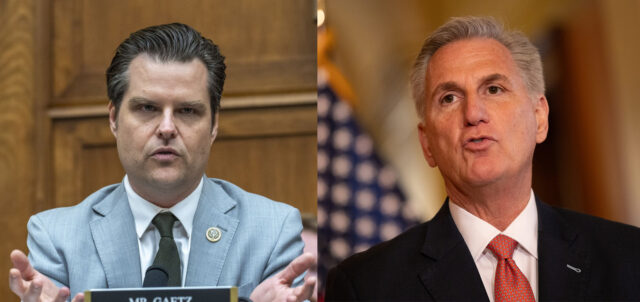 Now, the Fort Walton Beach Republican has filed a formal ethics complaint.
"This Congress has seen a substantial increase in breaches of decorum unlike anything we have seen since the pre-Civil War era," Gaetz wrote. "I myself have been a victim of outrageous conduct on the House floor as well, but nothing like an open and public assault on a member committed by another member. The rot starts at the top."
For his part, when reporters told him about the complaint, McCarthy replied, "Good. I think Ethics is a good place for Gaetz to be."
La, la, la la, la, la
But that wasn't the most colorful exchange involving a member this week. And by color, that specifically means blue.
In the middle of a House Oversight Committee, Chair James Comer shouted at Rep. Jared Moskowitz, "You look like a Smurf."
To be fair, the Parkland Democrat had shown up in a blue plaid suit jacket and a light blue tie.
But what truly irritated Comer was that Moskowitz had confronted the Oversight chair about the family business. As Comer makes a case for impeaching Biden, he has focused on a $200,000 check from his brother, written and cashed when the President did not hold office, as evidence of financial impropriety.
But recent reporting by The Daily Beast showed Comer has also engaged in six-figure loans and transactions with his brother. Moskowitz seized on those reports and suggested if the Biden business dealings warrant impeachment hearings, it may be time to depose Comer about his family dealings.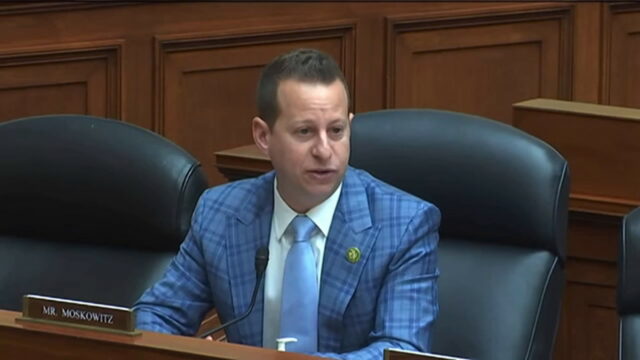 "You go on Fox News and say loans and deals are a way to evade taxes," Moskowitz said. "We don't know what you're doing or not. We're supposed to take your word?"
For his part, Moskowitz took the Smurf swipe in stride and spent much of the rest of the day posting Photoshopped versions of himself with blue skin and a white cap alongside Comer's face on a live-action Gargamel or sharing a video of mushroom fields, wondering if that's where he needs to live now.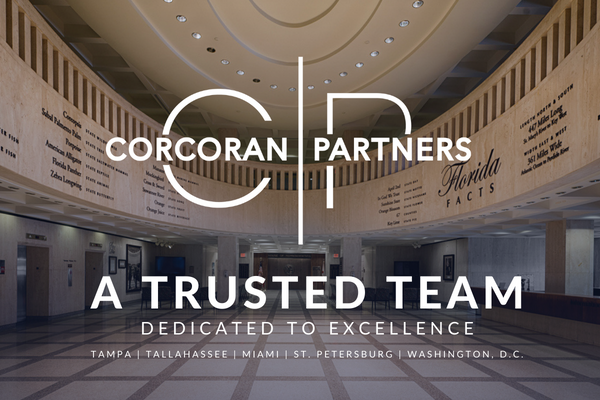 Stopping Hamas propping
Demonstrations on college campuses have Rep. Aaron Bean ready to strip any colleges of funding if they allow antisemitic protests on campuses.
The Fernandina Beach Republican filed the Ending Subsidies for Pro-Terrorist Activities on Campus Act with Rep. Troy Nehls, a Texas Republican. The legislation would deny federal funding to schools, explicitly denying student aid to those pushing pro-Hamas propaganda. It would also prohibit federal funds to support student groups promoting such messaging, requiring colleges and universities to report such activity.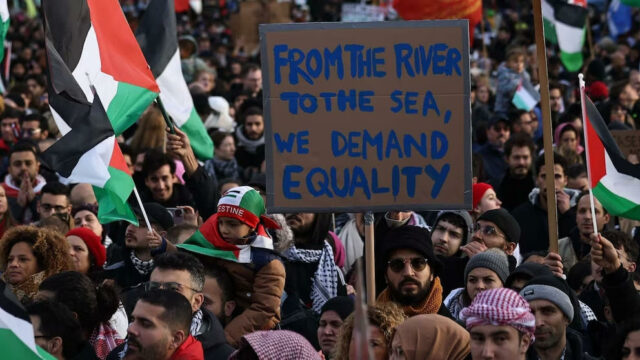 "Today, we are seeing the full force of Jewish hatred on our college and university campuses," Bean said. "It's unthinkable that students are unable to walk between classes to their dorms or the dining hall. But it's the reality for Jewish students on campus today. Under no circumstance should taxpayers be funding toxic, hatred dogma anywhere on college campuses."
The bill serves as a House companion to legislation already introduced in the Senate by Rubio.
"The last thing that students should be worried about is a threat to their safety. Shamefully, some students and faculty members are supporting an organization that has pledged to commit violence until Israel no longer exists," Rubio said. "Our tax dollars should not be funding antisemitic, pro-terrorist activities on college campuses. It is absolutely ridiculous that the government is subsidizing this. I thank Congressman Bean for joining me in this effort."
Scent of justice
The Environmental Protection Agency will give Dade City $1.75 million to assist in upgrading its wastewater treatment plant. Rep. Gus Bilirakis, a Palm Harbor Republican, announced the grant from the Consolidated Appropriations Act, an earmark he sought in the budget.
"While I am no proponent of big government spending, and I am actively working to rein in Washington's reckless behavior, I do have a duty to ensure my community receives its fair share of allocated federal resources," Bilirakis said.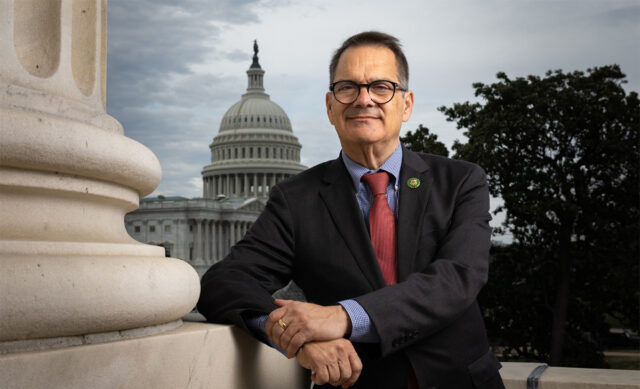 "It is important for me to be transparent about my efforts to prioritize important community needs and provide targeted support. I am proud to have secured this funding for a project Dade City and the residents of Mickens-Harper have hoped for since 2011. I'll keep working to address water quality issues throughout Florida's 12th Congressional District."
The existing wastewater plant was built in the 1950s to serve a historically Black community in Pasco County. Local officials said upgrades and relocations would protect environmentally sensitive areas like the Green Swamp. They would also improve the quality of life for Mickens-Harper residents dealing with traffic and odors produced by the plant.
"The City of Dade City is grateful for our partnership with Congressman Bilirakis and his advocacy in securing funding to upgrade and relocate the City's Wastewater Treatment Plant," said City Manager Leslie Porter. "The funding makes it possible to fast-track this important project. The current plant, constructed in the 1950s, was built in the Historic Mickens-Harper neighborhood. As Dade City continues moving in a forward direction, relocating the plant will address that environmental injustice. The City is committed to providing our residents in this community (with) a better quality of life. As our existing plant nears capacity, the new facility will accommodate growth while protecting our watershed and water bodies. This benefits us all."
Climate crisis revisited
According to Rep. Kathy Castor, record heat throughout Florida represents a bigger problem than high electric bills for air conditioning. The Tampa Democrat spotlights a report released this week showing the once-distant consequences of climate change on the U.S.
"The science is clear: if we fail to take decisive action to slash toxic carbon pollution from dirty fossil fuels, the devastating and deadly impacts of climate change will worsen and heat the planet to unlivable levels," Castor said.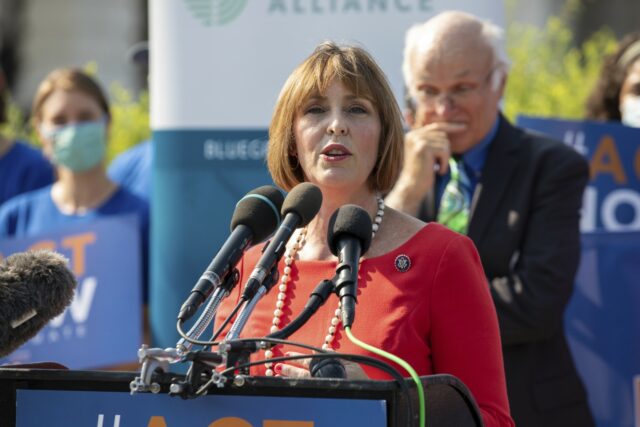 Castor previously chaired the Select Committee on the Climate Crisis when Democrats held the House. That panel was disbanded when Republicans took the chamber in January, but Castor said many policy advances generated by that committee worked and improved sustainability.
"The good news is the U.S. is making progress in fighting climate change through critical investments in clean energy, mitigation, adaptation and resilience policies recommended by my Select Committee on the Climate Crisis and authorized by the Inflation Reduction Act," she said. "These smart policies are working. Regions across the country are experiencing a manufacturing revival as solar, wind, and battery companies build new plants and uplift communities. We're harnessing American ingenuity to innovate and expand the production of clean energy technologies while creating good-paying jobs and rapidly reducing energy costs."
The Fifth National Climate Assessment just released by the Biden administration shows specific progress and officials announced $6 billion in investments in electric grids and flood resiliency, citing the work.
"The NCA5 underscores the importance of our historic investments in fighting climate change and protecting our communities," Castor said. "For the first time, the report extends beyond climate science and dives into the real-world actions communities are taking to respond to the changing climate. The American people, our country and the world cannot afford to take our foot off the pedal now. I will continue working with my colleagues and the Biden administration to protect these critical investments and build on their incredible success."
Covering progress
Last year, the Centers for Medicare and Medicaid Services restricted coverage for Alduhelm, the first new treatment for Alzheimer's disease in decades, despite the treatment's approval from the Food and Drug Administration.
But Rep. Vern Buchanan is one step closer to restoring access.
Legislation sponsored by the Longboat Key Republican cleared the House Energy and Commerce Health Subcommittee. The Mandating Exclusive Review of Individual Treatments (MERIT) Act, co-sponsored with Rep. Nanette Barragán, a California Democrat, would ensure coverage of potentially lifesaving drugs and new treatments for Medicare beneficiaries.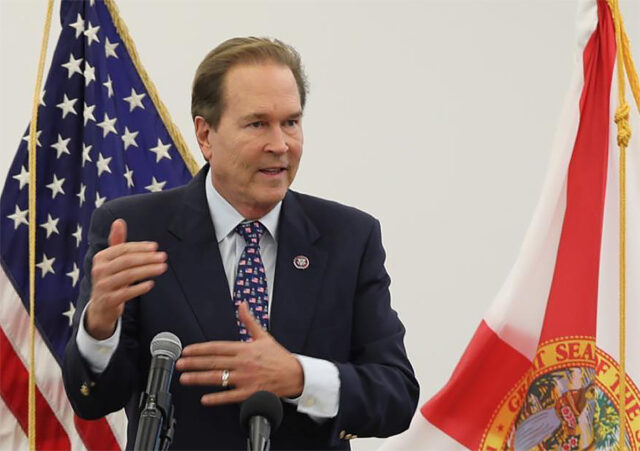 "The federal government should make it easier for seniors to access breakthrough treatments, not unreasonably restrict potentially life-changing drugs for our nation's most vulnerable patients," Buchanan said.
"Unfortunately, the Biden administration and unelected bureaucrats in Washington have continuously pursued policies that will stifle innovation and halt progress toward revolutionary cures. That is why I am so pleased to see this important legislation pass out of the Health Subcommittee and come one step closer to becoming law."
Better foster care
Rep. Greg Steube said the foster care system remains strained nationwide, and he wants to see more resources directed from the federal government toward the problem. The Sarasota Republican introduced an amendment to the House Labor, Health and Human Services, Education, and Related Agencies budget that would direct $2 million to the issue.
"The current foster care system does not adequately address the trauma and mental health needs faced by a large percentage of children in foster care," Steube said. "We know that adults who spent time in foster care experience post-traumatic stress disorders nearly five times higher than the general population. It's important that we provide innovative programming and support to give these children and teens the best chance at success."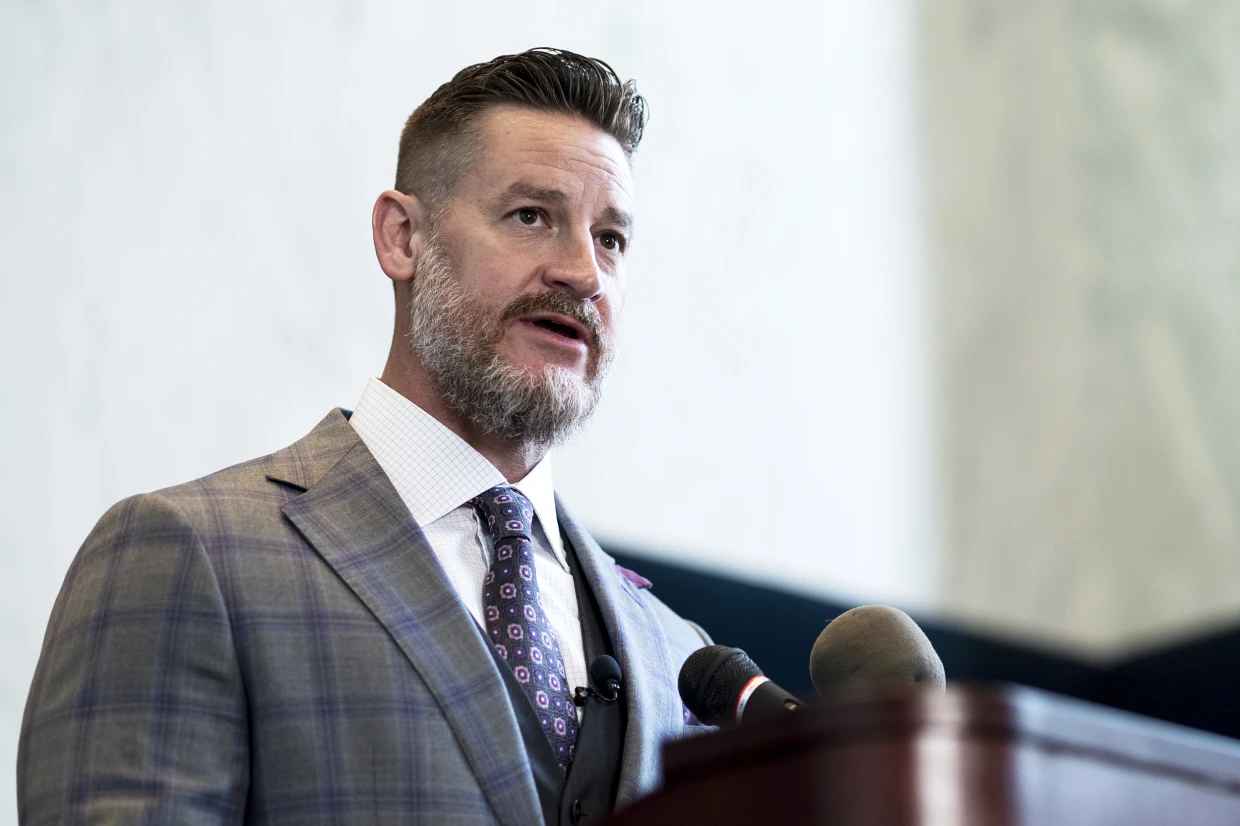 Steube's office said 391,000 youth remain in foster care systems across the country. That includes 21,000, about 5% of that national total in the Florida system.
"My amendment brings more focus and awareness to the issues that foster care youth in our country confront and the need for novel solutions to help set foster care youth on a path to success," Steube said.
The funding, through the Administration for Children and Families, would be used to highlight the need for innovative foster care programming recognizing the "adversities, challenges and traumas that children and families involved in the foster care system often confront in such vulnerable periods."
Still streaming the word
A Catholic bishop exiled from Nicaragua continues to deliver sermons from a church in Miami. On behalf of the National Endowment for Democracy, Rep. Mario Díaz-Balart just presented Bishop Silvio Báez with a Democracy Service Medal for his continued fight for religious freedom around the globe.
"Under the oppressive grip of the Ortega regime, even the small space available to clergy, religious schools, charitable organizations, and even the order that Mother Teresa founded, have been stripped of their legal status, while their leaders are imprisoned or forced into exile," said Díaz-Balart, a Hialeah Republican. "Bishop Silvio Báez is one courageous soul who was ordained bishop in Managua in 2009 and was forced to leave Nicaragua in 2019 because he was receiving death threats."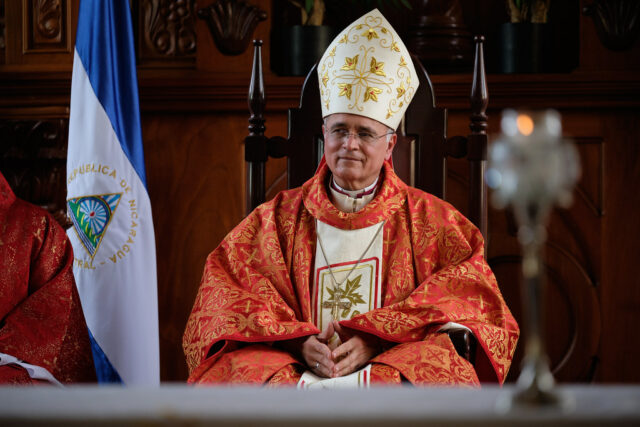 Báez recently discussed his work with The Associated Press, saying his services to a Nicaraguan diaspora in South Florida and viewers in his homeland give him a chance to continue ministering to his parishioners.
"My constant message is, 'Let's not lose hope, let's not get used to a situation that God doesn't want,'" he told The Associated Press.
Díaz-Balart said helping maintain faith doesn't just enrich the souls of worshippers. It reminds Nicaragua of alternatives to authoritarianism.
"The Ortega regime cannot tolerate faith's ability to supplant its claim to absolute authority. Ortega and his thugs must be held accountable for their reprehensible actions against the Nicaraguan people," the Congressman said. "The people of Nicaragua will be free, and it will be due to the relentless courage, faith, and work of individuals such as Bishop Báez."
On this day
Nov. 17, 1973 — "Richard Nixon gives 'I am not a crook' speech at the Contemporary" via Weird Disney — President Nixon agreed to take part in a televised question-and-answer session held at the Ballroom of the Americas inside the Contemporary Resort at Walt Disney World. The event quickly became famous for all the wrong reasons. The investigation into the break-in at the Watergate was reaching fever pitch. At one point, Nixon made a dark joke about hoping Air Force One crashed so "they won't have to impeach me." But his insistence that "I am not a crook" went down in history — especially after, the following summer, Nixon became the first President to resign.
Nov. 17, 1962 — "John Kennedy dedicates Dulles International Airport" via George Mason University — Dulles International was the world's first airport built to accommodate jetliners. First planned following World War II, the region's second commercial airport was to be completed by 1955. However, the initial location for the airport in Virginia proved unpopular, forcing the Civil Aeronautics Administration to halt construction until it found an alternative spot. One difficulty in locating a site for the airport was the resistance of the CAA and its successor, the Federal Aviation Agency, to modify plans to adapt to political and community demands. This inflexibility was grounded in the highly modernist mindset of the government.
___
Peter Schorsch publishes Delegation, compiled by Jacob Ogles, edited and assembled by Phil Ammann and Ryan Nicol.
Ed. Note — There will be no Delegation the week of Thanksgiving. Delegation will return Nov. 28.