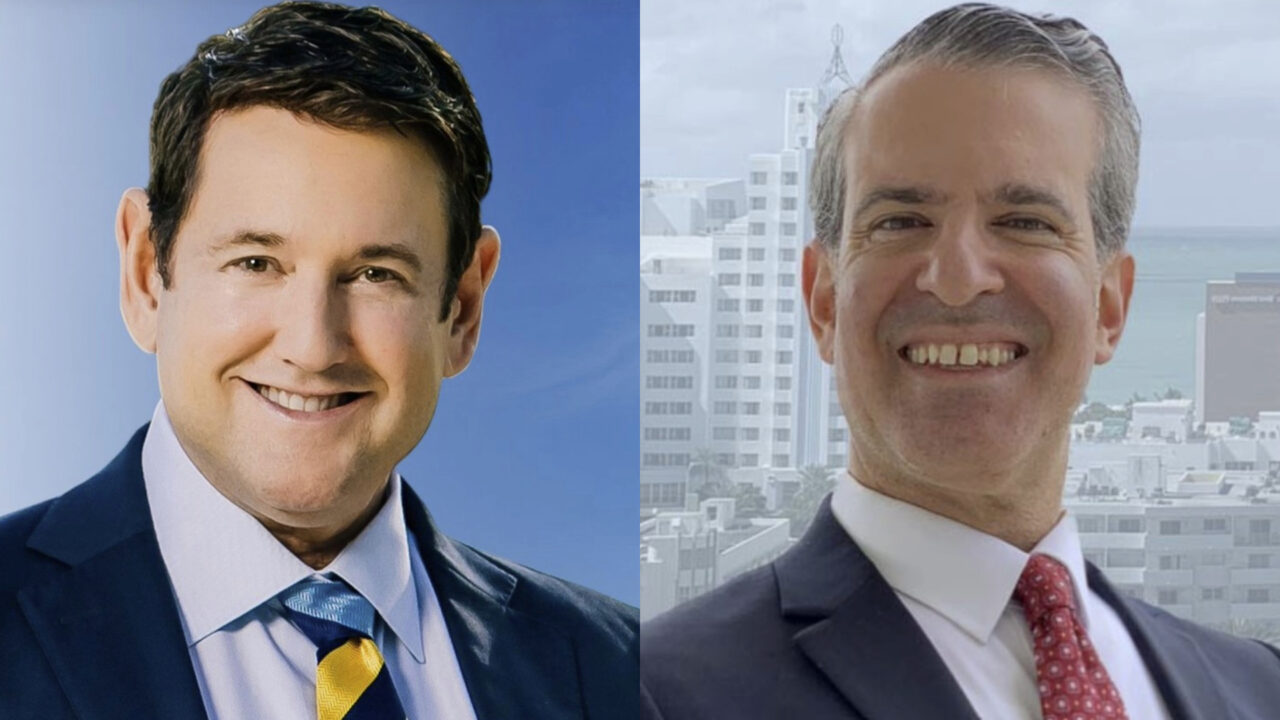 Just 242 votes separated them in the city's General Election earlier this month.
Miami Beach Vice Mayor Steven Meiner and Michael Góngora, a three-time Commissioner, are on a collision course for the city's top office Tuesday.
They were the largest vote-earners in the city's General Election earlier this month, when they left behind former Rep. Mike Grieco and Bill Roedy, a former MTV executive who dropped almost $3 million on the race.
But neither secured a large enough percentage of the vote to win outright, pushing the two men — separated by 2 percentage points representing 242 votes in the election Nov. 7 — to a runoff.
The biggest issues for Miami Beach voters this election cycle are public safety and overdevelopment. In the past three years, Miami Beach has imposed curfews to curb violent disorder in the city's nightlife hotspots after several shootings during Spring Break. There's also ample concern of new construction in the city and the potential replacement of historic areas and buildings with new structures that, while more resilient, may be incompatible with the character of the neighborhood.
Meiner, a no-party candidate, is a 52-year-old enforcement lawyer with the Securities and Exchange Commission. He won his City Commission seat in 2019. Born in Brooklyn and a Miami Beach resident since 2007, he was previously appointed to serve on a city advisory panel and is active with "a number of local charitable organizations," according to his city bio.
Góngora, a 53-year-old Democrat, is a lawyer specializing in community association litigation. He has served on numerous county and municipal zoning, advisory, reform and enforcement boards.
He is a Miami-Dade County native and has lived in Miami Beach since 1992. This is his second run for Mayor, following a 2013 bid in which he placed second behind Philip Levine, who preceded current term-limited Mayor, Dan Gelber.
Góngora finished his third stint on the City Commission in 2021, when he unsuccessfully sued Miami Beach to run for a third term. He also served on the panel from 2006-2007 and from 2009-2013 before returning in 2017.
Here's where they stand on the issues:
Crime
The candidates are split on a proposed rollback of alcohol sales from 5 a.m. to 2 a.m. in the city's entertainment district, which a majority of voters supported through a nonbinding straw ballot item in 2021.
Meiner supports the change. Góngora voted against it in 2021 and told the Miami Herald he still opposes the move because it "doesn't address public safety issues we face around the clock."
Meiner branded himself a "tough-on-crime" candidate, and his policies and campaign platform support that claim. He backs efforts to expand a city prosecutor program, add more misdemeanor crimes to the city code and jail homeless people who refuse to go to a shelter.
He's also for expanding a city prosecutor program, has shown favor for a controversial proposal to allow police to arrest people who film them, supports the creation of a volunteer civilian patrol program and opposes bail elimination for misdemeanor crimes.
However, he's also proposed providing employment and mental health care opportunities for people living on the street and a pre-trial diversion program for people in need.
Góngora has vowed to hire more police, support a program to install video cameras across the city and create a "Real-Time Crime Center to use technology to keep our city safe."
Development
The candidates are largely in agreement on the issue of development in the city, but differ on how they would tackle it.
Meiner has promised to fight overdevelopment, which he said "strains (the city's) aging infrastructure and leads to more traffic congestion," while allowing "sensible development (that) helps cities upgrade aging buildings."
Notably, he is proposing that the city raise its required Commission vote share from five of seven Commissioners to six of seven for approving projects where the building in question is larger than what is permitted under a given area's zoning.
Góngora similarly wants to back "responsible development" commensurate with the existing scale of neighborhoods and zoning strictures "so long as it does not increase traffic."
Traffic
Góngora wants to improve roadway flows through traffic light calibration. Meiner, meanwhile, wants to implement a "traffic management software system" in the city and provide free ferry services to and from Miami across Biscayne Bay to cut down on congestion.
Environment
Góngora has a strong record on environmental sustainability and resiliency. He created Miami Beach's Sustainability Committee, among other contributions.
During his time in office, he also helped lead efforts to initiate a citywide recycling program and backed an effort to push more eco-friendly development.
This cycle, he's vowed to accelerate sea-level rise mitigation projects and maintain the city's stormwater master plan.
Meiner's environmental priorities include increasing protections for Biscayne Bay, which has been subject to fish kills in recent years, and installing new water and sewer piping to reduce leakage into the waterbody and surrounding areas.
Fundraising
Not counting Roedy's massive self-investment during the Mayor's race, Góngora was the top fundraiser in the contest, amassing more than $1 million through Nov. 3, according to city and state records.
That included $850,000 collected through his campaign account, inclusive of a quarter of a million dollars in carry-over funds from prior campaigns, and $55,000 in self-loans. His electioneering communications organization (ECO), Leaders We Trust, stacked another $200,000. Nearly all of it came from an ECO supporting his campaign called A Better Future for Miami Beach.
Miami Beach campaign finance rules prohibit real estate developers, lobbyists and vendors with pending matters before the city from making political contributions to candidates' individual campaigns and their political committees. But that rule doesn't apply to ECOs, which can run advertisements supporting or attacking candidates within 60 days of an election as long as the ads don't explicitly tell voters whom to support at the ballot box.
A large share of real estate dollars flowed into Góngora's coffers and that of his ECO. That included $50,000 from Location Ventures, a firm that fell under scrutiny this year amid revelations by the Herald that it had paid Miami Mayor Francis Suarez at least $170,000 in consultant fees while seeking approval of a project in the city. Those payments and other compensation Suarez received are now under federal and state investigation.
Other funds supporting Góngora's candidacy included $15,000 from the OKO Group, which is building a hotel and condominium in the city's Faena District, and $10,000 apiece from Clara Homes and developer Russell Galbut's Crescent Heights, the latter of which is building a 45-story residential tower on Alton Road.
Meiner largely eschewed corporate contributions to raise $118,000 through Nov. 3. Most of his gains came from personal checks.
He is the only candidate in the race not to accept funds through a political committee or ECO. That abstinence, he said, means his influence at City Hall is not for sale.
Endorsements
Meiner carries endorsements from the Miami Herald, SOBESafe, a community organization focused on reducing crime, and Gelber. Several community activists have also gotten behind his campaign.
Góngora netted nods from Miami-Dade Property Appraiser Pedro Garcia, all three City Commissioners whose seats weren't up for grabs this year, and a handful of former local officials.
The Miami Beach Fraternal Order of Police, Miami Association of Realtors and Miami's Community Newspapers also backed Góngora's campaign. So did The Victory Fund, a political action committee dedicated to increasing the number of LGBTQ people in public office. Góngora is the first openly gay person to serve on the Miami Beach Commission.
Controversy
Góngora and Grieco traded barbs earlier this year after Grieco shared a secret recording he made of a December meeting the two had at a restaurant in which Góngora bragged about having Galbut's support.
Grieco told the Herald he recorded the conversation to ensure nothing he said would be misinterpreted by Góngora, who he said was trying to keep him out of the race.
Grieco said Góngora's claim about Galbut represented a campaign finance violation. Góngora argued it didn't, noting that the money went to an ECO. He countered that Grieco had violated state law by recording him without his consent.
Florida is a two-party consent state, meaning it is generally illegal to record someone without their knowledge. There is an exception when the person being recorded has no reasonable expectation of privacy, such as in a public place like a restaurant.
A city employee also accused Góngora of berating and threatening to fire her if he's elected after she blocked him from campaigning at a senior center owned by the Archdiocese of Miami. Góngora declined to comment on the matter.
Meiner has drawn criticism for opposing some LGBTQ-friendly measures in the city, including one to rename a street after San Francisco politician Harvey Milk. He said he voted against the proposal because Milk has no ties to the city. He also voted against another item to condemn the Miami-Dade School Board for rejecting recognition of LGBTQ History Month.
Commissioner David Richardson accused Meiner of "building a record of voting against the LGBTQ community." Meiner said he took offense to the claim, pointing to his vote for a measure designating October as LGBTQ History in Miami Beach.
"There should never, ever be discrimination of any kind, in any forum," he said.
The Miami Beach Democratic Club lambasted Meiner for voting "no" on an item condemning the Jan. 6 attack on the U.S. Capitol and another decrying the Florida Legislature's passage of a bill to ban abortion after six weeks of gestation.
As was the case with the Milk proposal, Meiner defended his vote by saying he would oppose any item whose subject is not Miami Beach-specific.
Richardson cited Meiner's support for renaming a street after Holocaust survivor and Nobel Prize-winning author Elie Wiesel as evidence Meiner was inconsistent in that self-restriction. Wiesel, a part-time South Florida resident, delivered a speech during the dedication of the city's Holocaust Memorial in 1990.
On Friday, the Herald reported that multiple former interns who worked under Meiner at the SEC said he made unwanted and repeated sexual advances toward them.
Meiner denied called the allegations "absolutely untrue and offensive."
___
Editor's note: This report has been updated to include the accusations by former interns against Meiner.