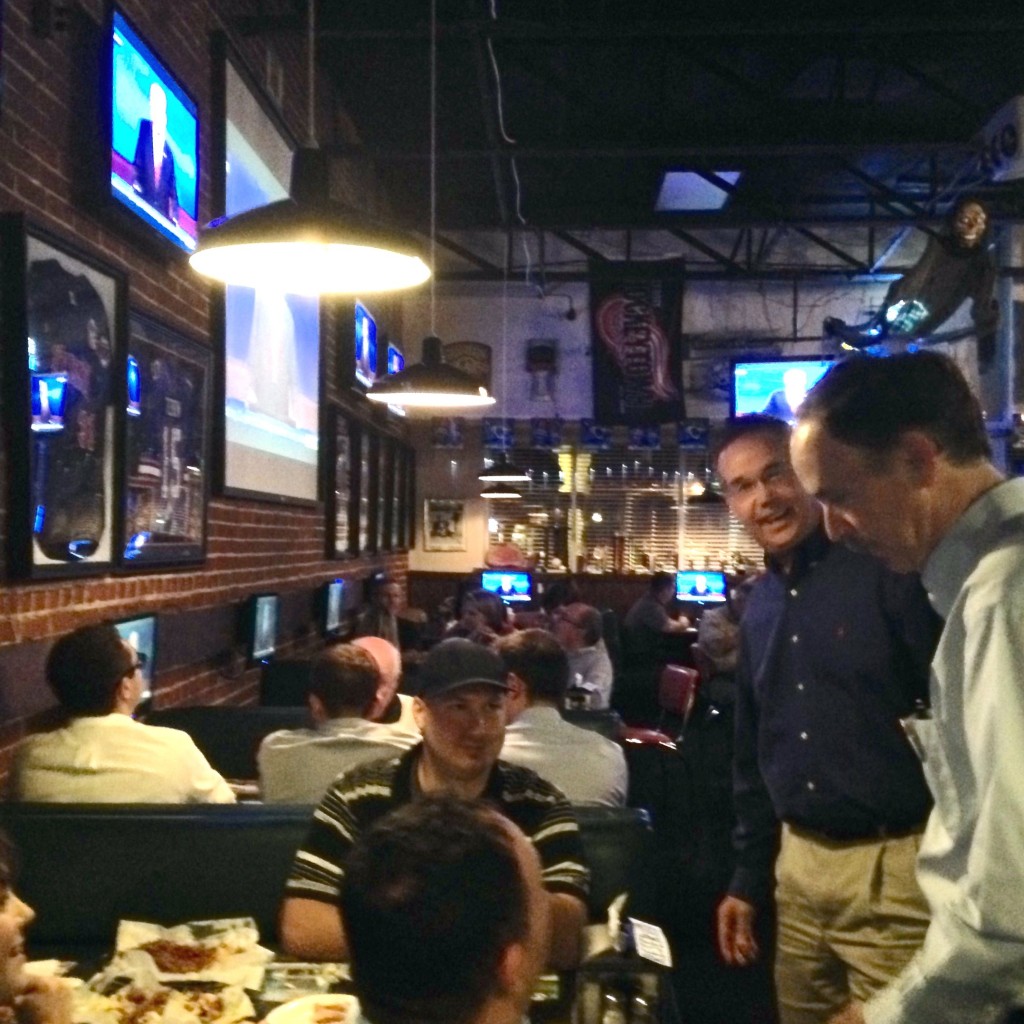 During the Jacksonville mayoral race earlier this year, a narrative emerged.
The road to the Presidency went through Jacksonville. And to that end, a Republican mayor was seen as a necessary component to a larger national electoral strategy.
Perhaps uncoincidentally, would-be favorite sons Marco Rubio and Jeb Bush both endorsed Lenny Curry.
Though the Bush endorsement was seen as a bigger deal because of the institutional power broker money behind the former Florida Governor, Wednesday night's debate (if the reaction of the 100 or so Duval Republican faithful was any indication) belonged to two men: Rubio and Donald Trump.
The appeal of Rubio was described very emphatically after the debate by Jason Fischer, the State House candidate and current Duval County School Board member.
Fischer described himself as "one of the three percent" who backed Rubio from the start of his Senate race, and he said that tonight was "all about Marco" who "showed what a Floridian can do."
Rubio "really shined" and was "able to separate from the pack," demonstrating "the political spark to ignite a movement," armed with a bootstrap conservative, immigrant narrative.
Fischer contended that what Florida saw six years ago, America saw on Wednesday night.
A pivotal moment for those on hand: the Rubio/Bush "French work week" exchange, which almost everyone with whom I talked thought Rubio got the better of.
Of course, many of those Rubio voters see the Senator as the home team. A phenomenon that has obviously emerged: Trump-mania.
State Committeewoman Cindy Graves, before the debate, described the influx of "new people we've never met coming out for Trump," an indication of how the insurgent billionaire very well could broaden the big tent of the party should he have staying power.
Helping with that: some very prominent supporters with cache, such as First Coast Tea Party founder Billie Tucker and local Republican force of nature Susie Wiles, Trump's Florida co-chair.
This debate watch party featured some added star power, in the form of Chief Financial Officer Jeff Atwater, who more than one person on hand wants to jump into the Senate race even now.
Atwater was that rare breed on Wednesday night: an open Jeb Bush supporter.
The question for him, given his establishment pedigree: his thoughts on the insurgent tone of the race.
"Everybody's been honest," said Atwater of the candidates, who appeal to a "sentiment across America," in which people are "tired of gridlock."
Meanwhile, he observed, "it's not the first year we've seen outside players at the top of polls."
But, Atwater added, "it's early; no one's cast a vote."
Without the relative reliability of the ballot, and with polls showing enough divergence to allow multiple narratives, anecdotal evidence has more meaning than it might.
On this night, the man who got the most pronounced crowd reaction was Trump, for whom the crowd OOHed, as if watching a schoolyard streetfight, when he went in on Kasich early on, saying that his slumping poll numbers were why he was marooned at the end of the stage.
And even as Atwater and Duval GOP Chair Lake Ray worked the room, they paused in front of the big screen as Trump spoke, the two veteran politicians, who know well enough how the mechanics of a debate performance work, watching a natural-born master whip up the masses.
Another huge reaction from this crowd occurred when Ted Cruz lobbed some bombs at the confrontational questions from the CNBC crew, saying that material like that exemplified why Americans don't like the media.
More than one attendee, unprompted, told this reporter how that line resonated with them.
Which brings up an interesting point: as novel and quasi-anarchic as the anti-establishment tone of certain candidates seems, it's a familiar game for Republicans, who have been baiting the "nattering nabobs of negativism" since Ted Cruz was in Pampers.
That said, as the straw poll results indicate, it's still an effective gambit:
Presidential Debate Watch Straw Poll Results:

Winner of tonight's debate:

Cruz – 22
Rubio – 20
Trump – 19
Fiorina – 3
Carson – 2
Huckabee – 1
Kasich – 1

Choice for nominee:

Trump – 29
Rubio – 15
Cruz – 11
Carson – 5
Fiorina – 2
Bush – 2