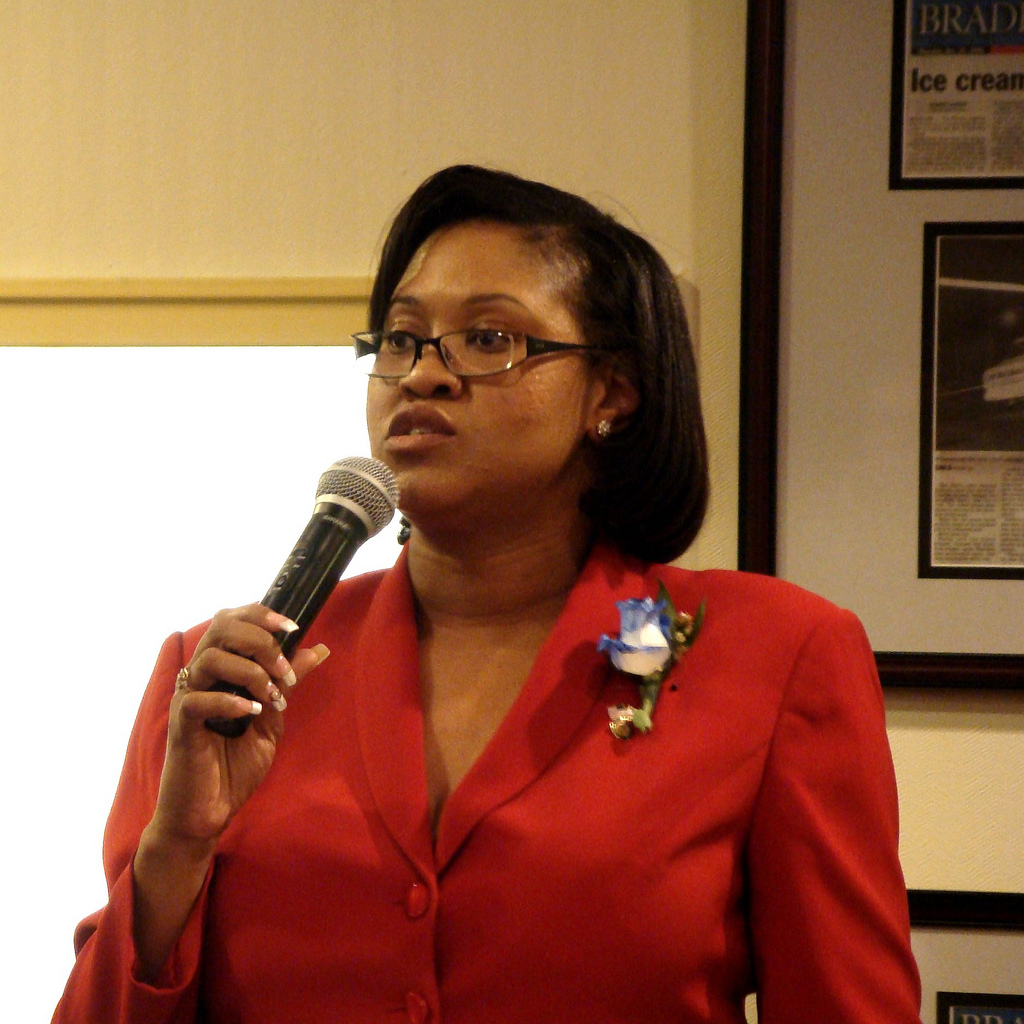 Mia Jones was picked Monday as chairwoman of the Duval County Legislative Delegation during its meeting at Jacksonville's City Hall. Jay Fant was chosen vice chairman.
The delegation also decided that members could "attend" a subcommittee meeting via conferencing technology. A quorum can now be reached with a minimum of two members being present, with the balance achievable by teleconferencing technology.
Then, Speakerpalooza, with 60 speakers allotted three minutes each to advocate for their concerns to the Duval County Legislative Delegation ahead of next month's Legislative Session.
The first speaker was Duval School Board Member Becki Couch, who advocated for "categorical funding" for "the lowest 300 schools." She also requested "flexibility on the millage" to put $10 million aside for "safety code requirements" in Duval's old buildings. "Increased funding for technology" is another district request, as is taking charter schools out of the graduation rate formula.
State Sen. Audrey Gibson asked Couch about the "situation I read about where an 11-year-old was arrested a couple of weeks ago," saying she was "deeply concerned" about it, especially in light of a joint civil citation bill she's sponsored.
Speaking on behalf of Lenny Curry was Ali Korman Shelton, who vowed a "unified agenda" representing concerns of the administration and other entities in Duval County.
Brian Taylor of the Jacksonville Port Authority noted that "all of our major projects are on schedule" and "on budget," including the harbor-deepening project. The request from JPA was to approve FDOT's budget as constituted, which includes harbor-deepening funding.
Jessica Shepler of the Jacksonville Transportation Authority made JTA's requests soon thereafter, including $1.5 million for help with the St. Johns River Ferry.
Patricia Dodson for the State Attorney's Office then urged the delegation not to rely on "emotional rhetoric" but to "seek the truth" and "statistics" on the office's "philosophy" regarding its approaches to firearm cases, and cases involving the "affirmative right to self-defense."
Penny Thompson spoke on behalf of UF Health. Thompson noted that LIP program cuts could adversely affect UF Health, cutting their allocation by $10 million to $18 million. Despite Gov. Rick Scott pledging to allocate $18 million more to UF Health, Thompson still anticipates a $5.1 million shortfall.
Speakers came up from organization after organization thereafter, with requests for increased revenue from the Duval County Legislative Delegation. Mental health and environmental protection agencies; nonprofits such as the United Way and the Sulzbacher Center; two speakers from the Jacksonville Public Library; three speakers from the Jacksonville Children's Commission; and many more.
Former State Sen. Stephen Wise on behalf of the Maritime Training Academy was among them; the academy trains "at-risk youth" to become "able seamen."
Jim Robinson of the North Florida Land Trust put the delegation on blast related to Amendment 1, saying that "74 percent of voters voted for it," and that it should be fully funded, instead of seeing money spent elsewhere.
And John Delaney, on behalf of his University of North Florida, made a few requests, including money for advanced training programs for programs, construction money for a science building, and the university's Public Service Leadership program, for which "our current funding [from DC] doesn't meet demand."
Delaney wasn't the only representative of a public college to show up to advocate for his institution. Cynthia Bioteau of Florida State College Jacksonville also attended to advocate for downtown housing, related to the planned 60-unit student housing.
Bioteau noted that 1,400 students indicated interest in such an option.
Bioteau also urged that FSCJ keep its name, instead of being changed to "Jacksonville College."
Then she asked for a $1 million Medical Simulator lab for the North Campus.
The speakers continued until 4:30 p.m.