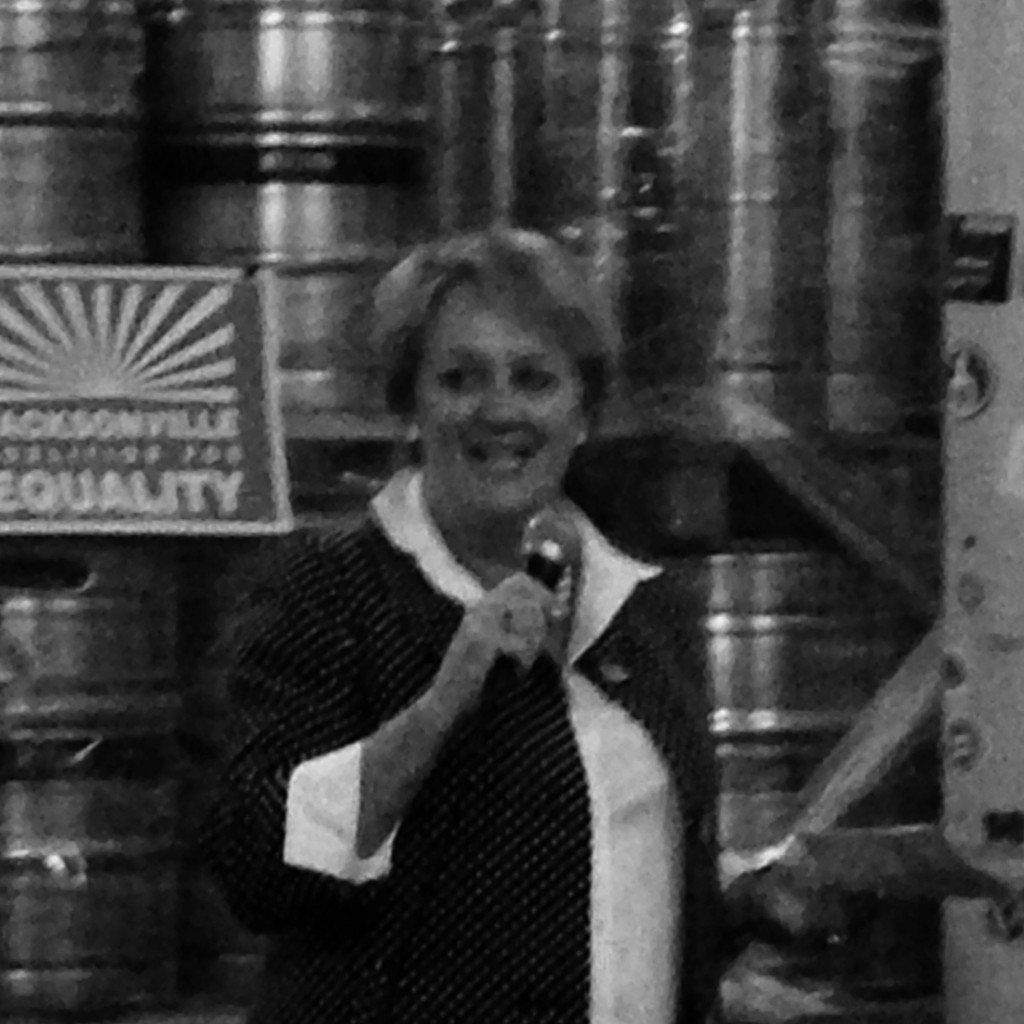 On Wednesday evening, former Jacksonville mayoral candidate and current Jax Chamber Chairwoman-elect Audrey Moran, at Intuition Ale Works in North Riverside, made the case for expansion of the Human Rights Ordinance.
Moran, who has been unstinting in this case for years, spoke at a Jacksonville Coalition for Equality "Happy Hour" event, opening her remarks with a telling observation: In 2015, the Get Out the Vote efforts, and other advocacy efforts, were "unparalleled."
They will have to be, given that Jacksonville's HRO battle has become a national story of late. The stakes are high, for activists on both sides, and will get higher as legislation goes from a theoretical construct to a reality.
Moran, speaking with the imprimatur of established authority and the historic long view, noted that the "business community has a long history" of fighting for human rights:
The integration of the River Club in the 1970s, when Jacksonville schools saw bomb threats and other violence under the guise of resistance to integration;
The first MLK Jr. Birthday Breakfast, almost three decades ago, and;
In the wake of atavistic comments by Judge John Santora, a "declaration of human values" from the business community, in light of what Moran deemed a "community crisis."
"The Chamber," led by Tom Petway, "decided to speak out," Moran said. To say that "prejudice has no place in our community," and to add that "to be successful, everyone must have a chance to succeed."
Moran linked that struggle to the HRO expansion, "our call to action today" for a "comprehensive anti-discrimination ordinance."
And she means comprehensive.
"Audrey, maybe we can get partway there," she says that some have said to her.
"Just take out the T."
No dice.
"I do not believe that we can ever, should ever, will ever compromise on human beings," Moran said.
And to the question of whether or not there is an acceptable numerical threshold of discrimination?
"We cannot allow the argument that 'it's not that many people' win the day," Moran added.
The battleground of this legislation is not going to be on the lesbian, gay, or bisexual protections; it will be on the transgender population.
Those who are opposed will work to frame the action as a "bathroom bill," and push toward referendum.
Proponents, clearly, are going to have to counter those overt appeals to populism.
With a news conference looming on Thursday afternoon, in which anti-expansion pastors expound upon their goals and strategy, it will be interesting to see when and how the Jacksonville Coalition for Equality and the national Human Rights Campaign counter-message the other side.
What is clear: They will have backing from the Chamber in this effort.