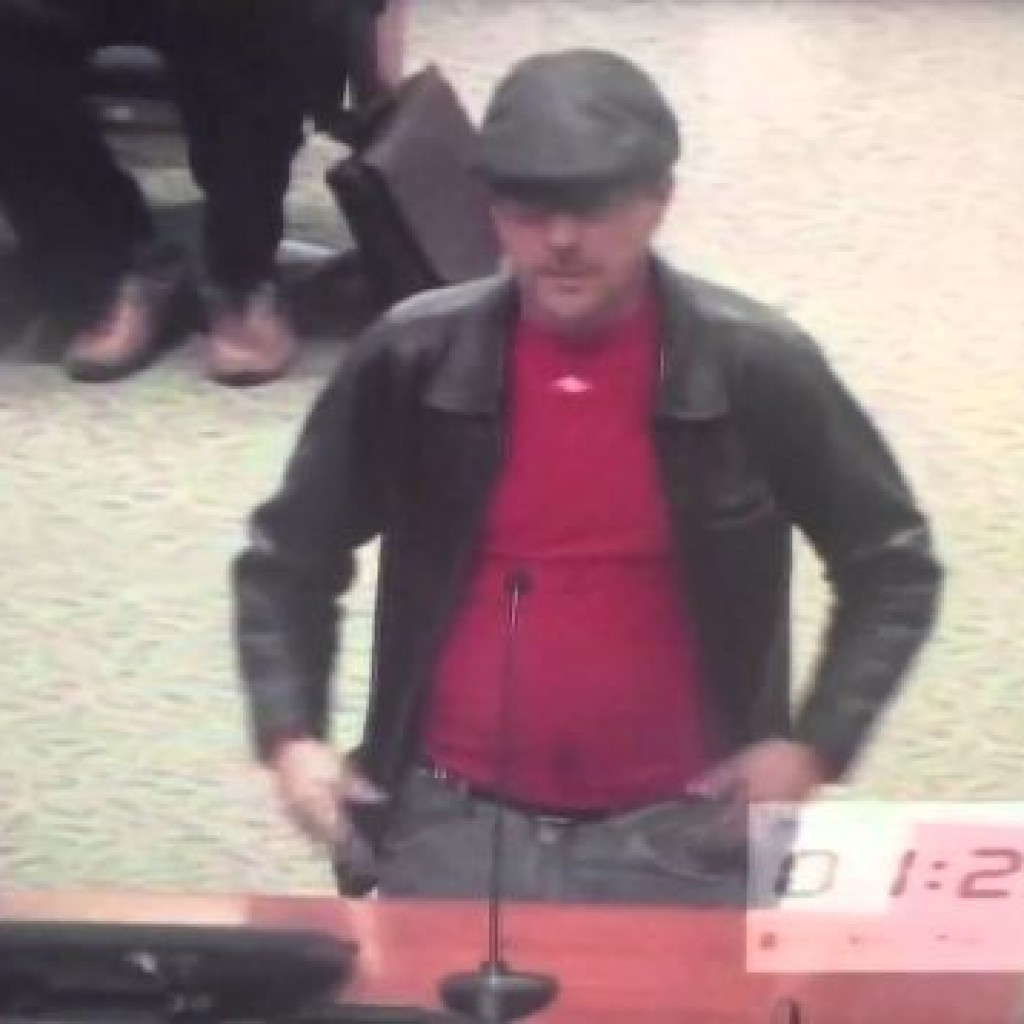 Roy Bay's comments in front of Jacksonville's City Council shocked the city Tuesday. On Thursday, though, he said he's moved downstate, as the Jacksonville Sheriff's Office says it's looking into his statements.
The Jacksonville man, a member of the Evangel Temple, described a lurid past for himself as he spoke against the city's proposed expansion of its Human Rights Ordinance at the City Council meeting this week. The story has received national traction.
Since then he posted on Facebook that he's moved to Miami, saying, "Hey Facebook friends and family, I love each and everyone of you and appreciate your prayer and support, if someone contacts you about me, I am asking you not to talk to them at all about anything, this is my problem and I will handle it, thanks I appreciate your love and prayer support in this time of trial and testing."
The tale of child molestation told by Roy Bay was lauded by members of the anti-HRO faction, as it neatly reinforced its mythology connecting pedophilia and homosexuality, a narrative disputed by established science and HRO advocates.
During the council's public comment marathon Tuesday night, the 56-year-old Westside resident told of his rape at "10 or 12 years old." Bay was "sexually assaulted by the homosexual community," he said. Then he described how he "entered into a life of homosexuality" and "going into bathrooms … and sexually assaulting kids, because I thought that's what life was all about."
He never went to jail for those acts, Bay said. His Duval County rap sheet bears that out, at least locally. It extends two pages of petty crimes on the county's online search portal. It describes a habitual criminal convicted of wrongdoing from failing to pay an Arthur Murray Dance Club in 1992 to numerous criminal and civil driving issues, including at least one eviction from a domicile in Duval County.
"For about 20 years, yes, I admit, the things I did was wrong. I sexually assaulted young kids 'cause I thought it was acceptable," he told Action News Jax.
As he spoke at the public meeting, Bay said he molested children in St. Louis, yet he never went to jail for these crimes. Media outlets, including FloridaPolitics.com, are following up on those claims.
As well, the Jacksonville Sheriff's Office is investigating Bay.
"This (child molestation) happens in the homosexual lifestyle, over and over again," Bay said Tuesday.
Then in June 1985, Bay said, he "found out that wasn't acceptable," and said God set him free from "this type of lifestyle."
That brought enthusiastic applause from some anti-HRO members of the crowd, many of whom were bused in, along with Bay, on church shuttle buses.
Bay is associated with the Evangel Temple, posting on Facebook that he "worked" there. That church's Garry Wiggins is, along with Ken Adkins, among the major players in the anti-HRO media campaigns explicitly designed to bully black Council members from voting their consciences on the HRO issue.
Bay's comments somehow met with the favor of his church group, and anti-HRO agitators such as Raymond Johnson, who lauded Bay in his public comment for establishing the anecdotal link between pedophilia and homosexuality that is central to the argument against what opponents frame as a "bathroom bill."
Bay previously made the local news in July, when he got free dentures, reports The Florida Times-Union. Below, the relevant passage:
"Roy Bay had no job, no insurance and no way to pay for desperately needed dentures.
 "But on a recent morning, Bay, 55 (at the time) sat in a dental chair in a clinic on Jacksonville's Westside being fitted for his new teeth. He was almost giddy with excitement, kidding about what he might do with them.
"I came here to get new teeth so I can bite her," he said, with a chuckle, to dental assistant Erica Koester.
Since this story's original publication, more facts have come out.
WJXT reported that Bay lives in apartments on Evangel Temple property, which are located close to at least one elementary school. When contacted by telephone, an Evangel Temple representative would not reveal the exact address of those apartments. However, Evangel Temple property, including the Samaritan House, is within 1,000 feet of the school. That would violate Florida Statute 775.215 had he been convicted of the crimes he asserts he committed.
Bay attended church Wednesday under the watchful eye of security, being escorted out by guards before the service ended, reported Action News Jax.
• • •
This is my take from Tuesday's performance piece in the public HRO expansion debate. An unemployed man with a long petty crime rap sheet has:
Maligned law-abiding people petitioning for their civil rights,;
Conflated pedophilia and child molestation from his own acknowledged past with the lives of people today who just want the same job, home, and public accommodations rights everyone else has; and
Conflated his own sordid past with the HRO debate.
In his testimony, he confessed to serial child molestation. He was applauded by the Bible thumpers.
Bill Gulliford, by any reckoning, is one of the smartest people on Council. Yet, on this referendum measure that he introduced at the behest of religious leaders, including The Reverend Wiggins (a powerful Westside Republican), he is stoking the flames of unprincipled clergymen far removed from mainline churches with flocks who can't screen out damaged souls like that of Roy Bay.
The referendum would give people such as Bay the right to decide on the civil rights of people who have spent years petitioning this Council.
Who else has the right to decide the issue? The people who applauded this mess.
Gulliford is approaching the last acts of a public life distinguished by many more accomplishments than failures. On this issue, though, in pushing for this issue to be decided by referendum, in pandering to these malign forces of hate, he sullies his legacy.
He owes the people of Jacksonville a definitive statement to separate his referendum bill from the forces of hate.
They hold Jacksonville back in ways that are so obvious, so grave, that to identify them feels like excess.
However, one word can to summarize this sordid turn of affairs: Tragedy.
Ironically, on a second Facebook account Bay has a friend who posted a picture referencing a Jacksonville church where a minister who was convicted of child molestation, Darrell Gilyard, has barred children from attending services. As a convicted sex offender, he cannot have contact with children.