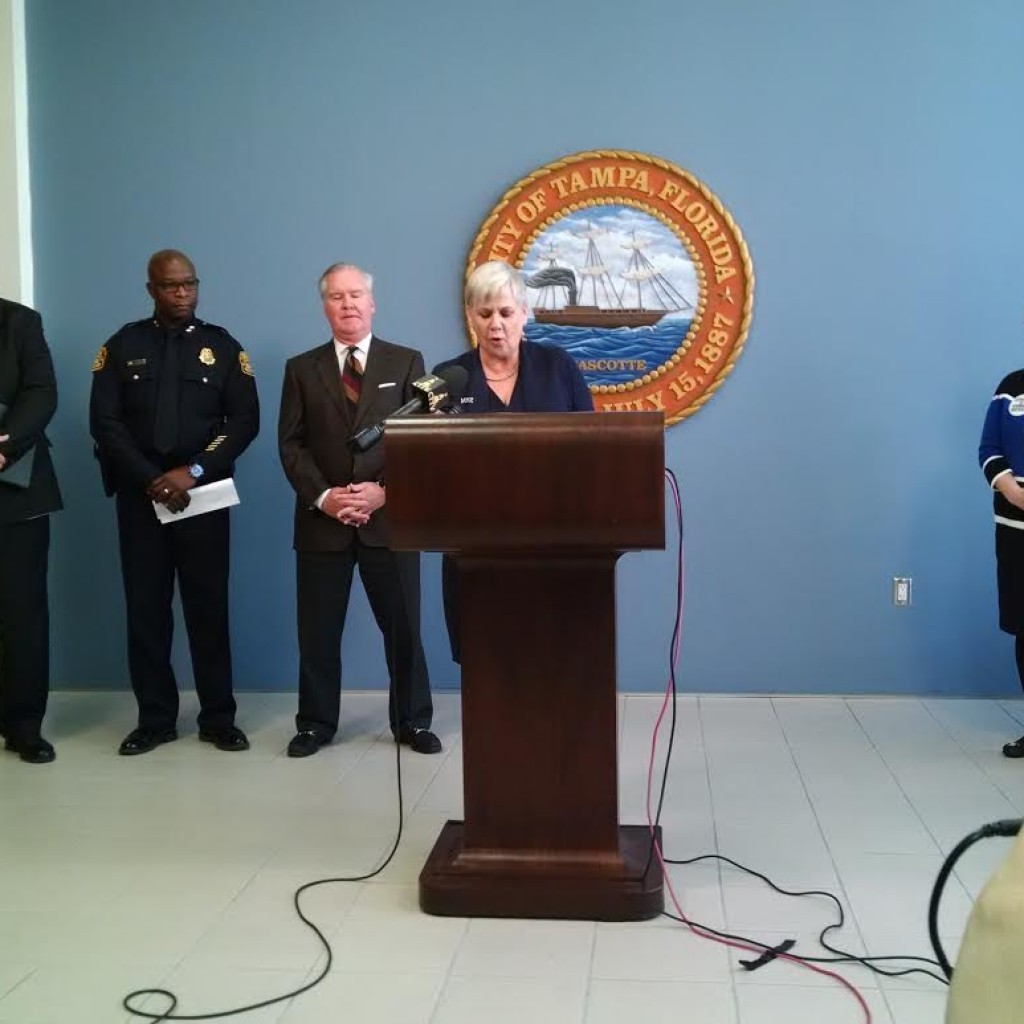 Wading into the debate in Tallahassee, Tampa Mayor Bob Buckhorn is slamming state lawmakers advocating that the state allow nearly 1.5 million Floridians with concealed carry permits to openly carry their firearms, rather than having to keep them hidden.
"This bill is totally unnecessary," Buckhorn declared at a news conference held at Tampa Police headquarters, where he was joined by police Chief Eric Ward, Hillsborough County State Attorney Mark Ober and Florida League of Women Voters board member Patricia Brigham, who all spoke in opposition to the proposed legislation.
"It's more symptomatic of a Legislature that cares more about situations like this and the needs and the concrns of the NRA,  and a whole lot less about the needs and concerns of everyday Floridians," the mayor said. But he wasn't done trashing on the Legislature.
"They need to get focused on growing this economy, on appropriately spending the Amendment 1 dollars, on finding ways to expand Medicaid and not kowtowing to the National Rifle Association on a bill that is totally unnecessary," he added for good measure.
The so-called "open carry" legislation is being sponsored in the Florida House by Fort Walton Beach Republican Matt Gaetz (HB 163) and in the Senate by his father, Niceville Republican Don Gaetz (SB 300).
"Having … open carry in the city of Tampa in my opinion is a bad idea," Ward said. "I believe that open carry will result in fear and confusion for officers."
Although the Florida Sheriffs Association has come out in opposition to the bill, the Florida Police Chiefs Association (FPCA) is working with the bill sponsors on amendments that, if passed, would allow them to support the controversial legislation.
"Recognizing the momentum these bills have gained, we have worked with the bill sponsors at length," says Winter Park Police Chief Brett Railey, president of the FPCA. Among the amendments that they are pushing for would be for citizens to be required to use a poster, case or bag that is at least partially visible.
The fact that the bill fails to include such a provision right now is why it's worse than the many other states (45 in all) who do allow for the open carrying of firearms," said Brigham. "A permit holder can carry his or her firearm in their hand, in the pocket of their pants, or waistband. We ask you: Does that make us all safer?"
PolitiFact has reported that 15 of those 45 states require a permit or license to open carry, while eight more have other restrictions on how, when or where a gun owner is allowed to do so. And some municipalities restrict open carry in ways their state doesn't.
Brigham also assailed Florida law that preempts cities like Tampa from enacting their own gun control ordinances, a law that Buckhorn says needs to go.
"It's a very different environment in the urban areas than it is in the rural areas, and I think for a special interest group to dictate to local jurisdictions what they can and cannot do, I think is just wrong," he said, referring to the NRA's clout in Tallahassee.
The other major gun bill that the League of Women Voters had been crusading against this year: the so-called "campus carry" bill that would have allowed for the carrying of firearms on state college campuses and universities by people 21 years of age and older, appears to be DOA this session. Last week, Senate Judiciary Committee Chairman Miguel Diaz de la Portilla said it's unlikely the campus-carry bill (SB 68) will be taken up by his powerful committee.
"As each day goes by, there's less of a probability," the Miami Republican said. "I don't think we'll be hearing campus carry this session."
Buckhorn has been outspoken about the issue. In addition to Monday's press conference,  he fired off an op-ed  in the Tampa Bay Times this weekend as well in decrying the proposed legislation.