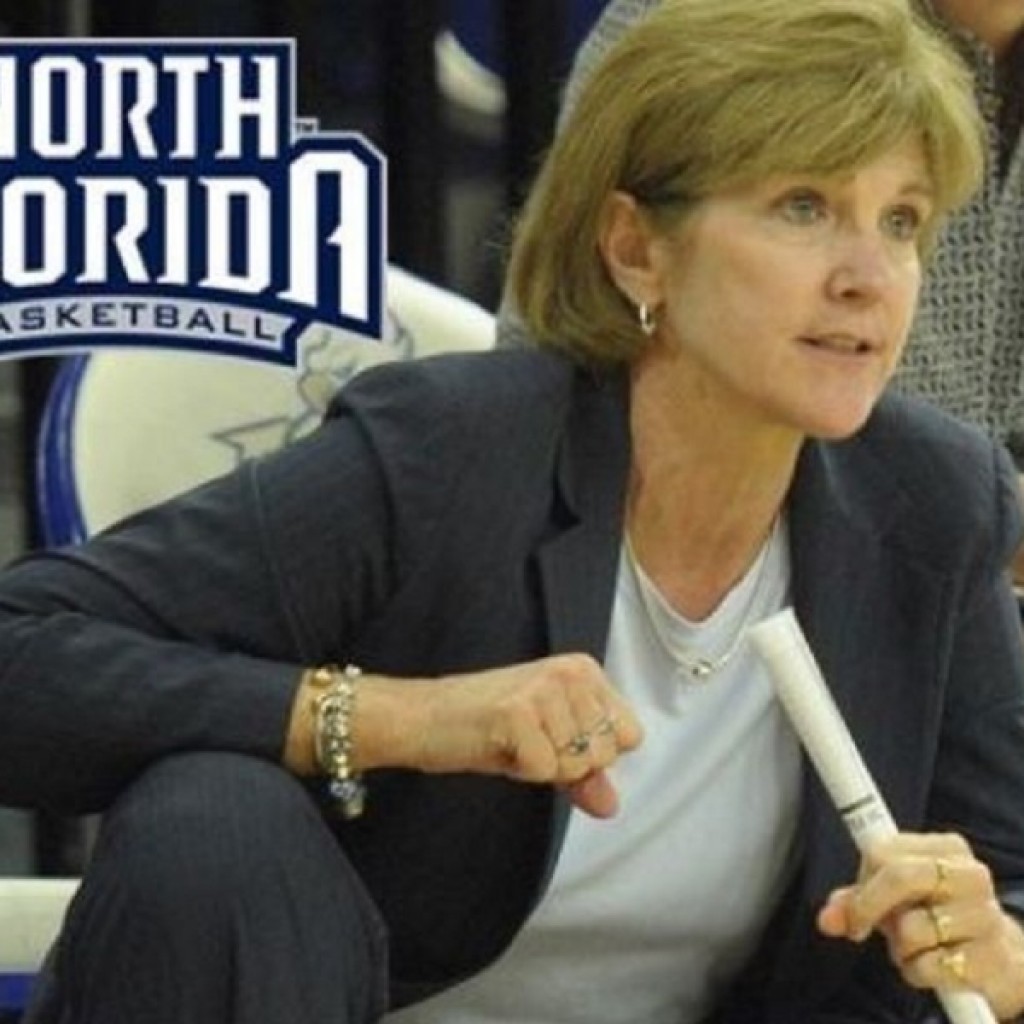 The University of North Florida and its former women's basketball coach Mary Tappmeyer have announced a settlement in Tappmeyer's sex discrimination and retaliation claims associated with her termination from UNF in March 2015.
UNF will pay Tappmeyer $1.25 million to settle her claims, according to attorneys representing Tappmeyer.
She left the program as the only women's basketball coach UNF had ever known. 
In the complaint, Tappmeyer alleged that UNF terminated her from her long-standing position as UNF women's basketball coach in retaliation for complaints she filed about sex discrimination experienced by female student athletes, and because of alleged sex discrimination against her.
According to Tappmeyer, UNF allowed male basketball recruits academic exceptions to UNF's admissions requirements, but refused any exceptions for female players. Other complaints were that the women's basketball team had unequal operating budgets, travel budgets, locker rooms, and training and office facilities as compared to the men's team. Tappmeyer also says UNF disparaged the women's basketball team coaches to current players, recruits, other members of the athletic department, UNF donors, and the UNF community.
And she asserted that while UNF paid her significantly less than her male counterpart, the University held her to more stringent performance standards than her male counterpart, and thwarted her recruitment and coaching efforts.
The lawsuit alleged that UNF's actions violated Title IX of the Education Amendments of 1972, the Equal Pay Act of 1963, and Title VII of the Civil Rights Act of 1964.
"As a life-long player and then coach, I know first-hand how great the game of basketball is and how significant of a role the game can play in a student's life. Women at UNF deserve an equal opportunity to not only participate in athletics, but also to succeed. I am hopeful UNF will work to get back to the days when it prided itself on gender equity in athletics. Though I wish my time at UNF would have ended differently, I look forward to continuing to root for and support the female Ospreys," said Tappmeyer in a prepared statement.
"I applaud Coach Tappmeyer for pursuing her ongoing sex discrimination complaints over the past year," said Nancy Hogshead-Makar, nationally quoted Title IX expert and Olympian gold medalist. Hogshead-Makar is a Jacksonville resident and CEO of Champion Women.
"Many coaches would have taken the overt discrimination in the teeth and headed to a new school. Her settlement today opens up new pathways for gender equality at the University of North Florida and across the country."
However, UNF president John Delaney released a statement as well, sharply differing with Tappmeyer's claims.
"The University of North Florida Board of Trustees approved a settlement agreement after former Women's Basketball Coach Mary Tappmeyer threatened to sue the University," said Delaney. "Settling this case in no way means we agree with any of the allegations. In fact, we unequivocally reject the allegations made by Tappmeyer. UNF didn't renew Tappmeyer's contract at the end of the 2014-15 season, after 11 losing seasons.
Each time Tappmeyer brought an allegation to our attention, it was investigated thoroughly and completely.  In 2015, the Office of Equal Opportunity and Diversity conducted a thorough review and determined that the allegations lacked merit. The University retains Title IX consultants with regularity to review compliance and internals reviews occur with regularity. After much consideration, we made a business decision to settle the case because the litigation had the real potential to cost the University more than one million dollars in legal fees, even in victory.  The majority of the settlement will be paid from the State's Risk Management Office."