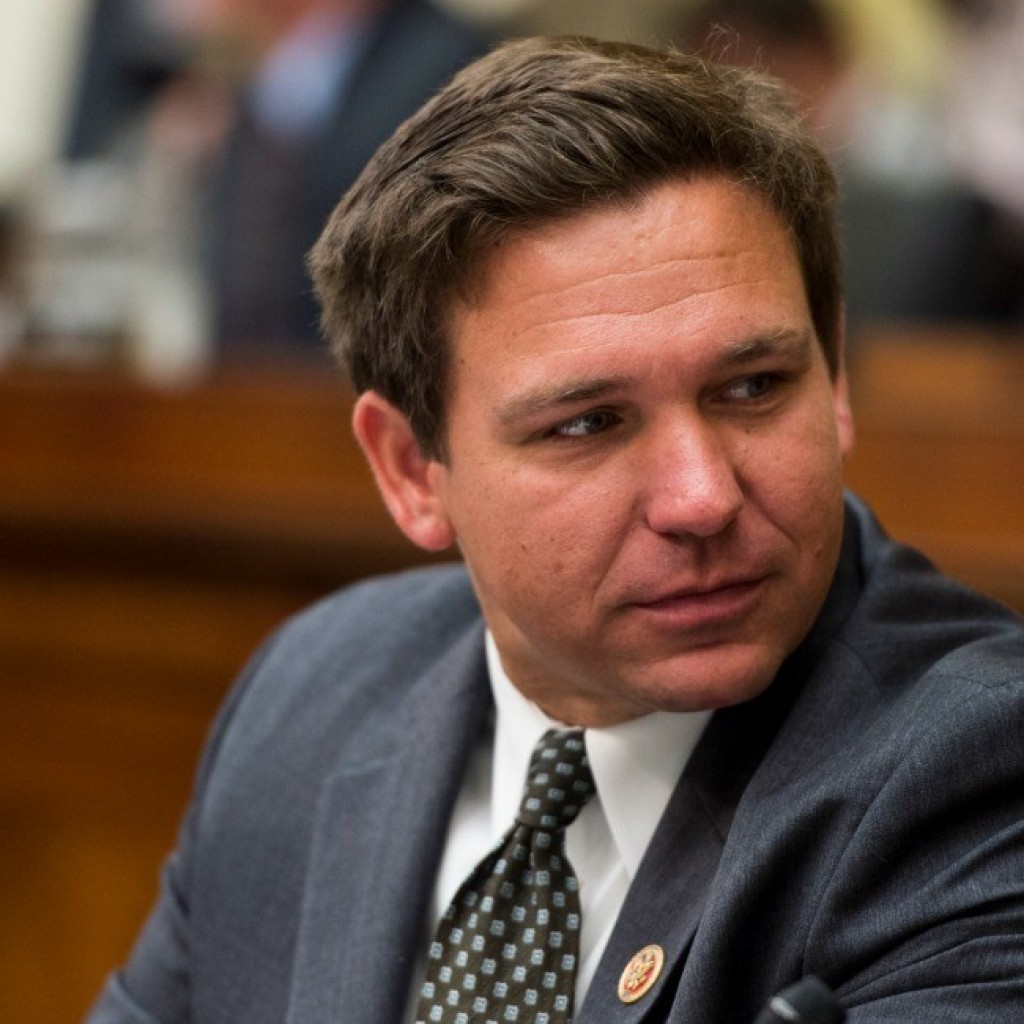 Sunburn – The definitive morning read of what's hot in Florida politics.
By Peter Schorsch, Phil Ammann, Jenna Buzzacco-Foerster, Mitch Perry, Ryan Ray, and Jim Rosica.
FIRST AND FOREMOST, a happy birthday to Florida's Chief Infographic Officer and #1 St. Louis Cardinals fan, CFO Jeff Atwater.
SHOW US THE MONEY — The fundraising race will be front and center in the coming days as state and federal candidates file their campaign finance reports. While some candidates have already announced how much they raised, expect a flood of reports to be released early next week.
Candidates for state office have until Monday to file their monthly campaign reports. That's also the deadline for political committees. Federal candidates have until April 15 to turn in their reports.
Some of those federal numbers are already starting to trickle in. Matt Gaetz, a Fort Walton Beach Republican who is vying to replace Rep. Jeff Miller in congressional district 1, announced he raised $350,000 in the first 10 days of his campaign. That sum included $100,000 of his own money.
On the other side of the state, Democratic incumbent Rep. Debbie Wasserman Schultz reported she raised $614,000 during the first three months of the year; while her opponent Tim Canova said he raised $557,000.
Those hefty sums signal what many campaign watchers expect to be a pricey political cycle. There's several competitive congressional races across the state, and candidates are building up their war chests to prepare for the long haul.
While campaign finance reports might include juicy tidbits about congressional and U.S. Senate hopefuls; the real fun might be deep inside the reports of candidates running for state offices.
All of the seats in the state Senate are on the ballot. All of the seats in the state House are on the ballot. And if you think 2018 is light years away, just take a look at how much Florida Grown raised.
The fundraising committee, which many expect will fuel Agriculture Commissioner Adam Putnam's 2018 gubernatorial bid, raised more than $120,000 in March.
Let's Get to Work, the fundraising committee that backed Gov. Rick Scott's 2010 and 2014 gubernatorial campaigns, reported on its website that it raised about $250,000 in March.
Scott can't run for re-election again because of term limits. Any guesses what he'll be doing in 2018?
***Today's SUNBURN is brought to you by Bright House Networks for Business, your trusted provider of industry leading communications and networking services for any size business – from startup to enterprise, and everything in between. We offer a full portfolio of products and services, including Business Phone and cloud-based Hosted Voice, Business Internet at speeds up to 350 Mbps to fiber-based Dedicated Internet Access, several tiers of high-quality HD Video programming, and an array of advanced cloud and managed IT services. Our solutions are customized to fit your business, your budget, and your industry. We own, manage and maintain our network, which means we are 100% accountable; and we're locally based, which allows us to be immediately responsive to our customers. Find out why so many businesses in your area trust their communications needs to Bright House Networks. Learn more.***
INSIDER POLL: DAVID JOLLY FAVORITE IN GOP SENATE PRIMARY via Adam Smith of the Tampa Bay Times – The latest Tampa Bay Times Florida Insider poll has 36 percent predicting Jolly will be the nominee, 28 percent predicting Lopez-Cantera, 24 percent saying Ron DeSantis, 11 percent predicting Carlos Beruff, and 2 percent saying Todd Wilcox. "While Carlos Beruff is portraying himself as an outsider, similar to Rick Scott and Donald Trump, his self-funded campaign will go far — but will fall short of becoming the GOP nominee," said a Republican. "If Beruff does squeak by, he will be defeated by Patrick Murphy in the general election. "Republican US Senate race is totally wide-open at this point. Very hard to forecast a winner since no one seems to be distinguishing themselves as a frontrunner," another Republican said.
— "Senate candidate touts his lousy showing in Florida insider poll" via Adam Smith of the Tampa Bay Times
CARLOS LOPEZ CANTERA'S STORY WOWS AN IMPORTANT CROWD IN BOCA RATON via Steve Bousquet of the Tampa Bay Times – The setting was at the Jewish Federation of South Palm Beach County in Boca Raton for Scott's ceremonial signing of Senate Bill 86, which prohibits the state from doing business with companies that favor a boycott of Israel. The federation's Zinman Hall was packed with community leaders and legislators including U.S. Rep. Ted Deutch, state Reps. Jared Moskowitz and Ritch Workman and Sens. Joe Abruzzo, Maria Sachs and Joe Negron, who sponsored the bill along with Workman in the 2016 legislative session. "Now, you may not have known this from my name, Lopez-Cantera, but I'm Jewish," the lieutenant governor said as the crowd of about 200 broke into applause. "My father came from Cuba but he married a nice Jewish girl in Miami, and I followed suit and married a nice Jewish girl in Miami as well … We keep a Jewish household and are raising our daughters Jewish." But in light of Lopez-Cantera's biographical story … the question is, what took him so long?
RON DESANTIS ANNOUNCES MORE THAN $1 MILLION IN FUNDRAISING via Michael Auslen of the Tampa Bay Times – DeSantis raised $1.1 million in his U.S. Senate bid in the first three months of the year, his campaign announced Thursday. The Orlando Republican has $3.2 million cash on hand, according to an email sent to supporters. His is the first campaign to release fundraising numbers for the first quarter.
TOM STEYER PASSES ON PATRICK MURPHY via Andrew Restuccia and Gabriel Debenedetti of POLITICO – Steyer's well-funded super PAC, NextGen Climate Action, won't back Senate candidates who supported the controversial pipeline, unless they have a public change of heart … The Keystone litmus test suggests that Steyer's group won't support candidates like Sen. Michael Bennet, a former Democratic Senatorial Campaign Committee chairman who is running for re-election in Colorado, and Murphy, the DSCC's favored candidate for retiring Sen. Marco Rubio's Senate seat.
— "Beruff, Grayson square off (and raise money) over border security" via Matt Dixon of POLITICO Florida
U.S. SENATE TRACKER: Beruff will be in Orlando. Republican Todd Wilcox will be in Orlando; he is then expected to be in Miami on Saturday  and Melbourne on Sunday.
NEW CANDIDATE FILES FOR CONGRESS, DISTRICT 1 via Rick Outzen of Rick's Blog – James Zumwalt, former member of the elite Navy bomb squad and former Military Adviser for Congressman Jeff Miller, filed paperwork to succeed Miller in Florida's 1st Congressional District … "As a combat veteran of the United States Navy and a national security expert with service at the Pentagon and on Capitol Hill, I cannot stand by as our Constitution is eroded by career politicians more interested in personal gain than the future of our nation. I did not fight for our freedoms in Iraq just to see them voted away back home. That is why I'm running to represent the people of Florida's 1st Congressional District," Zumwalt said.
POLL FINDS GREG EVERS WOULD LEAD CD 1 RACE via Derek Cosson of the Pulse – Evers leads the race to succeed Jeff Miller … according to a poll released by a group calling itself "Citizens for a Just Government" … a not-for-profit corporation registered in February, describes itself as a "grassroots advocacy organization." A message on the group's website claims it was "formed in response to increasingly evident institutional corruption in local, state and national government." Evers [is] leading the field of five Republican candidates, with 23.4 percent of respondents saying they preferred Evers. State Rep. Matt Gaetz ranked second with 13.2 percent, while Brian Frazier, Cris Dosev, and Mark Wichern each registered in single digits. Fifty-eight percent of those surveyed said they were undecided.
MARY THOMAS TOURS NORTH FLORIDA, NABS MAJOR PRO-LIFE ENDORSEMENT: Republican congressional candidate Mary Thomas will tour North Florida to talk her recent endorsement by the Susan B Anthony List, the nation's largest and strongest political pro-life organization. Joining Thomas is Congresswoman Marilyn Musgrave, who serves as the group's national spokeswoman. At 7 a.m. (Eastern) Thomas will hold a live radio interview with Preston Scott on WFLA 100.7 FM in Tallahassee. At 7 a.m. (Central), she will take Part in a live interview with Derrell Day on Talk 101.1 FM in Panama City. Then, at 10 a.m. (Eastern), Thomas will take part in a news conference and pro-life rally at the Florida Press Center, 336 W. College Avenue in Tallahassee. Finally, at 12:30 p.m. (Central), she will hold a news conference and pro-life rally at the Oaks by the Bay Park, 2715 W. 10th Street in Panama City.
REBECCA NEGRON RAISES $239K IN FIRST QUARTER via Jenna Buzzacco-Foerster of Florida Politics – The sum marks her strongest fundraising period to date. "I am truly overwhelmed by the strong support my campaign for Congress has received," she said … "As I have campaigned throughout the district, the support my message for Americans to start pulling together again to reclaim our government is clearly catching on." The strong fundraising period comes as the Stuart Republican continues to rack up endorsements in her Congressional District 18 bid.
TIM CANOVA SAYS CAMPAIGN NEARING $100K IN FIRST WEEK OF APRIL FUNDRAISING via Florida Politics – Canova said in an appeal to supporters his underdog campaign to oust DNC Chairwoman U.S. Rep. Debbie Wasserman Schultz is continuing to "shock the political establishment" with its fundraising. The law professor and former aide to U.S. Sen. Paul Tsongas raised a whopping $557,000 during the first quarter of 2016, and said his campaign is nearing six figures in the opening week of Q2. "It's been four days since we shocked the political establishment by almost out-raising an incumbent as powerful as … Schultz. They never believed it was possible that we could come from behind to close the money gap and make this a real race, but we're proving that grassroots activists have the power to take back our democracy,"
DEMOCRATIC HOUSE SUPER PAC RESERVES NEARLY $7.5 MILLION IN AIRTIME via Lisa Hagan of House Majority PAC – The House Majority PAC released that its initial reservations will cover eight media markets including Denver; West Palm Beach; Cedar Rapids, Iowa; Des Moines, Iowa; Las Vegas; Manchester, New Hampshire; New York City; and Philadelphia. The group did not specify which seats will be targeted and said it'll make additional reservations in the upcoming weeks and months. It noted that this is the earliest it has reserved fall airtime during a cycle and that the early investments allow the group to make the most of its money.
"FLORIDA FOR SOLAR" FORMS TO BACK CONSTITUTIONAL AMENDMENT via Jim Rosica of Florida Politics – Florida for Solar Inc. is a 501(c)(4) organization under federal tax law … chaired by Greg Holden, a financial adviser and chair of the St. Petersburg Chamber of Commerce. Rich Franz, a Tampa Bay-area accountant, is treasurer and Doug McAlarney, a Tallahassee attorney, is secretary … Its executive director is Chris Spencer, who is taking a break as state Sen. Jeff Brandes' top aide to manage the day-to-day running of the campaign. The amendment (HJR 193) was backed by Brandes, a St. Petersburg Republican, and by state Reps. Ray Rodrigues, a Fort Myers Republican, and Lori Berman, a Lantana Democrat. It was approved by the Senate and House unanimously this past session. The amendment, to appear on the ballot for the Aug. 30 statewide primary election, would essentially be a tax cut: It would exempt solar energy devices on commercial and industrial properties from being counted toward a structure's value for property tax purposes.
***Today's SUNBURN is brought to you by Jamestown Associates, winner of eight 2016 Reed Awards and 60 industry awards overall. Jamestown's TV, radio, mail and digital advertising helps clients in Florida and across the nation perfect their message, create powerful ads, micro-target the media buy and WIN. See how Jamestown Associates wins tough campaigns at JamestownAssociates.com***
AP POLL: AMERICANS OVERWHELMINGLY VIEW TRUMP NEGATIVELY via Julie Pace and Emily Swanson of The Associated Press – Seven in 10 people, including close to half of Republican voters, have an unfavorable view of Trump … It's an opinion shared by majorities of men and women; young and old; conservatives, moderates and liberals; and whites, Hispanics and blacks — a devastatingly broad indictment of the billionaire businessman. Even in the South, a region where Trump has won GOP primaries decisively, close to 70 percent view him unfavorably. And among whites without a college education, one of Trump's most loyal voting blocs, 55 percent have a negative opinion. Trump still leads the Republican field in delegates and has built a loyal following with a steady share of the Republican primary electorate. But the breadth of his unpopularity raises significant questions about how he could stitch together enough support in the general election to win the White House.
UM, NO – DONALD TRUMP SPOKESWOMAN: 'JEB BUSH PEOPLE' ARE RUNNING TED CRUZ'S CAMPAIGN via Nolan McCaskill of POLITICO – Trump's campaign tried out a new attack line against Cruz … He's a tool of the Bush family … calling the Texas senator "worse than a puppet— he is a Trojan horse, being used by the party bosses attempting to steal the nomination from Mr. Trump" … the Trump campaign was arguing that Cruz's campaign is being run by the party establishment, particularly the Bush family … "The Bush people are now running Cruz's campaign — Neil Bush, who's spent millions of dollars invested with Common Core, and all of these other special interest groups like Goldman Sachs, like hedge fund managers," Trump spokeswoman Katrina Pierson told Fox News, referring to Jeb Bush's brother, who joined Cruz's finance team last month. "This is going to be a very serious problem if Cruz continues to go down this path and then neither Trump or Cruz becomes the nominee."
AS CONTESTED CONVENTION LOOMS, TRUMP TO HIRE 'SEASONED OPERATIVES' TO HELP via Jenna Johnson and Karen Tumulty of The Washington Post – A larger staff could limit Trump's ability to micromanage his campaign, a practice that has proved to be both a benefit and a drawback. An expansion also shifts at least some power away from Trump's tiny circle of dedicated top aides, most of whom travel nearly everywhere with him: campaign manager Corey Lewandowski, deputy campaign manager Michael Glassner, press secretary Hope Hicks and social media director Daniel Scavino. Top aides have assigned several staff members to the cause, and new delegate wrangler Paul Manafort met with his team in New York Wednesday along with Lewandowski and Glassner. And buzzing around the campaign is former staffer and ongoing informal adviser Roger Stone, a political operative who has long clashed with Lewandowski. Manafort, who is the latest top addition to the campaign staff, is a longtime Stone ally who is known for managing the 1976 contested convention for Gerald Ford.
TED CRUZ RUNS RINGS AROUND TRUMP'S BUSH LEAGUE CONVENTION PREP via George Will of The Washington Post – People at Cruz's campaign headquarters are meticulously preparing to win a contested convention, if there is one. Because Trump is a low-energy fellow, Cruz will be positioned to trounce him in Cleveland, where Trump's slide toward earned oblivion would accelerate during a second ballot. Wisconsin has propelled Trump, a virtuoso of contempt, toward joining those he most despises: "losers." If, as seemed probable a month ago, Trump had won Wisconsin, he would have been well-positioned to win a first-ballot convention victory. Now he is up against things to which he is averse: facts. For months Cruz's national operation has been courting all convention delegates, including Trump's. Cruz aims to make a third ballot decisive, or unnecessary. Trump, whose scant regard for (other people's) property rights is writ large in his adoration of eminent domain abuses, mutters darkly about people trying to "steal" delegates that are his property. But most are only contingently his, until one or more ballots are completed. Usually, more than 40 percent of delegates to Republican conventions are seasoned activists who have attended prior conventions. A large majority of all delegates are officeholders — county commissioners, city council members, sheriffs, etc. — and state party officials. They tend to favor presidential aspirants who have been Republicans for longer than since last Friday.
NEW YORK: TRUMP OVER 50 PERCENT via Monmouth University – Trump is positioned for a sweeping primary win in his home state of New York according to the Monmouth University Poll. He currently has the support of an outright majority of likely voters, a margin that suggests he could win nearly every delegate awarded by the state. Currently, 52 percent of likely Republican primary voters in New York support Trump compared to 25 percent who support John Kasich and 17 percent who will vote for Cruz. Trump has more than half the vote in New York City and Long Island (58 percent) and upstate New York (52 percent), and nearly half in Western New York (47 percent). Kasich does slightly better upstate (28 percent) and west (26 percent) than he does in NYC/LI (22 percent). Cruz does slightly better in the west (21 percent) than he does upstate (15 percent) and in NYC/LI (14 percent).
FOX SPORTS LOOKS TO BRING POLITICAL ADS TO BASEBALL GAMES via Tim Higgins of Bloomberg Politics – Advertisers already like sports broadcasts, which people watch live without skipping ads. Fox Sports, which sells ads for a group of about 40 regional sports channels across the U.S., commissioned research that found that viewers of local sports tend to be undecided voters-exactly the people campaigns most want to reach. They're 2.5 times more likely to trust candidates whose ads they see during games, almost twice as likely to remember them, and twice as likely as people who watch local news to vote for them.
***LECRAE is heading back to school in 2016. The two-time Grammy® Award-winning hip-hop artist, known for his music message frequently at odds with his hip-hop peers, has fans buzzing with excitement at the announcement that he'll be hitting the road in February 2016 for his HIGHER LEARNING TOUR including a Friday, April 8 show at Donald L. Tucker Civic Center. Joining Lecrae in Tallahassee will be DJ Promote and Swoope. Tickets are on sale now at TuckerCivicCenter.com!***
ANDY GARDINER EXPECTS DEMOCRATS TO MAKE SOME GAINS IN 2016 STATE ELECTIONS via Scott Powers of Florida Politics – Outgoing Senate President Gardiner … told the Tiger Bay Club of Central Florida that he is confident the GOP will retain its majority in the Senate but that this year voters appear to be looking at experience as a liability. "I certainly don't see the Florida Senate flipping Democratic, but I do think there are some seats they are going to pick up here in Central Florida, potentially, and some seats they will pick up," Gardiner said. "What that number is, I don't know." Gardiner … Geraldine Thompson … Mike Miller, and … Randolph Bracy all gave their views on what they all agreed was a far more productive and far less combative Florida Legislative session in 2016 than the one last year. Gardiner and Thompson, who are leaving the Senate, also looked ahead. The two were responding to a question about whether the "Trump effect" – a wave of anti-establishment voters following Donald Trump – would affect the Florida elections.
NOT WAITING FOR GREG EVERS' DECISION, CLAY INGRAM SAYS HE WON'T RUN FOR STATE SENATE via Florida Politics – Ingram was speculated to be a likely candidate in the race to replace Evers, who is contemplating a run for the 1st Congressional District … Ingram did not want to wait any further to announce his 2016 plans: The popular Republican lawmaker wants another term in the Florida House. "After congressman Miller made his decision and after the Legislative Session concluded, Leslie and I thought long and hard about what we would do next," Ingram said. "Being back in Pensacola has reminded me of what's really important – including as spending time with my family and advancing the goals of the Pensacola Chamber of Commerce. That's why I am excited to announce I am running for re-election to the Florida House."
ROD SMITH RAISES NEARLY $283K IN FIRST MONTH OF SD 8 CAMPAIGN via Florida Politics – Smith's campaign called the response a "massive outpouring" of bipartisan support. The figures include $150,485 contributed to his personal campaign account, and another $132,500 to Independent Leadership for Florida, the political committee supporting Smith. "We have received strong early support from Democrats, Republicans, and independents throughout Northcentral Florida because they want independent leaders who will focus on getting things done instead of playing political games and pointing fingers," Smith said.
REPUBLICAN PETER VIVALDI ENTERS SD 15 RACE via Scott Powers of Florida Politics – Vivaldi, 54, decided to run after spending much of this past session of the Florida Legislature in Tallahassee advocating on issues ranging from education choice to religious freedom. Vivaldi ran for Congress in 2014 in Congressional District 9, finishing third in the Republican primary behind Carol Platt and Jorge Bonilla. Last fall he considered a run for the Florida House of Representatives. "I learned a big lesson in the last race: truly, all politics are local. I got to breath that in the last session in Tallahassee," he said.
SPOTTED at Ed Narain's campaign kick-off on Thursday: Gwendolyn Miller, Wengay Newton, Thomas Scott, Mike Suarez, Dave Cutler, Ken Forward (Vice President of Hillsborough County Firefighters Local #2294 – which announced their endorsement at the kickoff), Rena Frazier, Andy Scaglione, Andrew Warren, Louis Vierra.
HAPPENING TONIGHT: House Majority 2016 hosts a fundraiser for Rep. Bob Cortes in support of his House District 30 re-election effort. Reception begins 5 p.m. at the Hilton Hotel Governor's Suite-Mezzanine Level, 1751 Hotel Plaza Blvd. in Lake Buena Vista.
***Feeling lucky? Try your hand at The Edison! Every Monday, one lucky table will win a comped meal during lunch. Come in to see if the odds are in your favor. Get a taste our lunch menu here.***
FLORIDA ZIKA VIRUS UPDATE via FloridaHealth.gov – As of Thursday, there were no new cases reported, with six cases still exhibiting symptoms. According to the CDC, symptoms associated with the Zika virus last between seven to 10 days. There are 82 total cases in Florida; by county (number of cases): Miami Dade (33), Broward (12), Orange (5), Alachua (4), Osceola (4), Hillsborough (3), Lee (3), Palm Beach (3), Polk (3), Brevard (2) and a single case each in Clay, Collier, Santa Rosa, Seminole and St. John's and five cases involving pregnant women. The DOH recommends women who are pregnant or thinking of becoming pregnant postpone travel to Zika affected areas. Zika illness is generally mild with a rash, fever and joint pain. CDC researchers are examining a possible link between the virus and harm to unborn babies exposed during pregnancy. The department also urges Floridians to drain standing water weekly, no matter how seemingly small. A couple drops of water in a bottle cap can be a breeding location for mosquitoes. Residents and visitors also need to use repellents when participating in outdoor activities.
ASSIGNMENT EDITORS: Senator Marco Rubio will hold a news conference after a briefing with state, local and Puerto Rican officials on the Zika virus. The group will gather at his office in Miami to discuss current cases, prevention efforts and measures being taken to address public health concerns. Press availability begins 12:15 p.m. Eastern, 8669 NW. 36th St., Suite 110 in Doral. RSVP to Kristen Morrell by 9 a.m. at [email protected]
RICK SCOTT SIGNS LEGACY FLORIDA, STEERING MILLIONS TO ENVIRONMENTAL EFFORTS via John Kennedy of the Palm Beach Post – Legacy Florida … will steer millions of dollars annually toward maintaining the state's troubled, environmental treasures. The legislation (HB 989) dedicates as much as $200 million annually to Everglades restoration, $50 million to freshwater springs across the state, and $5 million to Lake Apopka. The waterways have all been damaged and continue to be threatened by development and neighboring farm interests. The money comes from Amendment 1, the 2014 constitutional amendment that sets aside a portion of state real estate taxes for environmental improvements. The measure was approved by 75 percent of state voters — with a state-leading 85 percent support coming from Palm Beach County.
STATE BACKS OFF PLAN TO SINGLE-OUT DOCTOR WHO SUCCESSFULLY SUED TO HELP SICK KIDS via Mary Ellen Klas of the Tampa Bay Times – Dr. Louis St. Petery, who was a catalyst in an successful lawsuit against the state and its Children's Medical Services program and a vocal opponent of legislative confirmation of DOH secretary John Armstrong, was told in an email March 31 that he must immediately start paying $1,397 a year in overhead to continue to see children at the Tallahassee clinic. "We truly appreciate the work you do for children in our building, but we do have a need to document who has permission to use the space and also ensure that each licensee is paying their fair share of the costs to keep the building operational," wrote DOH's chief operating officer Jennifer Tschetter wrote in an email to St. Petery. She attached a draft contract. St. Petery responded to the demand with several questions, and noted it was Tschetter's last day at the agency. He asked what role the nurses that care for the children at the clinics will have and noted that he appears to have until the end of the month to comply with the agreement but wondered "what did you anticipate would happen with the children already scheduled to return to my clinic after that time?" Department of Heath representative Mara Gambineri said … the agency has "actually taken a step back and we are now not moving forward … To be fair, we want to make sure we have all the information before making all the decision."
STATE HIRES MIAMI NATIVE, A FEDERAL INSPECTOR GENERAL, AS NEW PRISONS WATCHDOG via Julie Brown of the Miami Herald – Lester Fernandez, the assistant inspector general for the federal Office of Labor Racketeering and Fraud in Washington, D.C., will start his new post June 6. As FDC's inspector general, he will oversee all probes into wrongdoing in the prisons. He will also work with the Florida Department of Law Enforcement, which investigates in-custody deaths, and the U.S. Department of Justice, which has been looking into whether the agency has a pattern or practice of civil rights violations.
FIRST ON FLORIDA POLITICS — CHERI VANCURA TO BE NAMED SENATE PRESIDENT JOE NEGRON'S CHIEF OF STAFF via Jenna Buzzacco-Foerster of Florida Politics – Vancura, the deputy clerk for the Martin County Clerk of Court and Comptroller, has been tapped to serve as Negron's right hand woman during his two-year term as Senate President. "Cheri has an extraordinary background and experience in both public service and the political process that makes her an ideal Chief of Staff," said Negron in a statement. Vancura is no stranger to life in Tallahassee or the Florida Legislature Before becoming the chief deputy of operations for the Martin County Clerk of Court, Vancura spent years in the capital city, serving as Negron's chief legislative aide. She also served as external affairs and program manager for Chief Finance Officer Jeff Atwater.
PROGRESS FLORIDA NAMES 18 DEMOCRAT LAWMAKERS AS "CHAMPIONS OF FLORIDA'S MIDDLE CLASS" via Mitch Perry of Florida Politics – The progressive activist group is celebrating these Democrats for their stances on fracking bans (HB 191/SB 318), public schools (HB 7029), reproductive health care (HB 1411/SB 1722), guns on campus (HB 4001/SB 68), and what they label "the corporate tax giveaway" (HB 7099). The four state Senators are: Oscar Braynon, Dwight Bullard, Jeff Clemens, and Arthenia Joyner. The 14 representatives are — Dwight Dudley, Lori Berman, Randolph Bracy, and John Cortes, Jose Javier Rodriguez, Barbara Watson, Sharon Pritchett, Evan Jenne and Mark Pafford, Joseph Geller, Janet Cruz, Cynthia Stafford, and Richard Stark.
IN THE DEPARTURE LOUNGE: RYAN SMITH, SYDNEY RIDLEY, AND CHRIS SPENCER via Florida Politics – First up is Smith, the dedicated aide to House Speaker Steve Crisafulli. Smith has left his position as Deputy Chief of Staff to work on the congressional campaign of Matt Gaetz. "Proud to announce that brilliant @SmithAPalooza will join #TeamGaetz as Campaign Manager & Chief Foodie," Gaetz tweeted. Ridley, the University of Virginia grad who has for nearly six years served as one of Rep. Dana Young's chief legislative aides, will serve full-time as the campaign manager of Young's campaign for Senate District 18. Sen. Jeffrey Brandes' energetic staffer, Spencer, will run Brandes' re-election campaign as well as the statewide ballot initiative that would extend a residential property tax exemption for renewable energy to commercial property.
EXTERNAL AUDIT ORDERED BY FAMU BOARD COST NEARLY $60,000 via Jessica Bakeman of POLITICO Florida – The results of that audit, ordered last fall after a failed effort to oust the school's president Elmira Mangum, will be discussed at a meeting of the board of trustees' audit and compliance committee. The Chicago-based accounting firm Grant Thornton performed the review of FAMU's spending on hiring bonuses and renovations to a university-owned president's residence for $58,400 … That included 360 hours of work by employees whose hourly rates ranged from $120 to $250 … out-of-pocket expenses were included in the total sum. Under the contract with Grant Thornton, the university's board of trustees agreed to pay $29,200 for a report on the school's compliance with state laws and university regulations and policies in awarding hiring bonuses to five employees and renovating the on-campus house. The remaining $29,200 was for recommendations for how the university can improve policies and procedures.
APPOINTED: Nelson Diaz, Diana Ragbeer, Tanya Wilkins and Sandy Karlan to the Children and Youth Cabinet.
FORMER TIMES JOURNALIST NEIL SKENE TAKES JOB WITH ILLINOIS CHILDREN AND FAMILY SERVICES via Jim Rosica of Florida Politics – The longtime Florida journalist and attorney confirmed he'll be going to work for Illinois Children and Family Services Director George Sheldon later this month. Sheldon, a Democrat who unsuccessfully challenged Attorney General Pam Bondilast election, was secretary of the Florida Department of Children and Families from 2008-2011. Skene, a former St. Petersburg Times Tallahassee bureau chief and Congressional Quarterly publisher in the 1980s and '90s, was a special counsel to Sheldon. His new job title is still in flux, but Skene said he'll be handling communications duties and government relations as part of a 5-person senior leadership team. His first day is April 25. He'll be commuting to Chicago, where he got a studio apartment, and Tallahassee, where his wife will remain. He's also an author: Skene most recently finished work on Volume III of the series, History of the Florida Supreme Court, which covers the 1970s to 1987.
BEN PARKS PLEADS NO CONTEST TO DRUG HOUSE CHARGE via Jim Rosica of Florida Politics – A judge withheld adjudication for Parks, 62, meaning no formal finding of guilt. He was sentenced to time served of one day in jail and ordered to pay $520 in court costs and fines. Other charges related to illegal drug possession were referred to the county's confidential drug court for disposition, records show. Parks, the former longtime lobbyist for the Florida Farm Bureau, had been arrested with seven others after neighbors complained that as many as nine people appearing to be living in his five-bedroom Ox Bottom house. While searching Parks' home, police found various drugs and paraphernalia and described it as "a communal living setting."
IN TENSE MEETING, TAMPA CITY COUNCIL ELECTS MIKE SUAREZ CHAIRMAN ON 14TH VOTE via Richard Danielson of the Tampa Bay Times – Council members went through 14 rounds of voting before electing Suarez as chairman and re-electing Harry Cohen as vice chairman. In the first 13 votes, Suarez, Cohen and Frank Reddick, the chairman for the past year, all were nominated, but none got the four votes necessary to win. Over and over, Charlie Miranda nominated Suarez, Yvonne Yolie Capin nominated Reddick and Lisa Montelione nominated Cohen. But when none got more than three out of seven votes, the process started over, with the same people making the same nominations. "Seriously?" a woman in the chambers called out during the seventh round of voting. "Some people don't get paid to have their time wasted." The impasse was broken after the council decided to vote on the vice chair first and re-elected Cohen. But even that didn't end the tension. Just before the final vote, Reddick said he saw Vincent Gericitano, the president of Tampa's politically influential police union, the Police Benevolent Association, draw his finger across his throat at the mention of Reddick's name.
ACTUAL PRESS RELEASE: "Meet The Soupman, who coined the phrase "No Soup for You" in the famous Seinfeld soup episode, as he ladles soup, takes photos and signs autographs in Tampa"
WEEKEND TV
Black Almanac with Dr. Ed James  on WWSB, ABC 7 in Sarasota: "Resetting the 2016 Race" with political analyst Dr. Lawrence A. Miller.
Facing South Florida with Jim DeFede on CBS Miami: Democratic National Committee Chair and U.S. Rep. Debbie Wasserman Schultz.
Florida This Week on Tampa Bay's WEDU: Former Florida CFO Alex Sink, Hillsborough GOP Treasurer Sharon Calvert, Tampa Tribune columnist Joe Henderson, and media consultant Laura McElroy.
On Point with Shannon Ogden on WFCN in Jacksonville: A discussion of recent Federal Communications Commission activity with University of North Florida Professor David Deeley, an interview with Jacksonville Suns owner Ken Babby, and a highlight of Fair Housing Month with Shannon Nazworth, head of Ability Housing of Northeast Florida.
Political Connections on Bay News 9 in Tampa Bay:  Host Al Ruechel takes a look at the what the GOP and Democratic candidates are saying about one another in the run-up to the New York primaries, and sits down Republican U.S. Senate Candidate Carlos Beruff on his plans for Washington. Plus, PolitiFact rates a claim made by Florida Sen. Don Gaetz about tax relief.
Political Connections on CF 13 in Orlando: Guest Carlos Beruff. Plus analysts Michelle Ertel and Dick Batchelor discuss the Wisconsin primary results. And this week's "Common Ground" segment with Alex Sink and Chris Ingram explores the touchy topic of gun control.
The Usual Suspects on WCTV-Tallahassee/Thomasville (CBS) and WJHG-Panama City (NBC): Gary Yordon and Alberto Mora, former General Counsel of the Navy. Mora is an ardent opponent of torture by the U.S. military and has investigated instances of abuse at Guantanamo Bay military prison.
This Week in Jacksonville with Kent Justice on Channel 4 WJXT: Political analyst and former Lt. Gov. Jennifer Carroll, plus allergist Dr. Sunil Joshi, President of the Duval County Medical Society and VP of Family Allergy Asthma Consultants
IT'S TIME TO GO 'ROGUE ONE' AND WATCH THE NEW 'STAR WARS' TRAILER via Brian Truitt of USA TODAY – Here is the first teaser trailer for Rogue One: A Star Wars Story (in theaters Dec. 16), which stars Felicity Jones, Diego Luna, Donnie Yen, Mads Mikkelsen and more in a plot revolving around Rebel spies on a secret mission to steal the plans for the Empire's Death Star … Lots of war, for sure — it's right there in the title, guys — but also some neato stuff for old-school Star Wars fans. The Death Star getting put together! Jones, as Rebel spy Jyn Erso, getting recruited because she's a hellion! Young Mon Mothma! Dudes in X-Wing fighter suits! Jones kicking Stormtrooper butt! Donnie Yen kicking Stormtrooper butt! Imperial Walkers! Jones in an Imperial wardrobe (whether she's undercover or turned, well, you'll have to wait till Christmas)!
HAPPY BIRTHDAY to Johnny Bardine and Jesse Phillips. Celebrating this weekend is one of our favorite people, Alli Liby-Schoonover.