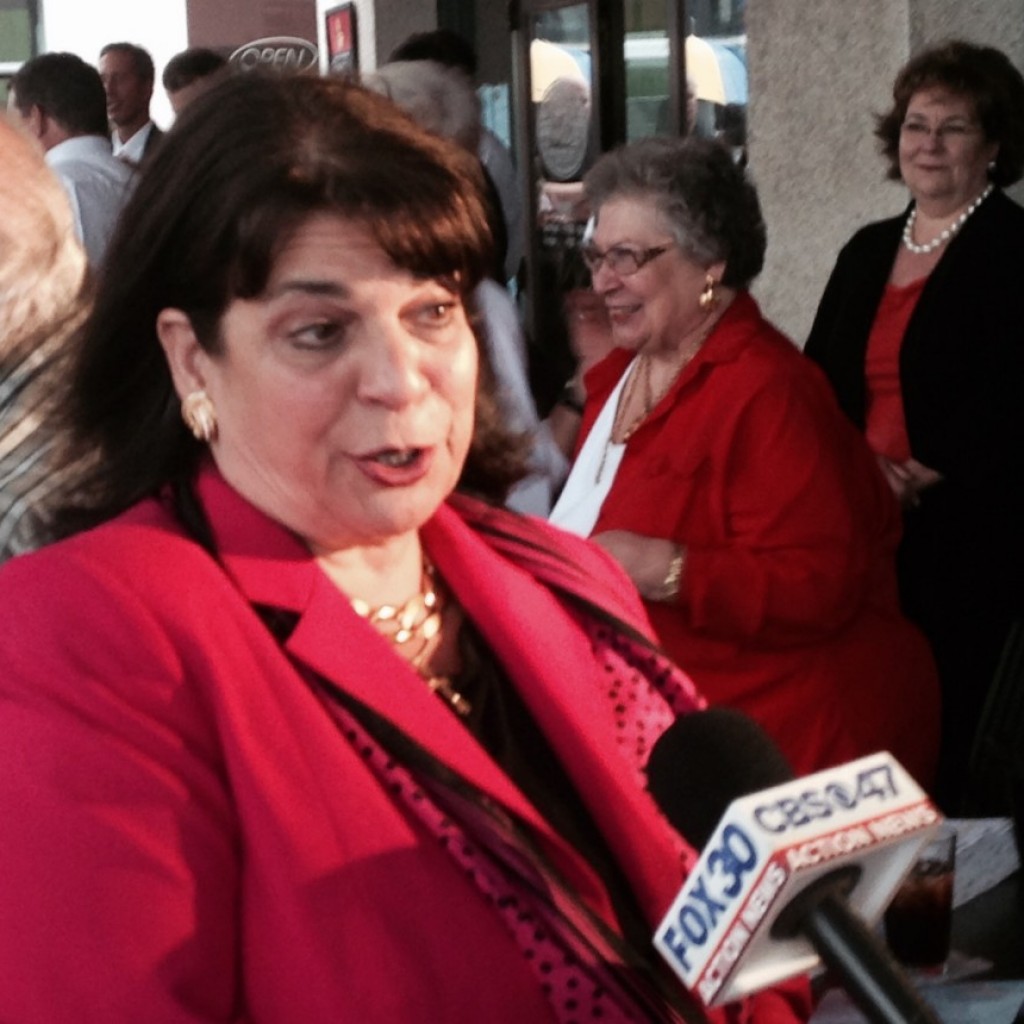 A coalition of community groups is calling for State Attorney Angela Corey "to either resign from office or she needs to be voted out of office as the State Attorney in August 2016."
That, from the Community Leadership Coalition for Justice, Jacksonville Leadership Coalition, Jacksonville Progressive Coalition, Mothers on a Mission, and more.
The groups held a news conference at the city's Friendship Park to once again, raise longstanding complaints they've voiced about criminal justice in the 4th Judicial Circuit. From the announcement:
"The Southern Poverty Law Center  has declared that the State Attorney's Office is the worst in the world at incarcerating youth. We are also ranked No. 1 in death penalties. However, we are equally concerned with all arrest of all races. In our hands and the City Council has received a copy of the 'Branded For Life' report and once again Ms. Angela Corey the State Attorney  is the worst in the world at incarcerating youth and the report indicates on page 1 in the summary that, 'there is evidence that racial bias is affecting the exercise of discretion with respect to certain crimes.' The unfairness in the Marissa Alexander case and the failures of the Trayvon Martin case are not acceptable. The wrongful incarceration of citizens and the lack of speedy trials is a clear indication something is wrong."
For her part, Corey has consistently, and vocally, denied her office is tainted by any racial bias.
The coalition is also calling for Gov. Rick Scott to investigate Corey (not likely). And they're encouraging "as many as possible to register as a first-time Republican in the primary and vote her out of office and then return to whatever party they choose.  Angela Corey must go! We want equal and restorative justice. These charts, reports and data shows we must have a change."
The 2014 Human Rights Watch Branded for Life report is indeed highly critical of North Florida, and Florida generally, in the way it handles juveniles in the system (although calling the 4th Circuit the "worst in the world" seems hyperbolic).
Corey faces challenger Wes White in the August primary. As this website has reported, White has worked with Jacksonville Pastor R. L. Gundy to collect petitions on his behalf. Gundy is affiliated with the anti-Corey organizations.
Meanwhile, an unrelated editorial in Friday's Florida Times-Union also takes Corey to task, saying her office's "Youthful Offender Program is based on the kinds of scared-straight style tactics that have been scientifically debunked."
Despite the media and community criticism, Corey is still favored to win re-election, enjoying robust fundraising and strong establishment support.
Corey's spokeswoman Jackelyn Barnard had this response to the news conference:
"This special interest group's focus is on defendants; our focus is on our victims. We are proud of our record of seeking justice for all of our victims, including the black victims who are the primary target of the black defendants we prosecute. To suggest State Attorney Angela Corey should resign because too many juvenile cases are being sent to adult court is ridiculous."
Barnard points out that in 2015, of 3,250 juvenile cases opened, 95 cases were sent to adult court, ranking the circuit seventh out of 20 circuits in juvenile direct file cases.
 "The facts show only the most serious offenders are prosecuted in adult court. In fact, one of the last cases transferred to adult court involves a 16-year-old who is charged with shooting and killing 22-month-old Aiden McClendon. No protest will change the way we handle these violent offenders who choose to break the law."