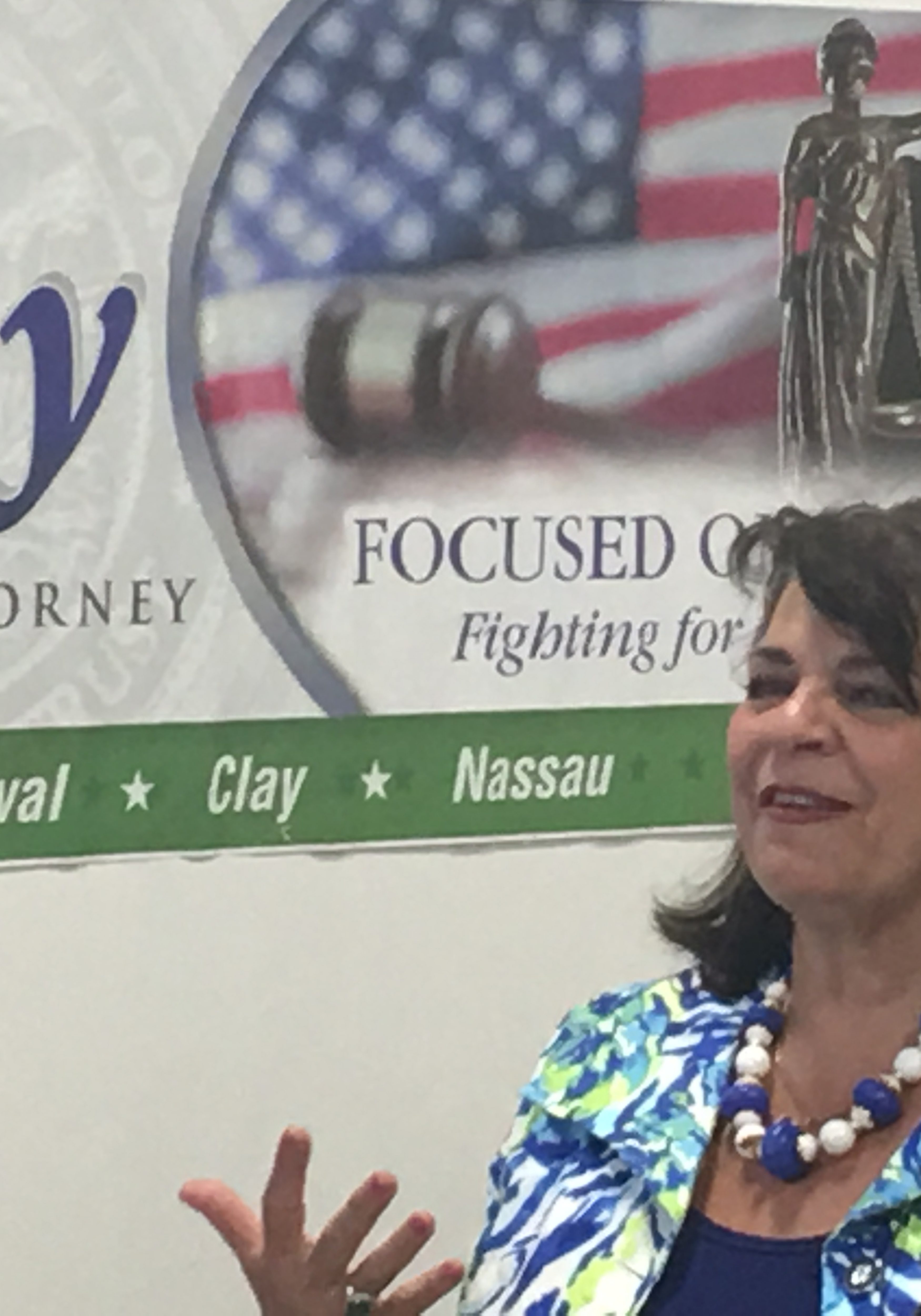 Is a write-in candidate actual competition? What if the paperwork for the write-in was filed by the incumbent's campaign manager to close the GOP primary? Can a sham candidacy be defined?
These were the questions posed Tuesday in a Jacksonville courtroom, regarding a challenge to the write-in candidacy of Kenny Leigh, an avowed supporter of incumbent 4th circuit State Attorney Angela Corey.
Presiding Circuit Court Judge James Daniel did not rule from the bench, but chose to defer his the decision until he could fully consider it. Daniel said he expected to offer a ruling later in the week on whether the case goes forward.
"There are a lot of principles … clashing … on important issues," Daniel said after the hearing.
****
The case, operating on an expedited time frame due to the short time between this proceeding and the mailing of absentee ballots, stands as a test case for the principle that any write-in candidate — no matter the motives or how spurious the candidacy — is deemed to be competition.
Plaintiff's attorney Bill Sheppard, naturally, disagrees.
"Leigh's candidacy is a sham and a political ploy. He seeks only to make the Republican primary a closed primary to assist Corey politically, not to be elected state attorney," Sheppard wrote in the filing, as quoted by the Florida Times-Union.
"While Leigh is a registered Republican and no write-in has ever been elected state attorney, he nevertheless qualified as a write-in candidate without party affiliation. He did so only to prevent the primary from being an open election under the UPA. His candidacy is a perversion of UPA's purposes. It is intended to suppress the electoral process," Sheppard added.
The subject of Tuesday's contentious hearing: motions to dismiss, via candidate Leigh and Alexander Pantinakis, Corey's campaign manager and a Duval County Republican State Committeeman.
Judge Daniel noted "a lot of different issues in the motions to dismiss," leading into the hearing, which had a hard stop at 10 a.m.
Leigh, speaking on his behalf, hewed to Corey's defense: the filing was perfectly legal because of Brinkman v. Francois.
"The facts are exactly the same," Leigh said.
Daniel pushed back, citing "allegations of cooperation" not being the same in the current case.
The question, said Leigh, was one of abiding by "current framework," and the allegation that his candidacy was a "sham" was null and void.
"They're taking motive out of the write-in candidate. With a sham candidate," Leigh said, "you have to have motive."
Judge Daniel brought up "separation of powers," before saying this goes to the "motives … behind someone running … to promote a niche cause as opposed to taking on [the incumbent]."
Leigh compared himself to "Ralph Nader in 2000," saying "who's to say I don't want to win?"
Clearly, said Daniel, the plaintiffs believe that.
"The motive is irrelevant," Leigh said, framing the motion by plaintiffs as "judicial activism."
Leigh added that the "defendants could have changed their registration to vote," again echoing Corey's argument.
"You can register right back the next day," Leigh said.
Judge Daniel continued to press, questioning Leigh's desire to compete against Corey.
"A motive element is being added here," Leigh repeated.
"Let's say I have no desire to win … it says here that does not matter," Leigh said, referring to the precedent.
"I gave money to Ms. Corey — that's a fact. Because I did support [Corey,]," Leigh said, the question is raised.
"Motive," said Leigh, "opens up a Pandora's Box."
Leigh then questioned the wording of the Supreme Court ruling his argument was predicated on, before saying that the case is analogous to him not supporting either major party candidate on the presidential ballot.
Daniel sees Brinkman's threshold of a "write-in candidate" as having a "meaningful chance" to win. As he asked: "Do all registered voters have a meaningful opportunity to vote if the write-in candidate is in favor of the winner of the primary election?"
Leigh's take: "there's no motive evident" in his case. And any attempt to ascribe such violates the separation of powers.
Daniel said that an injunction in this case would be predicated on "clear legal right."
****
Lindsey Brock spoke next, on behalf of Pantinakis, Corey's campaign manager.
Brock said that to rule unfavorably, "the court is adding on a qualification of you must intend to win."
"The problem that you open up … other candidates could come in and say 'he didn't run a strong enough campaign'," Brock said.
Daniel noted the possibility of a "write-in candidate deciding to close up shop," which would prevent "half the electorate from casting a vote in the general election."
Brock noted that "an intent to withdraw" was not a threshold, saying a "sham candidacy" involves a candidate being willing to withdraw.
"When we consider 'has there been a harm'," Brock said, an "intent to deprive voters of a meaningful opportunity to cast a vote" is the threshold.
"Why would we need to cost the taxpayers a second primary election if I can figure it out in limited discovery before the first election," Daniel asked.
Brock contended that people could switch parties, and that an adverse judicial decision "opens up the door to challenge write-in candidacies by saying … they didn't hope to prevail."
"That is too broad a reading of Brinkman," Brock continued.
"Sham candidacy," Brock said, is "predicated on collusion … they've alleged a sham candidacy, but they didn't allege an attempt to withdraw."
"This is a politically motivated lawsuit," Brock continued, contending that "non-Republican voters have no vested right to vote in a Republican primary."
For Judge Daniel, the question turns on "the meaning of opposition."
Brock contended the court should not get involved in these matters.
Brock also contended Pantinakis was operating as a "private individual" in accordance with established case law, rather than as a committeeman or a campaign manager.
"Political speech is a highly protected form of speech," Brock added.
"We're only talking about one very specific Republican race … this court would be changing those ballots," Brock continued, to add the Republican-only state attorney race.
"You're adding an additional qualification," going "beyond statutory law," and "presupposing ill intent," Brock said, if this case moves forward.
****
Plaintiff's attorney Sam Jacobsen then spoke in favor of the case.
"You're hearing legal technicalities, things that go beyond common sense," Jacobsen said of the "lawyer talk" from the defense.
"It's kind of ironic to me that the memorandum filed by Mr. Brock … says you can't look at motivation" yet the memo says "this is a politically motivated lawsuit."
"I will tell you unequivocally that this is not a politically motivated lawsuit," Jacobsen said.
Judge Daniel wondered where the line could be drawn, "which injects the judiciary into the democratic process."
Jacobsen contended "that decision" factors "into almost everything you do" as a judge.
The "Florida Supreme Court," Daniel said, "champions a policy of judicial non-interference in democratic elections."
Jacobsen mentions the "rights of 440,000 people" who can't vote in a Republican election; Daniel countered that there is a right to vote, with a party switch.
Jacobsen said that "we don't denigrate the right of long shots … but of no-shots … [who] want to distort the election to one side's advantage."
"We filed a complaint that says Mr. Leigh's candidacy is a sham candidacy … not a real candidacy where he seeks to be elected," Jacobsen said.
"He is a sham as he sits here today for the purposes of this argument … what does it do to the dignity of this court … to give full meaning to something I have to regard as a sham candidacy," Jacobsen continued.
The heart of this case, Daniel contends, is the nature of "opposition."
Jacobsen asserts that further discovery, including depositions, is needed to get real answers to these questions.
"He's a Republican … running as a write-in candidate," Jacobsen said, illustrating the questionable precept upon which the Leigh candidacy is predicated.
"Sham is the opposite of real," Jacobsen said, before attempting to pass the baton to his colleague Sheppard.
Sheppard asserted the Constitution protects the right to vote in elections, a "right of suffrage" that can't be diluted or compromised, as the "essence of a democratic society."
The Brinkman case, Sheppard continued, "doesn't have everything to do with it" — it being "the right to vote for one of the most important offices" on the ballot.
Daniel returned the issue to whether Leigh is in fact a legitimate candidate, pointing out Pantinakis contending that "he was acting as an RPOF committee member instead of a campaign manager."
****
Then, the rebuttals.
Leigh contended that Jacobsen did not answer the question of where the line was, adding that the Brinkman decision "did not care if the candidacy … was legitimate."
As well, a withdrawal by Leigh wouldn't prove his current lack of seriousness, he said, and the only way to enforce intent is to preclude write-in candidates period.
"Brinkman is on point, in my opinion," Leigh said, "because no rights were affected."
Brock, meanwhile, contended "there is no disenfranchisement … as Brinkman states," and if so, "there is no cause for action" for an injunction, and "no right infringed."
"There has been no denial of due process [regarding] the right to vote," Brock added.
"You asked what is a sham candidate. A sham candidate is one that is not real," Brock said, returning to Brinkman, and saying the "Supreme Court said we're not going to look into a crystal ball."
****
The rebuttals wrapped.
Daniel noted the change of the ballots to reflect the State Attorney race, and his concern about that, wondering if the Secretary of State needed to be named in the suit.
Those candidates, Daniel said, would have to be added to the Democratic ballot.