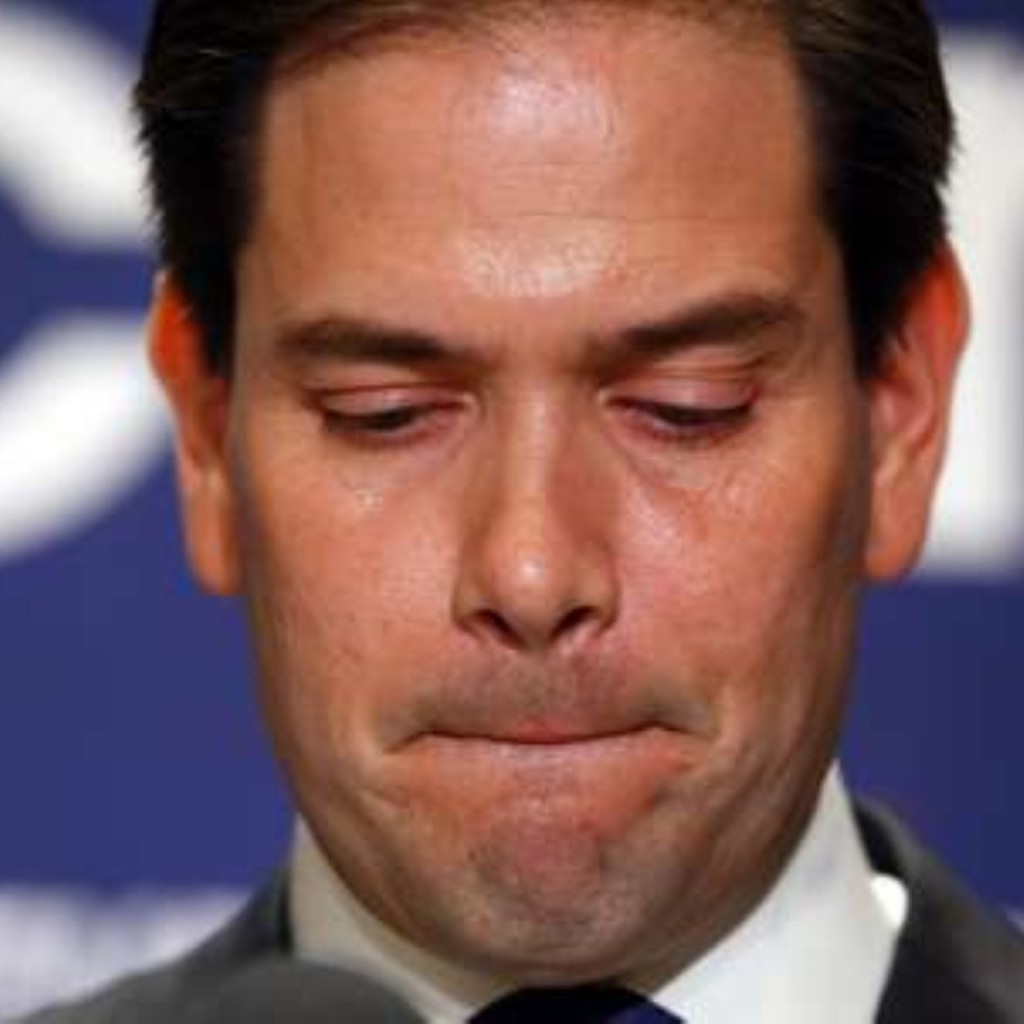 To my media friends, both banned by Trump and not:
Clearly over the course of the last week, Marco Rubio's approach to continuing his political career has changed.  But is this a good idea?
Objectively, I really don't think so.
Many of you know, I have been around for all of Rubio's career, and genuinely like him and a lot of his team. And while I doubt any of them will ask my opinion, since I know most of them read my blog — here are the five questions I would suggest that Rubio ask himself over the weekend.
You can read my piece on my website — and I have posted it below.
Steve
Five Questions Rubio Should Ask Himself
As it looks more and more possible Marco Rubio will reverse himself and run for re-election, the Florida political universe is bracing for another earthquake.
But does it make sense for him to run? Surely he is under immense pressure from the GOP to do so, but let's remember, all politics is personal. Forget what the national party wants him to do — what should Rubio do?
I believe, as I will argue below, for Rubio this decision is all risk — with little reward. This isn't a decision to be made lightly, so if he were to ask, here are the questions I would give him to work through this weekend:
Do you want to be a Senator?
In the constant analysis of political decisions, too often the most important question is left out. Why do you want to go back? Maybe Rubio went back to the Senate after the campaign and realized he actually enjoys it, or maybe the Orlando tragedy drove a change of heart. If that is the case, give yourself a point for running. But if you are running out of a sense of party loyalty, or just a fear of being out of the national conversation, then think twice.
When do you want to run again and do you think Trump wins?
At this point, I would be shocked if Rubio doesn't seek the presidency again, and honestly, he should. For all the obits on the 2016 election, one of the under-written observations is how conventional the primary system was in this sense: the winners of early states were the last candidates standing, just like every other cycle in the primary era. He didn't lose because he had a bad debate performance, he lost because they were way too cautious in how they approached the early states. Had he gone all-in in Iowa, the outcome might have been different. So no reason he can't run again.
But does he see himself running right away again? He is a young guy, and certainly could wait. Twelve years separated Ronald Reagan's first run and his eventual election. Bob Dole was 16 years between his run and winning the nomination, but obviously lost the presidency. Other than that, there aren't a lot of examples of successful pols who waited a decade or more.
So if he is leaning toward going through the national meat grinder at the next opportunity, the next question is Donald Trump. If he thinks Trump is going to win, going to the Senate and keeping an eye on 2024 makes sense. If he thinks he is going to lose and he plans on challenging Hillary Clinton, then there is no reason to run for re-election. Just take a few-year break and crank up the machine again.
Do you want the hassle of another primary?
Carlos Beruff's people are trying to argue they have claimed Rubio's space, and that he should be scared to run against them. This is utterly ridiculous. Rubio would beat Beruff, and would be a far superior nominee to him, but it doesn't mean after spending a year under the bright klieg lights and national TV cameras that he wants to spend the next four months driving two-lane roads to talk to rooms of 50-100 partisans.
How confident are you versus Patrick Murphy?
Functionally, Rubio has to win. While Richard Nixon proved you can run and lose — and run again for president, that is a harder lift in the modern political world. First, Rubio has more competition on the R side than Nixon had. Secondly, the media is far less forgiving. It's the reason why I've never believed Rubio would run for governor, because for all of the reward, the risk is exceptionally high. He needs to win.
Here is the challenge: because Republicans have done such a good job of nationalizing elections, the number of swing voters, particularly between the races at the top of the ticket in presidential years, is pretty narrow. Look at the last three: (Bill Nelson got 50 in 2000, Al Gore got 49; Kathy Castor got 49 in 2004, John Kerry got 47; Nelson got 55 in 12, Barack Obama got 50). In other words, let's say Clinton beats Trump by George W. Bush vs. Kerry margins: 5 points — are there enough swing voters who will vote Clinton and Rubio? I'm not convinced. Rubio could run a good campaign, and still lose.
Is all of it worth the risk?
Rubio has been in office, or running for office, for every bit of the last 18 years of his life. I am sure a part of this, even subconsciously, is the fear that if he is out of sight, he is out of mind. And sure, that is a risk. But is it worth the risk of losing?
Republicans are smart to put a lot of pressure on making the decision to run. The party's strongest general election candidates appear to be struggling, and the GOP's dream of an Alan Grayson nomination is quickly wilting as Patrick Murphy builds a strong campaign and Grayson can't keep his campaign out of the ditch. So in an election cycle where the Democrats have an excellent chance to take back the U.S. Senate, Florida could well be the key vote. So, yes, Rubio would be doing his party a huge solid by getting in.
But for Rubio, this is far from a sure thing. His statewide numbers make him look vulnerable, and his top of the ticket makes a dumpster fire look good. Trump at this point appears to be building no real campaign, so Rubio will be on his own, communicating, and building a statewide turnout operation — and he will spend the next five months answering for Trump's nutty comments and policy ideas. And let's remember, Rubio only won 49 percent of the statewide vote in the single best year for Republicans in a century, so it isn't like he's a Florida political juggernaut. 2016 will be a far better year for Democrats than 2010.
It's this simple: if he wins and Clinton is president, he gets to go to D.C. and take bad votes for two years, and then be an absentee senator running for president. And if he loses? Well, then he gets to watch the whole thing from the sidelines for the foreseeable future.
If Rubio wants to be a senator, or just has a need to be in the public spotlight, he should run. But if his goal is to be president, which I suspect has been his goal since running for the West Miami Commission in 1998, he should resist the temptation and trust what was clearly his plan up until a few weeks ago.
But then again, he isn't asking me!
___
Steve Schale is a Florida-based political, communications and government relations strategist. He can reached at [email protected].