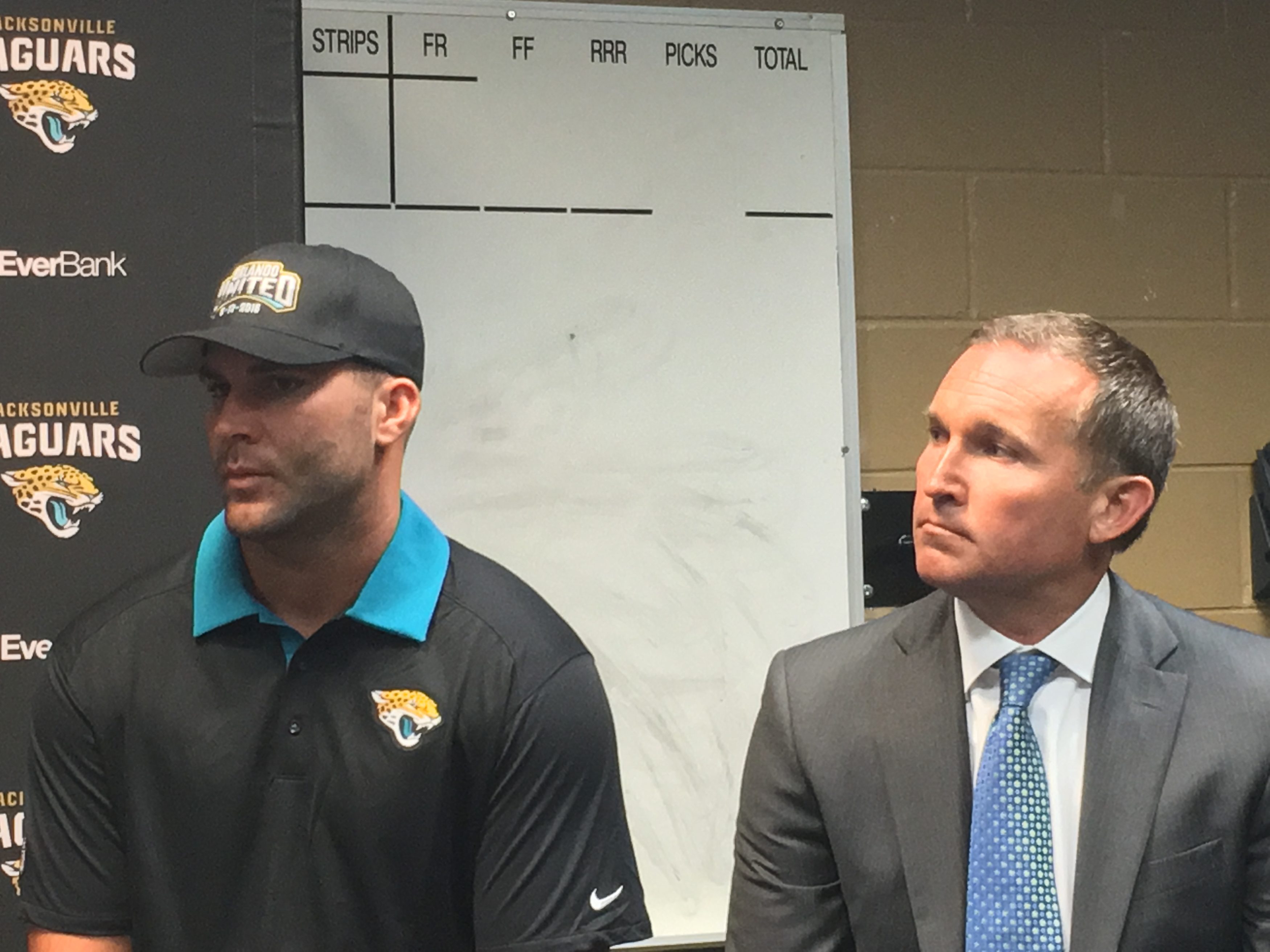 On Thursday morning, Jacksonville Mayor Lenny Curry, Jaguars' quarterback Blake Bortles, and the Jaguars Foundation assembled to announce a coordinated response to the massacre at the Pulse nightclub in Orlando early Sunday morning.
For Bortles and Curry, the tragedy hit close to home.
Bortles, a Central Florida native and alumnus of the University of Central Florida, noted his family still lives there.
"I can't even imagine what the families and friends of the victims are going through," Bortles said, before announcing the Blake Bortles Foundation will give $10,000 to help with recovery efforts.
"We know that's not nearly sufficient," Bortles said, "but it's something we want to do."
****
Curry, who has spoken at length about his personal connection to people affected by the Pulse massacre, addressed that on Thursday as well.
"I have family in Orlando [who have been] touched by this," said Curry, who added he's been in contact with the mother and the father of the Jacksonville victim of the attack.
Describing "Orlando terrorist attack" as a phrasing previously "unimaginable," Curry spoke to a reality of leadership.
"What do you say to parents who are going through this?"
Curry, whose nightly reading typically includes serious theology, told the family he would pray for them daily.
That, Curry said, "spotlights the importance of the personal touch when people experience pain and loss."
****
After the event, Curry spoke to FloridaPolitics.com, giving more detail into that conversation.
"Prayer is not a throwaway word," the mayor noted.
When asked if he anticipated moments like this when he was campaigning for office last year, Curry responded he "didn't anticipate tragedy and death."
Despite being moved emotionally by what happened, he added that "it would be wrong to react emotionally in the moment. I represent the entire city," Curry said.
"I have to think about where I go, and what I say," the mayor added.
****
At the presser at EverBank Field, Curry announced the city's response to the attacks: a postcard campaign, called Dear Orlando.
Postcards will be available at public library locations throughout the city of Jacksonville next week starting June 20. Citizens can pick up and return postcards at any public library.
The opening postcard message reads: "Dear Orlando – You are a city long celebrated for magic, wonder and fun. With the love, support and sentiments of millions around the world, you will smile again. One Jacksonville for One Orlando." A space follows allowing people to add their own messages.
The cards will be collected and sent to Orlando July 30, the International Day of Friendship.
****
Meanwhile, the Jaguars Foundation is offering its own response to the tragedy.
President Peter Racine noted the foundation is "encouraging fans to donate money to support the One Orlando fund," via Jaguars.com/jaxfororlando.
For a $25 donation, Racine said, the foundation will send individuals a custom Orlando United cap.
In addition to those donations, the Jaguars Foundation will make its own donation.