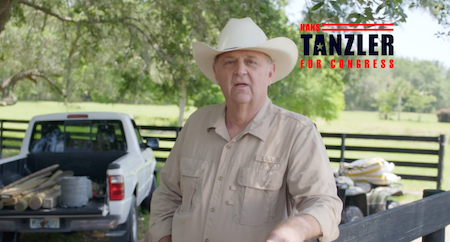 In the second television ad of his campaign for the GOP nod in Florida's 4th Congressional District, Hans Tanzler is back on his ranch, dispensing homespun wisdom in a half-minute spot called "Lessons."
The rustic scenery familiar to fans of his previous spot, "Rawhide," abounds in the ad, with shots of his son doing farm work and the Tanzler family walking around the ranch.
As an aesthetic complement to this authenticity, equally rustic language is on offer to denote Tanzler's position as a man of the people.
"Politicians could learn some things on my farm," Tanzler says, such as the "value of hard work" and "family and faith."
As well, "there's wisdom here. We don't eat our seed corn," Tanzler says, before adding "we use a strong fence to keep out trespassers. And gun control means keeping a steady hand."
That last line was delivered by the candidate on horseback, shooting his rifle.
Then there's this.
"For the last eight years, Washington has given us this," Tanzler says as he feeds a jackass, "… and told us it's a racehorse."
"Congress needs someone who knows the difference," Tanzler concludes.
Tanzler, despite having a second spot on television, has decided to defer filing his financial disclosure until the end of July, raising questions about how much "seed corn" he has on hand, and why he doesn't want to divulge the amount available until after ballots have been distributed to military voters overseas.