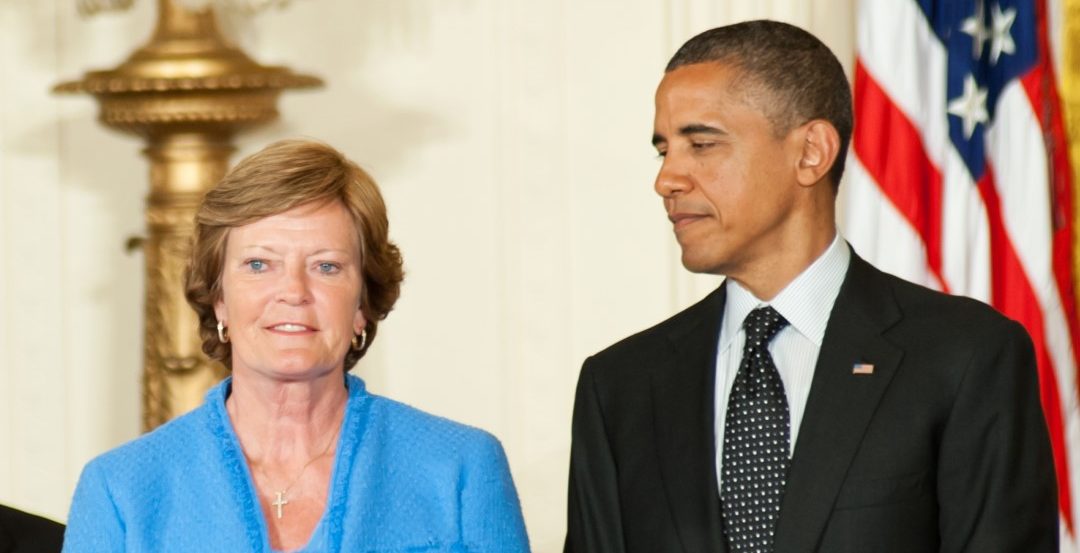 Pat Summitt's death presented a solemn moment for reflection on an accomplished life.
In a legendary 38-year career, the former University of Tennessee coach with a Hall of Fame scowl put women's basketball on the map. She guided her Lady Vols to 18 NCAA Final Four appearances and eight national championships while exploding myths about women coaches on her way to claiming the crown as the winningest coach in Division I college basketball history.
Still, her most enduring legacy may not involve her record wins, but the one loss in which she regrettably was overmatched.
"Since 2011, my mother has battled her toughest opponent, early onset dementia, 'Alzheimer's Type,' her son, Tyler Summitt said in a statement about the type of dementia that bushwhacks middle-agers and afflicts some 200,000 Americans.
Yet, it is fitting that Summitt passed away in June — Alzheimer's Brain and Awareness Month. How apropos that a coach who prided herself on teaching players life lessons through her code of conduct, the "Definite Dozen," continues to educate and explode myths.
Her rapid decline after her diagnosis five years ago unmasked Alzheimer's as not only a thief but also a relentless serial killer.
Alzheimer's is America's sixth leading cause of death. And it's rampaging. From 2000-2013, as other major diseases declined, Alzheimer's deaths soared 71 percent. More than 5.3 million Americans now live in its crosshairs.
Closer to home, some 510,000 people suffer from Alzheimer's in the Sunshine State, saddled with the nation's second-highest prevalence rate. While Florida isn't ground zero for Alzheimer's, because older people face greater risk — and because Florida is catnip for seniors — the Sunshine State is ground zero (a).
Yet, Alzheimer's ignores calendars. That's a grim reality faced by Summitt, and now Carol Jenkins Barnett, who revealed in late June she was stepping down as chair and president of Publix Super Markets Charities after doctors diagnosed her with early onset Alzheimer's, like Summitt, at age 59.
"We're learning through these formidable women, that Alzheimer's is not always an older person's disease," says Michelle Branham, vice president of communications and public policy for the Central & North Florida Chapter of the Alzheimer's Association. "It can strike anyone at any time in their adult life."
Barnett handled the announcement with faith.
"We remain strong and hopeful that a cure will be on the horizon."
Hope alone isn't going to cut it.
Vigorous lobbying by state Alzheimer advocacy groups prodded the Legislature to kick much-needed funds into the research-and-awareness kitty. This year's budget added $5 million for Alzheimer's research and $3.5 million for similar projects.
A decent opening gambit.
Still, considering an American hears the dread diagnosis every 68 seconds, that there's been a decade-long dry spell on new drugs developed for Alzheimer's, and that no drugs exist to curb or cure Alzheimer's, it's crumbs off the table.
"We've learned this is not nearly enough to help us advance possible preventions, treatments or a cure," Branham says.
To that end, her group plans to lobby the state vigorously to boost research funding in the next budget year. At the same time, buoyed by a CVS Foundation grant, the group will urge Florida health-care providers to provide more timely and comprehensive diagnoses (including support plans and services). Prompter diagnoses afford victims and caregivers additional time for planning and fostering solid support systems.
In her memoir, "Sum It Up," Summitt described how Alzheimer's sneaked up on her like a ninja.
"It's hard to pinpoint the exact day that I first noticed something wrong. Over the course of a year … I began to experience a troubling series of lapses. I had to ask people to remind me of the same things, over and over. I'd ask three times in the space of an hour, 'What time is my meeting again?' — and then be late."
Her plight gave us a heads-up; we cannot afford to be late in adequately meeting this crisis head on.
Yet, only a concerted effort with steadfast buy-in from state lawmakers will succeed in boosting awareness and research dollars necessary to arrest a thief that steals memories — and then lives.
About now, would be Summitt time. By the bench, her famous frosty glare fastened in place, she'd pluck a particularly appropriate words-to-live-by nugget from her dozen:
Change is a must.
___
Former award-winning Orlando Sentinel columnist Darryl E. Owens now serves as director of communication at Beacon College in Leesburg, the first higher education institution accredited to award bachelor's degrees primarily to students with learning disabilities, ADHD and other learning differences. Views expressed are his own.