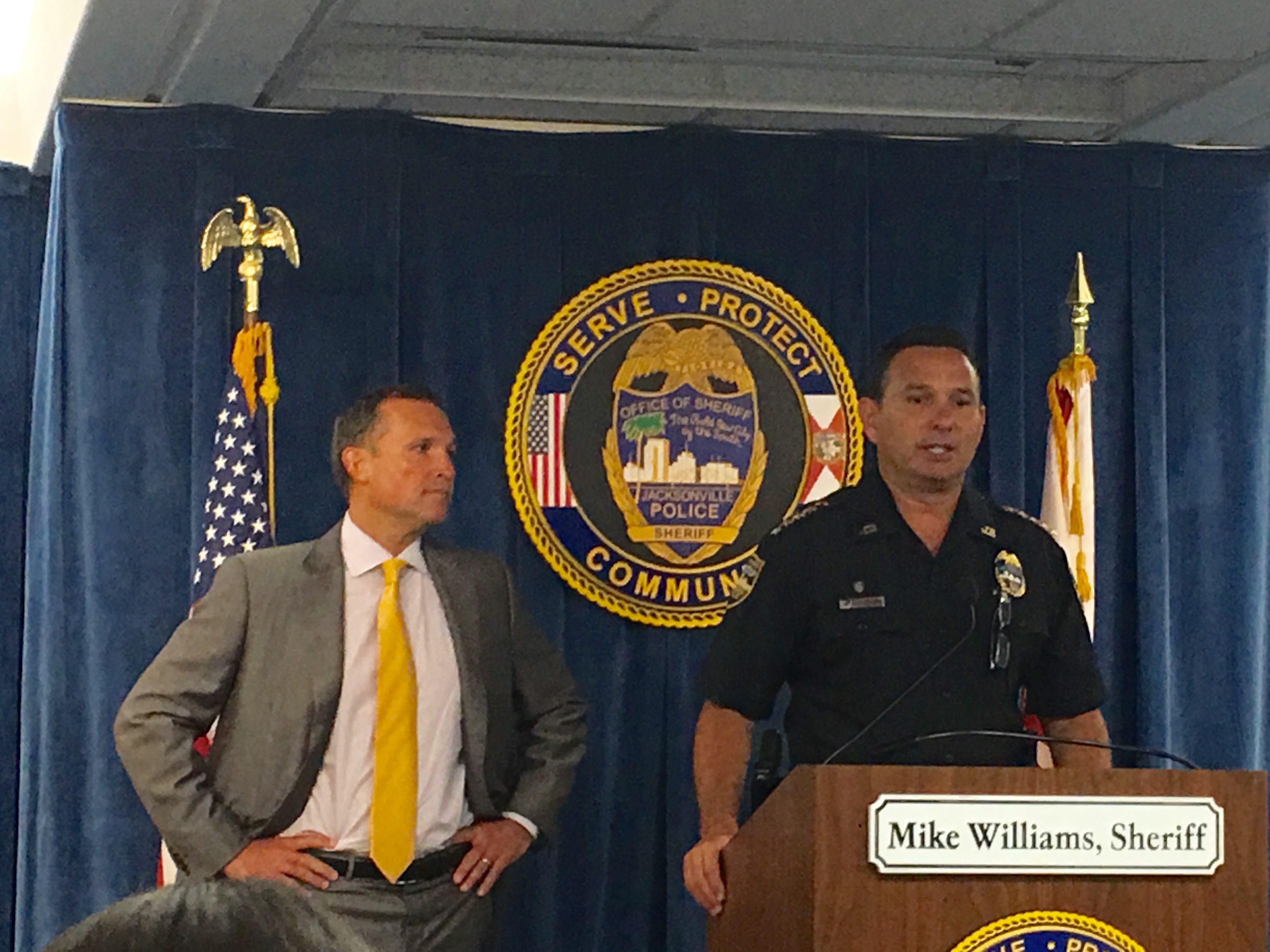 At the police memorial building in Jacksonville, Sheriff Mike Williams and Mayor Lenny Curry presented a united front Thursday in discussing public safety.
Among the topics: the deployment of officers — 24,000 man hours, at approximately a million dollars this fiscal year — for overtime detail, a strategic deployment in neighborhoods facing the gravest challenges.
As well, recent police shootings — both in Jacksonville and nationally — came up in the discussion.
The overtime deployment, which started earlier this year, reduced non-domestic shootings from 90 in January to 50 in June, a trend line which has not been linear, but which Williams and Curry concur validates the strategy of strategic deployment.
Curry, who noted even before he was mayor, he went to Tallahassee and secured a COPS grant for the JSO, described the regular and positive communication with Williams, of which "conditional police officers" was one result.
With JSO "resources … depleted in previous years," Curry framed the overtime as necessary, and it resulted from a total $1.5 million allocatiom.
Williams described the deployment of resources as "data-driven," and a response to a "big spike in non-domestic shootings," predicated on "more policemen" equaling "less crime."
The 24,000 man hours, Williams said, are "in the most challenging areas," leading to a 40 percent drop in non-domestic shootings.
However, he added later, overtime is merely a "short-term fix."
"The numbers are what they are," Williams said, acknowledging the "relatively short window" of time the program has been in place.
The goal: to use data to have officers in the "right place at the right time."
Williams' program does not extend shifts; rather, it uses officers who would be off that day as overtime workers, and is spread out so as not to overburden a given officer.
When asked about police shootings in Baton Rouge and Minneapolis, Williams noted his department's focus on building relationships in the community.
"Officers have to provide service," Williams said.
And when asked about the Vernell Bing incident, along with other incidents of JSO violence toward citizens, Williams said with "1,643 officers," one can "always take a snapshot of time" when "officers are not acting appropriately."
When asked about body cameras for officers, Williams noted the JSO started months ago, and is now "looking at vendors and laying the groundwork."
This could be one of the largest deployments of body cameras in the country.
Yet there are concerns for the sheriff, such as lawsuits, which can deplete finite resources.
The goal: "to do it right."
A rollout is anticipated after the first of the year; a pilot program, anticipated by spring, a timetable dictated by the need to consider infrastructure enhancements and recurring budget impacts.
Curry stood by his sheriff, and his commitment to public safety:
"When I knock on doors [during neighborhood walks], people tell me they want to see an increased police presence."
Addressing media, Curry added "the people of Jacksonville need to know this story."