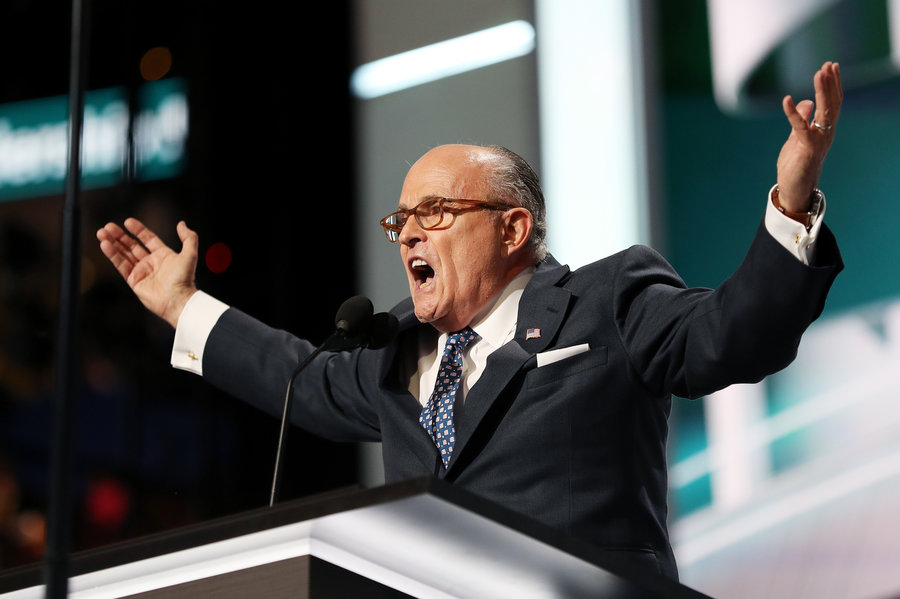 If Democrats could have scripted the first day of the Republican National Convention, it would have looked a lot like the show on display Monday in Cleveland.
Start with the downbeat tone that basically told America their world is approaching the last exit on the highway to hell. Or, put another way, WE ARE ALL GOING TO DIE IF HILLARY IS ELECTED!!!
Yeah, these are people I want to hang out with.
Throw in the floor fight by the #NeverTrump insurgents and the charge of plagiarism with Melania Trump's speech … wow!
Oh, let's not forget the clumsy rollout last weekend of the announcement that Mike Pence would be Donald Trump's running mate. Put it all together and it looks like the GOP is driving with no hands on the wheel. That's not the kind of infomercial it envisioned to convince skeptical voters they should buy into Trump's philosophy of governance by the seat of his pants.
There were some high moments, of course. Former New York Mayor Rudy Giuliani hit all the key GOP talking points in painting Hillary Clinton, paraphrasing here, as a conniving, devious, incompetent, lying hack who should be in jail.
And who couldn't feel empathy for Patricia Smith, mother of Sean Smith, one of four Americans killed in the Benghazi attack in 2012, when she told the crowd, "For all of this loss, for all of this grief, for all of the cynicism the tragedy in Benghazi has wrought upon America, I blame Hillary Clinton. I blame Hillary Clinton personally for the death of my son."
The problem, though, isn't convincing Republicans to despise Clinton. They're all in. The problem is convincing America to despise her enough to vote for Trump. Polls show they don't trust Clinton, but they trust Trump even less.
And the strategy of tying Clinton to President Barack Obama appears flawed. Here's why:
I'll whisper now because this will make the GOP's collective head ache. A majority of Americans actually like Obama. According to the most recent Gallup reading, Obama's approval rating is 49 percent, its highest weekly average since January 2009. Forty-six percent disapprove while 5 percent have no opinion.
I think it puts Republican strategists roughly in the position of the knight in Monty Python as they try to tell Americans about the failed Obama (and Hillary) administration:
"You hate him."
"No I don't."
"Yes you do."
"No I don't."
If they can't make Americans hate Obama, it follows that it will be tougher to make them hate the woman he has endorsed to succeed him.
Most of the things that went wrong for Republicans Monday won't matter by the time they leave Cleveland — assuming they don't have more colossal screw-ups between now and Friday. The nationally televised floor fight that got so much coverage will be forgotten by the next news cycle.
The charge that Melania Trump's otherwise well-received speech included eerily similar words and cadence to Michelle Obama's speech at the 2008 Democratic convention won't sink the campaign, although it does highlight her husband's maddening inattention to detail.
What Republicans have thus far failed to do throughout Trump's march to the nomination is explain why he is a better choice. His campaign is based on the notion of making America great again (implying that things suck now).
Put another way, he is saying, "I know how to run big things, believe me."
This would be an excellent time for Trump to start proving that, because from what we've seen so far, gotta be honest — I'm not feeling it.