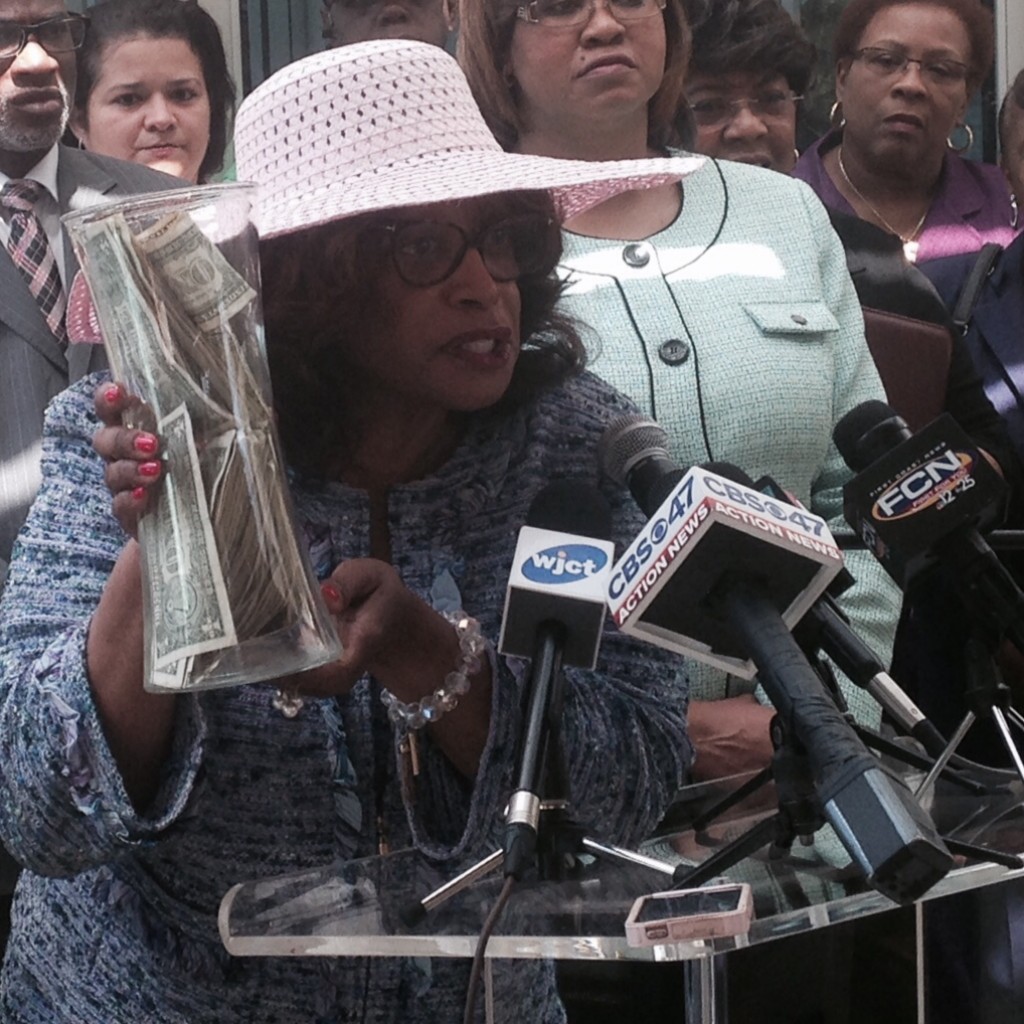 As federal prosecutors and the media prepare for the upcoming trial of Congresswoman Corrine Brown regarding the allegedly fraudulent One Door for Education charity, more is becoming known about some of the mysterious people named in the 46-page indictment.
One such person, identified as "Person C," has been reported to be Monica Simmons Isom.
Isom, reported First Coast News earlier in July, makes $35,000 a year in her capacity with Congresswoman Brown.
That said, she could have made even more. Another source reports a salary of $36,000 a year, which is five times the salary of an average part-time employee.
Simmons Isom also is the sister of Brown's chief of staff, Elias "Ronnie" Simmons.
Much of this case so far is nebulous, though Brown's lawyer said Tuesday the feds have already produced 77,000 pages of discovery.
However, as facts come out, a fuller picture is rendered.
One such fact came through in Monica Simmons Isom's 2002 divorce filing, under the name of "Monica Simmons Sheffield."
At that point, 10 years before the founding of One Door for Education, she was making $300 a month working part-time for the "U.S. Congress."
News 4 Jax points out  "Person C was listed as 'a close family member of Ronnie Simmons and full-time teacher residing in Jacksonville,' was also listed as a part-time employee for Corrine Brown for 16 years, and that Person C received $735,000 in pay and benefits from the House of Representatives for a job that she didn't really have."
How does a $300-a-month part-time salary expand to $35,000 a year? This is an open question, one that we've posed to Congresswoman Brown's D.C. office this morning.
If, as alleged, "Person C" got "$735,000 in pay and benefits," what happened since 2002 to bump up her pay rate?
If Isom worked for Brown for 16 years and made $735,000, that works out to an average of $3,800 a month … a number which exceeds $35,000 a year.
Where did the extra money come from?
Notable at Tuesday's indictment was the lack of engagement between Congresswoman Brown and Chief of Staff Simmons.
They didn't speak in public, or even look each other's way as they sat at the defense table.
Will Isom, the sister of one of the defendants, be called on the witness stand? Undeniably. And of interest will be the trajectory of her increases in salary and benefits between 2002 and more recent times.
The congresswoman from Florida's 5th Congressional District, along with Simmons, plead not guilty earlier this month on 22 and 18 charges respectively, enumerated in a 46-page indictment that details years of alleged fraud and tax evasion related to the non-performing charity, One Door for Education.
Brown faces a possible 357 years in prison and $4.8 million in fines if all counts are found valid. For Simmons, it would be as many as 355 years and $4.75 million, if guilty of all counts.
Key to the prosecution's case will be witness testimony, from the various people on the periphery of what some are calling a "slush fund" and what feds are calling a "scheme to defraud."