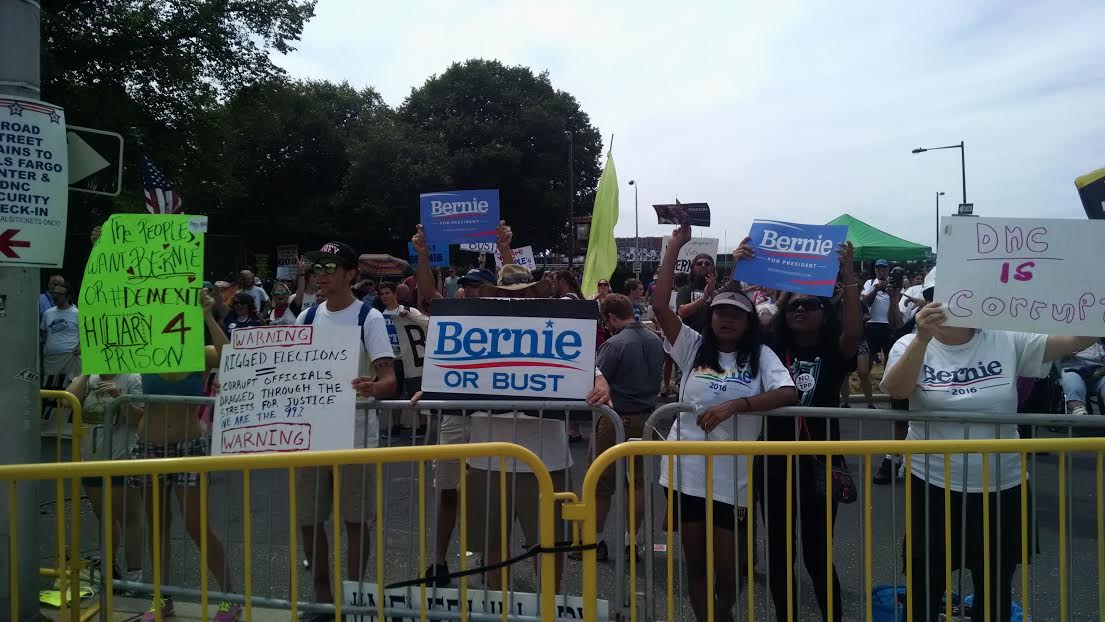 On Sunday, FloridaPolitics.com reported a group of Bernie Sanders delegates were considering challenging Hillary Clinton's selection of Tim Kaine to be her vice presidential running mate. But with hours to go before Kaine's name goes into nomination at the Democratic National Convention in Philadelphia, that effort appears to have died out.
Norman Soloman with the Bernie Delegates Network told reporters at a press conference on Wednesday that, once again, the Democratic National Committee had refused to provide the proper paperwork to file a challenge. On Tuesday, Soloman said the Bernie delegates had selected an alternative candidate to be placed in nomination, but has never revealed who that would be. On Wednesday, he challenged reporters to follow up with the DNC to determine why they didn't respond to the dissident Sanders delegates' request.
Pinellas County resident Mike Fox, a member of the group, said the DNC never responded to their requests.
"We know that this is not necessarily going to be a winning vote. That's not the point," said Fox. "The point is to allow the folks who disagree to get a vote. That's all what this is all about!"
Kaine's stances on abortion rights, coal-fired power plants, "right-to-work" laws and his support of the Trans-Pacific Partnership Fast Track last year are all fodder for the Sanders fans' disdain.
Bernie Sanders made clear on both nights of the convention that, despite their differences, he is clearly supporting Hillary Clinton in this year's presidential election. But many Sanders supporters in Philadelphia are not following suit.
Solomon announced Wednesday that in a poll of 276 Sanders delegates take this week, less than half, or 43 percent, said they would adhere to his words and were affected by his message.
Karen Bernal, a Sanders delegate from California, says despite Bernie Sanders talk about the "most progressive" Democratic Party platform in history, on too many issues — like the Trans Pacific Partnership, foreign policy, fracking and single-payer health care — the Sanders camp lost, and that while Sanders has to do what he has to do, his delegates aren't under any such mandate to follow.