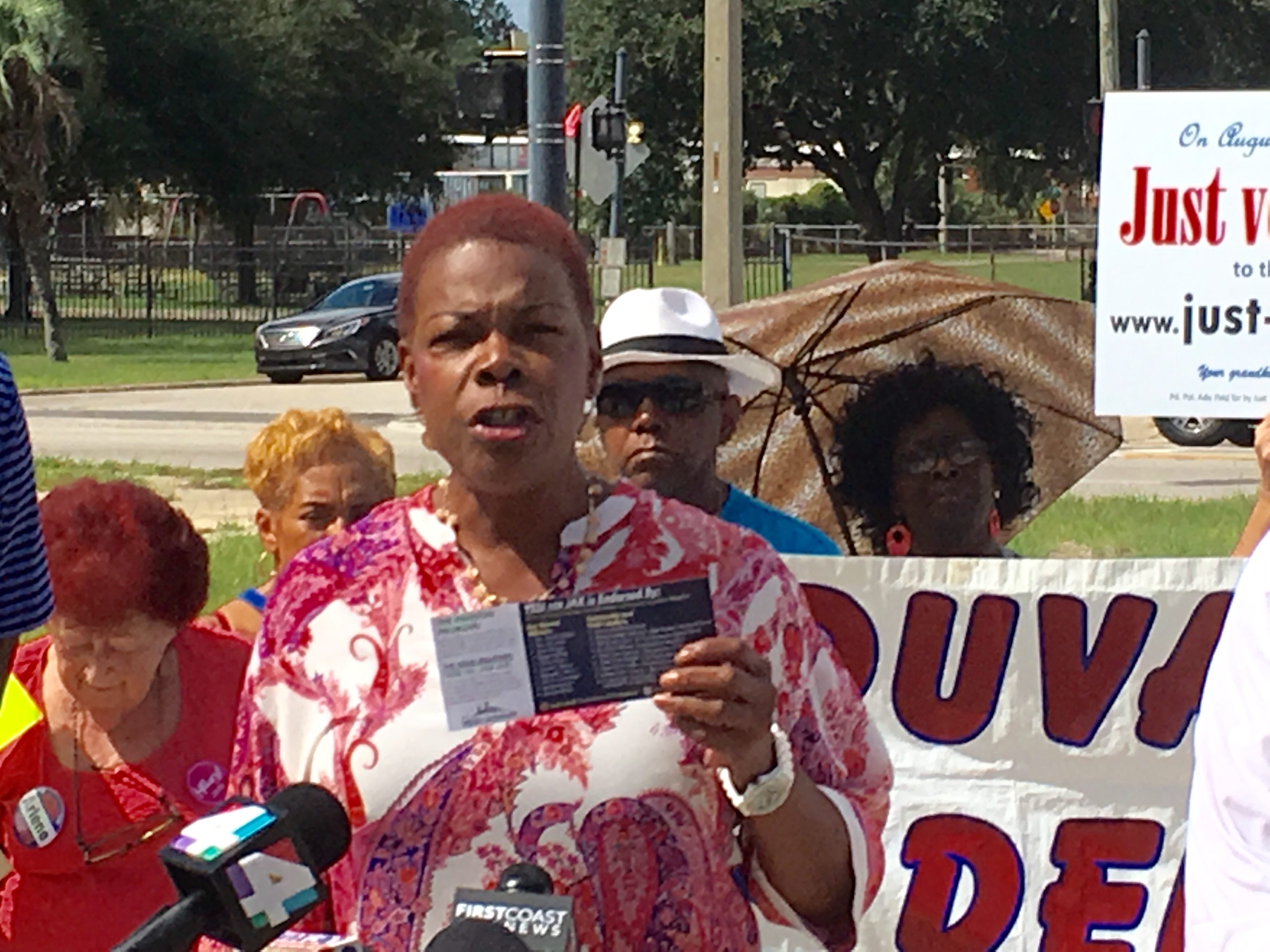 Those who have waited for opposition to Jacksonville's proposed "pension tax" are finally seeing it manifest, just in time for early voting.
With oppressive humidity in the air and a non-affiliated crackhead milling around the parking lot engaging with the media, the Duval Democrats made their stand against Jacksonville's County Referendum 1 in a parking lot near Gateway Mall Tuesday morning.
The hits were served up by party chair Neil Henrichsen, state Sen. Audrey Gibson, and former state Sen. Tony Hill.
All of them acknowledged Jacksonville's $2.8 billion unfunded pension liability was a severe issue. And all took issue with the extension of a "regressive" half-cent sales tax, which would start in 2030 and could extend until 2060, to resolve the issue.
Henrichsen called the proposal "fatally flawed," with $1.5 billion of added expense impacting generations in the future.
"This never should have become a referendum," Henrichsen said.
Gibson, listed on a "Yes for Jacksonville" flyer as a supporter of the plan, along with Rep. Mia Jones, noted neither gave permission to appear on the "sham flyer."
Calling the flyer "unethical" and a "bait and switch," Gibson said that there must be a signed endorsement, which she didn't provide.
"I was asked if I'd be on the support team. I said no," Gibson said, adding the "only reason it passed the Legislature is because people believed Duval would have a say."
Gibson noted that the last referendum — the Better Jacksonville Plan — never provided benefits in the hardscrabble Northside neighborhood near Gateway Mall where the presser was held.
Citing crumbling sidewalks and closed businesses, Gibson said that "not one cent from the tax" came to this neighborhood.
There should be "shared sacrifice," Gibson said, not a "regressive tax."
A millage hike strikes Gibson as the preferable alternative.
Hill, meanwhile, noted that former Mayor Alvin Brown had "worked out a plan" to fund the pension liability with JEA fees, but "some people [on the council] thought it was crazy."
Council, said Hill, has "not explained why they voted 19-0" in favor of the bill.
The speakers took issue with the ballot language, with Henrichsen calling it an "intentional means of distorting the real issues."
As well, said Gibson, though Lenny Curry appearing at a Donald Trump rally wasn't a deal-breaker, it didn't help.
"I was a lot disappointed to see open arms welcoming a candidate that probably bashed every person standing here," Gibson said, while the same courtesy was not extended to President Barack Obama when he came to town earlier this year.
Henrichsen called Curry the "most partisan, divisive mayor" in Jacksonville history.
****
Of course, not every Democrat opposes the measure.
Denise Lee, former councilwoman, resigned her position with the City of Jacksonville to market the referendum.
And former mayor and current councilman Tommy Hazouri has been a stalwart supporter of the referendum.
Hazouri mentioned Tuesday afternoon that he and Lee had been dispatched to the presser to offer a counter message to what he called a "big mistake" by the Duval Democrats.
Hazouri noted the entire Duval legislative delegation co-sponsored the bill in Tallahassee, and when asked about Gibson's comments, Hazouri attributed them to "political season," which "sometimes interferes with the right choices."
"She has the right to change her vote," Hazouri said. "I respect their right to change their vote."
Regarding Henrichsen, Hazouri was blunt: "I don't think he speaks for the Democratic Party."
"The Democratic Party," said Hazouri, "made a big mistake" in hosting the press conference.
****
Resistance to "Yes for Jacksonville" may be futile, but it definitely exists, even if in the end the measure gets to 50.1 percent on Aug. 30.
Mayor Lenny Curry encountered intense skepticism at a town hall event Monday night, in which he took heat for over an hour from African-American Democrats.
And opposition to the referendum, though diffuse, has been seen also among the hard-right wing of the local GOP.
With just two weeks to go, the trajectory of the campaign will be paid media and lots of it, versus whatever earned media the underfunded opposition can gin up.