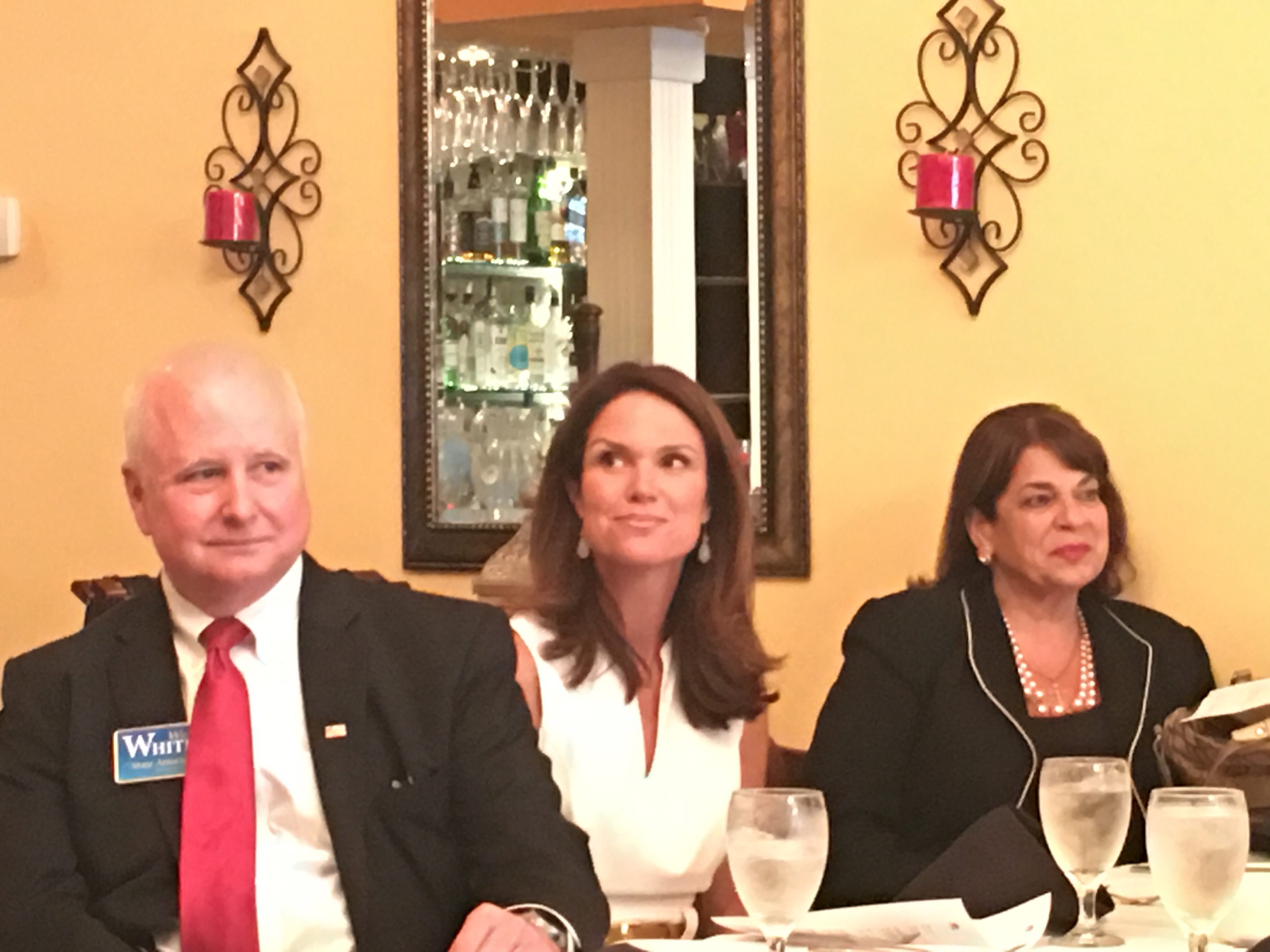 The sentiments behind Depeche Mode's hit "Just Can't Get Enough" clearly applied to the press and the candidates after Tuesday night's 4th Circuit State Attorney debate, as incumbent Angela Corey and challengers Melissa Nelson and Wes White took some reporters' questions after the event.
Corey, as is her wont, was delivering loving tributes toward the free press, both locally and nationally.
"It's the media that varies the amount of attention a case gets," Corey said, without offering concrete suggestions as to how the media can better cover cases.
This sentiment follows up on Corey's oft-repeated complaint that for some out there, criminal justice is a "vicarious spectator sport."
The media, Corey said shortly thereafter, has "no filter."
Apparently, the press will "publish something" and "the public will pick up on it."
(There are places where this doesn't happen: North Korea comes to mind.)
In what must be a media first, meanwhile, an incumbent Northeast Florida politician responded to an article from The Nation.
Of course, the article was entitled "Is Angela Corey the cruelest prosecutor in America?"
Corey may not be renewing her subscription to the liberal national magazine.
The piece, Corey said, was a "pathetic article" from a "liberal blogger" in San Francisco.
If Corey is re-elected — and if she is somehow able to overcome the fearsome challenge of Fleming Island men's-only divorce lawyer Kenny Leigh in the general election — chances are one or two more of these "pathetic" articles may surface.
Expect a similar reaction.
****
Up next: Melissa Nelson, who gave her thoughts on the closing of the 4th circuit primary to Republicans only, a nifty trick pulled off by Corey's former campaign manager, who sagely drove write-in candidate Leigh's paperwork to Tallahassee and filed it, but unwisely failed to invoice for mileage and other incidentals.
Corey, who justified the decision by her political team even while contending she had no knowledge of it, was again castigated by Nelson for her "lack of ownership" and "refusal to be accountable."
Nelson also contended there was "very clear" evidence of collusion between White and Corey.
For over a year, Nelson contended, White stood at podiums and "criticized [Corey] relentlessly."
Now, Nelson added, all resources are focused on taking her out of the race.
Nelson took a question on Corey's fractious relationship with the local press corps, saying "Corey blames everybody," not just the press, when things go wrong.
Nelson repeated her contention that she's "running on transparency," committing to that even when critical things are written about her if she's elected.
****
Last up: Wes White, whose comments were interesting as ever.
When asked if he and Corey were ganging up on Nelson, White contended "that's the narrative they're trying to put out."
While White wants to see Corey out of office, he admitted that Nelson is his target right now, saying that the goal is to "knock off" someone in the lead.
Nelson, said White, is a "pawn for people who want to control that office … Harry Shorstein in a dress," continuing his genuinely disturbing pattern of breezily sexist language where Nelson is concerned.
White also took questions on his attempt in late July to get a grand jury investigation of the Nelson campaign for allegedly trying to intimidate him out of the race in April, over two months before Nelson got in.
Special prosecutor Bill Cervone said no to pursuing it.
White's responses to media spoke, as seems to happen with this candidate, to a general lack of comportment and an emotionalism that may not jibe neatly with a state attorney's office in an ideal district (though in this one, who knows.)
White "didn't know" if the actions he alleges were taken by the other people in the meeting were "lawful or unlawful."
No matter, though!
"I was angry," White said, at the "rich guys."
Why did he wait over three months to bring this up?
Simple.
"I waited because I thought they'd offer a carrot … these guys can promise anything … a job with the governor … a job with Melissa Nelson."
"One of these people was a billionaire," White continued, without specifying which member of the billionaire boys' club wanted to squash White, who has about $1,000 on hand in his campaign account, and who was called out during the debate by Nelson as needing a job.
White also provided insight into why Corey was willing to hire him to run the Nassau County branch of the SAO in 2008, after he supported her in her campaign, saying it was "probably because I was the only one willing to talk to her."