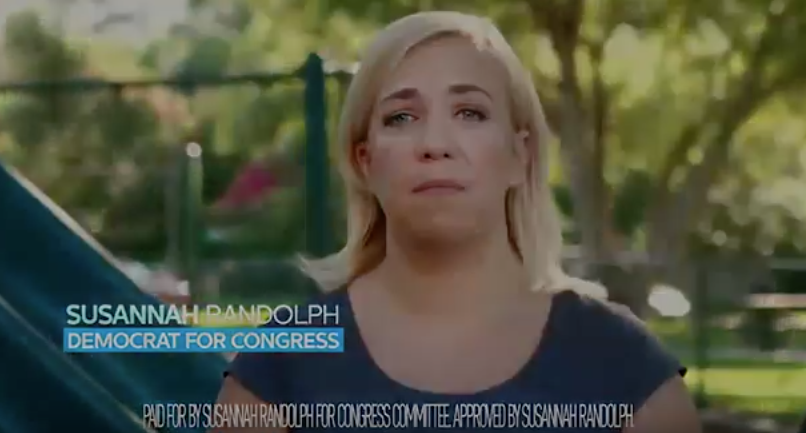 Democratic congressional candidate Susannah Randolph is firing away at both the National Rifle Association and Democratic primary opponent state Sen. Darren Soto over his once-high rating with the NRA in a new TV commercial in Florida's 9th Congressional District.
The 30-second commercial, "Rating," debuts Monday.
It also takes the Pulse nightclub massacre deep into Orlando congressional politics by starting with a June 15 news conference called by Soto and other Democrats, but introducing the event with words on the screen announcing, with a siren in the background:
"THREE DAYS AFTER THE PULSE SHOOTING."
The image then cuts to Soto at the news conference, where a reporter asked him about his previous votes in the Florida Senate supporting National Rifle Association issues, and the A rating those votes had once earned him from the NRA.
"Darren Soto voted seven times with the National Rifle Association against gun control," the narrator then states, as the image switches to Randolph and her husband, Scott Randolph, standing with President Barack Obama. "Susannah Randolph stands with President Obama and would vote to ban assault weapons and expand background checks."
Randolph and Soto are in a four-way Democratic battle heading into the Aug. 30 primary with Dena Grayson and Valleri Crabtree. The winner would face the Republican Primary winner, either Wayne Liebnitzky or Wanda Rentas.
Soto and several other members of Central Florida's Democratic delegation had called the June 15 news conference to call for a special session of the Florida Legislature for exactly the purpose Randolph espoused: pushing votes to ban assault weapons and expand background checks in the wake of the Pulse massacre, in which a gay-hating, ISIS-pledging madman killed 49 people and wounded 53 others.
Soto's response to that reporter's question was that his more recent voting record on guns — he voted against open carry and guns-on-campus proposals — had reduced his National Rifle Association rating to a C-. It's now a D grade.
"The truth is that Darren stands for commonsense gun reform, including expanding background checks and banning gun sales to those on federal no-fly lists and terror watch lists," his campaign responded.
But Randolph then drives home her point in the commercial's closing seconds. It's a point the Randolph campaign made earlier Monday when it announced it had received the endorsement of the Brady Campaign to Prevent Gun Violence:
"If you're standing with the National Rifle Association you're failing to keep our kids safe," she declares.