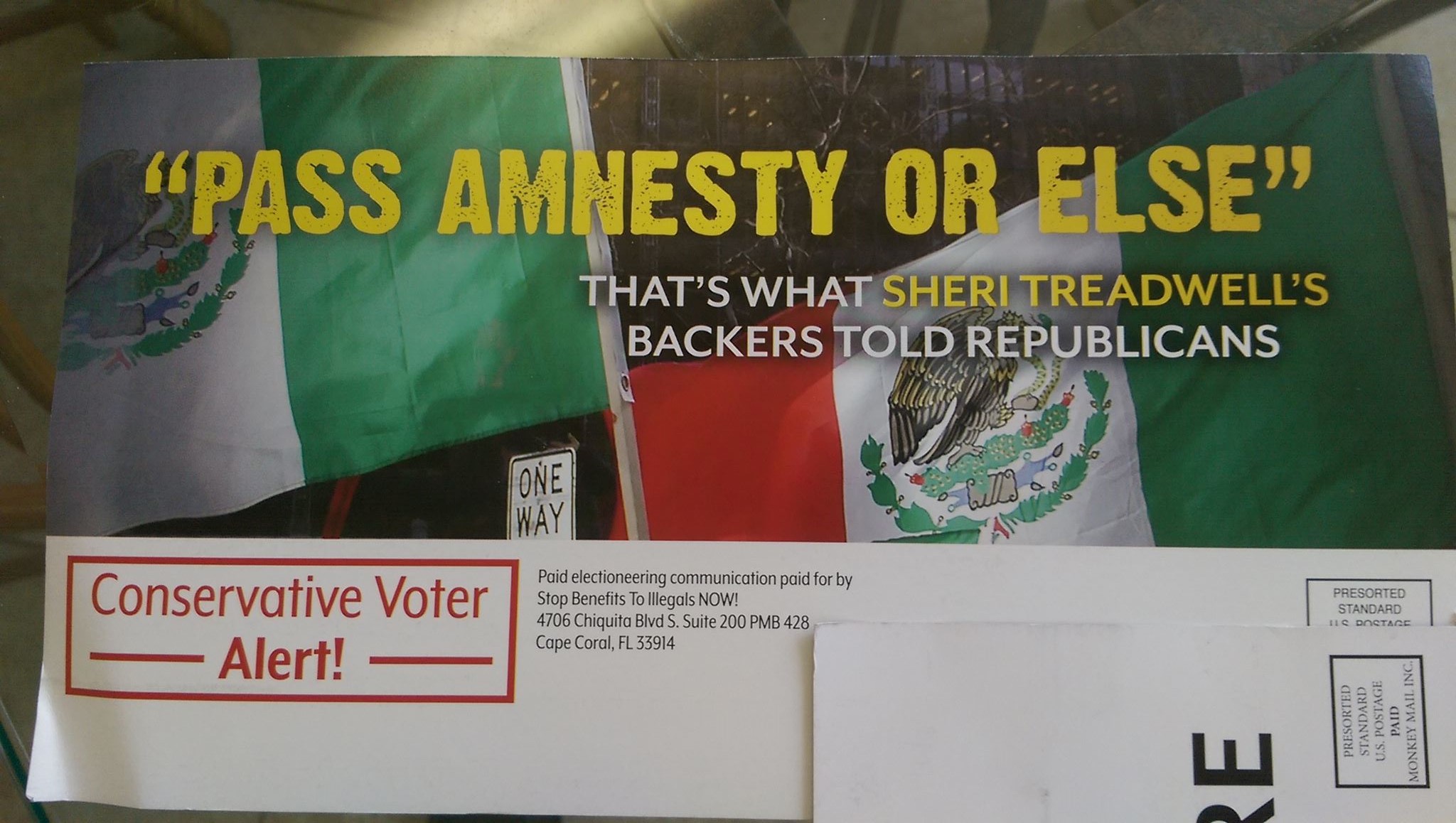 It's getting late in the House District 11 race between Sheri Treadwell, Cord Byrd, and Donnie Horner.
And in mailboxes, it's gotten ugly in the last week, with quality hit pieces going out against all three candidates.
Treadwell, leading the money race and seemingly closing the campaign with momentum, has gotten hit from the "Stop Benefits to Illegals NOW" committee.
Last week, Jason Garcia tweeted that "'Stop Benefits to Illegals NOW!' is sending mail in HD 11 in Jacksonville attacking Sheri Treadwell in the GOP primary."
Thus far, the group has taken in $40,000: the biggest donation is $25,000 from "Leadership for Florida's Future." In turn, this group got donations from "Citizens Alliance for Florida's Economy." And so on.
 What are these mailers?
One of them claims Treadwell's "backers" told Republicans to "pass amnesty or else."
The support for this claim: quotes from media outlets saying that the Florida Chamber and the U.S. Chamber of Commerce want immigration reform.
Another one of them claims Treadwell's "allies" back "expanded Obamacare" and "liberal priorities."
Among those claims? They want to borrow more money from China and Russia, they seek "ballooning debt," and "record profits for hospitals."
Treadwell, when asked about this last week, called the attacks "desperate."
"You'll notice they don't attack my record. They attack unnamed 'allies,' which really means they just made it up. You're seeing sinking campaigns resorting to desperation," Treadwell said.
Of course, the caveat is that these mailers are third-party.
And the game goes both ways in HD 11.
The "Conservative Leadership Fund" has a couple of hits out also.
One of them shows Byrd and Horner with keys in their back, like wind up dolls.
"Big union bosses made their choices for the same reasons. They wanted someone they could control," the assertion goes.
"Union bosses want to fund union pensions with your tax dollars … Residents in Jacksonville Beach and Nassau County are expected to fund the needs of Downtown Jacksonville. What's in it for you? Nothing but higher taxes!"
The reference is to the union support for Duval's County Referendum 1, and for Horner and Byrd.
Treadwell, who has done government work as recently as this year, did not send this mailer out herself, of course.
The "Conservative Leadership Fund," which hit Horner earlier this month for being a RINO, does have a demonstrated financial link to Front Line Strategies, however, which is handling Treadwell's campaign.
Byrd got a solo jolt from the same group, meanwhile, hitting him for being a "billboard trial lawyer," and issuing a series of statistics talking about how "billboard trial lawyers … cost many consumers over $3,000 a year in frivolous lawsuit 'taxes'."
That assertion doesn't really make sense. But it doesn't have to.
That's not even the point.
The point is to gin up the angst and the anger of voters, and these mailers in what is still seen as a competitive three-way race accomplish that baseline goal.
Even if the game for political watchers is "follow the money."