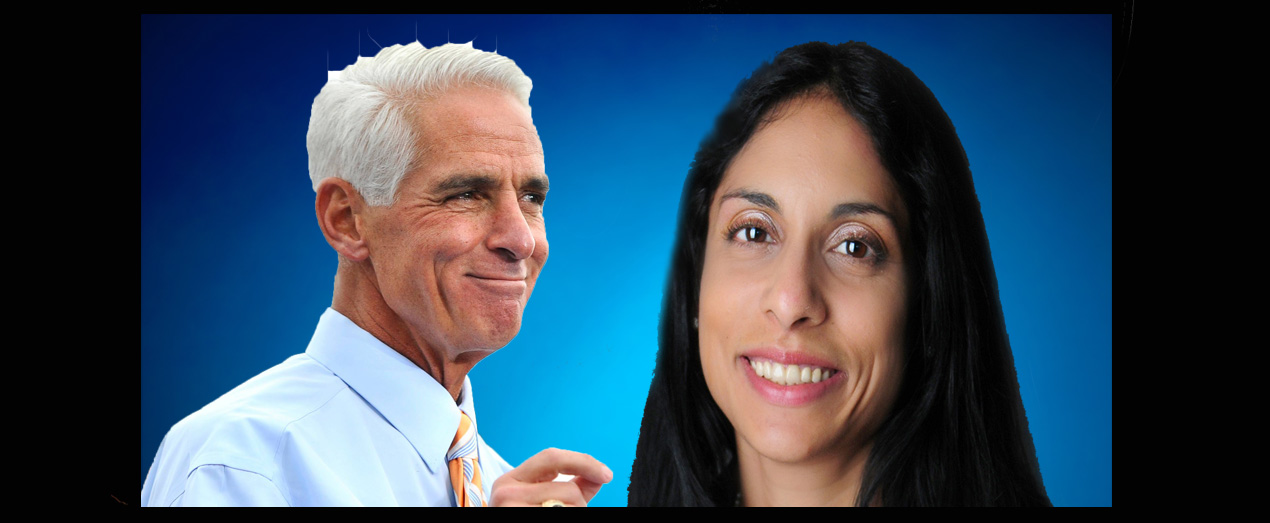 Whether or not one is following the GOP primary for Florida's 2nd Congressional District, it is getting a lot of attention both inside and outside of the Panhandle. The winner will succeed Democrat Gwen Graham, who chose not to seek re-election in a Florida Supreme Court-inspired redrawn district.
Attorney Mary Thomas is under assault in paid broadcast media. Try going on the internet without seeing an ominously silhouetted picture of Thomas charged with the sin of being a "Charlie Crist Republican" and "Charlie Crist appointee."
The issue stems from Thomas serving in the Department of Community Affairs while Crist was governor. Michael Moline has written a must-read piece on her furious attempts to get the television ad pulled.
First, here is the truth about this silly argument: The governor appoints agency secretaries. Agency secretaries tentatively appoint agency management.
The governor's chief of staff can, and does, block some tentative appointments. The secretary is part of the governor's administration. Therefore, the secretary's appointments are part of the governor's administration.
The ads will not be pulled because Thomas was indeed appointed by Crist, who was responsible for his entire administration. She should feel free to criticize her opponents or Crist, but serving the public in the Crist administration will not determine whether she wins or loses.
Who is paying for these ads her supporters want to be pulled? Neither of Thomas's opponents, former U.S. Attorney Ken Sukhia nor Dr. Neil Dunn are responsible.
For their part, Thomas and supporters are doing their best to link Dunn to Crist. The Club for Growth is running ads against Dunn and whatever connection he might have with the former governor. Sukhia is offering himself as the serious choice while Thomas and Dunn bicker.
So, who is bankrolling this fourth quarter broadside against Thomas? The ESAFund, which stands for Ending Spending Action Fund, is trying to sway this race away from Thomas.
ESAFund is not a huge player. The District 2 race is their first venture into Florida politics.
The most recently available reports posted by the Center for Responsive Politics show they have raised about $4 million this cycle. The biggest beneficiary so far is New Hampshire Republican Senator Kelly Ayotte, who has received $1.2 million in assistance. ESAFund has also spent nearly $300,000 against Ayotte's opponent, Maggie Hassan.
Perhaps an ominous note comes from Kansas where ESAFund spent more than $750,000 attacking Republican Congressman Tim Huelskamp in his primary race against Roger Marshall. They also kicked in nearly $400,000 on behalf of Marshall, who handily defeated the incumbent Tea Party stalwart.
A million dollars in a predominantly rural district is a big deal. They must see similarities in the Florida Panhandle.
Who is putting up the money behind ESAFund? Marlene Ricketts kicked in the most with $850,000.
Ricketts is the wife of TD Ameritrade founder Joe Ricketts and the mother of Nebraska Gov. Pete Ricketts. The Ricketts family owns the Chicago Cubs.
Wrestling moguls Vince and Linda McMahon donated $250,000. Miami Worldcenter co-developer and Delray Beach resident Bill Powers ponied up $50,000.
Crist may be running for Congress from St. Petersburg, but his presence still looms far too large in North Florida.