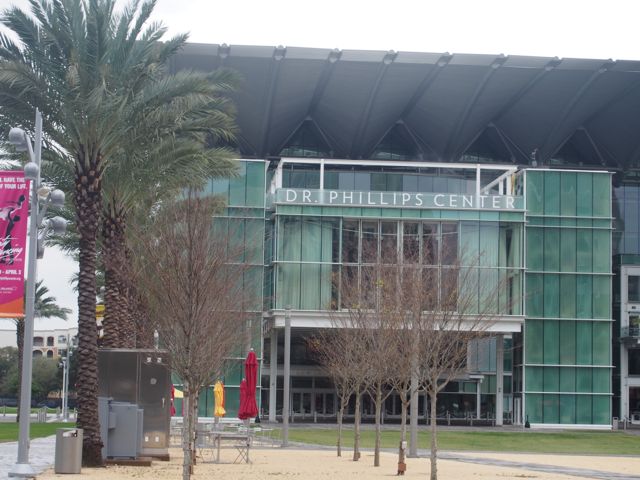 In the next move in Orlando's tourism money chess match, Orange County Mayor Teresa Jacobs has agreed to put $45 million toward finishing Orlando's Dr. Phillips Center for the Performing Arts.
The move, assuming Orlando Mayor Buddy Dyer agrees and the appropriate boards all sign off, means the postponed-into-limbo final phase known as the acoustic Steinmetz Hall will get the money needed for construction.
In a memo Jacobs sent to the Orange County Board of County Commissioners and others Friday afternoon, Jacobs cited the Dr. Phillips Center's popularity and the $160 million in private funding, then added, "More important, however, is the impact DPC has had on our local community.
"It has added to our quality of life, increased our sense of community pride and, as we saw after the Pulse tragedy, DPC and the Seneff Arts Plaza [out front] have become our gathering place — the heart of Orlando."
Jacobs' proposal is to rework an agreement with the City of Orlando so the city would get another year of funding from the tourist tax, which should account for most of the $45 million needed to complete the Dr. Phillip's Center.
"To take strategic advantage of tourist-generated taxes, I'm proposing small changes to the current venues agreement that will result in an additional $45 million dollars for the Dr. Phillips Center, allowing the Center to efficiently complete Phase 2 and create space for our local philharmonic, ballet, and opera in the Steinmetz Hall," she said in a statement issued by her office.
"My proposal will NOT raise taxes or financially impact local residents in any way," she continued. "The proposal also outlines a plan to increase funding for marketing to insure the strength of our tourism industry, allowing for the possibility of future cultural and sports assets for our community and residents."
Orlando Mayor Dyer seemed to signal at least some support for the proposal with this statement:
"Earlier this year, tourism leaders developed a comprehensive recommendation for future TDT funding of organizations and facilities that drive tourism to Orange County and attract elite sporting events and world-class arts and cultural experiences for our residents. We are pleased that the portion of the plan with most immediate needs is moving forward. Completing the Dr. Phillips Center and creating a sports bid fund will further our shared vision to drive the success of the Amway Center, Camping World Stadium, and the Dr. Phillips Center while ensuring Orange County remains a leading tourist destination."
The memo also proposes setting aside $5 million this year and $2 million annually for a sports marketing bid fund, available to help attract sports events such as the NFL Pro Bowl game, which was just attracted to Orlando with tourist tax money. That fund would be controlled by the county's convention and visitors' bureau, Visit Orlando, which also is funded by the tourism tax.
Jacobs said she will take the first step by scheduling the matter for the Sept. 30 meeting of the Orange County Tourist Development Council.
Not proposed, however, are numerous other uses for the tourism tax money that the Orlando-area tourism and hotel industries had pushed for last spring. At least not directly.
Last spring, Dyer and Orlando-area chambers of commerce, and various major arts organizations endorsed a remarkably broad proposal for funding a number of things with tourism money after the proposal was put forward by the Central Florida Hotel & Lodging Association and all three major Orlando theme parks. But Jacobs put on the brakes, opening up a political chasm between her and many tourism interests.
Jacobs' new memo states that, "There are currently no available excess TDT revenues" to be used toward much of the CFH&LA proposal. She also said the tax revenue will need to be carefully watched over coming months before any final decisions are made for anything. But she added
she has instructed her staff to look into possibilities.
Jacobs also has cautioned that she remains concerned about the longterm reliability of the tourism tax. It's booming now, but is potentially volatile, even to world events.
Jacobs also has cautioned that she remains concerned about the longterm reliability of the tourism tax. It's booming now, but is potentially volatile, even to world events.
However, Jacobs did propose a new deal that could address many of them, and perhaps generate another $35 million a year for them or other purposes. The plan essentially would scrap the current deal with Orlando, pay off the city's bonds, and have the county float its own bonds, extending the debt out about another three years. That could replace the complexities of the current deal with a more straightforward financing plan that could generate about $35 million more, Jacobs' office said.
There's no certainty at this point that Jacobs' new proposal, essentially a counteroffer, will close that political chasm.
"It's a little premature for my thoughts," said CFH&LA President Richard Maladecki. "I need to discuss this with the CFLA leadership. I would say I am very pleased we are seeing some positive actions relating to potential uses of the tourist development tax, and I appreciate that Mayor Jacobs is looking to seek input from the industry."
Among the items proposed last spring and not endorsed in Jacobs' memo are $172 million for capital improvements to the Orange County Convention Center; $20 million to finish upgrades of the Camping World Stadium (formerly the Florida Citrus Bowl); and money for the Orlando Ballet, the Orlando Philharmonic Orchestra, the Orlando Science Center, and a broader arts fund.