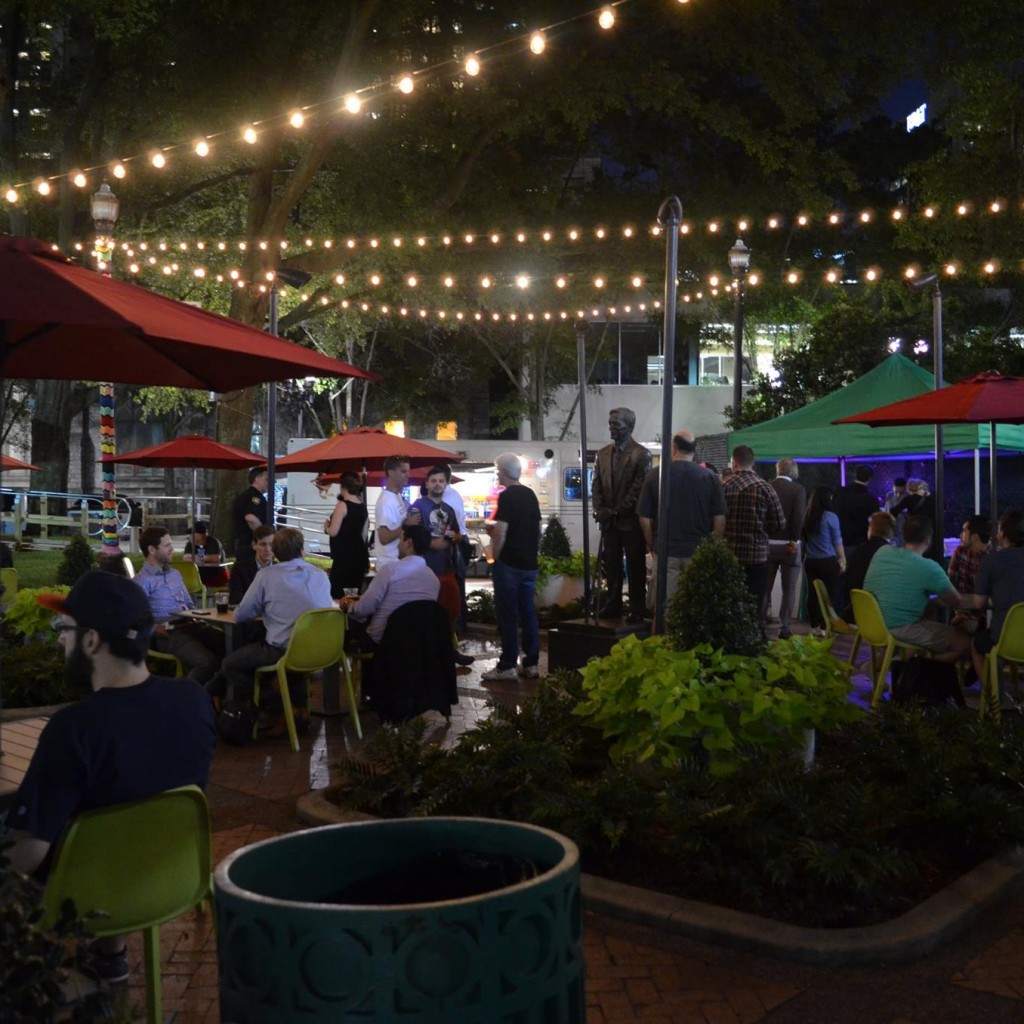 On Thursday afternoon, a Jacksonville City Council subcommittee discussed "measurements of success" for Hemming Park.
The object of Thursday's meeting, said Chair Greg Anderson, was refining those measurements and discerning the "hook" that drives traffic to parks.
Previously, the committee agreed on some big-picture goals: safety, cleanliness, and business friendliness of the park.
Refining those desired goals, and presenting them to the general counsel, will help determine whether or not an RFP will be issued for new management.
A representative from the sheriff's office noted the importance of managing expectations, saying bluntly that Downtown Jacksonville is the place for the homeless, and if the homeless are pushed out of Hemming Park, they will end up somewhere.
Almost 200 arrests have been made in Hemming this year thus far, he said, adding that this is not a law-enforcement solution: arrests aren't improving the situation.
Part of the problem: unclear language in the ordinance code, such as a description of "disturbing the peace" involving "unseemly and profane" language.
Such opaque language creates an enforcement burden, with lines blurred and potential infringement of "freedom of speech."
Trespassing, likewise, is an opaque concept, with current language precluding excluding repeat offenders from the park.
A potential measurement of progress is a decrease in calls for service from the JSO.
This year, 1,126 calls for service have been issued related to the park, though not all are direct reports of problems such as alcohol violations.
There have been 206 "suspicious persons" calls, for example. Early morning and late night are examples of times when calls abate.
Councilman Reggie Gaffney, whose district includes Downtown, noted it's possible the more problematic park denizens don't understand the law, including the homeless regulars.
Councilwoman Anna Brosche responded that the problem is lawlessness in the park, and a reduction of calls for service is a reasonable goal.
"I appreciate the concern about where the homeless are going to go, but for me that's not the concern," Brosche said.
The JSO does facilitate a probationary program for chronic homeless people, in conjunction with the Sulzbacher Center, which requires abstention from drink and illicit substances.
One of the problems created by removing people from the park, said one civilian attendee, is that people bounced from the park often take their habits to surrounding businesses, such as a crack enthusiast who visited a local book store to smoke his pipe.
When asked why he was smoking crack at the bookstore, the man mentioned he had been trespassed from the park, and had to relocate for his activities.
One recommendation from law enforcement: maintaining private security, and crime prevention through environmental design, which broadly speaking included eliminating places for vagrants by incorporating design elements such as those that might discourage sitting.
After the discussion of "safety," with no real resolution, the question of how to make the park "clean, attractive, and welcoming" came up.
Pressure washing could happen more, attendees observed. As well, there might not be enough trash cans, which seems to drive people to throw trash into the fountain.
A cynic would say park "congregants" could be more personally accountable on these matters.
Regarding making the park more "welcoming," Councilwoman Brosche noted that since the city's not funding programming, that can be challenging.
Parks head Daryl Joseph suggested that the contract could mandate a certain amount of press conferences, though as frequent attendees of press conferences can attest, they rarely draw a non-media crowd.
Anderson believed increased staff visibility might help to make the park more welcoming.
Also discussed: a survey, to get a sense of what's needed, according to park attendees.
Ali Korman Shelton of the mayor's office said if there is a survey, ultimately it should drive the council's decision-making process as the policy-making body.
The discussion then moved to making the space more business-friendly.
A potential metric: are sales going up or down, and can they be attributed to activity in the park?
Another pressure point identified: a lack of available parking at night.
And still another: "panhandling" and "catcalling," said Anderson.
Those are nebulous claims to make, said the representative from the JSO, adding regarding catcalling that "some people enjoy it and some people don't."
It's an open question, however, how many women actually enjoyed getting catcalled by a park regular.
Perhaps that's a question for the survey.