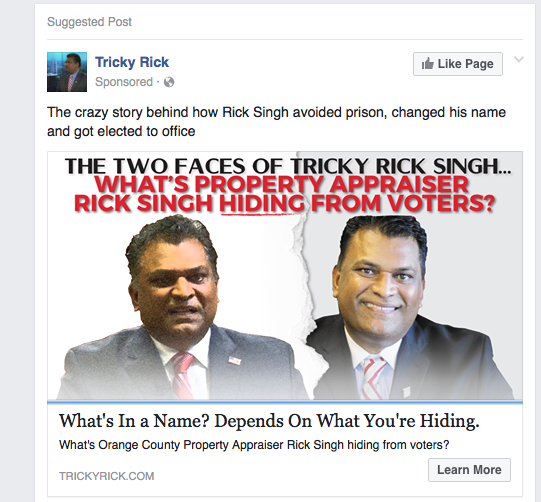 Orange County Property Appraiser Rick Singh is under attack by a new electioneering communication organization alleging he may be involved in a variety of misconduct ranging from nepotism to perjury.
The allegations, mostly based on old legal actions involving Singh, are being spread on a website called trickyrick.com, sponsored by an ECO formed in Orange County in September called "For A Better Orange County," by Republican consultant Scott Barnhart of Washington D.C. and Fort Myers lawyer Sawyer Smith.
The overriding allegation in the ECO's attack is that Singh may have changed his first name, from his given name of Parmanand to Rick in 2011, in order to hide his past.
The website is being promoted with sponsored posts on social media in Orange County.
Singh, who was elected Orange County property appraiser in 2012, stated Wednesday that he had not seen the website and would not comment.
Neither Barnhart nor Smith was immediately available to comment Wednesday.
Singh, a Democrat, is seeking re-election Nov. 8, faced by Republican challenger Edward DeAguilera.
The site rehashes a 2009 lawsuit in which ING Bank sued a number of parties alleging fraud in some collapsed real estate deals that occurred during the housing crisis of that decade. Singh, who then was a private property appraiser, had submitted appraisals on some of the properties and was named as one of the defendants. Singh argued that he did nothing wrong, and, in fact, ING Bank never offered any evidence suggesting that Singh had either submitted fraudulent appraisals or benefitted from any of the deals in any way other than collecting standard appraisal fees. Eventually he, and many of the other defendants, settled for undisclosed terms.
The site calls the suit "A Shady Past."
A second item on the site labeled "A Shady Past Part 2" cites a 1988 shoplifting allegation against Singh and a $984 small-claims lawsuit judgement against him in 1993. Singh has maintained the shoplifting allegation was a misunderstanding regarding a computer he had brought into a shop for repairs, that he was never booked or charged, and that the matter was quickly resolved and dismissed.
But the website contends that when Singh legally changed his name he failed to disclose either the 1988 arrest [Singh maintains he never thought he was arrested, though technically he may have been] or the 1993 lawsuit judgment, and therefore might have committed perjury in his name-change affidavit.
The website also brings up a hint of nepotism, alleging that his Orange County Property Appraiser's Office hired Greenspoon Marder to represent it in a lawsuit only a few days after that law firm hired his daughter.
The money behind the website and its attacks is unclear. Orange County campaign finance records show its only contributions to be $5,500 from an entity called Florida Regulatory Policy Institute of Fort Myers. However, neither the Florida Division of Elections nor the Florida Division of Corporations lists any entity by that name. The Lee County Supervisor of Elections office also has no listing for the firm.
Orange County records show the money mostly went to Strategic Digital Services, a Tallahassee social media campaign firm, and to Jenkins Hill Consulting, which is Barnhart's firm in Washington.