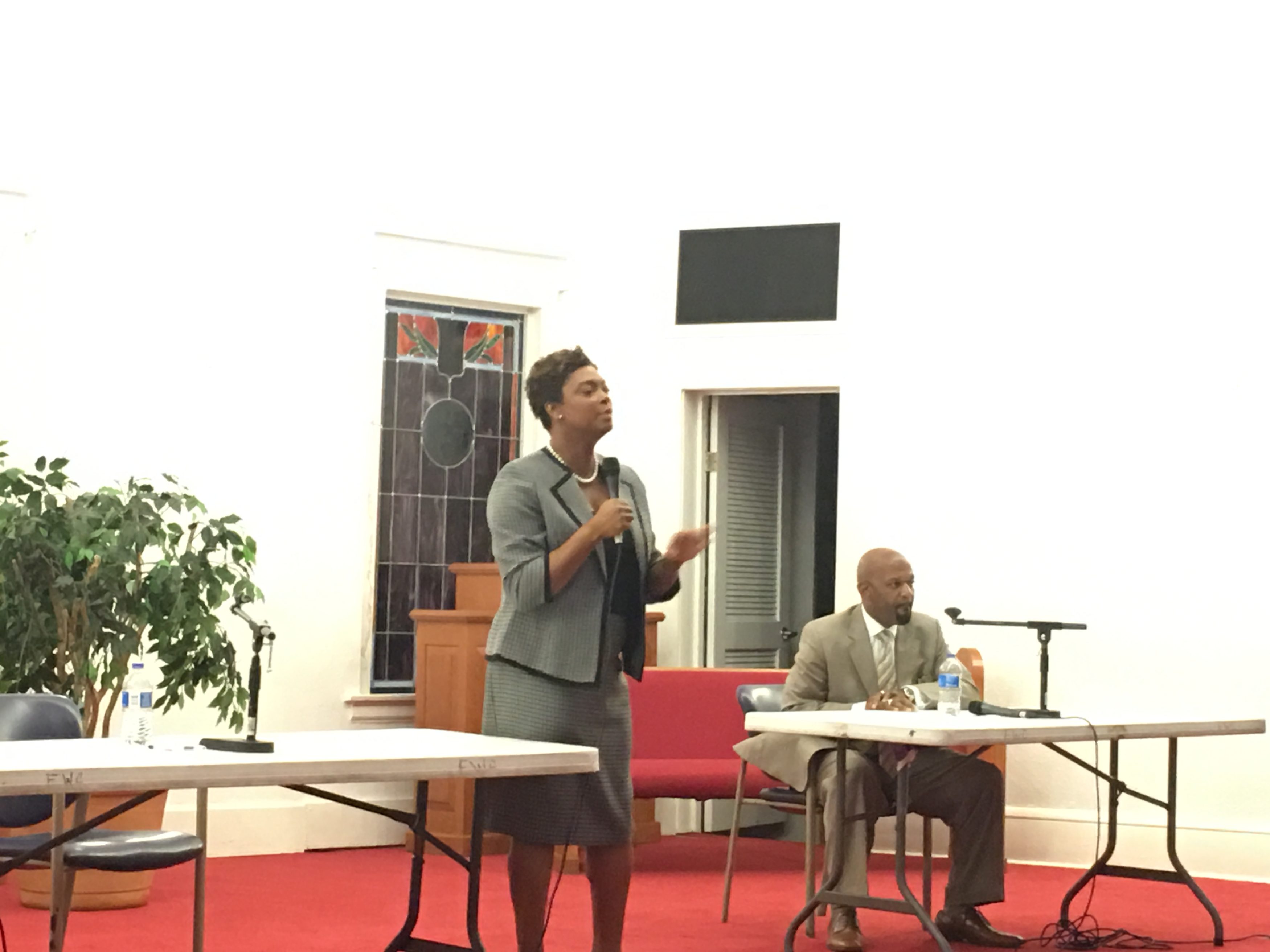 Despite running in a heavily Democratic district, Republican Mark Griffin is playing to win in the House District 13 race.
Thursday evening represented one of the most potentially pivotal evenings in his campaign against Democrat Tracie Davis, the replacement candidate for Reggie Fullwood, whose name is still on the ballot.
Davis and Griffin debated at Jacksonville's Edward Waters College; in her introductory remarks, Davis noted that she was an alumna of EWC. Later on, Griffin noted that during a time when EWC's accreditation was in question, he served as the vice president of finance for the HBCU.
Griffin, for his part, talked at considerable length about his community work, including work at Eureka Garden, "long before the media showed up" and before the current mayor and city council brought the power of their offices to bear, "back in '06 and '07 and '08."
"It's not about the party," Griffin said. "It's about the person."
Questions came from audience members, many of whom represented community groups in the district.
The debate started slow, as did the Tiger Bay debate, but heated up quickly.
The first question was about the New Town area, in the heart of the district.
Davis vowed to bring state resources, "dollars back to local authorities," to ensure streetlights are on, drainage works correctly, and so on.
Griffin noted that back when John Peyton was Jacksonville mayor, he agitated to ensure there was proper lighting at Eureka Garden.
"There were a lot of light fixtures, but the bulbs were blown out," Griffin said, noting that "our communities are often the last served."
The nonprofit sector came up next, with the questioner noting that although the money goes to black communities, "black nonprofits" are often shut out.
Griffin noted he runs a nonprofit, pointing out the difficulty of "breaking into that level of funding."
"We're held, in my opinion, under a sharper microscope," Griffin said, adding that organizations with "glossy brochures" don't have the same motivation to solve chronic community problems, lest they lose their revenue streams.
Davis pointed to the need to build coalitions, "working across the aisle."
The Democrat cited her work at the nonpartisan supervisor of elections office for 14 years as an example of her ability to help Republicans "understand the needs of [her] community."
Both candidates agreed about the importance of the restoration of voting rights to reformed felons, with Griffin saying that "being on that side of the aisle will give us a voice we didn't have in the past."
Griffin, in discussing juvenile punishment for crimes, advocated for civil citations.
"Proposed legislation" — which he would co-sponsor, as the bill has already been introduced — "would make it mandatory," the Republican said, noting that, in Duval, civil citations are used just 25 percent of the time, versus 93 percent in Miami-Dade.
"We have to stop the mass incarceration system … that stops young people before they get started," Griffin said, noting a disproportionate amount of issues happen not in the street, but the school.
Davis agreed civil citations are necessary, but even more systemic reform — such as taking a look at direct file, mandatory minimums, and incarcerating those with mental illness — is also imperative.
From there, questions moved to the disenfranchisement created by the closed primary in local public defender and state attorney races.
Both candidates agreed it was necessary to change the law.
"That's happened on the Democratic side, it's happened on the Republican side," said Davis, who added parties should ensure there is a candidate from each major party in the race, to avoid disenfranchisement.
Griffin also took fire for not living in the district until, as he put it, "recently."
"I think it's interesting that keeps coming up," Griffin said, hinting that came from his opponent's camp.
Griffin "used to live" in Arlington, he said, but his "heart is on the Northside."
"I believe I know probably more about District 13 than my opponent does," Griffin added, "because it's not where you live, it's where you work."
Davis noted that, in election law, a candidate like a mayor has to live in the city for 180 days before he can run.
Davis stressed the importance of residency, versus someone who "works in the district and then goes home … wherever that may be."
Meanwhile, Davis added, Eureka Garden is "not part of the district."
Griffin countered that "laws for the mayor are different than for a state representative."
"My opponent says she's heard gunshots; so have I," Griffin said, "but the difference is that I've done something about it."
"She has lived in the district longer than me," Griffin added, "but I have lived the district longer than her."
Griffin, when asked if he supported Donald Trump, ducked the question, urging people to "vote for the best candidate" and not be "dummied down" by straight-ticket voting.
Davis had no such issues regarding Hillary Clinton.
"I'm with her. I am a Democrat. I have been a Democrat my entire life," Davis said.
Griffin pointed out the advantage of being a Republican in the majority, and vowed not to "toe the party line" in Tallahassee, saying he wouldn't be able to serve eight years if he sold out the interests of the people of the district, which include non-GOP concerns like Medicaid expansion.
The concluding remarks got chippy, with Griffin noting that he won his primary, while Davis was voted against by 68 percent of those voting in her primary (won by Reggie Fullwood).
Davis, for her part, said that her "name was not on the ballot through no fault of mine," but because she was running against a "very popular Democrat … whose legacy will live on."
"I intend to continue the good work that Rep. Fullwood [has] done in this community," Davis said, noting that he has brought $4 million to the district.
It's highly unlikely a Republican can win in HD 13.
But this has been a highly unlikely year thus far.