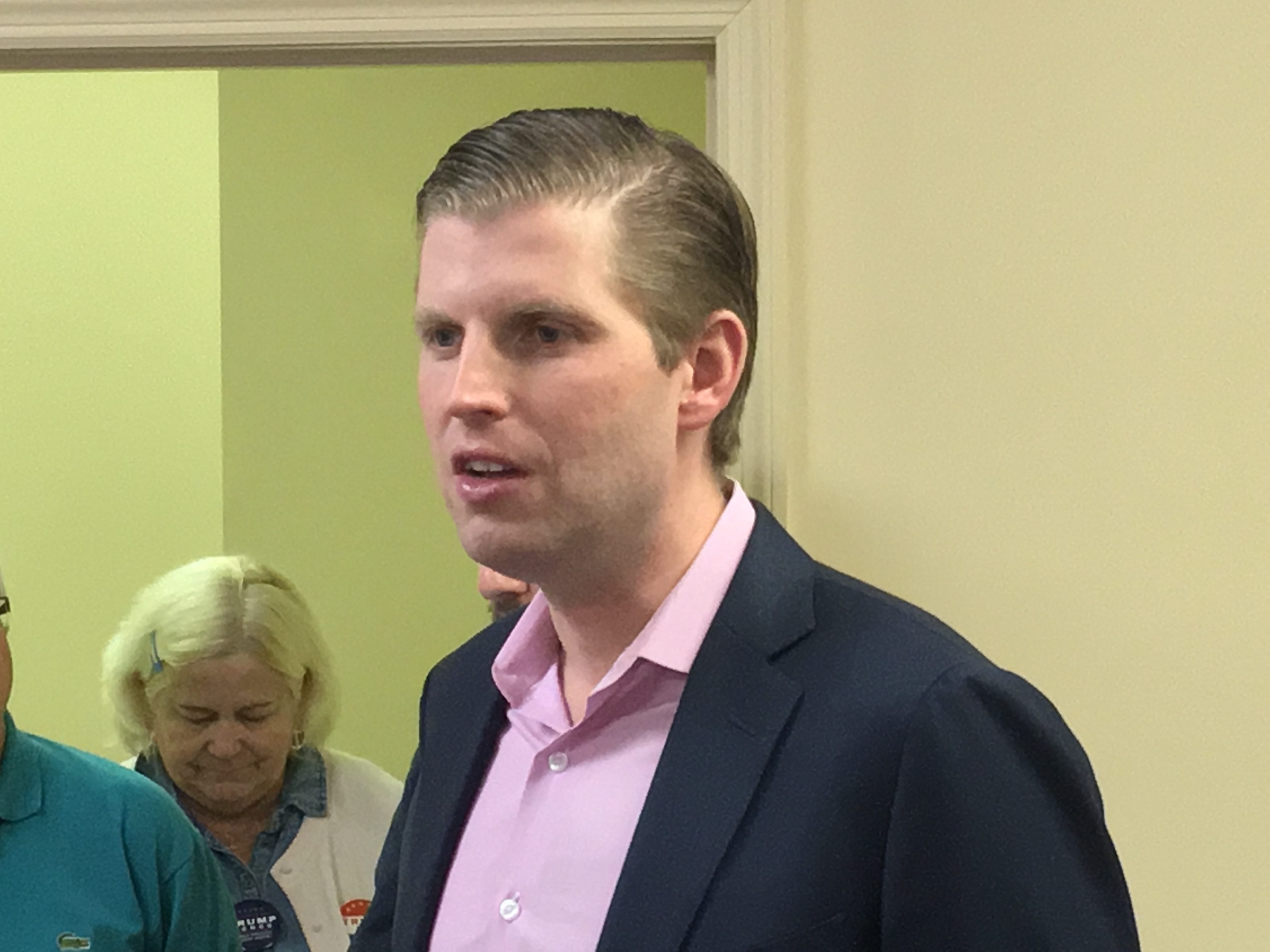 As the election approaches, the Donald Trump campaign clearly is prioritizing GOTV efforts in Jacksonville.
Saturday saw Donald Trump Jr. in town, tailgating at the Florida/Georgia game. Thursday sees the candidate himself at the Jacksonville Equestrian Center. And Tuesday saw Eric Trump making three stops in Jacksonville, rallying the troops at volunteer locations.
The first of three stops was in Downtown Jacksonville, where an enthusiastic cadre of Trump volunteers greeted the GOP candidate's son, brandishing signs of support or smartphones to take pictures to commemorate the occasion.
Remarkably, Trump supporters were on hand from as far away as Ohio and Alabama for this event, held in what Duval County GOP Chairwoman Cindy Graves called "the biggest battleground state in the union."
"When you have that kind of enthusiasm," Trump said, "that's why we're going to win."
Trump conveyed enthusiasm about his father's chances, saying regarding early voting that "we're actually leading and Republicans have never led."
And like father, like son: Trump the younger cited a "poll this morning" saying that Trump was up 11 points among people who will vote on Election Day,
"If we go into this thing on par," Trump said, "we will win in a landslide."
From there, Trump made the case against the Clinton campaign and its continuation of the policies of the current administration.
Trump cited $20 trillion in debt, an educational system that is now 30th in the world, a "depleted military," median income that has been stagnant for 15 years, and a net loss of a third of manufacturing jobs since the Bill Clinton administration.
And then there's Obamacare.
Trump noted that in Arizona, premiums are up 116 percent.
"Remember the promise," Trump said of Obama's pitch of the Affordable Care Act. "You can keep your plan, you can keep your doctor," and the premium would be "less than your cellphone bill."
That promise, said Trump, went unfulfilled.
The average family's premium: up $4,500 a year, Trump said, leading into an anecdote about a mother he had met previously, who had been left behind by the ACA.
The woman broke down into tears during a conversation with Trump, saying that she used to have health care coverage for herself and her family.
Now she faces a $700 tax penalty at the end of the year, she told him, "because I can't afford a bad system."
Her family is without healthcare.
"Even if I could afford it," she told Trump, "the deductible is 12 to 13 thousand dollars."
"We're not winning with anything," Trump said, before pivoting into a discussion of WikiLeaks and Clintonian corruption.
"If one thing came out of WikiLeaks," Trump said, "it's how corrupt the system is."
"Never before in the history of the country," Trump added, has there been a "presidential candidate under investigation by the FBI."
Citing problems in Haiti and close connections between the Clintons and the Saudi and Qatari governments, Trump cited the Clinton Foundation as "one of the most corrupt" enterprises going.
This election, from the Democratic primary straight through to early November, has been a referendum on the Clintons.
In Jacksonville, Eric Trump made a familiar closing argument, preaching to the choir.
Their role for the next week: to mobilize the base to counterbalance the inevitable advantages the Clinton ticket will have with other demographics.