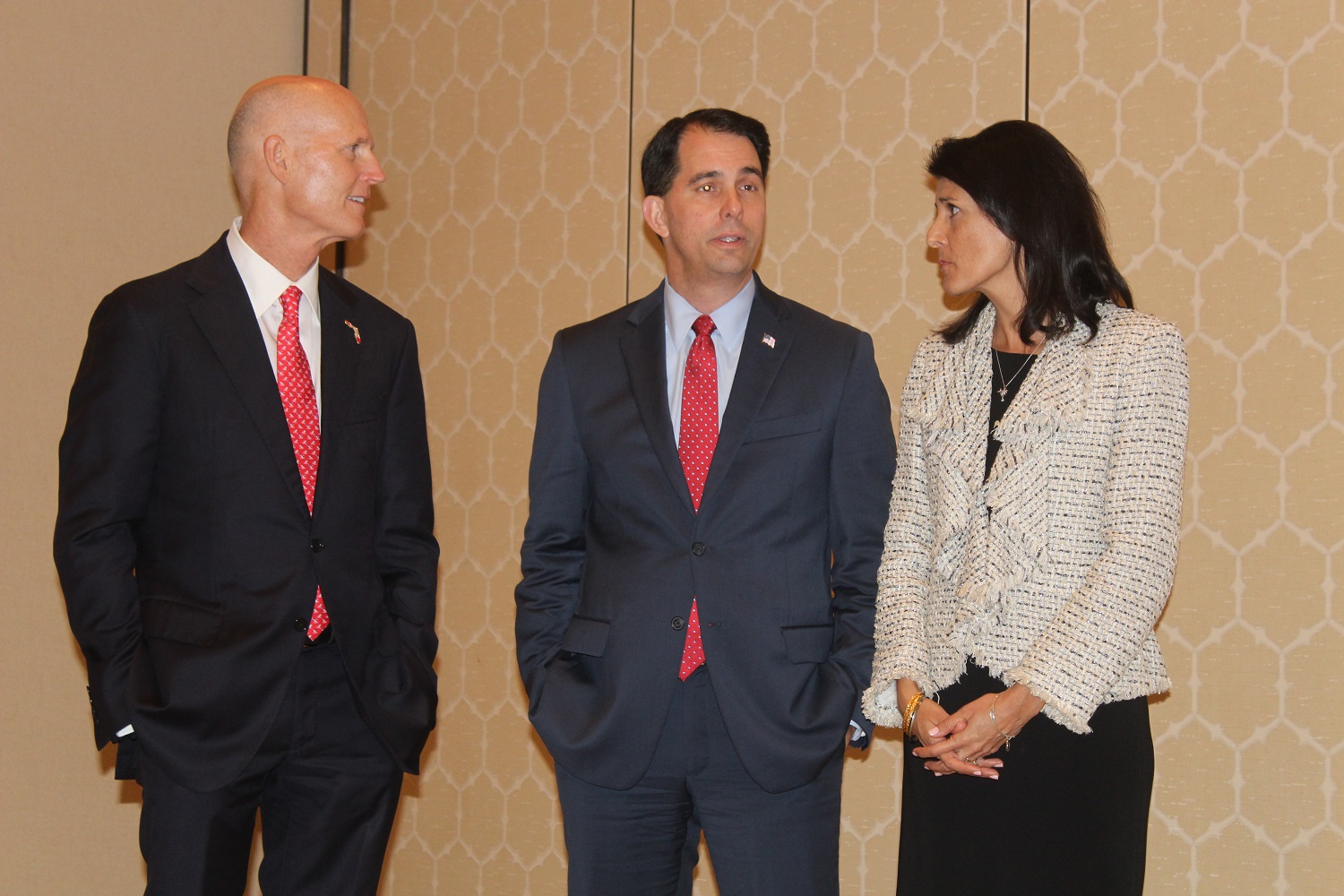 The Republican Governors Association Annual Conference at the Hilton Orlando Resort had a very positive vibe Tuesday afternoon, with the party coming off the high of a Donald Trump win and the impending all-Republican government.
Now, they think, they may actually get things done as a country.
Their agenda at the conference, aside from a few opening jabs at the media's initial assumption that Trump couldn't get so far by host Bill Bennett of radio fame, was kept to a pretty straightforward Republican narrative — now they could return control of things to the states, end government overreach, create jobs, and build trust among the American people.
Speakers Nikki Haley of South Carolina, Scott Walker of Wisconsin, Asa Hutchinson of Arkansas, and Doug Ducey of Arizona all sounded placated and elated at the recent news, saying it was now possible for a real road forward as a nation that would produce results to convince even the most skeptical of critics.
Walker said they now had "good representation" everywhere, what with Trump's win and the number of Republican governors that got elected, and now it was time for them to go big, go bold, and do it early on enacting policy.
"Both Florida and Ohio, swing states, went red this year," he said. "It wasn't just a theory. The people had seen Republican policies work. The left can say all they want, but people all across America have seen our reforms work."
Haley said the Trump win was proof working-class parents, who may not have time to watch TV, sure did have time to balance their budgets and saw that the current way of things wasn't working.
Hutchinson said because Trump is an independent and an outsider, people would be "pulling for him" to succeed, which he thought would create an even better country in the long run.
Walker said he hoped at the end of Trump's first four years, there would hopefully be "no person not working" in America.
At a press conference after the session, Haley and Walker joined Gov. Rick Scott and New Mexico's Gov. Susana Martinez. They answered questions from the media that mostly focused on the incoming Trump administration and all its uncertainties.
In response to a question on Trump's hiring of Stephen Bannon — who some say is a white supremacist — for a top position in the White House, Walker sidestepped it and talked jobs instead.
"The measure of results is what they produce, not what people say may or may not happen," Walker said. "In our state, we have the highest number of people employed in years. I'm not going to look backwards, I'm going to look forward. I'm excited not just about the president, but also about the House and Senate."
Haley took a slightly more nuanced approach.
"Communication matters, the power of words matters," she said. "The second we get elected, our job is to lift up everyone. If people are sad about the election, what you're going to see is action coming out of the administration."
This came in spite of her own comments from earlier in the election cycle, in which she disagreed with some of Trump's comments. She said one didn't have to agree with everything a fellow Republican said in order to support them— and, besides, she had vowed to support the Republican nominee, no matter who it was.
"We hold everyone together, by community, by understanding, by discipline," she said. "The Republican party means talking to groups we haven't talked to. We shouldn't tell them to be Republicans — we should listen to the issues they care about. Trump is talking about inclusion. He's talking to everybody."
Martinez issued a sort of blanket response to every criticism of something Trump said on the campaign trail: "That was the campaign; it's time move forward. He chooses who he wants to surround himself with. We need to worry about, is he going to deliver the jobs, a better economy, and make sure kids are getting a better education?"
Regarding questions on the Affordable Care Act's future, Martinez said it was prudent to let the states decide how to administer health care, as every state has different needs and different circumstances.
Scott was vehemently against the ACA and said the road ahead wouldn't be without its lingering challenges.
"They'll fight us every step," he said. "They want to keep Obamacare, the Iran deal. There will be pushback from other side … but we all know it hasn't been working."