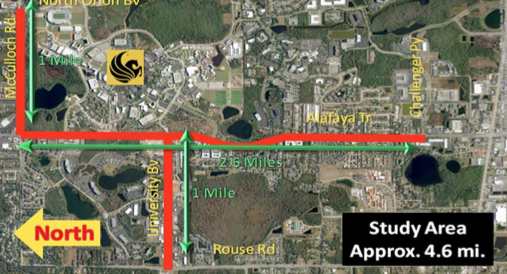 Orange County planners are set to present their proposal Tuesday for helping make the University of Central Florida a safer and easier place to walk or bike around.
The proposal comes out of a two-year Pedestrian/Bicycle Safety Study effort to try to address the difficulties faced by tens of thousands of college students and university employees who must get through heavy traffic on wide, high-speed arterials, Alafaya Trail, University Boulevard, and McCulloch Road, to get to and from campus, or to move around the off-campus student neighborhoods.
The package to be presented Tuesday to the Orange County Board of County Commissioners makes no bold proposals such as re-routing or restricting automobile traffic, nor for opening up broad pedestrian trails, except for one suggested for along the UCF campus side of Alafaya.
Still, the planning team is recommending nearly $5 million worth of proposals including adding safety enhancements to five major intersections; installing two mid-block crosswalks; and generally improving bicycle and safety enhancements.
The plan also includes adding shrubbery and other landscaping to the streetscape to make it feel more restricted, a move that generally gets drivers to slow down and pay more attention; creating larger pedestrian landings at intersections; reducing vehicle turning radii; adding more pedestrian-scale lighting; enhanced signs; widening sidewalks where possible; and coordinating with LYNX for safer bus stops. It also recommends a multi-user trail along the east side of Alafaya. Most of that stretch is undeveloped, wooded land owned by the university, though the southern-most half-mile is heavily developed.

The target is 2.6 miles of Alafaya, a six- and sometimes up to ten-lane state highway that averages between 40,000 and 50,000 vehicles per day, according to Florida Department of Transportation data; University, also a six- and sometimes ten-lane county road, which averages 55,000 vehicles per day; and McCulloch, a four and sometimes eight-lane county road, which averages 21,000 vehicles per day.
Put in perspective, Alafaya's and University's traffic loads are similar to that seen on the nearby State Road 417 expressway, except the streets are surrounded by thousands of student apartments and houses, and the shops, restaurants and bars that serve them. Add to that, University is a major east-west corridor through eastern Orange County and serving S.R. 417; while Alafaya is a major north-south corridor connecting Oviedo and eastern Seminole County with with State Road 408 and southern Orange County. Both serve hundreds of thousands of people not associated with UCF.
The principal concern driving the effort is safety. From 2006 to 2014 there were 259 crashes along the three roads within the study area, and 207 of the crashes caused injuries. Eleven people were killed in those crashes.