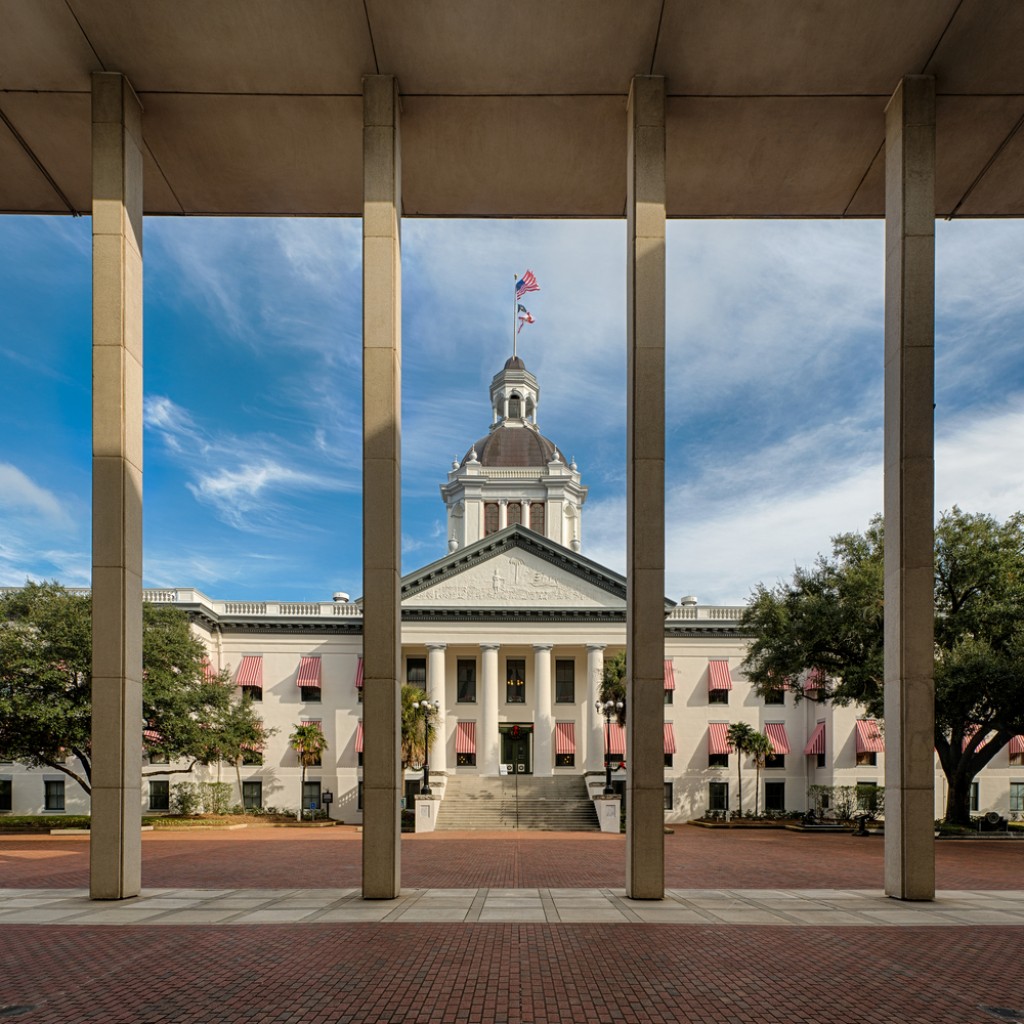 Pro tip: Never forget your bag in the Florida Capitol. "Suspicious packages" are not taken lightly.
Monday afternoon, people who went to get a late lunch were turned away from the lower-level cafeteria by Capitol Police.
"The cafeteria's closed right now," they told potential customers as they shut the doors.
Soon, the three officers became seven, then about a dozen.
"We're going to have to ask you to move back," one said, making onlookers move to the area in front of the Cabinet meeting room on the other side of the elevators.
One cafeteria worker finally let on that someone had left what looked like a briefcase, and police were taking no chances. Within minutes, still another officer led around a bomb-sniffing dog.
Behind closed doors, officers were using a portable X-ray device to see inside the bag, said Capitol Police spokeswoman Gretl Plessinger.
"We couldn't find anyone who owned it at the time, so obviously, we took every preventative measure," she said later. "We just wanted to be extra sure."
After about an hour, calls of "clear" started to be heard: The #CrisisInTheCapitol came to an anticlimactic conclusion.
"It was just a briefcase of someone who works in the Capitol," Plessinger said. She wouldn't say whose.

Coming up, the usual assortment of tidbits, leftovers and not-ready-for-prime-time moments by A.G. Gancarski, Michael Moline, Mitch Perry, Jim Rosica, and Peter Schorsch. (Jenna Buzzacco-Foerster was off this week.)
First, a quick note: We're taking the next two weeks off to sip eggnog, eat fruit cake, and enjoy the holidays. We'll be back with all the leftovers from the week that was on Jan. 7.
Until then, Merry Christmas, Happy Hanukkah and a very Happy New Year from our families to yours.
Now, the "Takeaway 5" — the Top 5 stories from the week that was:
Meet the new justice — Conservative appellate judge C. Alan Lawson will become the next Florida Supreme Court justice, Gov. Rick Scott announced Friday morning. Lawson, who will replace retiring Justice James E.C. Perry, is chief judge of the state's 5th District Court of Appeal in Daytona Beach. Perry's retirement is effective Dec. 30; Lawson's first day is the 31st. Lawson now makes a third conservative vote on a seven-member state Supreme Court that often splits 5-2 on matters of public policy. To date, Justices Charles Canady and Ricky Polston have been the court's most reliable conservative voices.
We have chairs — House Speaker Richard Corcoran rounded out his leadership team with the announcement of full committee and subcommittee assignments and chairs for 2016-18. Corcoran, who said he wanted to "decentralize authority," said the decisions were made based on "member consultations, preferences, committee chair interviews, leadership team meetings, and input from the Minority Leader (Democrat Janet Cruz of Tampa)." Notable picks: Heather Fitzenhagen, an attorney at Morgan & Morgan, takes over Civil Justice & Claims Subcommittee; Mike La Rosa and Mike Miller, two Orlando (read as probably pro-Disney) lawmakers, respectively take chair and vice chair of the Tourism & Gaming Control Subcommittee.
Visit Florida gets "ridiculous" — Gov. Scott called on tourism agency CEO Will Seccombe to quit Friday afternoon, continuing a bloodbath at the organization that saw two other top executives fired earlier in the fallout from how it handled a marketing contract with Miami rapper superstar Pitbull. In a letter sent to Visit Florida's board chairman, Scott called for a complete overhaul of how it does business, sayning he wants to see it publish details about how it spends money, including contracts. And Scott said that in order to do so, Seccombe has to go. "… I believe it would be best for the future efforts of Visit Florida for Will to step down," Scott wrote to Visit Florida Chairman William Talbert III. "The notion that Visit Florida spending would not be transparent to taxpayers is just ridiculous."
Tattle if necessary — That was the advice from Don Rubottom, staff director of the Public Integrity and Ethics Committee, to lobbyists during a workshop on the Florida House's stringent new ethics rules. The rules required lobbyists to be diligent about using the House's online system to disclose each and every client they represent, and each topic about which they hope to influence lawmakers. "We are going to apply common sense," Rubottom said. Say hello to a member at a bar or a meet-and-greet? No need to disclose. Monitoring or tracking legislation without advocating for it? All good. And if a member buttonholes you in a hallway and demands to know what you think about something you haven't disclosed? "If it surprises you, let the member know you are not free to discuss it because of the requirements" of the new ethics rules, Rubottom said. "If your member is impatient with your respect for the rule, feel free to let chairman Oliva or chairman Metz know of the discourtesy." That's Rules Committee chairman Jose Oliva and Ethics chairman Larry Metz.
"Just my luck" — The Senate Appropriations Committee began work on next year's state budget this week. The future does not look bright. One witness after another described demands on the state's pocketbook: $95 million in claims, and growing, arising from the citrus canker eradication program; lawmakers' promise to pour three-quarters of its latest installment from the BP oil spill settlement — $300 million — into the worst-affected counties; additional millions to restore beaches scoured to bits by Hurricane Matthew. And deficits projected at $1.3 billion one year from now and $1.9 billion the year after that. Bottom line: Florida has to start getting its finances straight right now. All of that will make it hard to boost economic development spending for Gov. Rick Scott or higher education for Senate President Joe Negron, or grant tax relief for House Speaker Richard Corcoran. "To do any increases, we're going to have to find areas to cut. That's a certainty," said budget chairman Jack Latvala. "Just my luck to be chairman in a year like that."
—
Travis Hutson doesn't need to know the way home; all he wants is life beyond the … Thunderdome.
The Republican state Senator from St. Augustine is now the new chair of the Regulated Industries committee, which had been nicknamed "the Thunderdome."
That's a reference to the caged fight arena in the Mel Gibson 1985 post-apocalyptic flick, "Mad Max Beyond Thunderdome."
But on Wednesday, at the committee's first meeting in preparation for the 2017 Legislative Session, Hutson put a stop to that.
"In the past, this committee – for one reason or another – has held up bills," he said. "It was known as 'Thunderdome.' We are dropping the title today."
"…We will move bills, and this year there are no sacred cows," he added. "We plan on shaking up the status quo."
The panel handles, for example, questions of alcoholic beverage and gambling regulation, and most notably handled the contentious Seminole Compact and related gambling bills last session.
Hutson jokingly put the pressure on state Sen. Jeff Brandes, who likes to say he sits on the "Deregulated Industries" committee, to come up with a new nickname. We'll let you know…
—
The City of Miami Beach's minimum wage ordinance has spawned a lawsuit by three state trade groups.
The Florida Retail Federation, Florida Restaurant & Lodging Association and Florida Chamber of Commerce, all based in Tallahassee, filed suit this week over the local law.
It increases the minimum wage in the city to $10.31 per hour starting Jan. 1, 2018, and raises it $1 a year until it reaches $13.31 in 2021.
The ordinance "disregards a state statute which establishes the State of Florida will determine one consistent minimum wage for the entire state," a press release said.
"We don't support any mandates in which local governments are dictating what private businesses should be paying their employees," Florida Retail Federation President and CEO Randy Miller said.
—
House Speaker Corcoran this week opened up the application period for his picks for the next Constitution Revision Commission.
That's the panel that reviews the state's constitution every 20 years and can suggest changes that go directly to a statewide ballot for approval.
Gov. Scott will choose 15 of the 37 commissioners, and select its chairperson. Corcoran and Senate President Joe Negron each get nine picks. Pam Bondi is automatically a member as attorney general, and Florida Supreme Court Chief Justice Jorge Labarga gets three picks.
This will be the fourth commission to convene since 1966, and the first to be selected by mostly Republicans, suggesting it will propose more conservative changes to the state's governing document than previous panels.
Corcoran is taking his task seriously: His application requires notarization.
—
Tallahassee city commissioners have approved a 6-month moratorium on the opening of any new retail stores for medical cannabis, WFSU reported earlier this week.
The capital has one of four brick-and-mortar cannabis outlets in the state. Trulieve is on Capital Circle Northeast.
Hitting the pause button will "give us some time to figure out what's going to happen, get some guidance from the Legislature," City Commissioner Gil Ziffer said.
The city now will stop taking applications for new dispensaries. But the moratorium "won't officially take effect until the Commission holds two public hearings and makes its final vote," according to the WFSU report.
—
Florida State University was named one of the best values in the nation on the Kiplinger's Personal Finance "Best College Value" list for 2017.
Florida State was ranked the 12th best value among public colleges for out-of-state students, a seven-place jump over last year. FSU was rated 28th best value among public colleges for in-state students.
"We deliver a high-quality education while remaining accessible and affordable," said Provost and Vice President for Academic Affairs Sally McRorie. "It's great to be recognized as one of the nation's best values."
The complete rankings, including the top schools overall as well as the best values in public schools, private universities and private liberal arts colleges, are available online at Top 300 Best College Values of 2017.
—
A newly-filed "trigger lock' bill is no lock to pass.
This week, state Sen. Gary Farmer Jr., a Broward County Democrat, filed a bill (SB 142) to tighten requirements on safely storing loaded firearms.
It would require firearms to be kept in a "securely locked box or container" or to be secured with trigger locks.
Among the "locations and circumstances" revised: Storage of a firearm around a "minor," which the bill defines as someone 16 years of age or younger.
Don't expect a bipartisan consensus behind this one: Longtime National Rifle Association lobbyist Marion Hammer, who also leads the Unified Sportsmen of Florida, told us that "if Sen. Farmer really wanted to do something to make Florida safe, he would focus on abolishing gun-free-zones where law-abiding citizens are defenseless targets of terrorists and people with mental illness."
—
Surprise: We still need more judges.
In fact, the Florida Supreme Court on Thursday said the state's trial courts need a dozen new judges. According to a certification of need, three new judgeships will be added in the 9th Judicial Circuit, which covers Orange and Osceola counties, and one new judge will be added in the 5th Judicial Circuit for Citrus County.
Citrus County will also pick up one new county judge, as will Broward, Flagler, Lee and Palm Beach counties. The Florida Supreme Court recommended three new county judges in Hillsborough.
The court also decertified one county judgeship each for Charlotte, Collier, Brevard, Monroe, Pasco and Putnam counties.
The court certified the need due to the increasing workload for the state's judges after the completion of an 18-month study produced with help from the National Center for State Courts, which has produced judicial workload assessments for 31 states.
Last year, the court certified the need for one new circuit court judge and 23 county judges, though none of the judgeships were funded in the state budget.
A circuit court judgeship costs the state $512,934 a year including salaries for the judge, a judicial assistant and three law clerks. A county judgeship costs $279,000 a year.
—
A James Madison Institute report released this week examines Florida's federal grant process and suggests new policy measures to improve accountability.
"Florida's Federal Grants: Special Handling Required" notes the Sunshine State's high reliance on federal funds, which accounted for 12 percent of the state's total receipts between 2012 and 2015.
Overall, Florida ranks 30th out of the 50 states when it comes to federal grants dependency, with over $23 billion in federal grant receipts annually. Additionally, 13 percent of land in Florida is federally owned.
The report does list some things Florida is doing well, including making reporting of federal money adoptable and accessible to both agencies and watchdogs, and making the governor's office and Legislature aware when agencies apply for grants.
"While Florida has been a leader on financial accountability so far, more can be done," the report said. "Florida's next steps should include more consistent reporting by agencies, more thorough integration of grants into the budget process, and strict scrutiny for grants."
Among the suggestions for improvement, JMI recommends reporting requirements for local agencies that apply to funds directly, continuous monitoring of grants for mission creep and cost increases, and requiring the amount of federal dollars being spent each year to be listed in the state budget so lawmakers can see the impact they have on the state budget.
—
The CareerSource Florida network in November reported helping 38,961 Floridians who got jobs, according to a press release. The network includes 24 local workforce development boards, the Florida Department of Economic Opportunity and 100 career centers throughout the state.
The top three local boards for job placements reported last month are:
CareerSource Heartland, which serves Desoto, Hardee, Highlands and Okeechobee counties;
CareerSource Tampa Bay, which serves Hillsborough County; and,
CareerSource Pinellas, which serves Pinellas County.
The network reports since January assisting 383,684 Floridians who secured employment. A person who receives employment or training assistance in a career center or both via employflorida.com, and finds a job within 180 days, may be reported by a local workforce development board as a placement.
—
Americans for Prosperity-Florida can feel the excitement.
The self-described "grassroots advocacy organization" issued a press release this week reacting to the announcement of new House subcommittee chairs for the 2017 Legislative Session.
"We are excited to begin working with the new House subcommittee leaders this upcoming session on several key issues: Fighting against corporate welfare, pushing for education reform and removing barriers for our state's entrepreneurs to freely innovate," AFP-FL state director Chris Hudson said.
"We commend Speaker Corcoran for his strong selection and are confident that together we can lead Florida to a brighter and more prosperous future."
—
More from Sen. Jeff Brandes: He has ideas on how best to implement Florida's new constitutional amendment allowing very sick people to use medical marijuana, now that lawmakers are getting down to that task.
"I think we should grandfather in the individuals who are currently growing today, and I think we should scrap the entire old system and start anew. Trying to run two, parallel systems doesn't make any sense," Brandes said.
Under existing law, non-euphoric marijuana is available to children suffering severe seizures and muscle spasms, and stronger forms to terminally ill patients.
The amendment, approved by 71 percent of the voters last month, "allows medical use of marijuana for individuals with debilitating medical conditions as determined by a licensed Florida physician," according to its text.
Brandes wants to get rid of "barriers to entry," he told reporters this week.
"We should not be starting up state-supported cartels," he said. And "that's essentially what we've done" regarding providers approved under the old system.
"It's time to break down the barriers. It's time to let people make investments. But I won't support any bill that restricts the market."
—
Still more: Brandes this week defended his proposed legislation to do away with personal-injury protection insurance as "probably the right way for Florida."
The St. Petersburg Republican filed SB 156 on Tuesday. He and Bill Hager on the House side have attempted the move before, but without success.
"This proposal is simply saying, 'PIP as of 2020 will go away and in the interim time the Legislature will have a conversation what the next generation of car insurance is going to look like for the state," Brandes told reporters.
"But I think we can do it better. I think we can do it smarter and save Floridians money."
—
Gov. Scott wants Jacksonville to be the home for an F-35 Joint Strike Fighter squadron, but his wishes clash with President-elect Donald Trump.
Scott tweeted Friday that "Florida has the best national guardsmen and facilities and Jacksonville would be a great home for the F-35 Joint Strike Fighter."
The U.S. Air Force announced last week that Jacksonville's Air National Guard was one of five finalists for two squadrons of F-35 Lightning II fighters, with Montgomery, Alabama; Boise, Idaho; Selfridge, Michigan; and Dane County, Wisconsin, also making the cut.
Trump, however, criticized the F-35 program on the campaign trail and reaffirmed his stance in a Monday tweet.
"The F-35 program and cost is out of control," he said. "Billions of dollars can and will be saved on military (and other) purchases after January 20th."
The F-35, produced by Lockheed Martin, is the most expensive jet ever purchased by the U.S. government. The program is expected to cost a total of $400 billion, and, according to the New York Times, $100 billion of that money is already spent.
Trump's tweet caused Lockheed Martin stock to tumble Monday, closing 2.5 percent down, for a loss of $2 billion. The U.S. Air Force has not announced a timeline for choosing which base will get the fighter squadrons.
—
Scott this week said Florida's gross domestic product, or GDP, grew 2.3 percent annualized in the second quarter of 2016. What's important is that beat the national GDP growth rate of 1.2 percent.
The state's GDP annualized growth rate tied with Michigan as the highest among the 10 largest states, including California and Texas, his office said in a release.
"We will continue to work each day to make it easier for job creators and families to succeed in Florida," he said.
Florida gross domestic product "is the measure of the market value of all final goods and services produced within the state in a given time period," the release explained. "A final product is one that is produced and sold for consumption or investment.
"GDP excludes intermediate goods, which are goods that are used to produce other goods. GDP is presented in both nominal and real dollars. Real GDP removes the influence of changing price or inflation. GDP is important because it is the most closely watched measure of output. It is a measure of overall economic activity."
—
Lt. Gov. Carlos Lopez-Cantera will serve as co-chairman for policy of the Republican Lieutenant Governors Association next year.
The organization elected its new leaders by a vote of its members, and announced the results Tuesday.
Lopez-Cantera saw GOP control of the White House and Congress, and strength in statehouses, as"an incredible opportunity to advance conservative values from coast to coast at every level of government," he said in a written statement.
"As the second-in-command in the states, lieutenant governors will play a critical role in determining and defining policy discussions nationwide, and I am humbled to have been chosen by my peers to serve as the RLGA's co-chair for policy in such a critical and exciting year."
—
Sen. Tom Lee this week said he wants to "revamp and streamline" the way Florida's Building Code is amended.
The code "has been an effective tool for improving the structural integrity and energy efficiency of our state's housing stock, (but) it's time to look for a more common sense and cost effective approach to updating the code," he said in a statement.
The way it works now is the Florida Building Commission is required to update the Code every three years. Lee, vice president of Sabal Homes of Florida, wants to let the Commission decide when to update as "appropriate and necessary."
"The goal is to strike a balance between keeping our code current without letting trivial updates and pressure from suppliers create an unnecessary burden on the industry and the consumer," Lee added.
—
Florida's Revenue Estimating Conference completed its work for the year Friday by trying to predict receipts from the state's vast array of tax sources 10 years into the future.
All that's left for the economists engaged in the process now is to sweat a few details before they deliver their final report to the Legislature.
"This is the end of the conference season!" said Amy Baker, coordinator for the state Office of Economic and Demographic Research. "We survive! We need T-shirts!"
The enterprise began in November with a state demographic study — how many people live here? How many per household?
Along the way, the conference forecast that lawmakers will have $142 million above existing spending levels to play with next year — but that deficits loom of $1.3 billion one year from now and $1.9 billion the year after that. Barring tax hikes or spending cuts.
How confident can members be in a 10-year forecast? Fairly, Baker said. The state has solid historical data to back up many of its projections. Of course, it's hard to know what Donald Trump and Congress will do to federal grants and programs next year.
"When we depend on other people for the decisions, it's much harder to deal with," Baker said. "With our own sources, we can come closer to it, generally."
—
Chief Financial Officer Jeff Atwater has some consumer advice for Floridians during the holiday season: Don't let your Christmas tree burn the house down.
"Christmas tree fires do not happen often, but they have the potential to be serious fires when they do," Atwater said in a written statement Wednesday.
"More often than not, these fires occur because the tree has not been properly watered and has become dried out and repeatedly exposed to multiple heat sources," he said. "The mix of dry tree branches and hot holiday lights can quickly become a tragic combination."
Make sure to top off the water in your tree stand regularly, lest it run dry.
"Don't place it next to your fireplace, radiator, or any candles that you may be lighting," Atwater said.
"Also, make sure that you unplug your tree when you leave the house to prevent overheating. These tips sound simple — and they are — but you must make sure to follow them."
—
Besides caring for the tree, the Florida Forest Service also has some recommendations for "Fire-Safe Outdoor Holiday Decorating."
Here are the top tips:
— Use only non-combustible or flame-resistant decorations.
— Check the labels on lights to make sure they were tested at a facility, such as UL or ETL, and follow manufacturer's instructions for use.
— Discard any lights with cracked sockets, frayed or bare wires, or loose connections.
— Always turn off holiday lights and extinguish candles when going to sleep or leaving the house.
On a related note, clear any dry debris from roofs and yards to eliminate the link that could carry fire from any nearby woods to your home.
And if you normally burn your yard waste (grass, clippings, etc.), don't do it now. Instead, check with your local authorities for information regarding yard waste pick-up and disposal.
—
Speaking of trees, is it us, or does Atwater's Christmas tree – ahem, holiday topiary – in the lobby of his Capitol office look like the Grinch?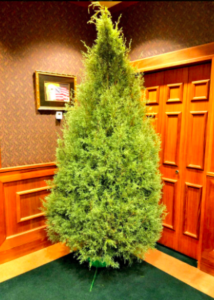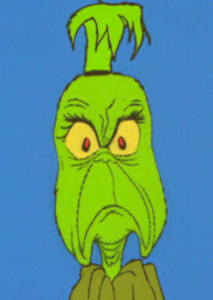 Now, here's the photo of it decorated.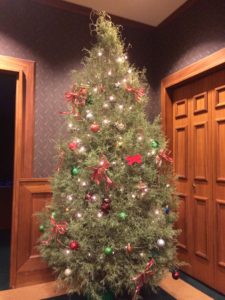 Indeed, before the usual Rotunda holiday displays are put in place – the all-black Festivus pole is on its way – we decided to take a look at the other trees in the other statewide elected officials' lobbies.
Agriculture Commissioner Adam Putnam's tree, laden with citrus slice-shaped ornaments, shimmers with an almost blue glow. It's be-twinkled with energy-efficient LED lights. (Putnam oversees the state's Office of Energy.)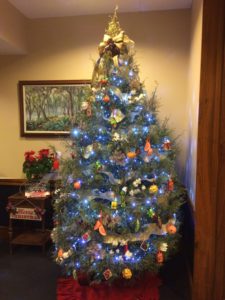 Gov. Scott's takes on a vanilla feel, with white and off-white decorations predominating.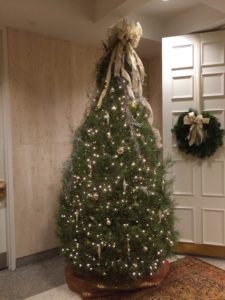 Finally, Attorney General Pam Bondi's tree, circled in wide red ribbon, is notable for being the only one with a star on top.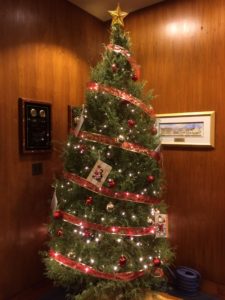 —
Also in Christmas news, Gwen Graham spent her last workday as a congresswoman at a Christmas tree stand in Tallahassee.
She tucked in like a pro, lugging trees larger than she was around so customers could select the right one to take home.
"Are you that Gwen?" one customer asked. Later, Graham joined the customer and her mother in a mobile phone video chat.
"It's a real opportunity to know people on a different level than you might if they just came to talk to you in your office or met you in Costco or something," Graham said. … As for her future, Graham said she fully intends to seek the governorship but that the timing will depend on the health of her husband, Steve Hurm.
He's due at Moffitt Cancer Center in Tampa Wednesday for evaluation of Stage IV prostate cancer.
Hurm has been encouraging her to campaign. "I wouldn't do it without him by my side," she said.
—
Finally, bears: The Florida Fish & Wildlife Commission has awarded $825,000 to local governments to reduce interactions between bears and humans.
The two counties who received the most money were Orange County with $150,000 and Seminole County with $159,000. Lake County and Santa Rosa County are also receiving $150,000.
What the money is going to will mostly be bear-resistant trash cans – unsecured trash is the most prominent cause of bears and humans interacting. The trash cans will be sold to residents at a discounted cost.
At least 60 percent of the funding is going toward counties like Seminole and Orange who have already implemented local legislation requiring trash to be secured so bears can't get to it.
—
Here's this week's edition of Capitol Directions: