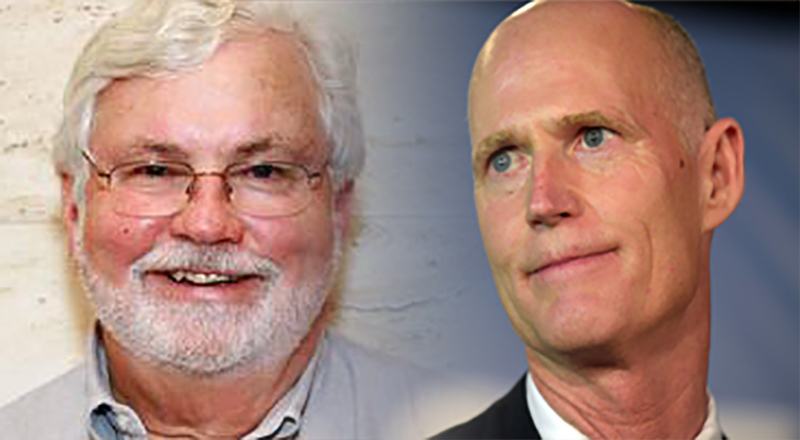 Last April, in a news release by his office after signing HB-7099, Gov. Rick Scott bragged, "Over the past two years, Florida has cut more than $1 billion in taxes."
What a happy day that must have been for the governor.
He has never met a tax he wouldn't cut or gut, and that bill was a continuation of the theme. It included the permanent elimination of the sales tax on manufacturing machinery and a three-day sales tax holiday for back-to-school stuff.
Scott wants to keep cutting taxes, too.
It stands to reason, though, when there is less money coming in something has to lose. We got a hint of that right here in a story last week on FloridaPolitics.com. It included a quote from state budget chair Jack Latvala about what could be a hotly contested fight for dollars when the Legislature gets together next year.
"To do any increases, we're going to have to find areas to cut. That's a certainty," Latvala said. "Just my luck to be chairman in a year like that."
But where can the hunt to "find areas to cut" lead when the governor and House Speaker Richard Corcoran want to keep chopping taxes, while Senate President Joe Negron wants to increase funding for higher education?
The Florida Policy Institute reported that more about 70 percent of Florida's $82.2 billion budget for 2016-17 was allocated to education (29 percent) and "human services" (41 percent). Nearly 18 percent went to natural resources, growth management and transportation.
FPI also noted that despite spending increases in that budget for service areas, "they fail to fund state services at a level that keeps pace with population growth and inflation, and do not improve Florida's national standing in the provision of these services."
More ominously, projections are for the state to face a $1.3 billion deficit a year from now, ballooning to $1.9 billion the year after that. Since Republicans control the governor's mansion and both chambers of the Legislature, they can't blame Democrats for fiscal irresponsibility. That leaves them with two choices: spend less, or bring in more.
It's the acid test of the Republican (and Libertarian) ideal that growth comes through lower taxes. It's the mantra they've preached for decades. We see it playing out now in Washington with the corporate tax cuts president-elect Donald Trump has planned.
Lower corporate taxes, they argue, will lead to job creation and expansion. Workers with a healthy regular paycheck will buy more things and that will sustain the government.
Well, that might be sort of true – provided government goes on a diet. That sounds fine in theory. In application, though, it gets trickier.
You also have to look at the complete picture. To coax businesses from other states to move here, Scott has touted Florida's reputation as a low-tax state. Florida is one of just seven states without a state income tax, for instance.
Wallethub.com also sized up the bevy of state and local taxes and concluded Florida's bite on median-income residents this year will be $4,868 – 10th lowest in the nation. That's nearly 16 percent under the national average.
Scott probably wouldn't be satisfied until Florida is No. 1. He seems driven to prove this state really can have it both ways – cutting taxes, cutting spending while keeping services and education adequately funded for a rapidly growing state.
Logic says that can't be done. Latvala's challenge is to prove it can be.