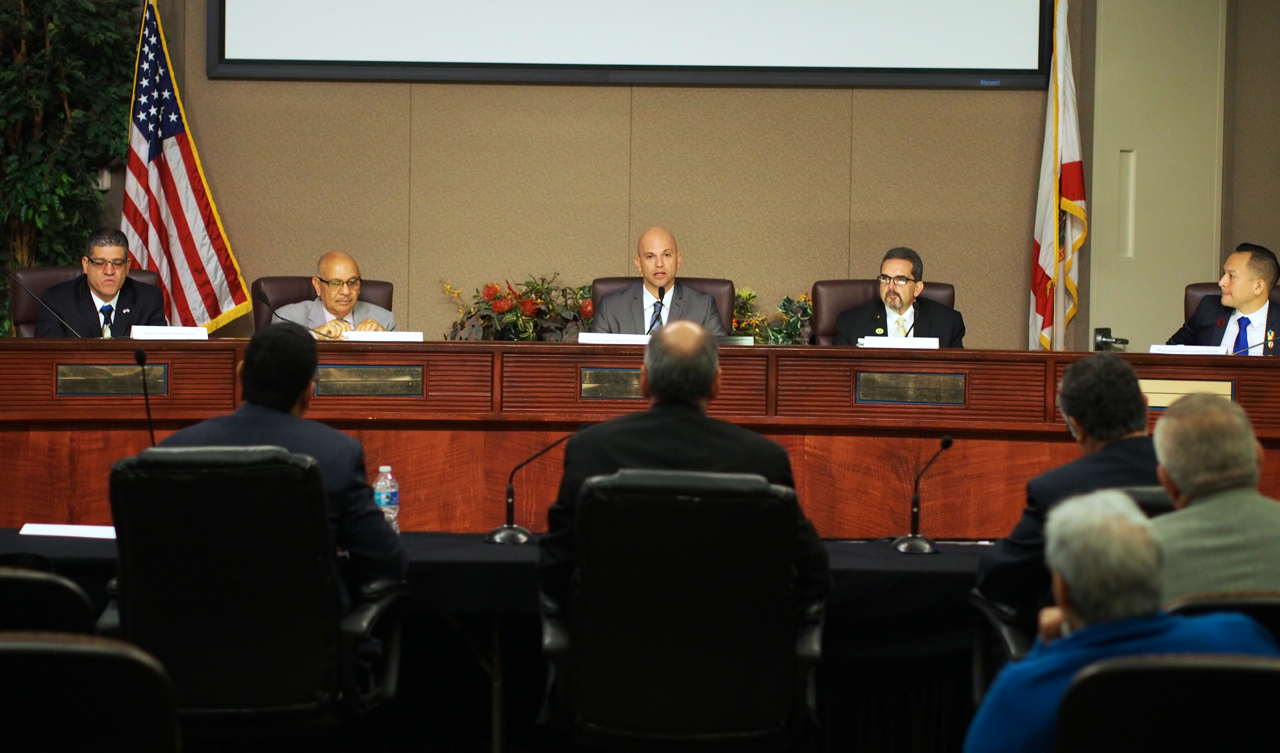 The social fallout from Puerto Rico's multi-fasceted financial crisis must be dealt with in more immediate ways in Central Florida where so much of the diaspora is fleeing, a panel of scholars urged key Puerto Rican political leaders in Orlando Friday.
Their call for concern for recognizing, assisting, and empowering Puerto Ricans settling by the thousand in the Orlando-Kissimmee area was not lost on the area's lawmakers, who, led by state Rep. Rene Plasencia, agreed that while they can do little to change the situation on the island, they can and should do more for people settling in Florida.
"I think our conversations have been on what has been happening on the island, and that's not where our focus should be," Plasencia said. "It should be on what we can do for Puerto Ricans here in Central Florida."
He was joined on a bipartisan group of politicians Friday including state Sen. Victor Torres, state Reps. Bob Cortes and Carlos Guillermo Smith and Kissimmee Mayor Jose Alvarez, as all as representatives of state Rep. David Santiago, U.S. Rep. Darren Soto, and Orange County Mayor Teresa Jacobs. The group was evenly divided between Republicans and Democrats.
They gathered in the Orange County Commission chambers to hear demographic numbers, stories, concerns, and recommendations from three University of Central Florida professors and one Barry University School of Law professor, with specialties in Puerto Rico history, sociology, politics, and law, and in the diaspora in the United States that now outnumbers Puerto Ricans living on the island. They are Luis Martinez-Fernandez, Enrique Guerra, Fernando Rivera, and Anthony Suarez.
One primary message: help the people here. An estimated 230 people per day are moving from the island to Florida, seeking more stability and better lives, but they're not necessarily finding it, the panelists said. Many with college degrees and professional or middle class backgrounds in Puerto Rico wind up in blue-collar jobs because they cannot find work to match their backgrounds. Others struggle in Central Florida's low-wage tourism economy, he said.
In 2000, the U.S. Census found approximately 482,000 Puerto Ricans in Florida. Today that number is over 1 million, and soon the Sunshine State will surpass New York as having the most Puerto Ricans outside the island. And the migration is circular, with people freely moving back and forth between the island, the northeast U.S., and Florida.
"In my humble observation, with so many hundreds of families moving from the island to Puerto Rico every single month, there's kind of a frustration from so many of the families when they arrive, because they believe they are moving so that they can create a better life for their family and have access to a better-paying job, better benefits," Smith said. "And the reality is, when they get to Orlando in particular… they are living on starvation wages, they don't have access to public health benefits, they don't have access to public transportation, [and] affordable housing is horrific in Orange County."
The vast majority of Puerto Ricans live in just 10 Florida counties: six in the I-4 corridor from Hillsborough County through Central Florida to Volusia County; the three big counties of South Florida; and Lee County, according to a presentation from Suarez.
The current migration, of about 80,000 people per year, is a "cluster migration" where families are attracting relatives and friends to join them, making areas such as the Orlando-Kissimmee market into huge magnets, Martinez-Fernandez said.
And they're not voting, said Suarez, president of the Puerto Rican Bar Association of Florida. Thirty-four percent of Hispanics are not registered to vote. And 59 percent said they never vote, "which is a shocking number," Suarez said. "We've got to register these people, and there's a lot of work to be done in that area."
Nor are they necessarily flexing the kind of power they might have, Martinez-Fernandez said, notwithstanding the fact that Plasencia, Torres, Cortes, Smith, Alvarez, Soto and Santiago all are at least part Puerto Rican. The UCF social scientist said they are underrepresented in Florida's public boards, civic boards, corporate boardrooms and other leadership posts throughout Florida. He said there is a lack of recognition of the now robust and still growing community.
"How can you get away with spending so many resources, say on the arts venue, and in ten years not have anything devoted to Puerto Ricans or Hispanics?" he inquired. "It's outrageous. Now if we have those voices, we can make those things happen. One voice is not enough. We need a critical mass. We have a critical mass in population, but we do not have a critical mass in places of power."