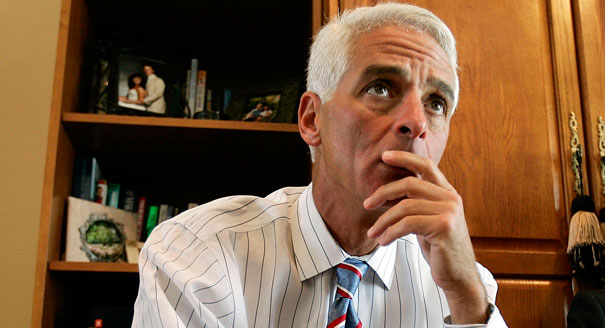 U.S. Rep. Charlie Crist and three more members of Congress have joined the bipartisan, largely bi-coastal Climate Solutions Caucus, the group announced Thursday.
With the additions of Crist, a Florida Democrat; David Reichert, a Republican from Washington;  Earl Blumenauer, a Democrat from Oregon; and Don Bacon, a Republican from Nebraska, the caucus formed and chaired by two other Florida congressmen now numbers 24 – 12 Democrats and 12 Republicans.
The caucus so far is largely drawn from East Coast and West Coast members of Congress, whose districts would be directly impacted by climate change. Bacon is just the fourth member not from a coastal state.
The caucus, formed last year, was established to "educate members  on economically-viable options to reduce climate risk and to explore bipartisan policy options that address the impacts, causes, and challenges of our changing climate," according to a release issued Thursday by co-chairs Democrat Ted Deutch, and Carlos Curbelo, both of South Florida.
And that includes issues away from the coasts, according to Deutch.
"Across the country, Americans understand the urgency of climate change," Deutch stated in the news release. "Whether they see rising tides in Fort Lauderdale, intensifying tornadoes along the Central Plains, or worsening droughts affecting farm production, Americans are starting to feel the impacts of climate change to their homes, their livelihoods, and their wallets. They want action from their elected officials, and I'm proud that this Caucus offers a space to develop bipartisan solutions."
"We have a lot of work to do on this issue, and coastal communities like mine in South Florida are counting on us to come together and have productive discussions about what we can do to mitigate the effects of climate change and make our nation more resilient," Curbelo stated. "The caucus has such a diverse group of members that each brings unique perspectives to the table. I'm confident that together we can work on bipartisan solutions that will unleash a new era of American innovation and protect our environment, infrastructure, homes, and livelihoods."
With Crist, the caucus now has five Florida members, including Republicans Brian Mast and Ileana Ros-Lehtinen. All five have coastal districts.
"In Pinellas County, there is no denying climate change is happening. As a peninsula on the peninsula of Florida, we are threatened more and more each year by rising sea levels," Crist stated. "I am proud to join the Climate Solutions Caucus, highlighting Congress' growing bipartisan commitment to tackling this urgent challenge. Together, we can and must protect our environment and economy from climate change."