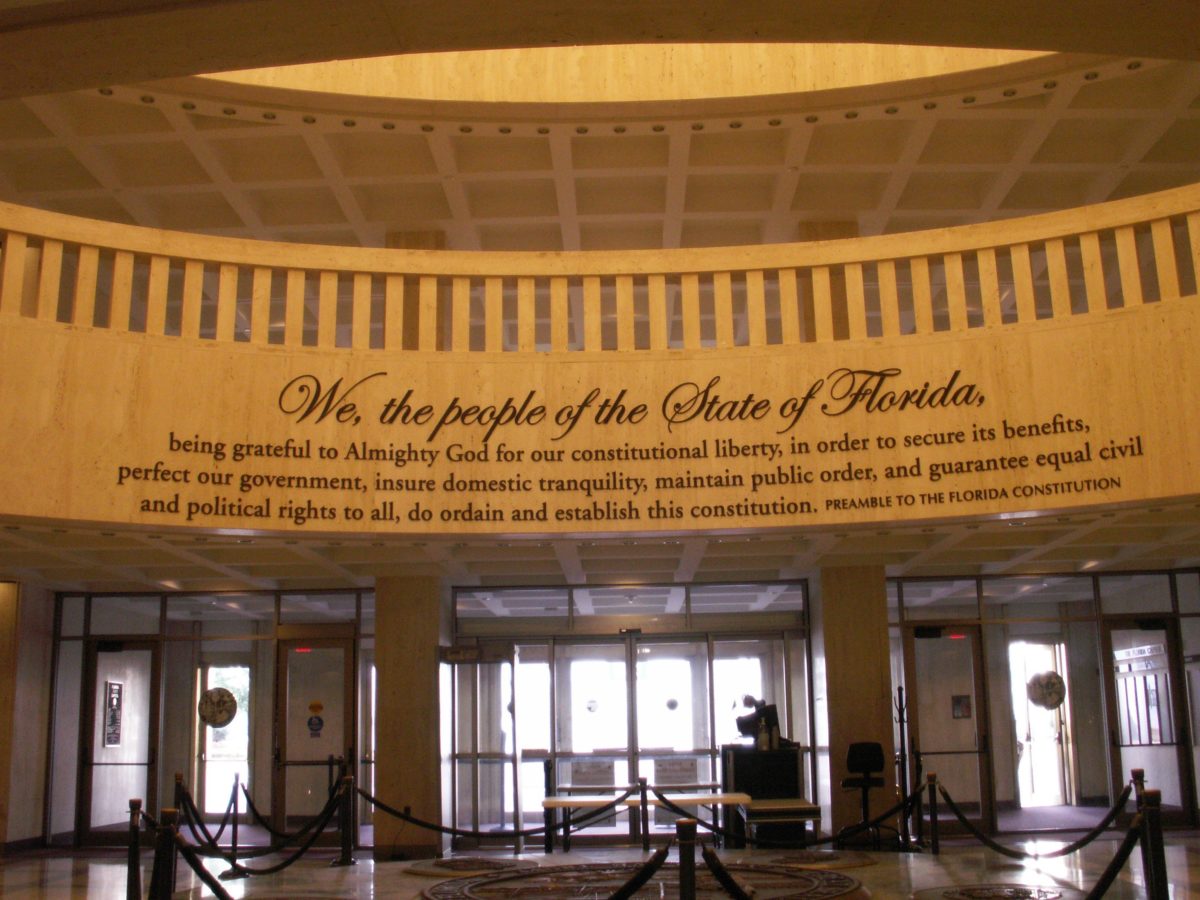 Just before 5 p.m. on Friday, the deadline to apply for the open position of secretary of the Department of Environmental Protection, the fill-in guy filed.
Ryan Matthews, the interim secretary, wants the job permanently.
"We are in a unique position to continue moving Florida forward when it comes to environmental restoration, conservation and protection," he wrote in his cover letter to Gov. Rick Scott.
"I look forward to discussing my vision for the agency with you and the Cabinet so we can focus on developing policies, securing funding, and completing projects that directly benefit Florida's natural resources and local communities."
Scott and the Cabinet in February OK'd him to serve as interim Secretary to fill in for departing department head Jon Steverson. He quit in January to join the legal-lobbying firm of Foley & Lardner.
Matthews may have a leg up on the competition: Attorney General Pam Bondi has said she was "impressed" with Matthews, adding "he cares deeply about our environment."
As usually happens, quite a few outliers are among the 140 other applications for the position, including some seemingly confused that "secretary" is not an administrative assistant job.
As of Friday night, the Cabinet's website showed no application from Karl Rasmussen, a deputy chief of staff in the Governor's Office, who also had been rumored to be a contender for the spot. 
Matthews, named deputy secretary last year, had been in charge of the department's air, water, and waste pollution programs and for overseeing the agency's regulatory districts.
He also has been a Florida League of Cities lobbyist, political director for Jeff Kottkamp's attorney general campaign, and a staff assistant to U.S. Sen. Bill Nelson.
Matthews got his undergraduate degree from the University of Florida, a law degree from Florida Coastal School of Law in Jacksonville and a postgraduate law degree in environmental and natural resources law from the University of Denver.
The governor and Cabinet previously agreed to aim on a hire during the May 23 Cabinet meeting.
Coming up, the usual assortment of tidbits, leftovers and not-ready-for-prime-time moments by Jenna Buzzacco-Foerster, Michael Moline, Jim Rosica, and Peter Schorsch.
But first, the "Takeaway 5" — the Top 5 stories from the week that was:
Money, money, money — Finally, allocations! After a week of will-they-or-won't they, House Speaker Richard Corcoran and Senate President Joe Negron announced it reached an $83 billion budget deal on Thursday morning, and began conference committee meetings that evening. Working off a tight timeline, the final budget is expected to include $70 million for universities to hire elite faculty, research scientists and professors; $1.6 billion to buy land and build a reservoir south of Lake Okeechobee; and increase funding for K-12 public schools by about 1.2 percent. But early budget offers did not give any additional funding to Florida Forever, a land conservation program that regularly received $300 million a year before the recession hit in 2008. And the proposal slashes funding for Visit Florida, setting aside $25 million, well below its current funding level. Lawmakers are expected to work through the weekend to hammer out the details to guarantee an on-time finish.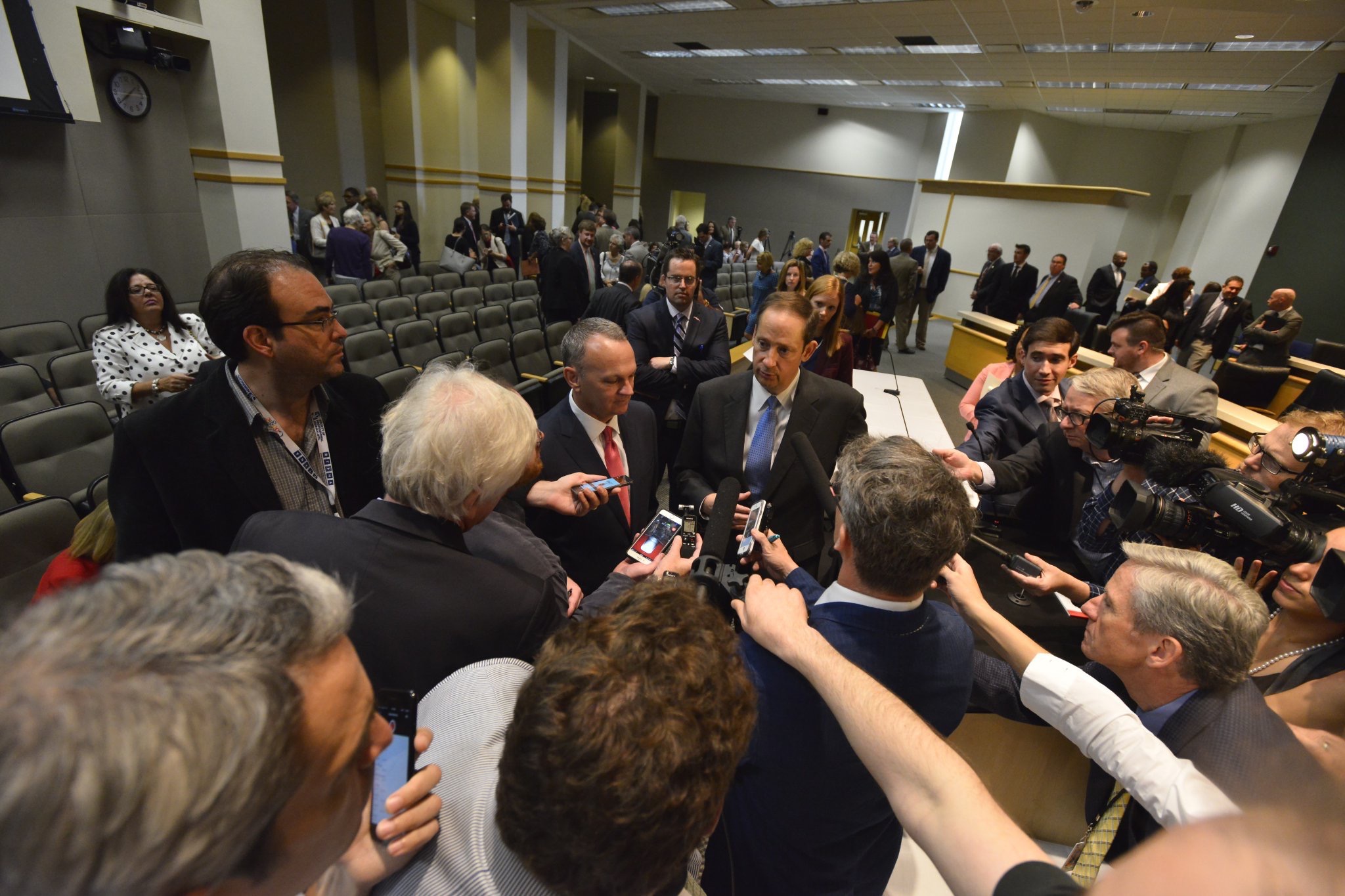 Rick Scott smash — The Naples Republican spent much of the week in Argentina on a trade mission, he had one eye on Tallahassee and the verdict is in: He is not happy with the way things are turning out. The governor fired a shot over the bow of the Legislature during an impromptu press conference this week, all but demanding full funding in the budget for his Top 3 priorities: $200 million to begin fixing the dike at Lake Okeechobee, $100 million for Visit Florida, and saving Enterprise Florida Speaker Corcoran's wrecking ball. His political committee, Let's Get to Work, got in the game too, releasing a web ad saying if the "politicians in Tallahassee … don't want to market our state and we lose tourists, then we're going to jobs."
Tear down this (liquor) wall — The House on a 58-57 vote passed a bill this week that would allow retailers to remove the 'wall of separation' between hard liquor and other goods. The vote came after hours of discussion, and lawmakers swatted down several amendments meant to water down the proposal. Opponents warned the bill will make alcohol more accessible and easier to get in the hands of minors. The bill now heads to Gov. Scott, and a veto campaign has already begun, with opponents calling the proposal a job-killer.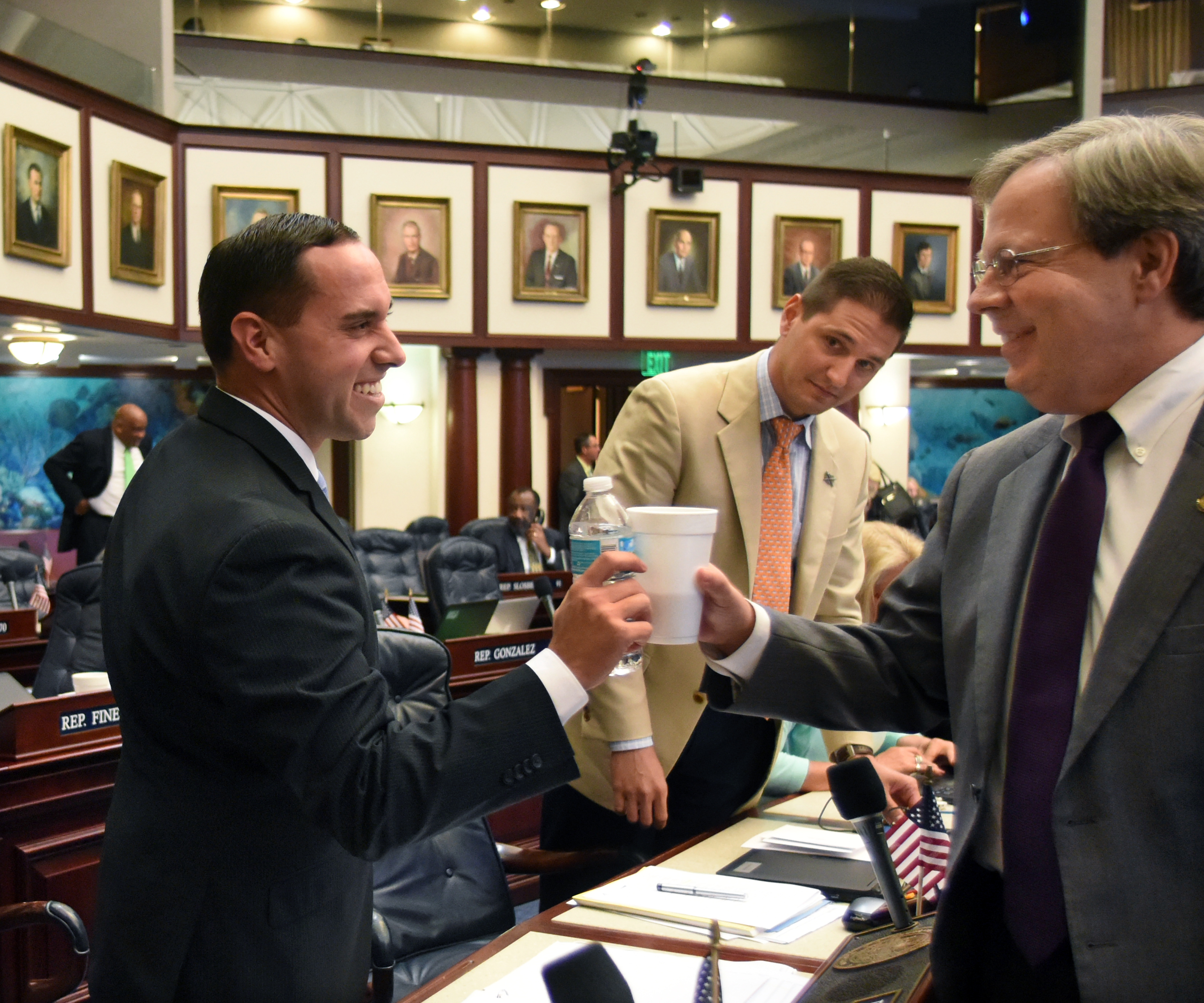 Roll the dice — The House and Senate is inching closer to a gambling agreement, meeting several times this week to hammer out the details of the 2017 gambling bill. Under the most recent offer, the Senate agreed with the House to, among other things, extend blackjack to all seven Seminole Tribe facilities, as well as craps and roulette; allow decoupling, but without requiring counties to hold referendums to do so; reduce the slots tax if facilities voluntarily reduce the numbers of slot machines on the floor. The Senate also agreed to two new gambling facilities in Broward or Miami-Dade through a bidding process with up to 1,500 slot machines.
Closer together — After weeks of discussion, proposals to implement the 2016 medical marijuana constitutional amendment are nearly ready for a vote by the full House and Senate. Both bills cleared their final committee meetings this week, and the House began discussions of its implementing bill. While the two bills still have differences, the House amended its bill Friday to move it closer to the proposal moving in the Senate. The amended version of the bill, which could get a vote early next week, allows edible forms of medical marijuana, vaping, and removes a provision that requires patients to have a three-month relationship with a physician before they can access marijuana.
—
Things got a bit heated this week as budget negotiations appeared to stall. Fingers were pointed, names were called. No one was safe.
Take for example a comment lobbed by House Speaker Corcoran  at Republicans in the Senate early in the week. The divide prompted the Land O'Lakes Republican to compare his colleagues across the call to national Democratic leaders Nancy Pelosi and Bernie Sanders.
"There are no limits to their liberalism," he said at the time.
Later in the week, Corcoran made light of his comments, telling the budget conference committee that budget talks can "get intense."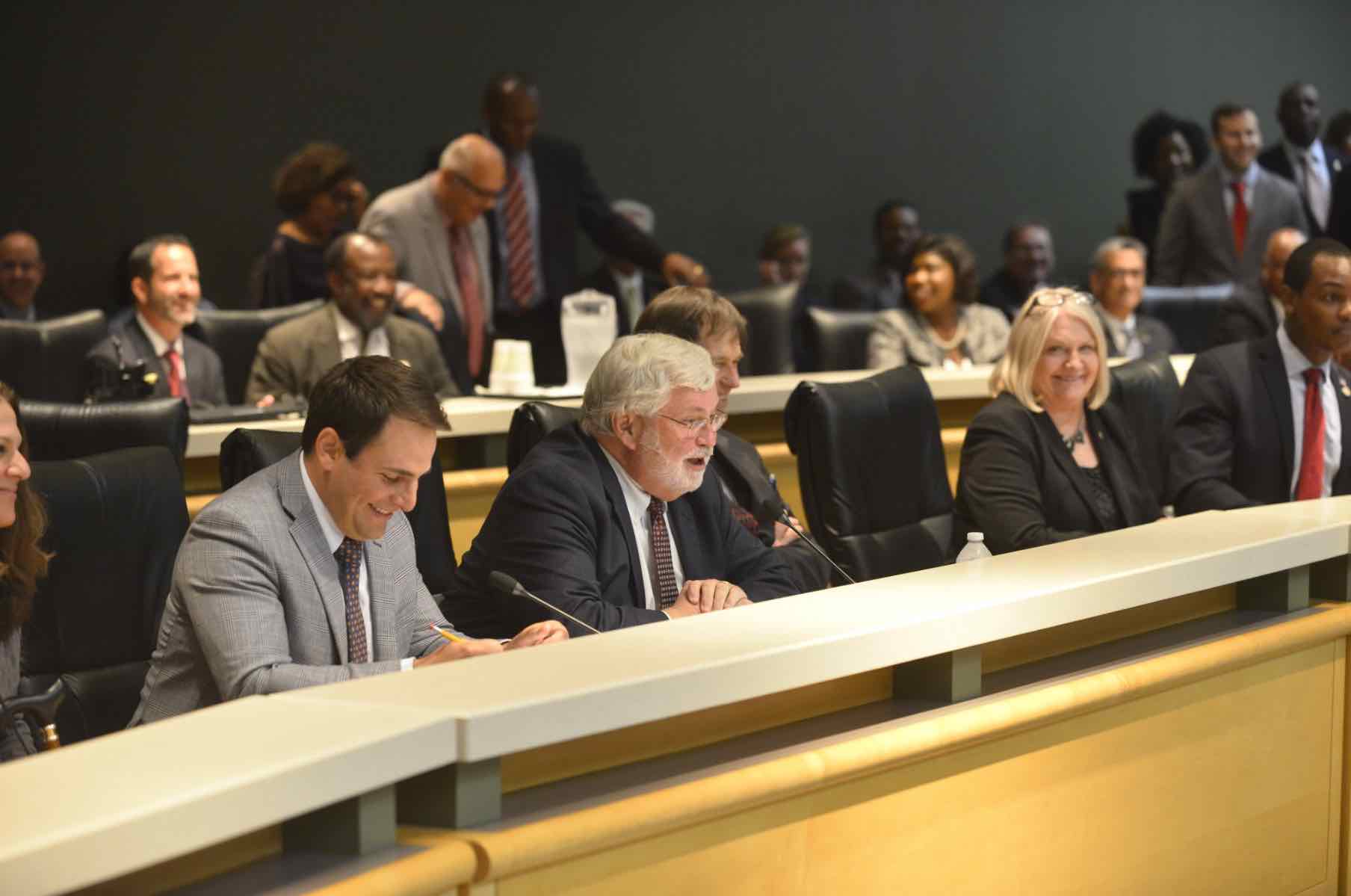 "There's that one quote from the one guy who said something about Bernie Sanders and Nancy Pelosi," he said. "He was wrong. I don't condone that kind of conduct."
Sen. Jack Latvala interjected: We only have one question: Who is who?"
Corcoran quickly responded, smiling: "You don't want me to answer that, chairman."
—
March was a big, big month for the Florida Lottery.
Lottery officials announced this week the Florida Lottery set a new March record of $156 million in contributions to the state's Educational Enhancement Trust Fund. That brings the Lottery's total contribution to education to $1.2 billion in fiscal 2016-17, and marks the 15th consecutive year the Lottery has generated more than $1 billion for Florida's schools and students.
"The Lottery's sole mission is to generate funds for students and schools in Florida, but we could not reach these remarkable contributions without the support of our dedicated players and loyal retailers," said Florida Lottery Secretary Tom Delacenserie in a statement. "Every time someone purchases a Florida Lottery product, from the panhandle to the keys, they're contributing to education in Florida and that truly is a win for everyone."
According to the lottery, the March transfer marks the largest contribution to the trust fund this fiscal year and the second largest single-month contribution to the educational enhancement trust fund behind January 2016.
—
When it comes to gambling addictions, Florida is 42nd in the nation.
That's according to a new report from WalletHub, which looked at several metrics, including the presence of illegal gambling operations to lottery sales per capita.
The Sunshine State, according to the report, ranked 34th in the number of casinos per capita and 35th in the number of gaming machines per capita. Florida came in 15th when it came to the number of gambling-related arrests per capita, and 16th in lottery sales per capita.
The new rankings were released as the Florida House voted 111-3 to approve a bill (HB 937) that would require lottery tickets and advertising to carry several warnings about gambling.
The bill, sponsored by Rep. Jennifer Sullivan, would require all advertising to carry one of six warnings on the addictiveness of gambling. Warnings would warn that gambling causes financial problems and that there are low chances of winning.
The Lottery sells a wide array of tickets, ranging from $1 to $25, at thousands of locations across the state. Similar warnings would be placed on the tickets.
Florida, according to WalletHub, ranks 50th in the percentage of adults with gambling disorders.
—
The Florida Sheriffs' Association honored its fallen, adding six names to a memorial in Tallahassee this week.
"The sacrifices these men and women made go beyond what most people would ever do," said Orange County Sheriff Jerry Demings, the president of the Florida Sheriffs' Association. "Losses like these are not easy, but I'm honored to have served alongside these heroes who gave all."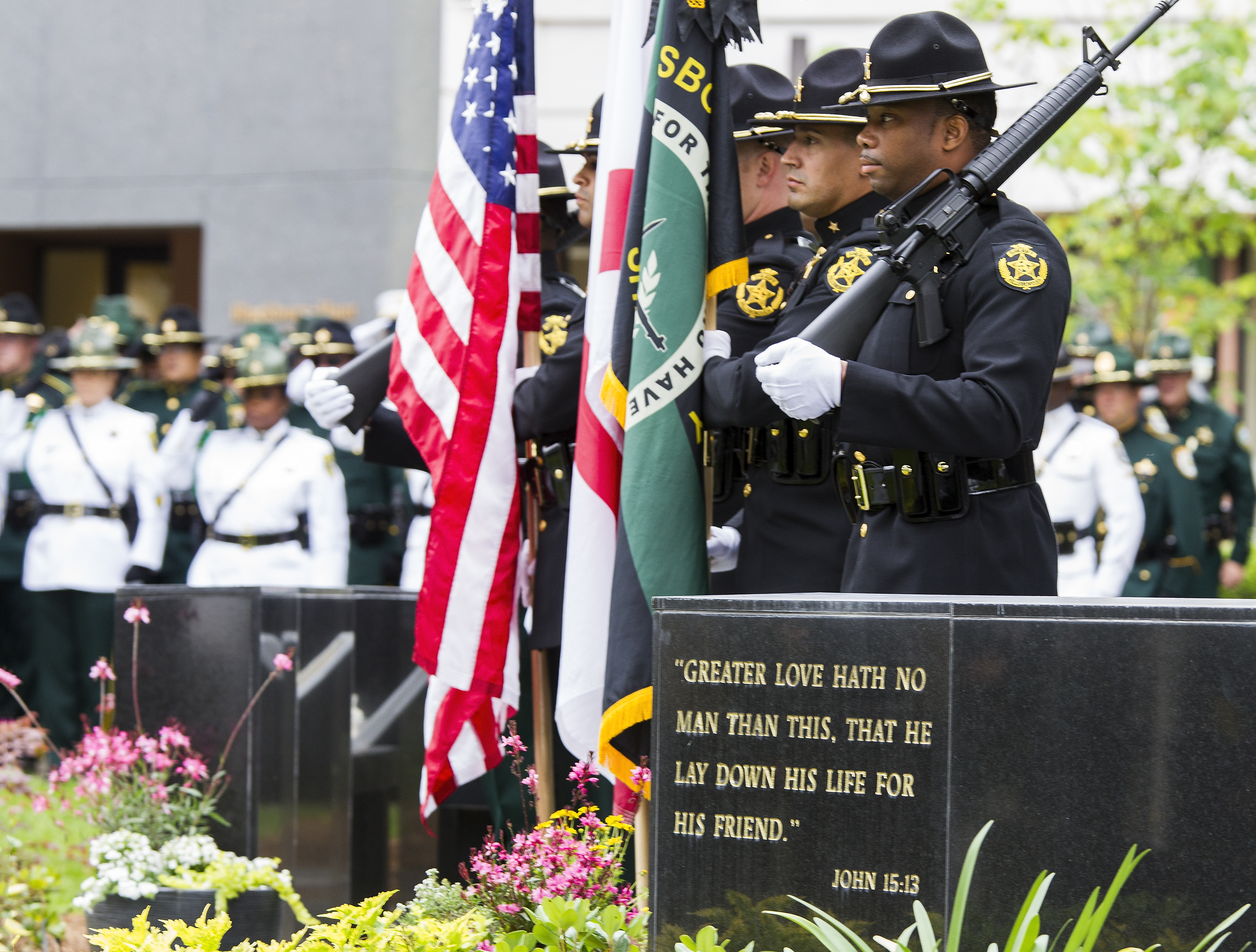 This year, the association added the names Nassau County Deputy Sheriff Eric James Oliver, Taylor County Deputy Michael Scott Williams, Hillsborough County Deputy Sheriff John Robert Kotfila, Jr.; Alachua County Deputy Sheriff William A. May; Alachua County Deputy Sheriff Cornelius "Neal" Rain; and DeSoto County Deputy Sheriff to the wall.
The memorial is dedicated to remembering those who sacrificed and put their lives on the line every day. A K-9 statue was recently added to honor K-9 officers who served the citizens of Florida.
—
Raising a kiddo is expensive, and the cost of health care accounts for a big chunk of that cost.
When it comes to children's health care, Florida ranks 37th in the nation, according to a new report from WalletHub. The personal finance website ranked which states offer the most cost-effective and highest-quality health care for children. To do that, WalletHub's number crunchers looked at data ranging from the share of children under the age of 17 in excellent in very good health, to the number of pediatricians and family doctors per capita.
The Sunshine State ranks 42nd in the percentage of children under the age of 17 in excellent or very good health, and 46th in the percentage of 1- to 17-year-olds with excellent or very good teeth. The state is ranked 12th when it comes to both the percentage of overweight children between 10- and 17 years old, and the percentage of obese children between 10 and 17.
Vermont is ranked No. 1 overall when it comes to children's healthcare, while Nevada comes in last.
—
There's a new coalition in town.
Innovating Florida — a grassroots initiative uniting health consumers, biopharmaceutical professionals, business and community partners — launched this week in an effort to highlight the impact of Florida's healthcare community.
"Florida life science industry is home to more than 5,900 employers and supports over 83,000 direct jobs that are a key economic driver for the state," said Mark Wilson, the president and CEO of the Florida Chamber of Commerce. "Innovating Florida provides a forum for a diverse group of coalition partners to advocate for this industry and its innovation and discoveries that improve the quality of life for individuals here in Florida and beyond."
The group's advisory board includes the Florida Chamber of Commerce, BioFlorida, the Manufacturers Association of Florida, the Florida State Hispanic Chamber of Commerce, Independent Colleges & Universities of Florida and the Alzheimer's & Dementia Resource Center.
The group plans to work to contribute to the overall economic strength of Florida and maintain its role as a leader for medical innovation by fostering an environment for increased economic development; ensuring the state leads in research and development of new cures and ensuring patients' access; and encouraging decision-makers invest effectively and reinforce the state's commitment to medical progress.
"Florida has built an impressive and diverse life sciences ecosystem that has considerable potential for continued innovation and growth," said Nancy Bryan, president and CEO of BioFlorida. "The industry is a major economic driver and has increased the number of high wage jobs in our state. We must continue an all-hands-on deck approach to ensure Florida remains at the forefront of this valuable industry – attracting both the talent and resources needed to solve tomorrow's challenges today."
—
A promotional video from Airbnb has a familiar star: Rep. Rene Plasencia.
The home-sharing company released the video this week, hours before the House voted 63-56 to approve a bill (HB 425) that would essentially reinstitute a 2011 ban on cities and counties from imposing any ordinances that would treat vacation rental homes different from other homes, condominiums or apartments in the community.
The video features videos with Plasencia, his wife Marucci Guzman, and their daughter, in scenes at vacation homes they have rented through Airbnb in Georgia and Tallahassee. The couple talks about the price, convenience and other advantages of renting through Airbnb.
In February, Plasencia and Guzman invited their Tallahassee Airbnb host, Quincie, to their wedding. She was one of the first people to RSVP.
Plasencia did not cast a vote when the issue came up on the floor this week.
—
Picking health care coverage is the pits, but a bill by Sen. Debbie Mayfield aims to guarantee consumers are actually getting what they paid for.
The Senate unanimously this week to approve a bill (SB 182) that provides additional consumer protections by prohibiting health insurers from removing covered drugs during the policy year, except during coverage renewal.
The so-called "Bait-and-Switch Bill" also prohibits an insurer from reclassifying a drug to a more restrictive drug tier, increasing the amount an insured must pay out-of-pocket for prescription drugs, or reclassifying to a higher cost-sharing tier during the policy year.
"Many Florida families carefully choose a health plan that covers the medications they need at a price they can afford, but unfortunately, insurers can pull a bait-and-switch by altering prescription benefits at any time during the policy year," said Sen. Debbie Mayfield, the bill's sponsor, in a statement. "The Bait-and-Switch Bill will ensure that Floridians have access to the benefits that were marketed and sold to them for the year. If a consumer can't change their health plan in the middle of the year, insurers shouldn't be able to either."
The proposal is backed by Floridians for Reliable Health Coverage, a coalition of 39 patient and provider groups.
"We hear from people across the state who are living this reality. When a person is forced to abruptly switch medications or stop taking them entirely, it often jeopardizes their health, causing loss of disease control, side effects and even hospitalization," said Michael Ruppal, Tampa-based executive director of The AIDS Institute, which leads Floridians for Reliable Health Coverage, in a statement. "We hope that Florida House members will also see that it's time to provide basic consumer protections around health coverage in our state."
—
It was a test of the fittest — and to see who could scurry up the pole the fastest.
The Florida Municipal Electric Association held its annual Florida Lineman Competition last weekend, giving more than 150 line workers from across the state a chance to put their skills to the test. Line workers were asked to perform tasks they would encounter in real-world scenarios, ranging from replacing cross arm beams to relocating transformers to rescuing an injured lineman.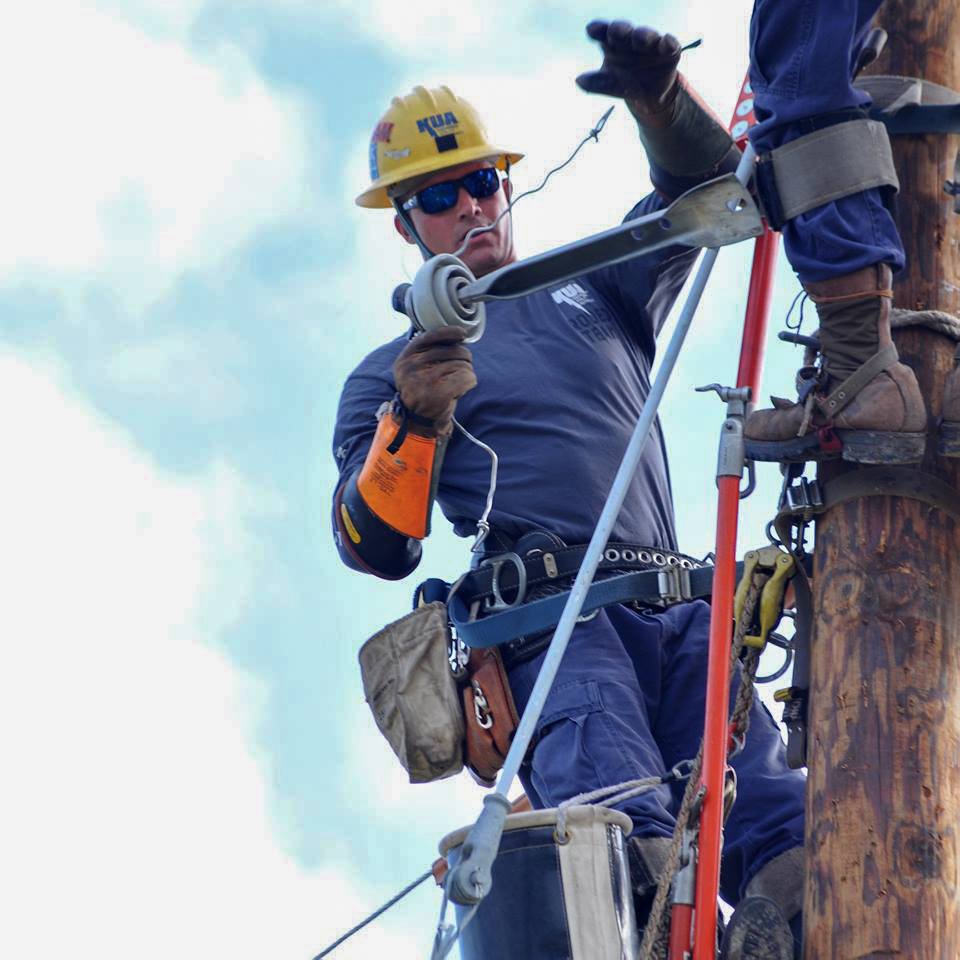 "The annual lineman competition showcases the work lineworkers do on a daily basis and provide people with an opportunity to see linework in action," said Amy Zubaly, the interim executive director of the Florida Municipal Electric Association. "We extend our congratulations to the winners and our deepest appreciation to all the lineworkers across the state who literally put their lives on the line every day. Their impact on their communities is profound as we recently witnessed following Hurricanes Hermine and Matthew. We thank them for their service."
This year, the overall Journeymen Team Winners' Cup went to Terry Cobb, Nick Ellis and Jason Smith from the City of Tallahassee electric utility. Mike Morgan of GRU took home the overall Apprentice Award.
—
There's a few more hall of famers in Florida.
Gov. Scott announced recently that he had selected Dr. Arnett Girardeau, Willie Williams, and Patricia Stephens Due from a list of 10 distinguished nominees to be inducted in Florida's Civil Rights Hall of Fame. The three were chosen because of the significant contributions they made to the improvement of life for minorities and all citizens of Florida.
Girardeau, an 88-year-old from Jacksonville, led the civil rights effort in the Florida Legislature. He was elected to the Florida House in 1976, serving there until he was elected to the Senate in 1982. He became the first African-American Senate Pro Tempore, and was a founding member and chairman of the Florida Conference of Black State Legislators.
Williams, an 85-year-old Orlando resident, was the first African-American hired in the engineering department of Martin Marietta Aerospace, now Lockheed Martin, in Orlando. He has served as president of the Orange County NAACP and vice president of the NAACP of Florida State Conference. He has held an influential role in strengthening NAACP relations with local and state government and corporations, including Walt Disney World.
Due, who died in 2012, is revered as a pioneer of the civil rights movement in the Sunshine State. While attending Florida A&M, she and her sister, Priscilla, established a local chapter of Congress of Racial Equality and led nonviolent civil rights demonstrations throughout the South.
—
The Department of Agriculture and Consumer Services website has a brand new look.
The state agency launched a new URL this week — FloridaConsumerHelp.com — and updated its website to provide key consumer protection information. The updated site includes information on registered charities, business license and complaints, and how to avoid scams.
As the state's clearinghouse for consumer complaints, the Agriculture Department educates the public, investigates complaints and provides mediation on behalf of consumers. Its call center is staffed with analysts who can respond to questions about programs and regulations under the department's purview, and provides information on a wide variety of topics.
—
The House has a brand new caucus.
Inspired by the Congressional Progressive Caucus, a group of House Democrats have formed the Legislative Progressive Caucus recently. The caucus, chaired by Rep. Carlos Guillermo Smith, aims to united the progressive wing of the Democratic Caucus as a collective block to influence key legislation and advocate for progressive policy solutions.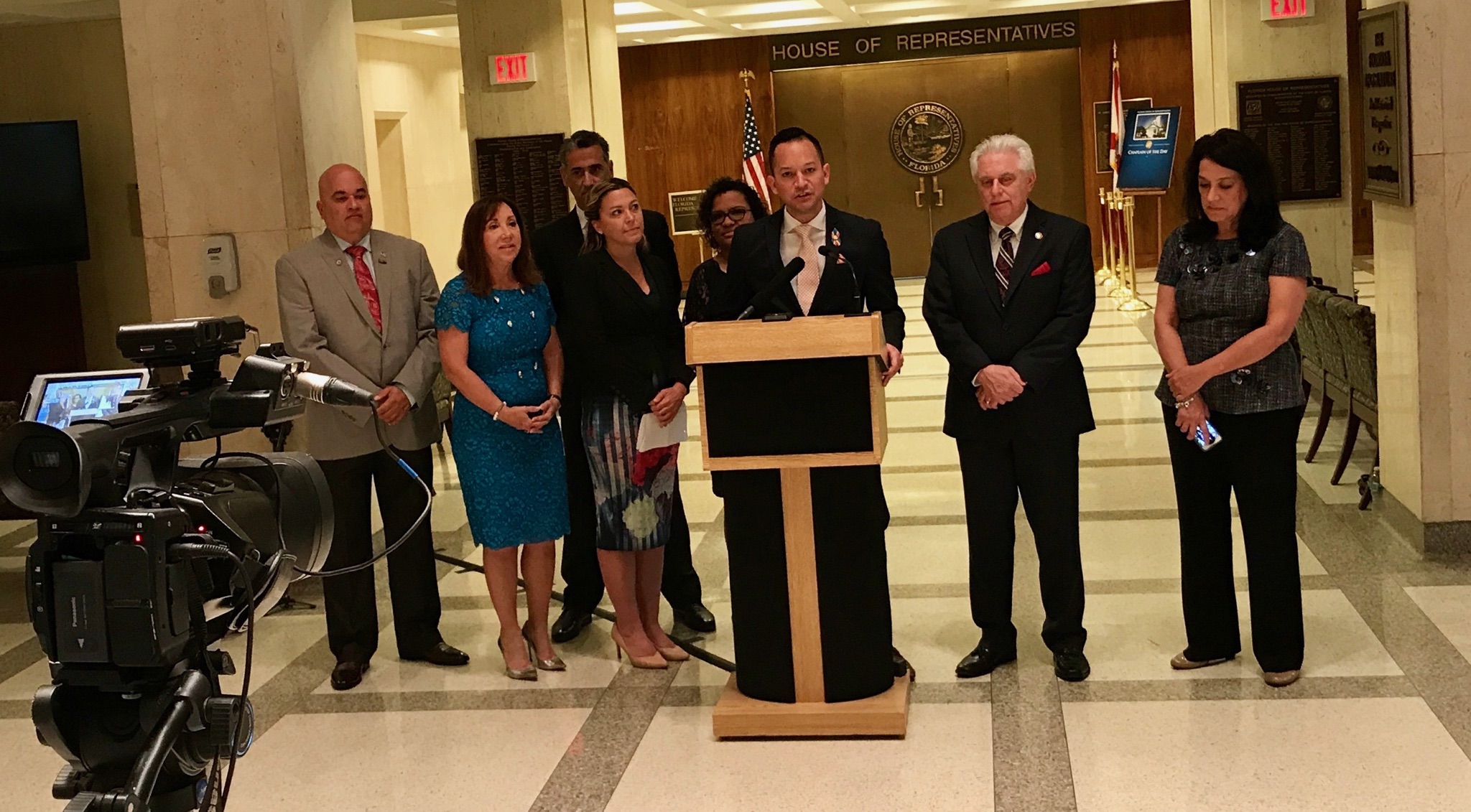 "As we enter the final weeks of the 2017 legislative session, the Legislative Progressive Caucus will adopt caucus positions on key legislation to underscore our values and priorities," said Smith in a statement. "As Democrats, we are a big tent party. When we organize, we can be even more effective at shaping policy and working together towards a common goal. The members of the LPC are excited about this new endeavor and at the opportunity to set a bold progressive vision for Florida."
The caucus includes Reps. Amy Mercado, who serves as vice chairwoman; Joseph Abruzzo, who serves as caucus clerk; Robert Asencio; Lori Berman; Daisy Baez; John Cortes; Nicholas Duran; Joseph Gellar; Evan Jenne; Barrington Russell; Sean Shaw; Emily Slosberg; Richard Stark; and Clovis Watson.
—
Efforts to strengthen Florida's texting and driving law appears to be dead this year, but lawmakers indicated this week they were willing to consider efforts in the future.
The House Government Accountability Committee held a workshop this week on distracted driving, hearing from bereaved family members and state officials about the need to make driving a primary offense.
"What is it going to take for us to act as a state," asked Demetrius Branca, whose 19-year-old son died in a 2013 crash involving a distracted driver. "What we need in this state is enforcement coupled with education. This is what works, we know it's what works. … When are we going to do it?"
The testimony will be used to help OPPAGA come up with a report on the effectiveness of texting and driving laws.
"PCI is advocating for legislation in 2017 to strengthen distracted driving laws, including banning texting while driving for Florida drivers. We also are working to expand public education and awareness on the issue," said Logan McFaddin, the regional manager of state government relations for the Property Casualty Insurers Association of America. "We need to create a social stigma about distracted driving, similar to what we accomplished over the last generation with driving under the influence of alcohol."
According to the National Safety Council, Florida has seen a 43 percent increase in motor vehicle fatalities since 2014, and McFaddin said
—
Rep.  Slosberg made one last stand for stricter texting while driving laws this week.
The Boca Raton Democrat filed an amendment on a Department of Highway Safety & Motor Vehicles bill (HB 545) by Rep. Bobby Payne that would have made texting while driving a primary offense in a legally posted school zone.
"I filed a texting while driving bill for everybody, I filed a texting while driving bill for those under 18 and I filed a local bill," she said. "You can't make everybody happy, but this is the best you can get. It's only in school zones. I can't imagine anyone here who can support texting while driving in a school zone. It's ridiculous."
Slosberg, the daughter of former state Rep. Irv Slosberg, said members spent six hours talking about business interests but "haven't spent nearly enough time talking about the safety of our residents and guests."
"For me this is personal, I lost my twin sister," she said. "I don't want anyone else to go what I've been through."
Slosberg withdrew the amendment before it was voted on.
—
Congratulations to Florida's newest "top chef."
The Department of Agriculture and Consumer Services announced this week that Gianna Rivera of Bloomingdale High School was the winner of the 2017 Fresh from Florida Student Chef Cook-Off. River, who competed last weekend against four other regional finalists from across the state, won the competition with her recipe for citrus chicken taco with watermelon salsa.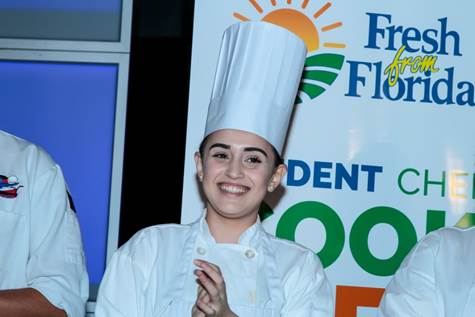 Her recipe will be served in a school cafeteria, and the recipes of all five finalists will be converted into school meal service portions and accessible to sponsors throughout the state.
"A healthy diet is the foundation of academic success, and this competition is a fun way for students to learn how to incorporate wholesome ingredients into their daily lives," said Agriculture Commissioner Adam Putnam
—
Millennials, they get the job done.
Or at least that's the goal of the new Florida Future Caucus, a bi-partisan caucus of made up of state lawmakers under the age of 40. The group, which launched this week, is part of a nation-wide movement in statehouses across the country where millennial legislators are hoping to find common ground in an era of hyper-partisanship.
"As young leaders, we need to restore the younger generation's faith in the democratic process," said Sen. Anitere Flores. "I'm excited to work with my colleagues on both sides of the aisle on issues that positively impact the lives of young people in Florida.
The caucus was launched by Flores, Sen. Lauren Book, and Reps. Holly Raschein and Sean Shaw.
Flores said the vision that unites the group is a "generational" one.
The Florida Future Caucus will be part of the Millennial Action Project's effort to support young elected officials.
"While Florida is known more for its snowbirds than its millennials, the state is home to a vibrant and active millennial population. I'm glad that Reps. Raschein and Shaw and Sens. Book and Flores are working together to ensure that our voices are heard in the state capitol," said Steven Olikara, co-founder and president of Millennial Action Project, in a statement. "I look forward to seeing what they'll accomplish by reaching across party lines and working together in the House and Senate."
—
Sen. Jeff Brandes' new rally cry: Free the wine bottle!
Brandes pushed proposals this year that would have repealed the state's bottle-size law. The provisions would have allowed win bottles of all sizes, placed the regulation of cider-bottle size on equal footing with craft beer, and repealed a state law requiring diners to order and consume a full meal before they can take home an opened bottle of wine.
The language was included in a bill dealing with Division of Alcoholic Beverages and Tobacco, but this week senators stripped it from the bill in order to conform with the House proposal.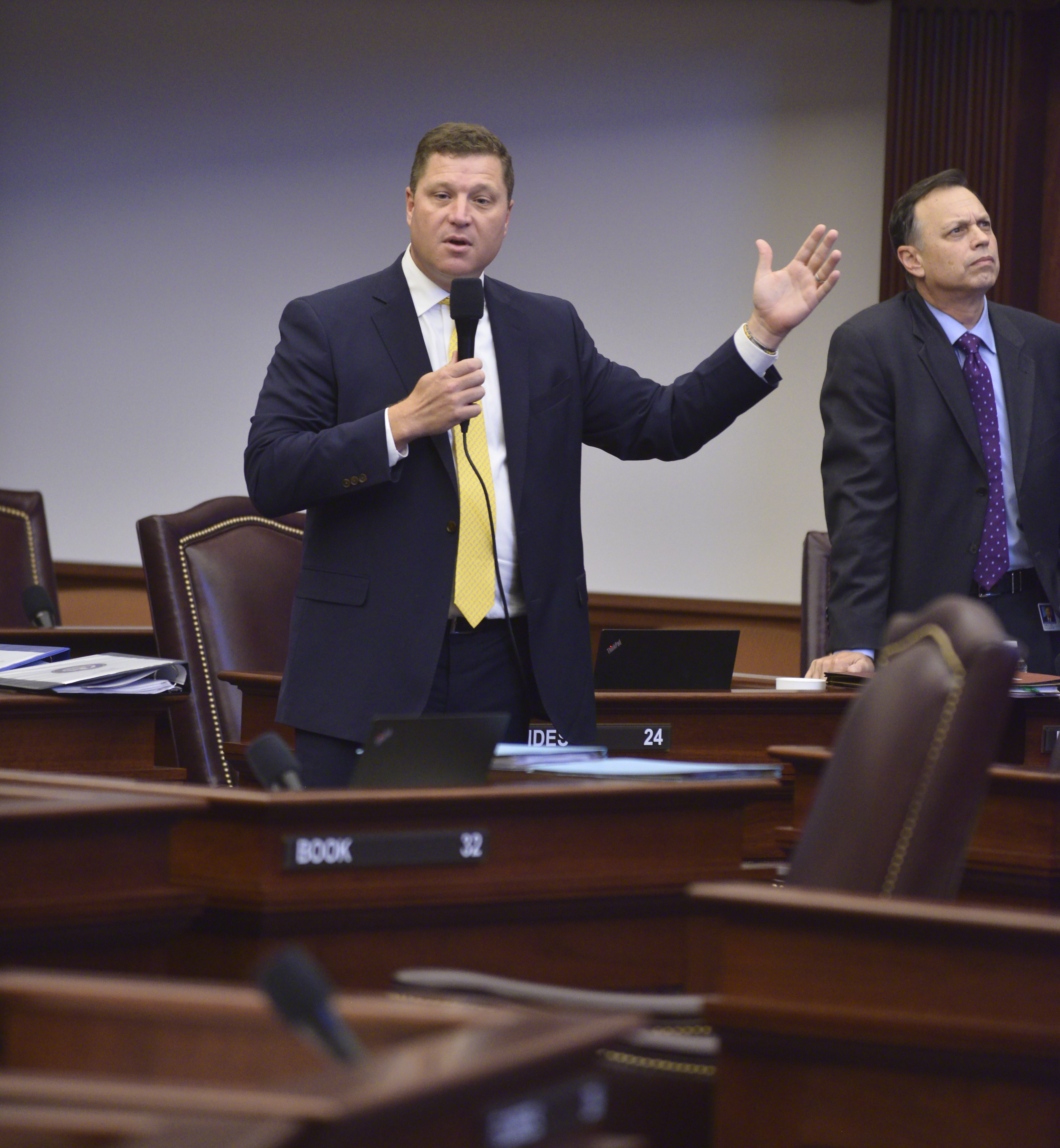 "I can tell you we're going to be fighting for this, and fighting for freedom, in the Florida Senate for many years to come until we get the ability to sell large bottles of wine, to fill cider just like we fill craft beer, and to be able to take wine home from a restaurant without having to buy a salad course, without having to buy an appetizer, and without having to buy a bread course, and have them individually listed on receipts," he said in a rousing floor speech as his colleagues looked on. "It is a travesty we have to adopt this amendment. Next year, we are going to fight for individual freedom in the Florida Senate."
President Negron's response?  "Let the record reflect that the 'Freedom Caucus' is in full alert."
—
The Florida House is raising awareness about domestic violence.
The House approved a resolution this week by Rep. Barbara Watson to designate September as Domestic Violence Prevention Awareness Month.
"Florida needs to be a leader in violent crime prevention and it is up to all of us to educate our friends, family, and neighbors on this problem," said Watson. "With thousands of Floridians affected by violent crime every year, I am happy to see the Florida Legislature pass this resolution and I will continue to work hard in my goal of crime prevention."
Florida has the 5th highest violent crime rate and the 14th highest homicide rate in the United States, and Watson said recognizing the need for prevention is important to solving those issues.
—
June 12 will be known as Pulse Remembrance Day, under resolution read into the record this week.
Sponsored by Reps. Smith and Mike Miller, the resolution (HB 8077) establishes June 12, 2017, as Pulse Remembrance Day in honor of the 49 people who were killed and the 53 others who were wounded during the attack at Pulse nightclub in Orlando in 2016.
"As we approach the one-year mark, it's important to acknowledge that the terrible tragedy that occurred at the Pulse nightclub was not just a terrorist attack, but a hate crime against my fellow LGBTQ+ Floridians. I am proud to see the Florida House come together to express our compassion for those families directly impacted by the attack and support for our first responders who risked their lives to keep us safe," said Smith in a statement. "Although our hearts will never fully heal, publishing this House resolution into the historical journal will ensure future generations understand what happened at the Pulse nightclub, the communities who were impacted, and remember the names of the forty-nine angels who were taken."
The resolution memorializes the into the record the names of those who perished, while acknowledging it was the "most lethal incident of violence against the LGBTQ+ community in the United States history."
—
Call it a big win for financial literacy this month.
The Florida Senate voted unanimously to approve a bill (SB 392) by Sen. Dorothy Hukill that would require high school students take a half-credit financial literacy course in order to graduate. The passage of the bill, which senators voted to rename the "Dorothy L. Hukill Financial Literacy Education Act," came in the midst of Financial Literacy Month.
But senators weren't the only ones talking financial literacy this week. CFO Jeff Atwater also encouraged parents to teach their children the dollars and sense of managing their money, telling them it is "more important than ever to equip our children with the financial tools they need to be successful."
"If we want Florida's future generations to know and understand the true value of money, then as parents we must take the lead in teaching them," said Atwater in his weekly email.
—
Rep. Sean Shaw has his eye on insurance adjusters.
The House voted unanimously to approve a bill (HB 911) that would streamline the licensing process, establish consumer protections, and raise the ethical standards for insurance adjusters.
"With this legislation, Florida's consumers can rest assured that individuals engaging as insurance adjusters are licensed, regulated, and held to the highest ethical standards," said Shaw.
The bill, among other things, eliminates licensure for public adjusters' apprentices, substituting them for a requirement to be licensed as an all-lines adjuster and appointed as a public adjuster apprentice.  It also prohibits unlicensed public adjusting that is done directly or indirectly, and reduces the time a public adjuster apprentice must be supervised before becoming eligible to be licensed as a public adjuster.
—
Think of it a jobs bill.
The Florida House voted 86-30 this week to approve a bill (HB 7047) that would, among other things, lower the licensing and training requirements for certain occupations. The hope, lawmakers said, would be to create more jobs by deregulating occupations like barbers, hair braiders and boxing announcers.
The bill, among other things, reduces the hours of training needed to get a license to become a barber, nail specialist, and a facial specialist. It also clarifies the scope of practice for restricted barbers, nail specialists, full specialists, and hair braiders.
A Senate companion has cleared two committee hearings, and includes repealing criminal background checks for talent agents.
—
Mark your calendars, the Florida Cable Telecommunications Association annual conference is just around the corner.
The FCTA will hold its Future of Internet and Television Conference from Oct. 25 through Oct. 27 at the Trump National Doral in Miami. The conference will give industry officials a chance to chat about legislative and regulatory policies, content creation, and the "Internet of Things."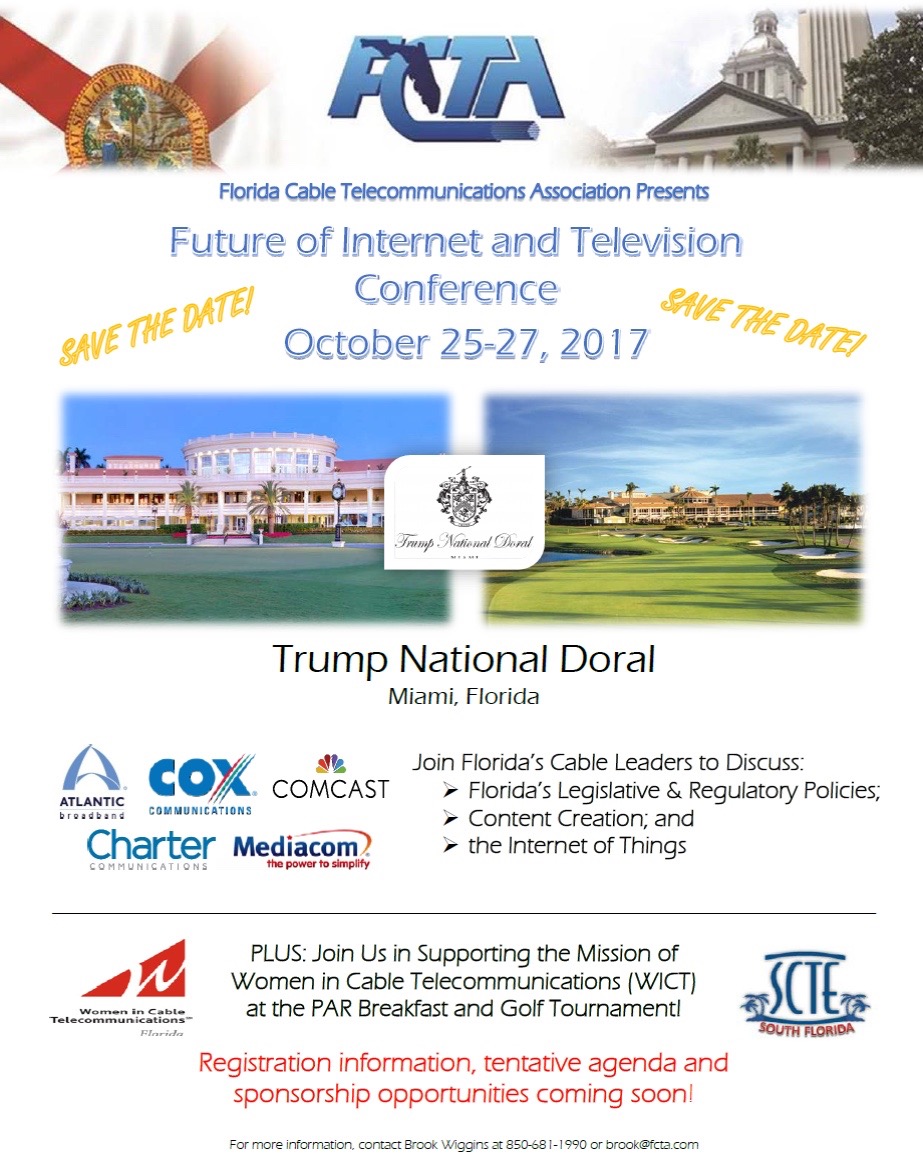 —
Pull out the bug spray, the rainy season is upon us.
The Department of Agriculture and Consumer Services hosted a series of Zika preparedness workshops for mosquito control programs throughout Florida recently to discuss mosquito surveillance and control measures.
"As we enter into the warmer months, it's especially important that Florida communities are equipped with the knowledge and resources they need for their Zika-related response efforts," said Agriculture Commissioner Putnam.
While the Department of Health is the lead agency when it comes to Zika, the agriculture department continues to support local programs by providing mosquito testing at the Bronson Animal Disease Diagnostic Laboratory. To date, nearly 90,000 mosquitoes have been tested for the presence of the Zika virus.
—
Rep. Tracie Davis wants to make sure the teachers represent the state's "diverse student population."
That's why she sponsored a bill (HB 1139) to increase access to the Minority Education Scholars Program, a collaborative, performance-based program for African-American, Hispanic-American, Asian-American, and Native-American students enrolled in teacher education programs.
"This bill is an important first step in expanding opportunities for minority students who wish to enter Florida's education workforce," said Davis. "By enabling more students to pursue a career in education, we can begin to address Florida's growing teacher shortage. Not only does it confront this serious problem in our public education system, but it does so in a way that ensures that our teachers reflect our state's diverse student population."
The bill passed unanimously earlier this week.
—
Sen. Aaron Bean took a minute to tip his hat to one of his colleagues this week while discussing a bill to provide foster families with free annual passes to the state parks.
Bean gave Sen. Dennis Baxley a shout-out, telling members that Baxley had adopted two children with "very special needs." Baxley, he said, is just one example of the hundreds of foster parents across the state who are "superheroes."
"This is an intimate thing for me," said Baxley. "You don't know what these families struggle with."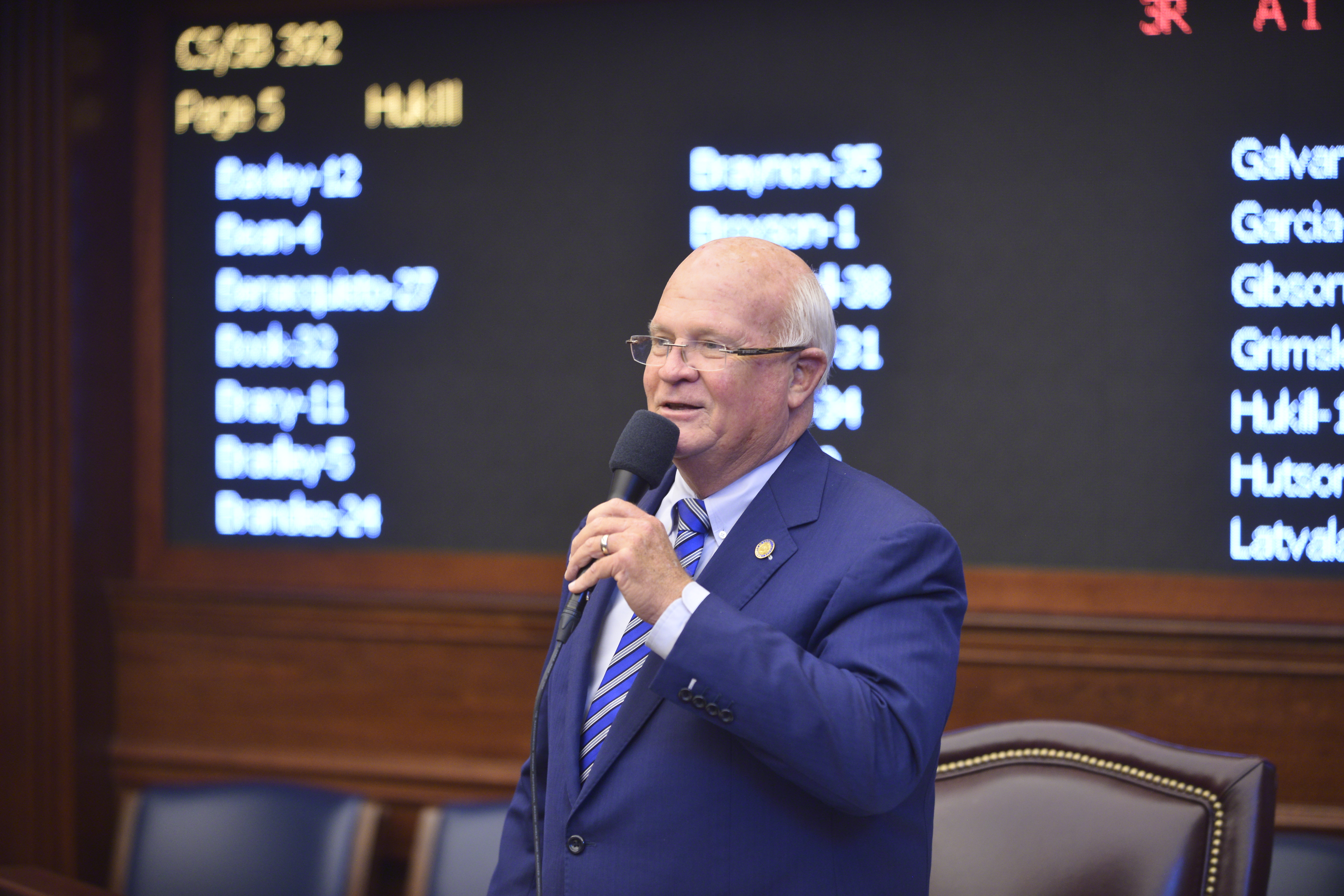 Baxley and his wife, Ginette have five children, two of which are adopted. One of those children, Jeffrey, was shaken as an infant, suffering blindness and brain damage. Baxley said this week that "Jeffrey changed our lives," and commended Bean for the work he has been doing to help foster families.
"These things, like park fees and things, may be minor, but it's encouraging," he said.
The bill, sponsored by Rep. Larry Lee in the House, unanimously passed both chambers this week. It now heads to Gov. Scott for his consideration.
—
Rep. Kristin Jacobs is out to protect Florida's coral reefs.
Jacobs' bill (HB 1143) to create the Southeast Florida Coral Reef Ecosystem Conservation Area passed the House unanimously this week. The proposal creates a conservation area that includes sovereign submerged lands and state waters offshore Broward, Martin, Miami-Dade, and Palm Beach Counties from the St. Lucie Inlet in the north to the northern boundary of the Biscayne National Park in the south.
Florida is facing a serious coral disease epidemic, which began back in 2014 and is spreading along the Florida Reef Tract. In the last two years, 21 of the 35 coral species off Florida's coastline have died.
"The epidemic is unique since it involves multiple diseases and affects several species of coral, some listed as Threatened under the Endangered Species Act," said Jacobs. "Aside from its natural beauty, our reef is also vital to our coastal protection and economic vitality."
—
See a python, pick it up — it just might land you a big prize.
The Florida Fish and Wildlife Conservation Commission launched a new program to encourage people to remove nonnative Burmese pythons from the Everglades ecosystem. The programs, according to the state agency, will provide people with incentives and expanded opportunities to remove the slithery species.
The Python Pickup Program is designed to encourage the public to remove and report wild Burmese pythons by rewarding participants with prizes.
People who remove pythons need to submit photographic evidence of the snakes as well as the location from which it was removed. Anyone who submits the information will receive a free Python Pickup T-shirt for their first entry. For every submission received, participants will be entered into a monthly drawing — as well as a grand prize drawing to be held next year.
A recent executive order allows people to remove pythons year-round from 22 public lands with no hunting license or wildlife management area permit required.
"We know many Florida residents and visitors want to help tackle this tough conservation challenge by going after pythons in the wild and removing any they can find," said Nick Wiley, the executive director of the FWC. "We want to continue to encourage and support this important citizen conservation effort."
Need more info about how to identify and safely remove pythons? FWC offers a no-cost Python Patrol training program that aims to create a network of trained individuals who can identify and remove Burmese pythons.
—
A bit of serenity is heading to Wekiwa Springs State Park.
The Florida Park Service is partnering with the Wekiva Wilderness Trust to create an accessible serenity garden at the state park, expanding access and enhancing the park experience for visitors with diverse abilities. The project, according to the Department of Environmental Protection, will transform a half-acre site within the park into a garden oasis.
"The department is very excited about this project, which will provide groundbreaking opportunities for relaxation, contemplation and education," said Gary Clark, DEP deputy secretary of land and recreation, in a statement.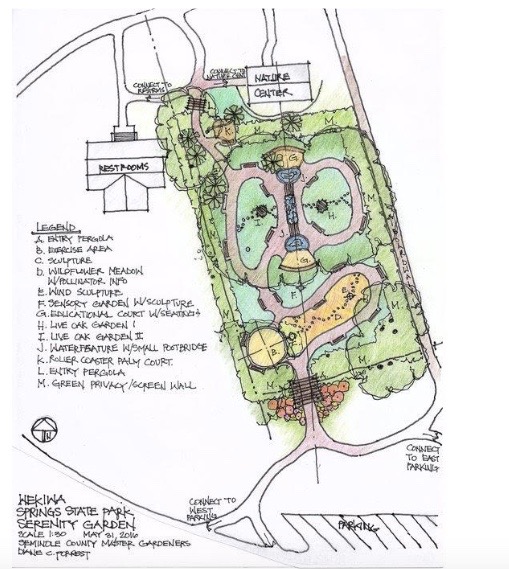 The state agency is providing $50,000 for the project, which is being managed by the Wekiva Wilderness Trust. Other partners include Friends of Florida State Parks; the Seminole County Master Gardener Program with the University of South Florida, Institute of Food and Agricultural Sciences; and Sweetwater Oaks Gardening Club.
"Expanding access and offering a unique way for people of all ages and diverse abilities to enjoy the park is something we are very excited about," said Robert Brooks, manager of the Wekiva River Basin State Parks.
The project is currently in the design phase with work on paths, irrigation and other hardscape elements expected to begin soon. The total cost is estimated to be between $200,000 and $250,00, and the garden is expected to be open within a year.
—
Here's this week's edition of Capitol Directions: