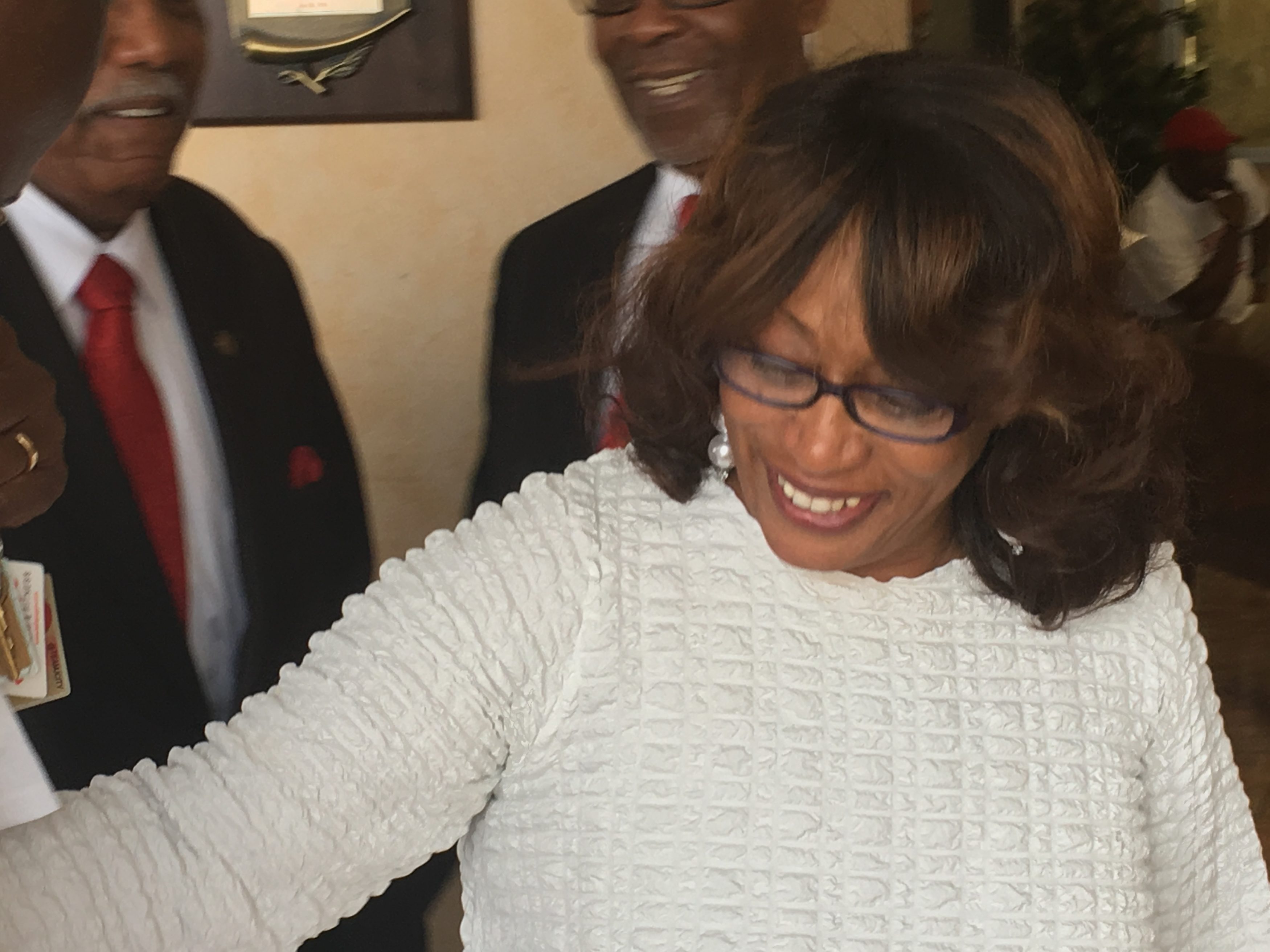 "Lyin', Cheatin', Stealin'" [Wednesday 3 p.m.] Wednesday brought opening statements in the federal fraud trial of former U.S. Congresswoman Corrine Brown, who faces 22 counts related to a non-performing charity, "One Door for Education."
Federal Prosecutor A. Tysen Duva's 41-minute argument, rooted in the twenty-two counts, boiled down to three words: "Lyin', cheatin', stealin'."
These words would recur in the statement of Brown's lawyer, James Smith, who said they described Brown's former collaborators, Carla Wiley and Ronnie Simmons, who exploited her age and trust and created a scheme to which the aging Brown was a peripheral figurehead.
The two barristers, who had been cooperative in the months leading up to the trial, were finally going to introduce syntheses of their arguments, which boiled down to whether Brown was an active agent of the conspiracy to defraud, or whether she was unaware of what was being done in her name.
Duva outlined Brown's political career, noting that being in Congress was a "position of trust … one of the highest" in the U.S.
"A trailblazer … truly a historic figure when elected to Congress in 1993 … someone who was accessible to the constituents of her district," Duva added, citing her slogan "Corrine Delivers."
Duva continued the buildup.
"We wish that was the end of the story … sadly, it's not. There's another side: corruption, greed, and a significant entitlement attitude," Duva said.
Brown, said Duva, abused her position of trust, by soliciting money, starting in 2012, for a "bogus charity … that was supposed to help disadvantaged kids."
The mission of the charity: to help disadvantaged kids.
But Brown, and former co-defendant Ronnie Simmons, "lied to people," soliciting contributions that went not to education but to withdrawals from the account — $800 at a time – which were deposited into Brown's account, Duva said.
Lies of "commission and omission" were Brown's stock in trade, Duva said, noting that she didn't report the money – constituting a second lie to the IRS.
Charitable deductions, meanwhile, were fabricated, Duva said.
"She had to lie on her taxes, lie about her income," Duva said, despite making $179,000 per year from the taxpayers.
Brown, said Duva, committed wire fraud and mail fraud, lied on financial disclosure forms, and lied to the IRS – committing tax fraud in three straight years.
The investigation, said Duva, started with a "suspicious check" from someone in Northeast Florida to "One Door," in Loudoun County, Virginia.
"One Door for Education", a charity run by Carla Wiley (who dated Simmons at one point) was not properly registered, Duva said, noting that the website contained pictures of Brown.
From there, the succession of $800 withdrawals from the One Door account and deposits into Brown's account – sometimes, four consecutive days.
"This is a way of life. This is not something that started with One Door for Education," Duva said, noting that since 2009, $140,000 was deposited into Brown's personal accounts.
In 2012, Wiley and Simmons began dating. They discussed an event – the Congressional Black Caucus Legislative Conference – that happens in September.
Brown typically threw a party during the event. In 2012, there was not money to pay for it.
One Door became that vehicle. And starting on Aug. 30 2012, $800,000 was raised for One Door, Duva said, via "parties for Corrine Brown that she became accustomed to."
"The intent was to ask for money up front, reap the benefits, the end," Duva noted, adding that early in September 2012, Simmons began taking money out of the One Door account.
Wiley gave Simmons an ATM card for One Door, setting up the ongoing conspiracy.
Simmons will, Duva said, testify to that pattern – describing taking money out of the ATM, driving to the Congressional office, and giving her an envelope.
Donors will testify to the pattern also: "significant philanthropists" who gave up to $90,000 to One Door.
"Corrine Brown knew exactly how to ask for the money," Duva said, noting that donors in Jacksonville and Orlando both fell for the pitch.
Among those big time donors: John Baker, a major fixture of Jacksonville's donor class, who believed Brown when she said the money was for computers.
"These were people that Corrine Brown asked directly," Duva noted.
Of the money raised, $330,000 went to Brown events, ranging from golf tourneys at Sawgrass to Beyonce concerts and $15,000 Jaguars/Redskins skybox tickets.
One spend that actually benefitted children: sending 19 kids to China, a talking point Brown has used frequently.
$86,000 of ATM withdrawals. $15,000 of plane tickets. Car repairs. A $5,000 Onyx magazine cover and spread, funded by donor Richard Lipsky, who sent the money to Von Alexander, who then dispersed the money to Corrine and her daughter. Those details, and so much more.
"She simply spent way more than she took in," Duva said.
Duva also noted that Brown's sister, Monica Isom, was a "ghost employee" of Brown's Congressional office.
"She did nothing," Duva noted.
Duva noted that Wiley and Simmons have not been promised anything for testifying.
Brown's tax preparer will testify for half a day also, outlining what Duva called six years of fraud.
Also of note: Von Alexander, a former collaborator with Brown who served as a part-time employee – "another person who did exactly what Corrine Brown asked her to do."
Alexander would get checks, cash them, and put money into Brown's account.
Duva noted that, beyond One Door, Brown got funds via Reggie Gaffney's Community Rehabilitation Center and another business, Lapool Training and Education.
"The relationship is Corrine Brown and Reggie Gaffney. Very close – almost like mother and son," Duva said.
CRC Transportation: another vehicle to secret money into Brown's account, which stopped in late 2011.
Duva also alleged that in August 2013, Brown somehow "didn't notice" an extra $10,000 in her account, which funded a trip to the Caribbean for her and daughter Shantrel Brown, and a trip to LA – a trip helped along from a timely check from One Door for Education.
This pattern repeated, in different combinations, for years. The same principals. The same vehicles, Duva said, including Brown's "Friends of Corrine Brown" campaign account, and taxpayer money.
For those who have studied the indictment, Duva's facts are nothing new. But the narrative tells a story of a politician who saw an opportunity and exploited it for personal enrichment.
"This wasn't all Ronnie Simmons. Everybody played a role," Duva said.
"That's why this lasted as long as it did."
__
Brown's attorney, James Smith, posted the counter-narrative: "Who is Ronnie Simmons? And can you trust him?"
Smith's take: Brown trusted Simmons. And that's the reason, he said, Brown sits here today.
"Lying, cheating, and stealing," Smith said, describes Wiley and Simmons … not Brown.
Smith contrasted "trailblazer" Brown with her former minions, professed liars who lack credibility.
Smith noted that Simmons dated Shantrel Brown in the 1980s, and remained friends, and Corrine was impressed with Ronnie.
"I'd like to be a mentor of yours," Brown said fatefully.
Simmons worked for Corrine Brown, first at a travel agency, then in the political realm.
Brown is, Smith said, "blunt and opinionated … a salt of the earth woman."
"People who were in her circle are not people you normally see in politics," Brown said, noting that she saw the best in people that society cast off.
Simmons, a political neophyte, became Brown's Congressional Chief of Staff – a key point, said Smith, as Brown outworked almost everyone else in Congress, from 6 a.m. "sometimes as late as Midnight … seven days a week."
"As she aged, she began to rely more and more on Ronnie Simmons," Smith said, to manage her office, travel, and related tasks.
The case, said Smith, is about trust, betrayal, and lies.
Brown placed her "absolute trust" in Simmons, who was "like a son" to her.
"What she didn't know … some of the whispers in the community about Ronnie," who some said was "in over his head" and unable to run the office effectively – a no-show for work, taking advantage of his mentor's "hard earned reputation" by scheming to "enrich himself" via his sister.
Isom was sick and broke, Smith said, and the "generous" Corrine Brown allowed him to put his sister on the payroll.
"Ronnie was playing her for a fool," Smith said, lining his pockets for years off of his sister's fake job.
"He's going to admit doing it," Smith said.
Simmons' pattern: charming people, then benefiting financially from the hustle.
Simmons, said Smith, lived beyond his means, with predilections for fine dining and boating causing him to develop schemes … such as the one he cooked up with Wiley.
"One Door for Education was the sole creation of Carla Wiley," Simmons said, with Brown having no control over the operation, as Wiley set it up before Brown got involved.
"The money that she took," Smith said, "she took all on her own."
Wiley and Simmons lived the high life in seaside resorts, dining, and so on.
"Lying, cheating, and stealing – they came up with that all on their own," Smith said.
Smith also rejected the government's assertion of Brown's "lavish parties," saying that Brown was active in the CBC, and her events were of a piece with other such caucus "receptions."
"These were not lavish parties," Smith repeated, but opportunities for representatives to meet constituents.
Any other assertion is borne of a lack of "true connection to that community," Smith noted.
Smith also spotlighted the prosecution's lies of omission, including saying that money earmarked for events went to events that happened.
As well, Smith said, there's no legal requirement that scholarship events raise money for scholarship funds.
Smith turned his attention to the cash deposits: a fulcrum of the government's case.
Again, Brown's advancing age was an issue, leaving her vulnerable to exploitation by her one trusted colleague – Ronnie Simmons.
"The world passed her by," Smith said, noting that Brown did not use email or online banking, and that Simmons had access to Brown's accounts and made "many" transactions outside of Brown's knowledge, including forging her signature on "important papers."
"He forged Carla Wiley's signature … the treasurer of One Door … because it helped him accomplish his goals," Smith said.
Only in the last few months, Smith said, did Brown learn to send text messages.
Wiley and Simmons "had the tools to take advantage of an older woman," Smith said, and that's what happened, as Brown delegated to Simmons.
Simmons also, Smith said, set up her travel plans.
"How could she not know?"
Smith's answer: with Brown traveling to and from the District multiple times a month and otherwise overscheduled, she trusted Simmons to make arrangements, heedless of any detail other than the task being done.
"The betrayal had already started," Smith noted, adding that Brown had worked with multiple foundations, and people trusted her reputation to put the money to good use.
From there, Simmons and Wiley conspired to use the non-profit after a law was changed, restricting other vehicles, with Simmons recommending the charity his girlfriend set up.
Brown did nothing to set up the events, Smith said. These were staff moves.
"She'd dress up … go to the event, shake hands, and ask people to contribute to charitable causes," Smith added, noting that Brown had no clue that One Door was not an authorized charity.
The rot set in. Agents served Wiley, who admitted "wrongdoing."
Simmons tried to ride it out, claiming withdrawals were solely for reimbursements – but that's merely part of the story, Smith said.
"She believed what he had told her … little did she know that the money he was taking was [far more than] reimbursements."
Brown, said Smith, believed Simmons was innocent – then "one day, Ronnie pleaded guilty, and she was on her own."
And the "betrayal" people had warned her about had come to pass.
That is the crux of the case: did Simmons swerve Brown?
Or did Brown lie, repeatedly and daily, to cover up a conspiracy she lacked the technical acumen, the time, or the youth to pull off?
Brown, said Smith, will tell her own story on the stand.
"A long time ago, Corrine Brown placed her trust in Ronnie Simmons."
And from there, the whirlwind was reaped.