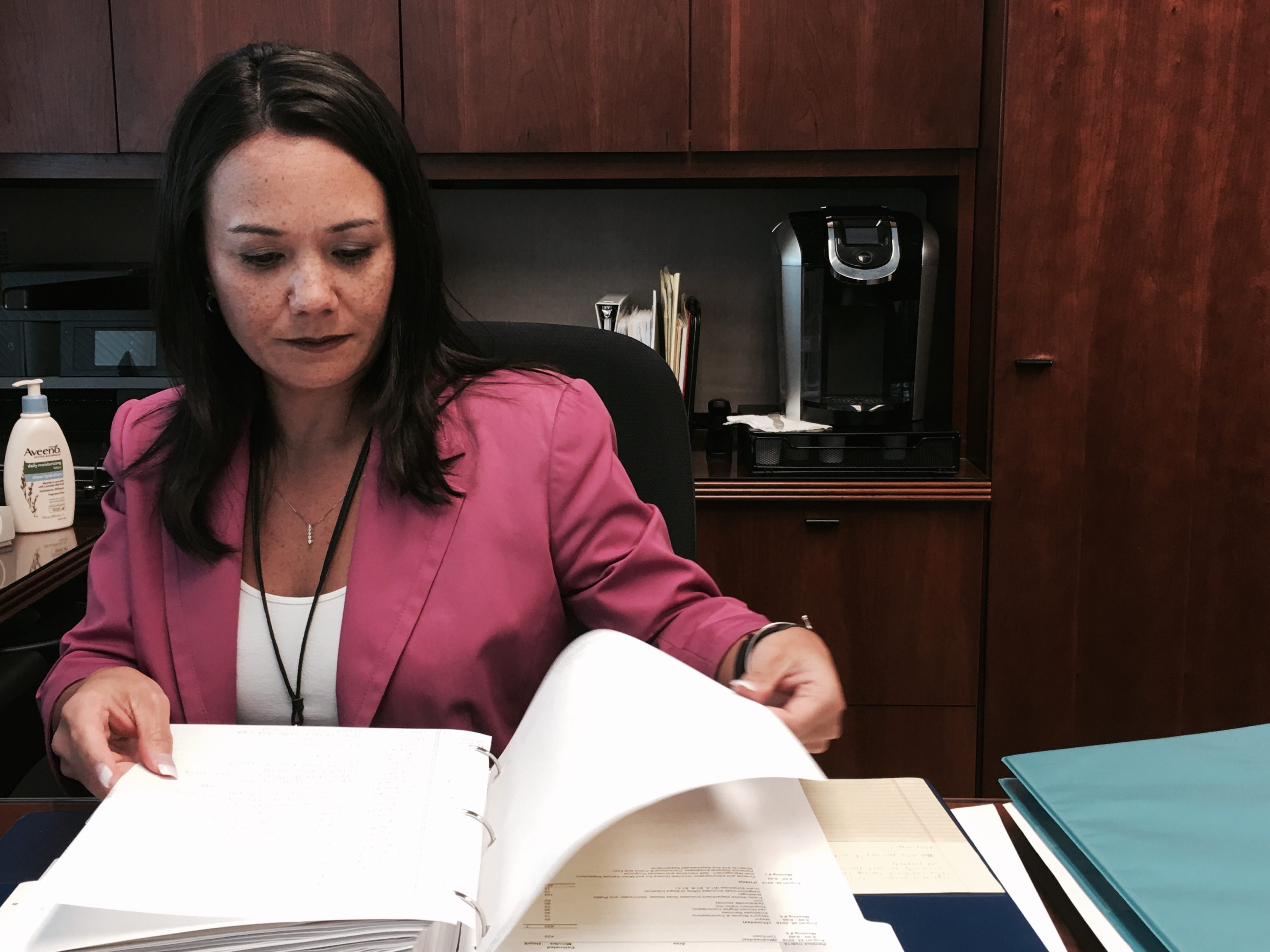 With Jacksonville City Council members preparing to vote Tuesday on their next President, the outcome is starting to look clearer hours from the 3 p.m. vote to decide who will assume the lead in Council starting July.
Right now, Finance Committee Chair Anna Brosche leads current VP John Crescimbeni 9-7 in the pledge count. Three councilors, meanwhile, remain officially undecided. But if "pack voting" holds involving two of those councilors, this is a done deal.
Those councilors: Republican Council President Lori Boyer And two of Crescimbeni's fellow Democrats: Reggie Gaffney and Reggie Brown.
On Monday night, Councilman Danny Becton pledged to Brosche, giving her nine pledges and the inside track on the Council presidency … barring some eleventh hour interference or change of heart among supporters.
Notable: party labels mean little in this contest, with Democrats and Republicans alike jumping ship.
Two Democrats — Katrina Brown and Garrett Dennis — on Friday joined Republicans Matt Schellenberg, Doyle Carter, Sam Newby, Al Ferraro, Aaron Bowman, Becton and the candidate herself on the Brosche bandwagon.  Crescimbeni has fellow Dems Joyce Morgan and Tommy Hazouri, and four Republicans (Bill Gulliford, Greg Anderson, Jim Love, Scott Wilson) backing his play.
As it stands on Tuesday morning, we have a 9-7 lead for Brosche, requiring Crescimbeni to get all three holdouts on his side.
Meanwhile, there is a strong indication — via Councilman Reggie Brown — that Brosche may have at least 10 votes locked up … with Reggie Gaffney, Katrina Brown, Garrett Dennis, and Councilman Brown himself providing the decisive margin.
"Our plan was to run as a pack … I gave up having direct participation with this process due to its biases.  I wish both candidates well; however, our decision to vote as a pack must be adhered, or the value of the pack is useless," Brown told us Monday morning.
"The strength is in the pack. All I have is my word," Brown added.
Thus, if pack voting holds, Brosche has her ten votes locked up … assuming nothing changes.
_____
The process, of course, was never intended to be this open. Not this year.
A group of council members — Gulliford, Crescimbeni, Greg Anderson, Jim Love, and Tommy Hazouri — signed on very quickly, giving Crescimbeni a 6 to 1 advantage over Brosche in the early going … a remarkable number, given that all but Hazouri are second-term Republican males crossing party lines to go against their GOP comrade-in-arms.
Gulliford noted that Crescimbeni needed to get the other four necessary pledges very quickly, given Brosche's entry into the race.
Gulliford, who believes that "tradition" dictates the VP move up to the top job barring extraordinary circumstances, noted that he'd be "hard-pressed to serve in any standing committee in administration."
"The administration doesn't play in our sandbox. Outside entities don't play in our sandbox," Gulliford rhetorically chided.
____
The ultimate question that outside observers will have: why couldn't Crescimbeni close the deal with Dems?
Some Democrats note that Crescimbeni doesn't go out of his way to make personal connections with them and that Crescimbeni hasn't been out front on Democratic Party issues — including but not limited to withholding meaningful support from Alvin Brown in the 2015 Mayoral race.
"He never even looks me in the eye in the hall," was what one disgruntled Dem told us.
Brosche, often dismissed by media as too quiet and reserved (a sharp contrast to Crescimbeni), has found a way to chip at Crescimbeni's seeming firewall of tradition and party loyalty, and perhaps scuttle the Council lifer's last shot at the Council presidency before he's termed out in 2019.
___
Then again, perhaps not.
As we saw in the 2016 race for vice president, it looked to be Doyle Carter's to lose, until Reggie Gaffney shocked the room and broke his pledge to Carter to vote for Crescimbeni.
Worth noting, though:
Brosche's Twitter feed in recent weeks has read as an extended subtweet of her opponent. One instance stands out: a May 10 RT of a mayoral staffer: "Power doesn't need propping up."
That last quote has an especial symbolism, in light of how the binary race between Crescimbeni and Brosche kicked off months back … almost as if Crescimbeni's supporters were trying to throw some elbows and clear the field.
Mayor Lenny Curry is described as having a comfort level with either of the two candidates.
Worth noting: Crescimbeni was a strong supporter of Curry's key initiative, pension reform.
Despite Crescimbeni putting city above partisan politics, that may not be enough to seal the deal for him, given attrition of support throughout so much of council.