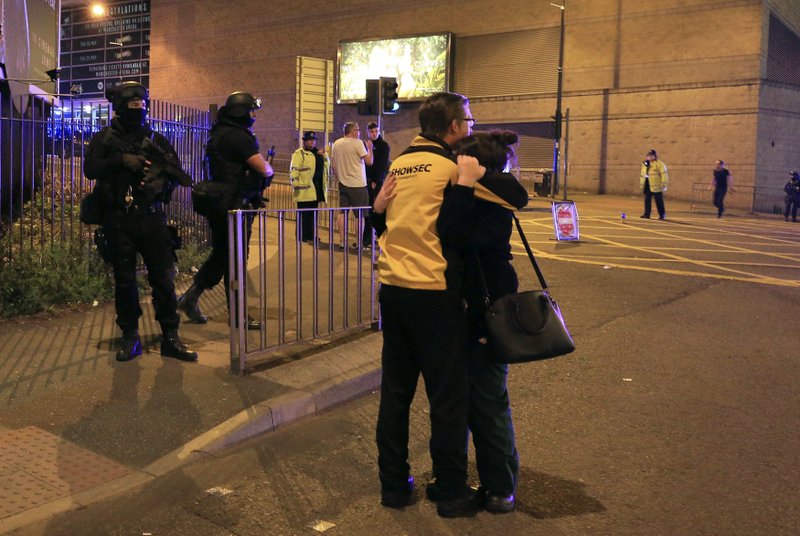 Sunburn – The morning read of what's hot in Florida politics.
By Peter Schorsch, Phil Ammann, Jenna Buzzacco-Foerster, Mitch Perry and Jim Rosica.
A somber good morning from the decks of the Disney Magic, which is sailing into the Isle of Portland and, as we learned late last night, a nation rocked by the deadliest terrorism episode to strike Britain since the 2005 London transit bombings. That the attack took place at a concert performed by Ariana Grande, who grew up before our eyes as a member of the Mickey Mouse Clubhouse, has only served to further shake-up some of my fellow passengers.
At least 22 are dead, some adolescents, and more than 50 are injured.
And, yet, as we cross the English Channel into this place (Dover) and at this time (days away from the 77th anniversary of the 'Miracle at Dunkirk'), there is no doubt that our English brothers and sisters will, as they always have, endure and prevail.
On some days, it's just a slogan on a mouse pad or T-shirt, but today, we will all do our best to 'keep calm and carry on.'
— NO WIN SITUATION —
Could Attorney General Pam Bondi soon be drawn into the never-goes-away issue of what is (or isn't) illegal gambling?
According to FlaglerLive, the Bunnell City Commission in Flagler County could soon ask for an opinion from her office on the legality of electronic instant bingo machines.
Shamrock Bingo, as was the non-profit Flagler Cats before it, have been fighting being labeled as a gambling hall, specifically "operating slot machines in violation of state law," as the website says.
In 2013, lawmakers generally outlawed Internet cafes, a sort of strip mall casino. Florida now prohibits any "device or system or network of devices" that plays like a slot machine.
The question is how close are instant bingo machines to slot machines.
Legislation filed this year would have allowed certain veterans' organizations to "conduct instant bingo" using Class II gambling bingo-style slot machines. It died before Session's end.
The bingo hall's lawyer, "conceding the complexity in state law, … suggested either to have the city write an ordinance … or ask for an attorney general's opinion on the matter," the site reported.
"Even if the attorney general finds the machines legal, the city would not necessarily be under obligation to allow the machines," it added.
The city commission voted to "seek out" an attorney general's office opinion, pending a memo from the bingo hall's attorney "of a more detailed rationale for electronic bingo's legality."
Bondi spokesman Whitney Ray said the office had not yet received a request as of Monday.
***Today's SUNBURN is brought to you by Spectrum Reach, the marketing platform of choice, connecting you to your target audience on TV, digital and mobile. With access to our powerful data and insights, solutions for every screen, and the best programming content on the top 50+ networks, we'll help you reach the right customers for your business. SpectrumReach.com #NeverStopReaching***
— TO VETO OR NOT VETO —
"If Rick Scott vetoes public school budget, here's what happens" via Steve Bousquet of the Tampa Bay Times – A Scott veto would make him the toast of Florida educators — for the moment, anyway — and how could Democratic politicians or the teachers' union fault him for demanding more money for schools? But Senate President Joe Negron and House Speaker Richard Corcoran, the two main architects of this budget, won't like being portrayed by Scott as secretly plotting to punish innocent children, so it's a safe bet that tensions in Tallahassee would get worse. Maybe a lot worse … if Scott is willing to go that far, why not go all the way and veto the whole thing?
His sweeping veto would remind people who's in charge, and if Republicans try to override his veto by two-thirds votes (likely in the House, less likely in the Senate), Scott has a new reason to campaign against "those politicians in Tallahassee," one of his favorite sound bites. Words matter in politics. Scott has spent weeks traveling the state on a "Fighting for Florida's Future" tour, criticizing every aspect of the Legislature's budget. How can he now possibly sign a budget he has spent so much time condemning? For the governor, it will soon be put-up-or-shut-up time. If Scott doesn't veto the budget, what's he been fighting for?
Op-ed – "Vetoing HB 7069 would hurt special needs children" via Lee Anne McGee for the Lakeland Ledger – Our youngest daughter, Emily, is 13 and in fifth grade. She has autism. She struggles with reading and speaking, and like many kids with autism, needs to work on social skills. We found a small, private school that specializes in reading. We applied and qualified for the new Gardiner Scholarship, which is already helping 7,500 students with special needs. We thought we were set. But suddenly, everything's in limbo. State lawmakers included an additional $30 million for the Gardiner Scholarship this year, enough to help Emily and more than 2,000 other newly qualified students. But House Bill 7069, the bill that includes the bump in funding, is at risk of being vetoed. Some groups want Gov. Scott to kill the bill because of other provisions they claim will hurt students. But if they succeed, there's no doubt students like my daughter will be hurt. Maybe Emily would do fine in a big, public middle school. Maybe she'd toughen up. Maybe she'd be forced to progress faster on her social skills. But the opposite is also possible: that she'd be teased and bullied for being a little bit different. We don't want to take that chance. The school we've picked out aims to help its students socially as well as academically. Building confidence is part of its mission.
LIBRE Initiative urges Scott to sign education bill — The national, conservative organization, kicked off a bilingual direct mail campaign Monday. The campaign targets voters living in 18 districts, including those living in districts represented by Speaker Corcoran, Rep. Manny Diaz, and Rep. Michael Bileca, President Negron, Sen. Bill Galvano, and Majority Leader Wilton Simpson. 
"A better education has the power to change the trajectory of a student's life and build stronger communities across the Sunshine State," said Cesar Grajales, the LIBRE Initiative's coalitions director, in a statement. "We urge Gov. Scott to quickly sign this bill and remove unnecessary barriers to new charter schools so our students don't have to remain stuck in schools that are failing to provide a quality education."
Assignment editors – Miami-Dade public schools host town halls on the Legislature's K-12 spending plan at 6 p.m. at Miami Palmetto Senior High School, 7460 SW 118th St. in Pinecrest and at 7:30 p.m. at John A. Ferguson Senior High School 15900 SW 56th St. in Miami.
Sorta related Facebook status of the day:
— MORE CAPITOL INSIGHT —
Bill watch – Gov. Scott was sent all 31 of the local bills that passed this Legislative Session. He has until Tuesday, June 6 to act on these. They include HB 647, which would dissolve the Hillsborough County Public Transportation Commission. Eighty-six bills are now on his desk.
Cabinet meets today – The Governor and Cabinet meet to hear reports from state departments at 9 a.m. in the Cabinet Meeting Room. Among the issues to be decided include the selection of a new Secretary of the Department of Environmental Protection. Noah Valenstein, currently the executive director of the Suwannee River Water Management District, is the only candidate slated to be interviewed for the position.
Eric Eisnaugle makes departure official – The Republican from Windermere announced his resignation would come on the last day of the 2017 Legislative Session to accept an appointment to Florida's 5th District Court of Appeals, but delayed the actual departure until late last week. With his now official resignation — spelled out in a letter last Thursday to Speaker Corcoran — Eisnaugle officially opens the way for the Florida Division of Elections and Gov. Scott to set dates for special elections in House District 44, covering western Orange County.
— POT, INC. — 
"Was it actually John Morgan who had financial conflicts in marijuana implementation?" via Florida Politics – Morgan was at his Trumpiest earlier this month when he took to social media to savage his longtime aide-de-camp, Ben Pollara, over the failure of legislation implementing medical marijuana this Session … The ugly, public split … has left many observers asking what the real story was behind the breakup.
When asked directly, John acknowledged a business plan to acquire an existing grower, but when FloridaPolitics.com asked for more details he demurred, with a cryptic, barely-denial denial. The ownership structure of existing medical marijuana license holders is shrouded in secrecy — so public records won't answer the question.
But here's what we do know about Morgan's connections to Florida's authorized marijuana distributors: The Morgan-Pollara rift began on the last week of session, when Morgan called Pollara on three-way with Jake Bergmann, CEO of Surterra, one of the seven license holders. Representing Surterra is Michael Corcoran, the Speaker's brother, who Morgan has described as a friend. Their other lobbyist is Billy Rubin, someone who Morgan has known since college.
The Morgan-Bergmann-Pollara call concerned the very issue that doomed medical marijuana this Session: retail caps. This issue divided medical marijuana interests into two camps: the "cartels," i.e., existing licensees; and the "Have Not's," those that wanted access to the Florida market.
John hinted to FloridaPolitics.com — but stopped short of outright saying — that he was looking at potentially investing in or purchasing one of the current license holders.
Now all the above is highly circumstantial … but certainly suggestive.
Consider this final point: John is a capitalist. His bread and butter might be the law business, but this guy owns an advertising firm, billboards, hotels, amusement parks and has all sorts of other entrepreneurial ventures. Think about the pitches that come across his desk daily … consider how many of those over the past few years must have been marijuana related.
Meanwhile… "Drug Free America Foundation wants marijuana Special Session" via Florida Politics – The Drug Free America Foundation is adding its voice to those calling for a Special Session on Medical Marijuana Implementation, according to a press release. "It is critical that our leaders call a special session to complete the unfinished business of implementing Amendment 2," said Calvina Fay, executive director of the Foundation. "Moreover, it is short-sighted to think that the lack of legislation to implement Amendment 2 will stop the marijuana industry from operating."
— NOTES FROM THE CAMPAIGN TRAIL —
Florida Democratic Party announces staff changes – Stephen Bittel, the chairman of the state party, announced several key staffing changes, including the promotions of Roosevelt Holmes and Johanna Cervone, Monday.
Bittel Holmes has been promoted to the state party's political director, while Cervone has been promoted to the organization's director.
Other staff changes announced Monday:
— Georgette Brammer will serve as deputy finance director.
— Amir Ahmadiavin will serve as a communications specialist.
— Erika Ann Grohoski Peralta will serve as a field specialist.
"Adam Putnam's campaign endures first shake-up" via Marc Caputo of POLITICO Florida – In an unexplained campaign shakeup, Putnam's gubernatorial campaign parted ways with its newly named campaign manager and political director. The departure of campaign manager Kristin Davison and political director Jared Small came as a surprise following Putnam's well-covered and expertly staged 10-day, 22-stop bus tour through Florida.
— Throughout Monday, Republicans began buzzing with word of internal divisions between Davison and Bevis, who worked for Putnam before the campaign, that led to the shakeup.
— Davison has a hard-charging style that didn't mesh with the more feel-good nature of Putnam's longtime circle of advisers and supporters, according to Republicans familiar with the dispute.
>>>Bottom-line question: Why did Putnam — who has built a genuine brand as 'fresh from Florida' — hire an out-of-state political operative to manage his campaign in the first place?
More than 600 backers joined Putnam for Suwannee Valley BBQ — Putnam wrapped up his 10-day, 22-city bus tour the same way he started it: with a barbecue. More than 600 people attended grassroots BBQ at the Gaylard Family Farm in O'Brien on Saturday, according to the Putnam campaign. "This is the heart and soul of the state of Florida," said Putnam in a statement. "Hardworking families who have a lot going on this Saturday came out and brought their children out here to join our movement. This is what this campaign is all about. It's a grassroots, conservative movement." 
Julian Castro backs Andrew Gillum for Governor — Former HUD Secretary Julian Castro has endorsed Tallahassee Mayor Andrew Gillum in the race to replace Gov. Scott in 2018. Castro, who served as the Housing and Urban Development from 2014 to 2017 under President Barack Obama, said Gillum has "worked hard to achieve his own dreams — and he's worked just as hard to ensure that Floridians from every walk of life can achieve theirs." In a statement provided by the Gillum campaign, Castro, who served as the mayor of San Antonio before becoming HUD Secretary, continued: "When Andrew is Governor, he will fight so that every child in Florida has the opportunity to grow and succeed in the Sunshine State. He is the candidate Democrats can best trust to stand with the courage of conviction, even when it's not politically convenient." Castro and Gillum will host a fundraiser in South Florida on June 3, according to Gillum's campaign.
"Republican Liberty Caucus Chairman Bob White jumps into gubernatorial race" via Kevin Derby of the Sunshine State News – White, who also leads Republican Liberty Caucus of Central East Florida (RLCCEF) and the founder of the Liberty Catalyst Fund (LCF) which works "to educate voters on issues of liberty, freedom, constitutional integrity and limited government" and "promote candidates that demonstrate a commitment to these principles and oppose candidates that do not," has been active in recent months, opposing Scott's call for more funding for Enterprise Florida and Visit Florida. "I'm running for Governor because I love Florida. I've been a Floridian since the day I was born. I can't imagine living anywhere else,"
White wrote in an open letter to Floridians announcing his candidacy. "I grew up in Polk County, in the heart of the Florida citrus industry …  the reality is that times have changed. Florida is now the third largest state in the nation and is experiencing every advantage and disadvantage that kind of population growth inevitably brings. Growth presents opportunities and challenges. We need a government in Tallahassee that embraces the opportunities and rises to the challenges! Sadly, that's not what we've been getting. I aim to change that."
Best story of the day – "Veteran Tallahassee shoe shiner files for gubernatorial run" via Troy Kinsey of Bay News 9 – Running up the middle … is an unassuming entrant who's been walking the Capitol's halls of power longer than any of his opponents: Tony Knox, a veteran shoeshiner about to mark his 30th year servicing the footwear of governors, legislative leaders and lobbyists. Knox filed to run for governor as a no party affiliation candidate last week. With no party, no political experience and no campaign funds – not yet, anyway – he would appear to be an underdog, multiple times over. However, over the course of thousands of shoe shines, he argues he's learned more about state government than anyone else in the race, and he has a campaign platform he predicts will resonate with voters. "As Governor Knox (would) say, 'I'm going to roll up my sleeves and teach you how to work,'" Knox said, in a riff on Scott's 'let's get to work' slogan. "I have a vision for the state that, No. 1, you've got to go to work. And the way you go to work is you shut down anything free for able-bodied people."
"Jose Felix Diaz to resign from House as part of SD 40 bid" via Florida Politics — The Miami Republican sent a letter to the Division of Elections on May 17 resigning from the Florida House effective Sept. 26. Diaz, who is running in the special election to replace Frank Artiles in Senate District 40, sent similar letters to Gov. Scott and Secretary of State Ken Detzner. Scott announced earlier this month the dates for the special election to replace Artiles, who resigned in April after he made national news after he accosted two black colleagues at a private club in Tallahassee. The special primary election is July 25, with a special general election on Sept. 26.
— Gov. Scott on Monday signed an executive order calling for a special election to fill the House District 116 seat being vacated by Rep. Jose Felix Diaz. The special primary is scheduled for July 25, with the special general on Sept. 26 — the same days as the special Senate District 40 primary and general elections.
"Fourth Republican enters HD 44 race" via Scott Powers of Orlando Rising — Republican businessman Bruno Portigliatti announced his candidacy for what will be a special election this summer for House District 44 in the Orlando area. The 29-year-old Orlando resident is chief executive officer of Excellence Senior Living, a developer of luxury assisted living facilities for seniors, and executive vice president of Florida Christian University, a global online university. He also helps manage real estate enterprises for his family's Portigliatti Group LLC. He enters a race that already features Republicans Bobby Olszewski of Winter Garden, John Newstreet of Orlando and Dr. Usha Jain of Orlando. The Democrats are running Paul Chandler of Orlando.
— STATEWIDE —
"Justices reject Florida appeal over death penalty" via the Associated Press – The Supreme Court has left in place a lower court ruling that said imposing a death sentence in Florida requires a unanimous jury. The justices on Monday turned away an appeal from Florida officials seeking to overturn the ruling last year from the state's highest court. The Florida Supreme Court had struck down a newly enacted law allowing a defendant to be sentenced to death as long as 10 out of 12 jurors recommend it. That ruling concluded that Timothy Lee Hurst — convicted of a 1998 murder at a Pensacola Popeye's restaurant— deserves a new sentencing hearing.
"Hackers may have names of thousands of Florida gun owners" via the Associated Press – The Department of Agriculture and Consumer Services announced Monday they had discovered a data breach of the online payment system that processes payments for applications and permits. Agriculture Commissioner Putnam has ordered a review of the department's cybersecurity measures. State law enforcement is investigating the breach, which authorities suspect originated from overseas. The agency stated that no financial information was obtained.
— The department also warned that the breach may have revealed the social security numbers of 469 customers. The agency plans on offering free credit protection for one year to these individuals.
"KPMG breaks ground on global training center: Announces new jobs" via Terry Roen of Orlando Rising – Gov. Scott came to town to welcome the $400 million KPMG global training center, which will join other corporate giants in one of the fastest growing cities in the nation. KPMG CEO Lynne Doughtie announced that the firm is bringing in an additional 250 jobs during the next three years to Florida in an expansion of their global tax and audit business. That's in addition to the 80 new jobs that will be needed to run KPMG's Learning, Development and Innovation Facility in Lake Nona. "It's a big day in our state," said Scott, who gave Doughtie an award for bringing more jobs to Florida. "Every job is important to a person, and these 330 jobs will change lives."
"I-395 signature bridge standoff is political palanca at its best" via Elaine deValle of Political Cortadito – Miami-Dade Mayor Carlos Gimenez and his pals on the County Commission are trying to sell us a bridge. Not just any bridge. His buddy's bridge. Recent hand-wringing over the selection of a firm to design and build an iconic, new signature bridge over Biscayne Boulevard along I-395 has cast a spotlight on just how Gimenez uses the office of county mayor to benefit his friends and family members. The beneficiary this time (again) is Pedro Munilla, who is cousins (or something) with the mayor's wife and CEO of Munilla Construction Management … MCM was one of five firms that bid on the $800 million "signature bridge" project, in partnership with Fluor Enterprises. But it was ranked second by a Florida Department of Transportation selection committee after a process that has taken, on and off, about 25 years. Archer Western/De Moya was ranked first. One week later, Gimenez wrote a letter asking the FDOT, which is providing $600,000 and overseeing the project, to delay the contract so that the county could weigh in (read: so that Munilla can get a second chance). And he's using some of his pocket commissioners, like Sally Heyman — well, to be honest, the Munillas write a lot of checks — to try slow the process down.
— MOVEMENTS —
The latest on Ballard Inc. via Marc Caputo of POLITICO Florida– Trump's longtime Florida lobbyist, Ballard, has expanded his practice globally and just signed a $1.5 million contract with the government of Turkey, which will be represented by the firm's new big hire, former Florida Congressman Robert Wexler. Ballard Partner's Turkey contract comes on the heels of two other international clients signed by the firm: A March 6 $900,000 contract with the Dominican Republic and an April 1 $240,000 contract with the Socialist Party of Albania, the ruling party in the Balkan nation. "I'm excited about the firms growing international practice and look forward to working with this important US and NATO ally," Ballard, who still speaks to Trump on occasion after representing the Trump Organization for years in Tallahassee, said in a brief written statement. The contract with Turkey is the firm's highest profile foreign client and could be its most controversial amid unrest in the nation under President Recep Tayyip Erdogan.
Josh Cooper, the Swinos big winners at World Champion Barbecue Cooking Contest — Cooper, the founding partner of Strategic Information Consultants and a competitive barbecue chef, and his competition BBQ team The Swinos took home first place in the "exotic" division for their Oscar-style, bacon wrapped bison center cut filet at the World Champion Barbecue Cooking Contest during Memphis in May. The team also took home sixth place in the seafood division, 13th in the chicken division, and 19th in the mustard sauce division, said Cooper in a message. Cooper, who is set to compete on MasterChef when it premieres May 31, was joined by David Lee, a partner at Fabrizio, Lee & Associates and a few others.
Personnel note: Jerry Parrish joins FloridaMakes board – The industry-led nonprofit "aimed at strengthening the state's manufacturing sector" announced the addition. Parrish is the chief economist and director of research for the Florida Chamber Foundation. In that role, he is the lead on TheFloridaScorecard. org, an online database that provides Florida leaders and local stakeholders with the data needed to measure progress. He is also responsible for conducting in-depth analyses on economic trends, Florida's industry clusters and on solutions to help secure Florida's future. He has many years of experience in management roles at international manufacturing companies.
On this week's edition of The Rotunda —  On Trimmel Gomes' latest episode of The Rotunda, both Gov. Scott and former Lieutenant Gov. Jennifer Carroll share a strong support for President Trump. Despite their connection, Carroll tells Gomes she has still not heard a word from Scott following her first resignation, but she would accept Scott's apology when or if he decides to give one. Carroll also talks with Gomes about Trump's first official trip abroad as president, and she compares her missteps with the press to Trump's battle with "fake news." Gomes also talks Greenberg Traurig Government Law & Policy Director, Leslie Dughi about how the insurance industry fared during Florida's 2017 Legislative Session.
Happy birthday to our friend, Rob Johnson, of The Mayernick Group and Kevin Reilly.