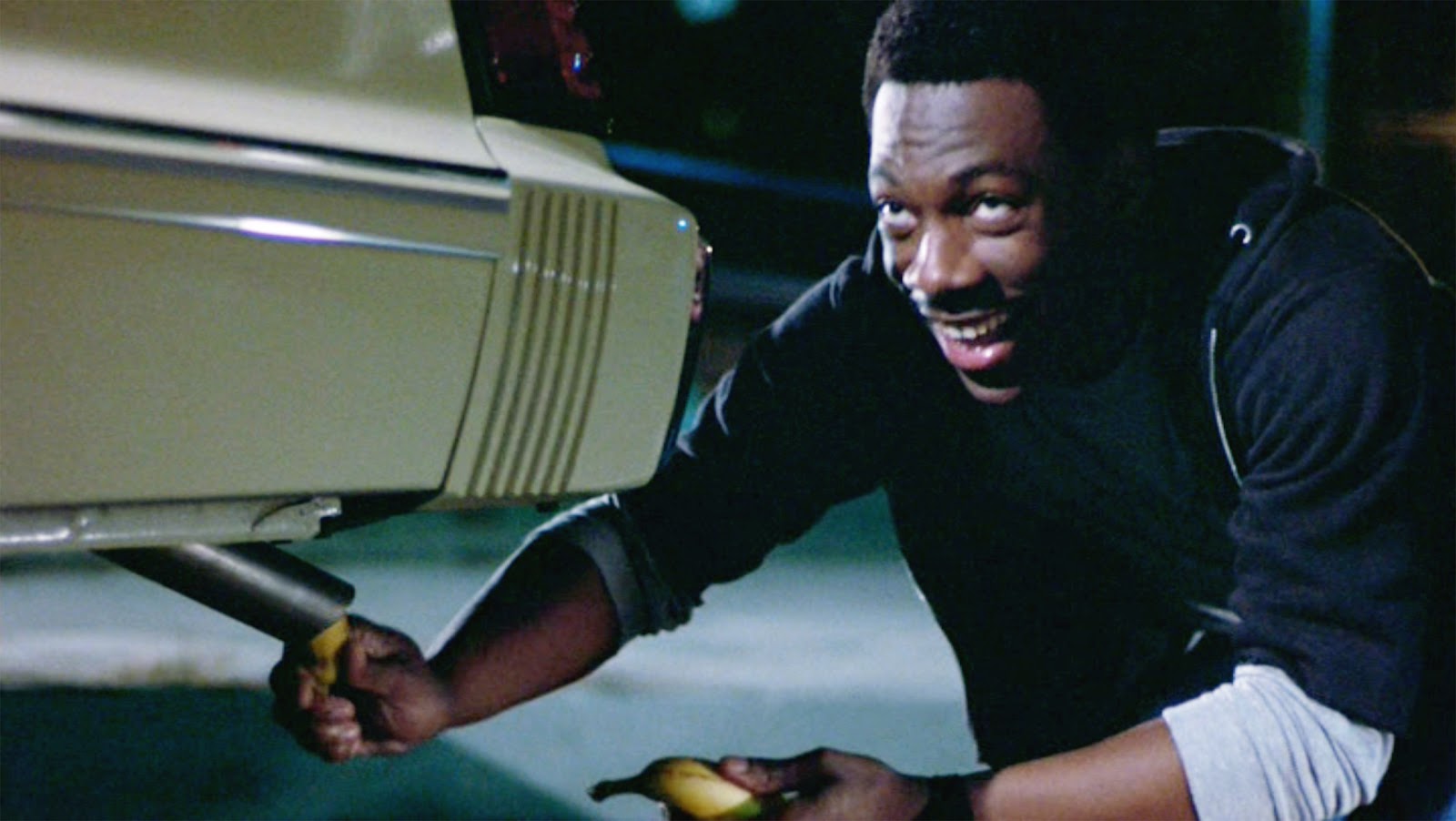 "You're not gonna fall for the banana in the tailpipe? It should be more natural, brother. It should flow out, like this – 'Look, man, I ain't fallin' for no banana in my tailpipe!' See, that's more natural for us." — Axel Foley
It's been more than thirty years since Eddie Murphy played the part of Detroit police detective Axel Foley in Beverly Hills Cop, but there are several scenes which are just as funny today as they were in 1984. Who can forget Bronson Pinchot's cameo as Serge? Or Murphy's performance in the hilarious "Super Cop" scene (co-stars John Ashton and Judge Reinhold can be seen holding back laughter as Murphy delivers his monologue.)
And, of course, one of the funniest running jokes throughout the movie is the 'banana in the tailpipe' gag.
Early on in the movie, Murphy/Foley sneakily shoves his banana (technically three of them) into the tailpipe of a patrol car trying to tail him. Hijinks ensue.
Although its debatable if this trick actually works in real life, the scene was so popular and has become such a part of pop culture that it's an expression we use when we think someone is trying to pull something over on us.
To that end, why does state Senator Jack Latvala keep falling for the banana-in-the-tailpipe trick when it comes to Gov. Rick Scott and the vetoing of the local budget projects Latvala holds so dear?
Last week, the Governor axed roughly 400 projects worth nearly $410 million that were placed in the budget by Republicans and Democrats. As Chairman of the Senate Appropriations Committee, this is, at least, a partial indictment of Latvala's work. Many of the vetoed projects, such as several construction projects at the University of South Florida, are local initiatives Latvala personally shepherded into the budget.
This is yet another year during which Scott — the new reigning champ of gubernatorial budget vetoes — has axed hundreds of millions of dollars in member projects. When Scott did so in 2015, Latvala said that "the governor has declared war on the Legislature."
This was after Latvala 'pledged his devotion to Scott for months' (Steve Bousquet's words, not mine). Just as Latvala was 'devoted' to Scott this year (Latvala appeared with Scott at a press conference last month when the Governor talked openly about vetoing large chunks of the veto).
In other words, after each legislative session, Scott puts a banana in Latvala's tailpipe.
So why, beyond party loyalty, does Latvala remain 'devoted' to Scott?
One theory for Latvala's continued fealty is that he has a better chance at being at being appointed Chief Financial Officer than some might think. Most news stories speculating as to who Scott may choose center around former state Sen. Pat Neal, state Rep. Joe Gruters, and former Rep. Jimmy Patronis.
Doesn't Chief Latvala make as much, if not more, sense than any of those picks?
Not getting too upset about a few budget vetoes is a small price to pay for a (possibly) nine-year place in the Florida Cabinet.