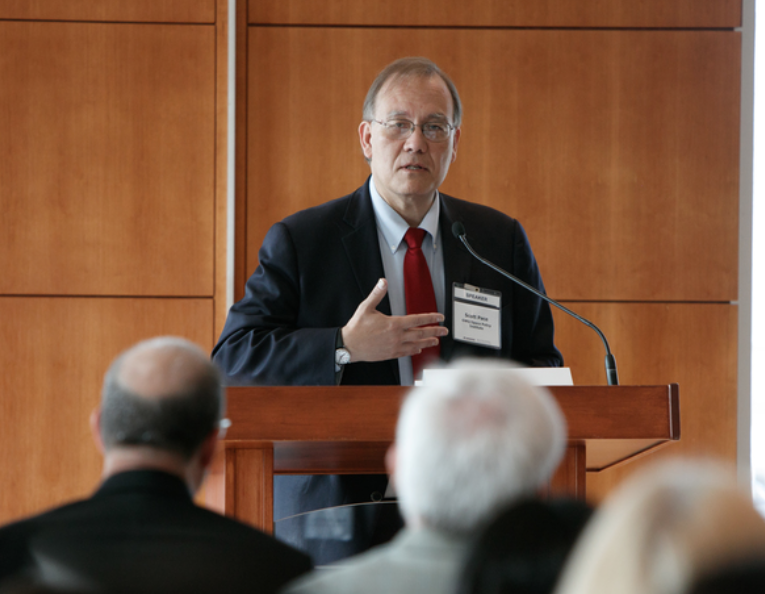 While Vice President Mike Pence prepares to take over American space policy as chairman of the resurrected National Space Council, space exploration advocates are hailing his choice as the panel's executive secretary, Scott Pace.
Pace is a former space policy advisor in the administration of President George W. Bush and an academic who currently is director of George Washington University's Space Policy Institute, one of the leading space policy think tanks in the world.
"Scott is a leader who will serve the National Space Council well. We look forward to working closely with Scott and the rest of the NSC to advance the United States space enterprise by leveraging the U.S. commercial space industry's vision, investment, and innovation," Commercial Spaceflight Federation Chairman Alan Stern, a former NASA official who was the leader of the recent Pluto exploration mission, said in a written statement. The federation represents companies such as SpaceX, Blue Origin and Space Florida.
Mary Lynne Dittmar, president and CEO of the Coalition for Deep Space Exploration, which represents companies such as Boeing, Lockheed Martin, and Orbital ATK, said Pace will bring a "trusted perspective to the council."
"Dr. Pace's unique combination of experience in government, the private sector, and academia, and his internationally-recognized expertise in space policy, make him an exemplary selection," she said in a written statement. "Scott has long been a supporter of NASA's deep space human exploration, science, and technology programs and of space commerce, and is a recognized leader supporting U.S. geopolitical interests in space."
The White House announced late Thursday that Pace would be the day-to-day guy behind the National Space Council, which is being reactivated this summer for the first time since 1993.
Pence was at Kennedy Space Center last week, and besides infamously placing his hands on a spacecraft with a sign reading "Do not touch," he impressed the NASA audience there with his promises to re-energize America's space programs, to fully commit to a human trip to Mars, and to return to the moon in the meantime.
Pace also served as an associate administrator at NASA in the 2000s, and as a policy analyst with the RAND Corporation's Science and Technology Policy Institute.
[Photo by and courtesy of William Atkins/The George Washington University.]